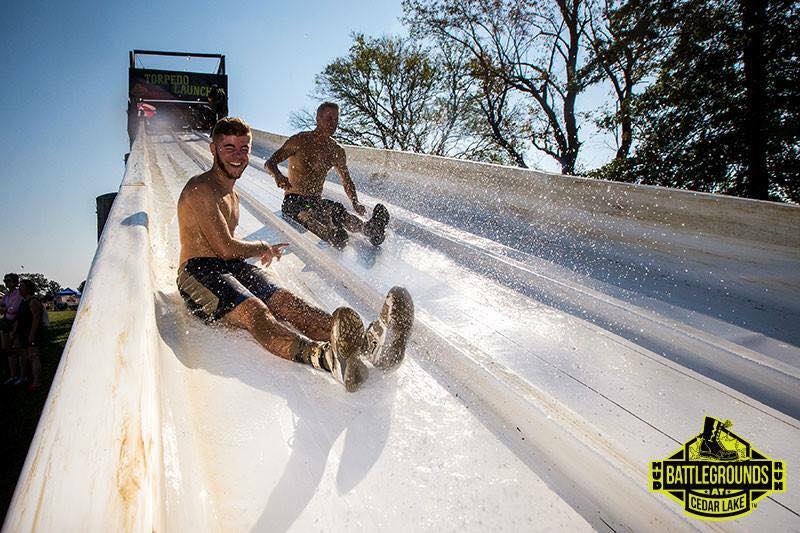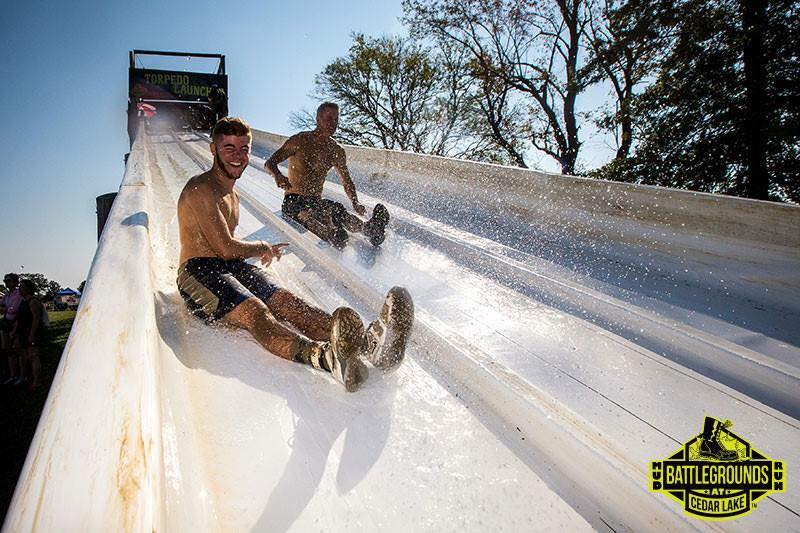 Next on the Permanent Facility Spotlight is the Midwest's most popular permanent venue, home to the Battle Corps and soon to be the new home for Tough Mudder, The Battlegrounds.
Venue: The Battlegrounds
Website: thebattlegrounds.com
Location: Wright City, Missouri (just west of St. Louis)
Signature Obstacles:
The Gauntlet: One of the coolest obstacles in all of OCR, a six-lane, choose your own path obstacle consisting of apparatuses dangling over the water. Options include a mix of balance beams, horizontal pipes, vertical chain link fences, hanging sections of hose, climbing holds and more.
Torpedo Launcher: Slides are fun and The Battlegrounds has an enormous one in the middle of the course that is visible to spectators.
Approximate Events Held Annually:
Two (the last one for the next five years is scheduled for May 19th, 2018) before it becomes a Tough Mudder Venue.
Types of Events:
-5 mile or 5k OCR
-Previously used for other events like training days run by Assault Fitness, 1st Phorm's Summer Smash and even the 2015 Mud Run Guide's Summer Splash.
-2018-2023 it will be the home of Tough Mudder events for the state of Missouri
Who will love it: If you feel the need for speed, The Battlegrounds brings it. In an OCR world where everyone seems to be obsessed with racing on the side of a mountain, it is nice to see some companies still have OCRs on the flat and fast terrain.
Reason for Open Wave Athletes to Go: Obstacles are fun but will not destroy the upper body.
Reasons for Elite Athletes to Go: Mandatory completion and cash prizes make this a go-to event for an elite athlete.  Plus if you are often just off the podium or are more focused on Age Group podiums, they offer prizes for Age Group top three, something that is rare in the OCR world.
Where You May Know Them From: The Battle Corps, The Battlegrounds race team are pretty much at every race in the Midwest and are typically seen at the OCR Championship events.
Bonus Reason for Attending: On-site in addition to their permanent facility is a winery providing free samples, bottles of wine for purchase and food for those looking for a meal. Heads up though, no children are allowed inside the winery even if accompanied by parents.
With Tough Mudder set to take over the venue for the next five years, May 19th will be the last event for The Battlegrounds as we know it. I'm hoping Tough Mudder incorporates some of The Battlegrounds existing obstacles into their race with a name like Tough Mudder's Battlegrounds.  Personally, I think it would be a cool twist and provide something unique to hardcore Tough Mudder Legionnaires while also saving some of the uniqueness that made The Battlegrounds have such a fan following.  However, based off seeing other large companies using existing permanent venues and not using their standing obstacles I'm not holding my breath.  Either way, May 19th will be a great farewell party for all those involved.
Check their website to sign up.
All photos courtesy of official race photographers for The Battlegrounds