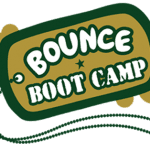 Bounce Boot Camp is the first obstacle course– style fitness program utilizing inflatable castles, slides, obstacle courses, and other interactive equipment. Thomas Hill and his team have developed the course to include leadership training, nutritional counseling, strength building, and cardiovascular conditioning so that kids can get fit, develop athletic skill, flexibility, dexterity, agility, endurance, and have fun—all while learning life lessons and developmental skills to be future leaders.
Centered around their custom-made inflatable equipment, including the General Jumper, classes implement other equipment such as cones, balls, hurdles, quick foot ladders, and the signature Battle Ropes. Each class is set up differently, providing an element of surprise and excitement as well as teaching kids how to adapt to new challenges. After warm-ups and instructions, the kids are divided into groups and are led by the Generals to face off against the course. Every ten minutes, the groups rotate to a new series of challenges until all stations are complete. The Finisher awaits the kids once they're done with their training; each
child runs through the entire obstacle course, engaging each station, competing against the clock, their friends, or for just some good- natured fun and exercise.
The goal of Bounce Boot Camp is to teach kids that tackling challenges and solving obstacle courses can be fun and a great way to get fit. These types of activities can also provide them with healthy habits they can use for a lifetime.
Bounce Boot Camp – by the numbers
Outdoor inflatable obstacle course & fitness training for kids 5–14, nationwide franchises Launched: 2011
Locations: Anthem, AZ •
Coming Soon in: Scottsdale, AZ • Paradise Valley, AZ • Chandler, AZ • Peoria, AZ • Tulsa, OK • Tyler, TX • Atlanta, GA • New Orleans, LA
Events: Weekly kids' fitness classes
Course Distance: Varies by class, 1-hour duration
Obstacles: Cones, balls, agility ladders, hurdles, battle ropes, etc.
Signature Obstacle: General Jumper
Hardest Obstacle: Battle Ropes
Gear: Athletic clothes; socks or bare feet on the inflatables
Nationwide Franchise Opportunities
Would you love to have a Bounce Boot Camp in your area? Soon, you will be able to start your own! Bounce Boot Camp is in the final stages of solidifying our patent pending franchise program to allow children all over the country to benefit from this revolutionary fitness program.
Of course, Bounce Boot Camp doesn't just benefit the kids who participate; it also has many benefits to business owners. The health and fitness market is continually growing, but no other youth fitness company offers our unique combination of inflatable equipment, nutritional counseling, leadership training, and fitness education.
Youth fitness in particular is a growing segment, especially as the incidence of childhood obesity continues to grow. New high-profile programs such as Michelle Obama's Let's Move! initiative are increasing awareness and generating more interest from both children and parents. You can take advantage of this opportune time by starting a Bounce Boot Camp franchise of your own.
To help your business grow, you will receive:
Detailed start-up plans to help you quickly get your business off the ground
On-site training at Bounce Boot Camp headquarters
On-going training and program updates
Templates for marketing materials
Website templates and suggested page content
Weekly videos and health tips for clients
National Marketing & discounted rates on mudrunguide.com
Fitness programs developed by children's fitness experts
Access to certified nutritionists and other specialist
Access to custom design and creations for your ideal Bounce Boot Camp experience
If you are the type of business owner who would like to make money while giving back to the community; Bounce Boot Camp may be right for you. Contact us to learn more about this healthy, fun & family-friendly franchise opportunity.