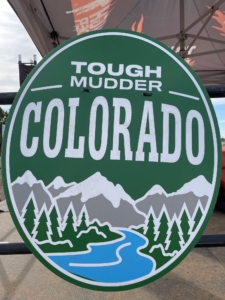 Tough Mudder returned to Colorado for another epic race weekend. The race moved from Littleton Colorado and the front range out east to Byers Colorado. While some expressed disappointment in the new venue being much further from Denver, it allowed the race organizers to be more creative, dig deeper and better mud pits, and put on a bigger event that they were unable to do with the smaller venue in Littleton. The Sunday crowd was small but mighty with many racers returning for another lap after completing the 15K the day before. It has been a slow return to racing for Colorado, but Tough Mudder has carved out and dedicated fan base in the state and they showed up this weekend.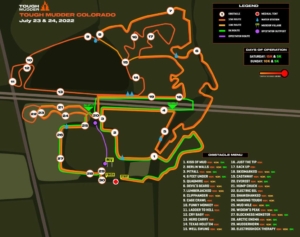 The Venue:
When you think of racing in Colorado, we often think of jagged mountain peaks and crazy amounts of elevation gain. However, that was not the case for Tough Mudder as this race was held out in the eastern plains. Initially, this may raise some red flags, but it has its advantages over using some of the ski resorts in the mountains. First, parking at a venue like this is much easier and free. There is no hassle with a shuttle, there are more available spaces, and for this event it was free. This runner was lucky and got to park in the first row when they arrived, and it took less than 5 minutes to walk from the car to the start line. The other big advantage is there are fewer rules and restrictions on the build crew. For example, Spartan was never allowed to dig mud pits or add water when they held their races in Breckenridge due to the resort not wanting to damage their ecosystem. On the eastern plains of Colorado, Tough Mudder was able to dig multiple mud pits and create deeper pools under obstacles that they would not have been able to do elsewhere. There was a single hill during the entire event and this made for a flat, fast, and entirely muddy course that appeals to a wider variety of racers. It may not be what you picture when you think of Colorado, but it had its advantages this weekend.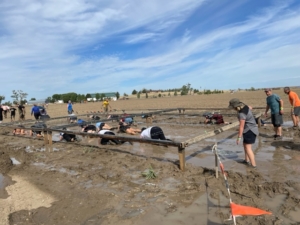 The Event:
The course itself was pretty straightforward. The longest stretch of running was between the start line and the first obstacle and then there was mud nearly everywhere. I had previously only ran the 15K in the past and was a little disappointed to find some of my favorite obstacles missing from the 10K course. The Funky Monkey is one of the best obstacles in the sport and it was only available on Saturday. Racers still enjoyed Well Swung, Castaway, and Blockness Monster as some of the premiere water and mud obstacles. Also missing from the 10K was the additional electricity obstacle in Electric Eel, but most runners seemed happy to not have to test fate with those wires a second time. The biggest difference between Tough Mudder and other race series is the teamwork and camaraderie. You get to share the course with others and work together to collectively finish. Helping one another is encouraged and it completely changes the mood of the entire race. As mentioned above, the course was flat and fast with what felt like a single hill to climb. The weather was good with temperatures in the mid-80s and an overcast sky. While most of the surrounding area was very dry and dusty, Tough Mudder did a great job strategically adding water and mud throughout the course to keep racers wet and covered in mud for nearly the entire race.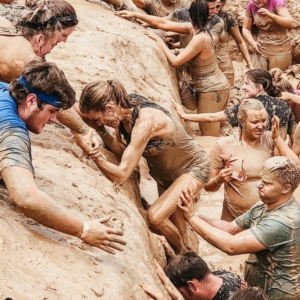 The Atmosphere:
The festival area was one big party with several vendors passing out everything from oatmeal samples to whiskey shots. Once a racer finished they could rinse off with complimentary Every Man Jack soap at all of the stations. From there you could grab Kodiak Cakes oatmeal samples to take home, a Hop Water, and a bag of Wilde buffalo-style chicken chips. This line ended with your finisher beer and shot of Yukon Jack whiskey. This was just the warm-up to the true party throughout the rest of the festival area. The DJ held several competitions for free swag packs and races that included tug of war and hoola hooping competitions. This writer found out just how bad they were with a hoola hoop, but it was a great event for all to watch. There was also an axe-throwing booth sponsored by Yukon Jack that was a nice final touch on the entire event. The atmosphere was light and fun as racers worked together to finish rather than compete against one another for time. Tough Mudder is a great event for someone who wants to push themselves but is not interested in running for time or podiums.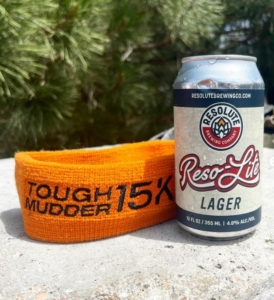 The SWAG:
Tough Mudder strays away from the conventional finisher medal and passes out headbands instead. They have an entire system of colored bands depending on how many races you have done. Upon finishing you are given your headband, a tech t-shirt, a Gatorade protein drink, and a protein bar. It is a pretty standard finish line across the industry with the headband being the biggest difference. Racers wear them with pride around the festival area afterward and get to add a unique piece of swag to their collections.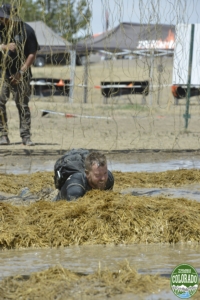 Overall:
Between the race itself, the festival area, and the swag this event was already a 5 out of 5, but there is more to the story. During all of the celebrating in the festival area, this writer lost their car key in the shuffle. After spending 15 minutes retracing steps and asking every person they could if they had seen them, they had lost hope. As I prepared to call my wife and ask her to drive the hour to the venue to bring me the spare key, I was flagged down by Adolfo at Mudder Services. He had checked me in for the race and wanted to ask about my experience with this race. The key had been found not but 5 minutes earlier and turned in to him and we were reunited by total chance. Adolfo also reunited someone with their lost phone within the same short time frame we chatted about Tough Mudder. This was an overall great experience and highly recommended to anyone looking to run a top-level OCR event.
Rating: 5/5
---
Have you done an Tough Mudder?
Leave your own Tough Mudder review and feedback...
---
This author is part of the Mud Run Crew and received a free race entry in return for an independent review. All opinions are those of the author and were not influenced by the race sponsor or Mud Run Guide.
---