The Gear We Use and Trust
When Mud Run Guide was created by Brett and Chris back in February 2012, we wanted to provide a spot where you could find the best races, gear, and training for mud runs & obstacle races. After years to trial & error, here's a list of the stuff we use and trust along with some tips, tricks, and training for race day.
Got a question on any of these products or a suggestion for one we should add? Feel free to comment below or email mail@mudrunguide.com to submit your gear for testing and possible inclusion here.
---
Other MRG Gear-related Pages:
Gear Discounts: Looking for great deals on awesome OCR Gear? Check out our Gear Discounts page for the best prices on the best stuff!
Gear Reviews: Our crew has tested hundreds of products over the years, check out our Gear Reviews for insight
OCR Outlet: Hot deals on closeout merch from trusted companies – product changes all the time, check out our OCR Outlet and save big!
---
Gear Advice from the MRG Crew
If there's mud or water on the course, cotton is the enemy. Whether it's your shirt, shoes, shorts, socks, or underwear; cotton will absorb the wetness (and muck) and you'll be left with that oh-so-satisfying feeling of wearing a mop – or even worse, an adult diaper. Take a tip from triathletes when you're choosing your race-day outfit; synthetic fibers in body-hugging designs make the fastest and most efficient outfits. Loose-fitting clothes have the opportunity to get snagged on obstacles, grabbed accidentally (or not) by other racers and even obscure your view. Chafing, blisters, and a couple of hours dealing with unnecessary discomfort is an unwelcome addition to your race if you choose the wrong gear! This guide is here to help you choose the appropriate gear for your race's distance, conditions, and weather.
Shoes
"I'll wear these crappy old worn-out shoes I'm going to throw out anyway" <- Bad idea
When racing as well as training, your shoes should be well-fitting athletic models in order to prevent blisters. Aggressive tread with a thin, slick material on the upper so they don't hold excess water or mud are preferable. It is beneficial to keep your feet as light as possible with minimal mud coming along for a free ride as you'll be lifting your paws up about six thousand times on a 5k course – you'll begin to feel every single extra ounce. Don't fall prey to the "these are crappy old worn-out shoes I'm going to throw out anyway" method of shoe selection –  you wouldn't run a road 5k in busted-up shoes and in an OCR it's even more important for you to have traction in slippery conditions. Don't be afraid to pick up a proper pair of shoes and get 'em muddy; they will clean right up afterward and provide you traction for multiple races. Invest a little into your safety and traction, and you'll probably have a much easier time getting out of mud pits and over slick obstacles!
There are even some obstacle-race specific models on the market from Inov8, Salomon, Craft/Spartan, and Salming that feature all the grip you need along with an upper and/or sole that drains water quickly. Want to test your shoes before you hit the racecourse? In Ultimate Obstacle Race Training, we give advice on how to test your shoe and sock choice out to prevent blisters on the big day.
MudRunGuide Shoe Recommendations – Shoe recommendations are tricky. It depends on your foot (do you over or under pronate?), personal preferences (drop? no drop?) and many other factors. So, we'll instead recommend a few shoes that a LOT of people like, so you can investigate more. Assuming any of these are a good fit and feel for you, you probably can't go wrong with any of the below:
Inov8 TrailRoc or X-Talon – Lightweight, durable, and good grip – what more do you need. INov8 are continually coming out with new models, so make sure to see what changes between each version
Salomon Speedcross – You'll see a lot of these on courses. They work well, and usually can be found on sale somewhere. The only thing to know is they are a lot heavier than a lot of the other shoes listed below.
Salming OT Comp – Fast, light & responsive – these shoes feature a great fit and tons of traction. Check out our 2018 Review
Shoe Tip: DON'T DUCT TAPE YOUR SHOES. They won't keep your shoes on any better than tying your laces and actually help to ruin your traction by making a big, slick spot in the middle of your foot. On top of that, you look like a total n00b. We don't care who gave you the advice that duct tape is the answer – they are wrong. Look at every podium: the winners all still have their shoes, and they don't have any duct tape on them. Ever. Duct tape is only applicable if you have an embarrassing hole in your shorts you need to patch and do NOT belong on your shoes. If you're worried about mud, see our note below in the socks sections about avoiding blisters for something called "trail gaiters"
Socks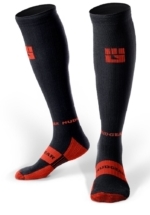 No matter how much effort and cash you put into getting your shirt, shorts and shoes all set, all that's for moot if you don't follow this simple advice: Do not wear cotton socks to run in. Even if there isn't water on the course, a little foot sweat is all it takes to make cotton socks sloppy. The extra moisture held by cotton coupled with running or walking will most likely leave you with blisters. Wet cotton also loses its shape easily, so your socks will rub in places you'd never expect as well as slip out of place on your ankle and let rocks, dirt and debris in. Pick up a pair of man-made fiber socks that fit snugly above your ankle; they will drain faster coupled with good shoes and keep the junk out of the inside of your socks.
MudRunGuide Sock Recommendation – Mud Gear Compression Obstacle Race Socks are excellent. These compression socks are built to help protect you from nasty gashes, rope traverses, and other injuries in obstacle course racing, and are well-fitting and comfortable in & out of the water. Also, check out their Trail Socks 1/4 Crew as well for training. [Don't worry, Amazon carries MudGear too, if you can't get enough of your Amazon Prime shipping]
No-Blister Tip: Even with the best sock & shoe combo, your feet are going to get wet, muddy, and sandy during the course of a mud run. Trail Gaiters (like these) can be helpful on a sandy trail run and also from preventing larger rocks from getting in – but once you jump into mud pits, mud, water, & fine grit is going to envelop your feet. As the water escapes, the sand is left behind and can be an irritant step after step. Use the same anti-blister method as ultramarathoners and triathletes, slather some anti-chafe like Trail Toes all over your feet before putting your socks on; between toes, on your Achilles, and anywhere you've ever encountered a blister in the past. I personally cover every square inch of both feet, then slip the socks on and forget all about blisters!
Shirts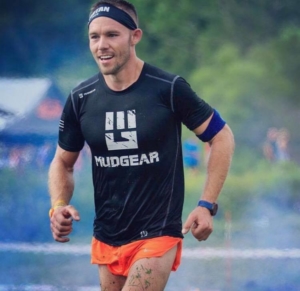 A tight-fitting, man-made fabric top is one of the top options; the other is to go shirtless (dudes) or sports-bra/jogging top (ladies). Skin is "in" with most of the elite athletes, but if you're not interested in scratches on the 'ol back & belly, a dri-fit top is a must. We've already covered why cotton is such a bad idea, right?
MudRunGuide Shirt Recommendations –  It's pretty easy for us to choose Mudgear's Fitted Race Jersey (Men / Women) – it's what we use for our own Mud Run Crew jerseys! For a less expensive option, Champion Double Dry T-Shirt is a good bet for the men, while the ladies could try the Asics Women's Core Singlet. If the weather calls for long sleeves, try the Wicking Long-Sleeve Activewear Shirt by Sport Science (Men's version / Women's version). Also be sure to check out the obstacle racing apparel at OCRGear.com, which has a rotating stock of options.
Shorts/Pants
Do as I say, not as I do Part I: Make sure your pants can stay up on their own! I made the mistake of wearing loose-fitting cargo shorts at one of my first Spartan Races and ended up in my spandex underwear by mile number three. Cargo shorts or pants with pockets are a relatively bad idea; anything that can fill with mud will fill with mud. Running one mile with an extra few pounds of mud in your pockets really sucks, and it's even worse trying to do it for nine. Basketball shorts, even if they are man-made materials are usually a bad idea as they can be heavy, long and most have pockets. Medium-length running shorts are a good choice as they dry quickly, are light and most likely won't be down around your ankles when you're scooting under barbed wire. If the weather's a bit cooler, warm-up nylon pants are a great idea as their slick surface will give you a little advantage when you're on your belly writing in the mud and they will keep your knees from turning into hamburger from contact with the dirt.
MudRunGuide Pants & Shorts Recommendation – Your budget option is going to be the running shorts.
Ladies, check out the Champion Women's Woven Sport Short or Mudgear Flex Fit Race Shorts. Gentlemen, the Saucony Men's Alpha Running Short or Mudgear Freestyle Shorts might be a good bet. For a premium option, some people like compression gear, which can be a more costly option. We recommend CW-X compression tights (which come in both full pants, shorts, as well as thermal versions) and women can check out these Flex Fit Capri pants from Mudgear.
Gloves
To Glove or not to glove? If this is your first race, you 100% can get by without them! If you start doing more of these races, then, it becomes a trickier topic. Some people swear by them and wear them the whole race. Some people feel no need for them at all and never use them. Others carry them with them and just toss them on for specific obstacles that are nasty on your hands: pulling or climbing ropes, carrying rough objects like cinder blocks of logs or anything that requires a good grip and just take them off and shove 'em in a pocket or even keep them dry in a zip-lock bag when you don't need them.
If you do go with gloves, make sure the gloves fit your hands very well and have plenty of grip; avoid leather or anything that can get slick or hold water. Fingerless workout gloves are commonly found on the course – literally on the ground littered all over some courses – because they get wet, slick and actually make it harder to grip smooth surfaces like monkey bars. Gardening gloves that look like someone dipped a basic pair of fabric gloves into molten rubber work really well and are relatively cheap.
MudRunGuide Gloves Recommendation – We've tested the Mad Grip Gloves, and for cold weather, Blegg Mitts Extreme and Lytes are highly recommended!
Knee/Elbow Pads or Neoprene Sleeve
This is another category you should start thinking about as you do longer endurance obstacle course races. Sleeves can both help with muscle fatigue and recovery, as well as helping cut down on the number of scrapes and scratches you'll receive. Again, if it's your first race and it's a 5K distance or so, and you don't already have some – you can probably get by without these!
But, for future races, or longer races, this is a category definitely worth considering. Leave the rollerblade hardshell pads at home and opt for thin knee or elbow pads or simple neoprene sleeves. I prefer the latter to cover my knees and elbows as they provide enough cushioning when I run into an obstacle and enough protection to crawl through mud, tubes and anything the course has to throw at me while still having the full range of motion to run.
MudRunGuide Padding Recommendation – You have a LOT of options here if you'd like to maximize protection, check out these padded arm sleeves from Mudgear or for a thinner option we've tested and recommend the SKINS compression sleeves.
Hydration
While most/all events have water stations throughout the course, you always have the option to bring your own hydration. If you are signing up for a shorter race distance (~5K), with a well-known race series (think: Spartan Sprint, Warrior Dash, or Rugged Maniac), you can be pretty sure they will have water on the course, and at that distance, you probably don't need your own. Of course, you know how much water you need, so if you want immediate access to water whenever you want…..bring your own! And, some longer-distance races might actually require hydration as well.
MudRunGuide Hydration Recommendation – For a smaller-sized pack, we've used this Hydration Pack by Camden Gear and will use it again next race that requires a hydration pack. It had enough space for some food & gel packs, a headlamp, and a few other items, in addition to the 1.5L of water.
Nutrition & CBD
Pre- and post-race meals are a much deeper subject for other posts, but fueling up before or during an event and supplements for recovery can make a huge difference in your performance and recovery. If you're looking for the fuel to go all day, you can't go wrong with Tailwind Endurance (our review). There are plenty of different energy gels on the market, Hammer Nutrition is a tried-and-true favorite in this area, providing the carbs to keep you going without messing with your stomach mid-race.
Sure, Advil is readily available and cheap, but athletes trying to cut down on use/abuse and worried about potential liver issues have been singing the praises of CBD. Gummies, drops, and gel tabs are common, as are topical muscle rubs and CBD is starting to show up in coffee, drinks, and more. We've tested multiple different CBD products with some great success in lowering inflammation post-race as well as helping to provide deeper sleep for recovery, and partnered up with VengaCBD as a product we use ourselves and recommend.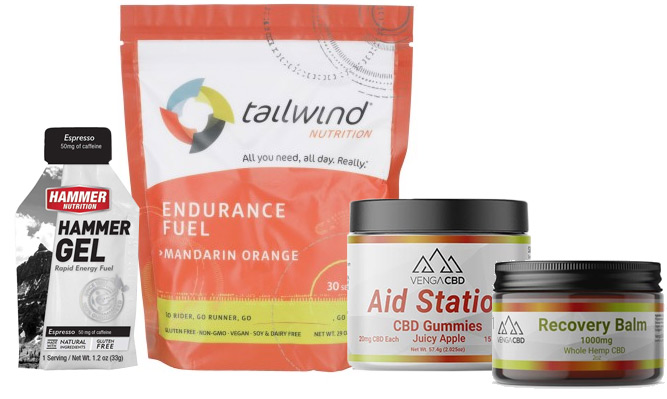 Recovery
Every good athlete knows that when you race hard, you need to pull out all the stops to recover as well. That means taking care of your body post-race and doing things that promote muscle recovery.
MudRunGuide Recommendation: CW-X compression tights which support and stabilize joints and muscles for faster, more efficient recovery. Are your feet sore? Slide 'em into a pair of OOFOS recovery sandals and enjoy the walk back to the car!
Training Gear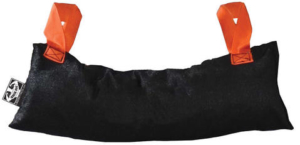 We've got a bunch of gear highlighted on our Gear Discounts page, including some of the stuff you see above and plenty more to outfit your race kit with the best stuff available, and also for some great training tools! One of our all-around favorite training tools is Wreck Bag, we've used them in the filming of OCR Warrior, and they are commonplace at OCR events all over North America from Rugged Maniac to the OCR World Championships! Available in a bunch of different weights from 10 pounds (Wreck Bag Mini) up to 70 pounds – they are a sure-fire way to get a great workout and train for your next OCR!
Pre- and Post-Race "Survival" Gear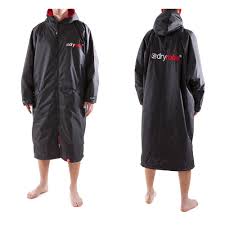 Unless you're Nanook of the North, most athletes hate standing around pre-race in freezing cold temperatures; even worse is waiting around after a race in wet clothes in the cold, wishing there was somewhere warm close by to change into dry clothes. Enter dryrobe; the best solution to both problems. Weather-resistant on the outside, and warm on the inside – with plenty of room for you to discreetly change your clothes in the middle of a crowd!
Our team has been using dryrobe for the last couple of years before and after participating in races from OCRs to ultramarathons, and dryrobe has also been MRG's secret weapon when covering events too! Whether we're spending the early morning chasing down the first wave or keeping our followers informed in the wee hours of the morning during a 24-hour race, our staff can provide better updates when we're warm and dry, right?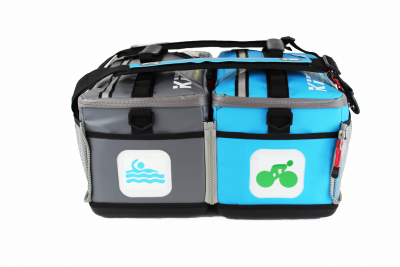 Additionally, we've lately been taken to the KitBrix as a means for getting our gear to & from the races. You can see our full review here, but it's a well-made bag, with lots of pockets, and is great for keeping everything else clean once you are done racing. Of course, a garbage bag technically works too, but, if you're going to be doing this a lot, a KitBrix is a good investment. You can find them at KitBrix.com (and save 10% with code mudrun10)
Stuff
"Attention racers, if you find an iPhone in a pink case out on the course there is a one hundred dollar reward for the person who turns it in to an official on the course. Please do not put it in your pocket and run through the water obstacles. Thank you." – Announcer at Spartan Race Arizona 2012. If you don't want to lose it, then do not bring it on the course. Your cellphone and wallet belong in the car after registration is done. Your earrings, necklaces and anything that's worth more than five dollars that's clipped, strapped, draped or hung around your body will fall off and be gone forever; it's as simple as that. There are some awesome and honest race volunteers out there that may give your your smartphone back, but why should they have to carry your stuff around? Be responsible and leave anything that isn't required for the race in your locked car or checked gear bag (although you should never leave valuables in your gear bag, just change of clothes and maybe a backup set of car keys.) Waterproof, head-mounted video recorders are ok-ish, but be prepared to edit out all the shots looking up the leg of someone's shorts during an obstacle and getting an eyeful of something that you had no intention of seeing the first time – never mind playing it back on tape. My personal opinion is to go out and run the race and leave the videography to the people that do it for a living. Anecdotes by Brett Stewart, author of Ultimate Obstacle Race Training