In late October of last year, our Facebook group. the Corn Fed Spartans, started the daunting task of getting Spartan Race to hold a Spartan Sprint in Indiana. In order to make this happen, the Spartan Race team wanted to test our commitment and see how many signatures and online sign-ups we could draw. To our mutual amazement, four thousand racers signed up and showed up along with all of their friends and family for turned out to be the very first Spartan Founder's Race.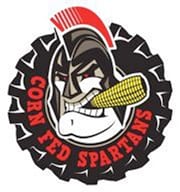 Our Corn Fed Spartan family is a very strong, supportive group of people from all over, mainly the Midwest, and we concentrate on helping each other, racing, and keeping each other motivated to live a healthy lifestyle.  When the race was officially announced, I was messaged on Facebook by a man named Steve Skidmore.  He was very thankful for us bringing Spartan Race here and excited to meet his Corn Fed Spartan brothers and sisters.  While Steve was out on a run training for the Indiana race he suffered a heart attack and died.
I had never met Steve but felt my obligation was to make sure one of our Corn Fed brethren was remembered at a race that was he was a part of helping bring together.  I reached out to Joe Desena, one of the Spartan Race founders asking for a simple memorial or moment of silence in Steve's honor.  His reply shocked me.  Spartan Race would purchase a seventy pound piece of Vermont marble engraved with Steve's name and race number, along with a saying that we will always remember our fallen brother.
Our Corn Fed Spartans group made the decision to complete the Spartan Sprint course while carrying the massive stone in memory of Steve; he would complete the course along with us.   With a pair of tie down straps a few of us rigged it up and I strapped it on on my back – and I made the decision that no matter how painful or difficult the task may be I was not passing the monument off; Steve was on my mind and his monument was strapped to my back for the entirety. It was an emotional, spiritual, and eye-opening experience of a lifetime.  I found myself tearing up quite often in thinking about Steve and how everyone had come together to remember him, and I was honored to carry that tribute to a husband, father, brother, uncle, and son.
On May 14th, Mother's Day, my fiancé Laura and I had the honor of meeting Steve's parents, sister, niece, nephew, wife, and stepson.  A group of Corn Fed Spartans handed over memorabilia from that event; a banner, custom Spartan Race t-shirts honoring Steve, a smaller  plaque for Steve's family, and of course that special piece of Vermont marble that had come to signify so much to us all.
– Jonathan Nolan, Corn Fed Spartans