Sprint, Super, Beast , Spartan Trifecta. This was accomplished for me and Chris on June 28th at Utah where we finished the Beast. Utah was at the same venue it has been for the past 2 years, Soldiers Hollow, the Olympic biathlon course in Midway Utah. We drove from Colorado, stayed 10 minutes from the venue and had picture perfect weather on Saturday to tackle this last leg of the Trifecta.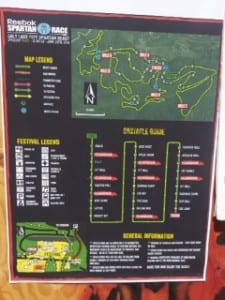 Parking at Utah was one of the easiest I have encounter. We were close enough that you could go back to your car and not avail yourself of the bag check.
Being from Colorado, we were great with the elevation at Utah as they are basically the same. No worries there, we just had to wrap our heads around the 12 miles that were facing us.
We had privy to the course as one of our COR members volunteered on Friday night and had all the obstacles that we would be facing. Now I know some people like to be surprised and I had trouble knowing about Colorado beforehand, but that all went out the window with the beast. I am glad I knew them. Truthfully, and everyone is different it is not the obstacles that scare me, it is the distance and the terrain.
We were facing 29 obstacles with a couple of new ones, and they were not difficult at all. One was rolling mud which was a always a pleasure because it cools you down. The other was a suspended tire over the bridge that you had to pull up, easy.
This race was pretty much we went for about 3 miles, had some obstacles then went up the mountain for another brutal uphill. We did this three times with the middle one at miles 6 and 7 being the absolute worse.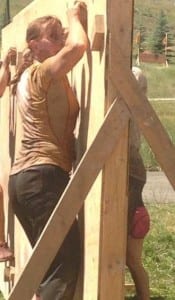 I read some feedback that the Hercules hoist was a lot heavier than other races. Chris and I did not think so. We still feel that Arizona was the heaviest. This one was doable. Chris made all his obstacles except for the cargo monkey net. I opted not to do it as I don't like dropping into water pits. There were two rope climbs in this race, one at the festival area and the other from the bridge. That one was shorter with hay bales to drop onto. I did not do those either. This race I did my 90 Burpees for the obstacles I did not even attempt. Chris and I did this one together and while he did the rope climbs and cargo net, I would start my Burpees.
I made the spear throw this time and it was the closest I have ever encountered. I threw it underhand which I had been practicing. Elites missed the spear throw, which I found interesting. This spear throw was level, we did not have a bunch of adrenalin going into it. I was on cloud nine because I have missed it more than I have gotten it.
After our 3rd uphill single track climb up the mountain we were headed down to the finish line. The last 2 miles were pretty much all downhill and we were able to actually run. We did not do too much of that. Chris carried a hydration pack but we hardly used it as the 6 water stations were enough for us. Plus we had focused on hydration and electrolytes that whole week prior. We carried energy chews also. I found that I had forgotten to take my cliff bar and I was hungry and I wished that I had some food.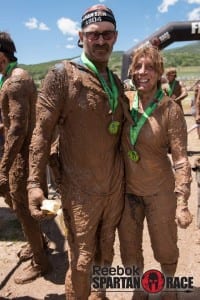 The end of this race was fantastic. And I mean that from many reasons. We were on the brink of getting that 3rd medal, we were finishing 12+miles and we were injury free. The end was the barbed wire crawl , slippery wall and the fire jump. That barbed wire was by far one of the best. It was muddy and slightly downhill and long. This is by far my absolute favorite obstacle. I have so much energy when I get there because the finish is so close. I do my very best at the end. I always have something. I got through the crawl using every technique I knew, sliding, bear crawl, slithering, rolling and army crawl. It was great. Chris on the other hand hated it. I I got through and waited for him so that we could attack the slippery wall. This wall was a mess. I opted for the extreme right side as there was some plywood visible. Chris got up the wall, and then positioned himself to help me. I had some problems with hurting my chest in a race the week before. I ran up the wall, got the rope and grabbed his hand and then got over. We climbed down, held hands jumped over the fire pit together and we were done. Chris beat me by 100th of a second. He deserved it. He was a good partner.
We were done, we were finished. Through this whole race we knew we would not do this again. These distances are not for us. We like the obstacles. I know for me I fell into the hype and social media of getting that trifecta. I am not willing to pay the price for that again. It is not enjoyable or fun, this was a chore. It was something we had to do.
We were covered in mud, from head to toe. Mud fell out of you. We looked like crazed zombies.
Mission accomplished, we had brought all our medals and that was nice to put them together. Colorado Obstacles Racers brought 25 people to this race who got their trifecta. We were part of that group now.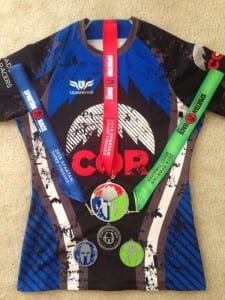 I have one more Spartan race to do this season, and yes it is only a sprint. Unbeknownst to me, I had run this entire race with cellulitis. This is an bacterial infection that showed up for me in my shin and ankle. I thought I had soft tissue damage. Besides the bumps and bruises, we get open cuts. This is what happened to me at my race the week before. I got an infection. This was not fun and makes me hesitant about continuing. My advice, watch the cuts and look into getting a tetanus shot.
Utah was a beast, a hard brutal course. Again not enough obstacles for the distance. I give it a 4.5 because really Spartan knows how to do this.
—–Martha Pasqueal—–
Did you do the Spartan Race Utah Beast? Share your own rating & review about the event today!