Sometimes your small regional races can literally kick your butt. Rugged Maniac is one of those. This race has been coming to Denver for the past 4 years. I believe they do a lot of things right.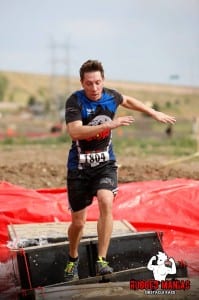 I have participated in this event all 4 years and it has taken place at the Thunder Valley Motor Cross Park each and every time. You would think that would give me an advantage but Rugged Maniac tries and succeeds in making it different every time. The first year it was in October. Then they moved it for the next two years to the 2nd weekend in May. One year we had rain, snow, hail and it was maybe 40 degrees. That was one wicked race day. And the next year beautiful race weather.
So this year it was held on July 26th, sometimes that can be scorching here in Colorado. But we were lucky as we had cooler temps and overcast skies.
Rugged Maniac keeps you informed with updates. I give them an A+ in that department. Parking was on site if you got there early enough. Otherwise you had to park somewhere else and be shuttled.
I personally am not interested in the festival aspect, ie free beer. I am interested in parking, ease of packet pickup and bathroom facilities. Those all were top notch.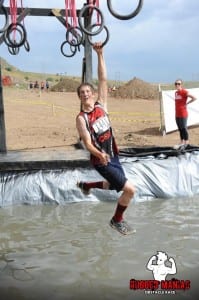 Rugged Maniac also has implemented the to be timed or not aspect. This is the 2nd year they have gone that way. It seems to work out fine as there was over 150 people who elected to be timed. You had to run between 9 and 10 am to be eligible for prizes. Prizes are given to the top 3 males, females and fastest under 17 and over 55 racers. I won the fastest time over 55 last year and was looking for a repeat. You get a free race entry and a Rugged Maniac sweatshirt.
The course was great, with only 3.1 miles and 23 obstacles. We had all kinds of obstacles and add to that an up and down hilly course. We had mud crawls, cargo nets, walls to get over. We had a seesaw you had to walk up and then come back down. There was monkey rings across water. We had about 11 trenches we had to jump over. I missed one and I could not get out of it without some help, it was that deep. One obstacle that took a lot of us out, me included was, the frog hop. I called it the floating platoons of death. We had 4 square floating things to get across. It was slippery and unstable.
Some obstacles were the same as years past but as always, Rugged Maniac comes up with some new twist.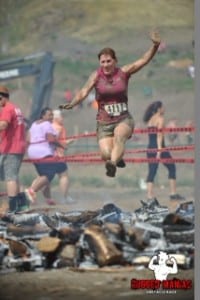 This year by far the favorite was the end of this race. We had a double fire jump and then we came around to the Mt Maniac. We encountered a warped wall, followed by a horizontal cargo net and once you got through that you had the slide to the finish line. It was fantastic. And another thing? They take the best pictures!!!!!
I got through another year of Rugged Maniac and yes it was fun and it was challenging. It is one of my favorites. I will be back next year as I was the fastest over 55 racer. I have to get my Rugged Maniac trifecta!
I give this race a 5, it had it all.
—–Martha Pasquale—–
Did you do the Denver Rugged Maniac? Share your own rating & review about the event today!