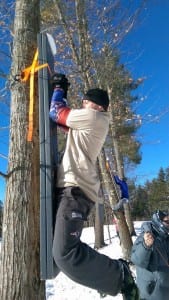 After more than two long months since my last OCR, I was excited to finally get back into the flow with Blizzard Blast, the winter-inspired obstacle race created by SmithFest Events. Now in its third year, the race series has quickly become an annual tradition marking the beginning of the new OCR season in New England. The local race has continued to improve and SmithFest always does a great job at creating a different experience each year. There was a small hiccup a few weeks prior to the race with an email about a date change. Due to a scheduling conflict at the venue, the race was moved 24 hours from the original date. Racers that were unable to attend were offered two options, a free transfer to another racer or a credit to a future SmithFest race. Thankfully, I was available for either day, so it was not a big deal.
With the fickle New England weather, planning a winter obstacle race can be a risky proposition. Earlier in the week, the prospect of having a "white" Blizzard Blast was appearing bleak. However, along with the scheduling change and a stroke of luck, a winter storm blanketed the area with fluffy, white snow the day before, providing a perfect setting for the race!
The event returned to the Four Oaks Country Club and Golf Course in Dracut, MA. The spacious venue is an ideal location for an obstacle course race. For $10, parking was at a satellite lot with a short 10 minute shuttle to the venue. With plenty of buses, there were no issues throughout the day. Registration occurred in a heated tent located next to the Country Club. With plenty of helpful volunteers, the process was quick and easy. We received our race packet, Blizzard Blast head buff and long sleeve T-shirt. They also offered a complimentary bag check and spectators were allowed free access to the course and after-party. SmithFest does an excellent job in making all of their events as spectator friendly as possible. Another benefit to the local race was the added perks that were offered for biggest team. Along with a snack bag and custom race shirt with the team logo on the back, they also offered a private "team" space inside the Country Club with a fully stocked bar. This type of accommodation is appreciated and exceedingly rare with the bigger, national event series.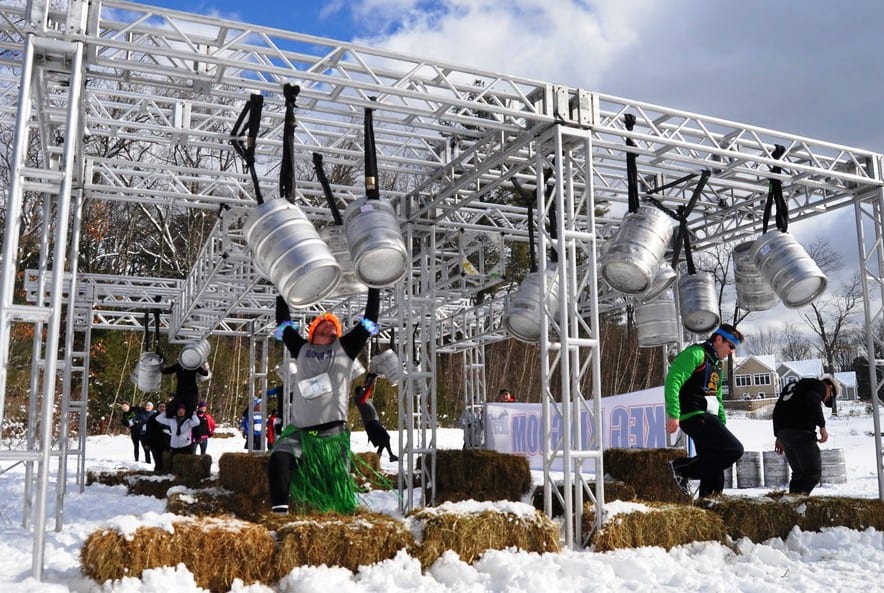 The race was extended this year from the usual 5k distance to nearly 6 miles and took full advantage of the expansive golf course and surrounding woods. The suggested penalty for not attempting or completing an obstacle was a seasonably appropriate "10 snow angle burpees" (drop, do a snow angel, hop back up and repeat!) Footing was a challenge throughout the course. There were many spots, especially some of the fairway hills, where the snow was masking a slick sheet of ice underneath. However, when you sign up for a winter OCR in New England, this should be expected. Either Icebugs or Yaktrax were the shoe of choice on this day.
The volunteers were constantly cautioning runners to be mindful of the slippery conditions. The terrain included running through the hills of the golf course and a few remote single track wooded trails. The entire route was blanketed with snow that thankfully had been somewhat packed down by previous runners. I imagine the earlier elite waves had a much more difficult time. Yellow caution tape lined the course throughout. The 20+ obstacles included your typical fare (O-U-T walls, traverse wall, tunnels, military crawls) in addition to some new and returning winter-inspired ones. I will touch on a few but please check out the video link for a complete recap of all of them. Along with the crowd pleasing two sledding hills was the cinder block walk that involved balancing on a cinder block and tossing another one ahead you, stepping on that one and repeating the process for a short distance. The snow became packed in the holes making them even heavier than usual.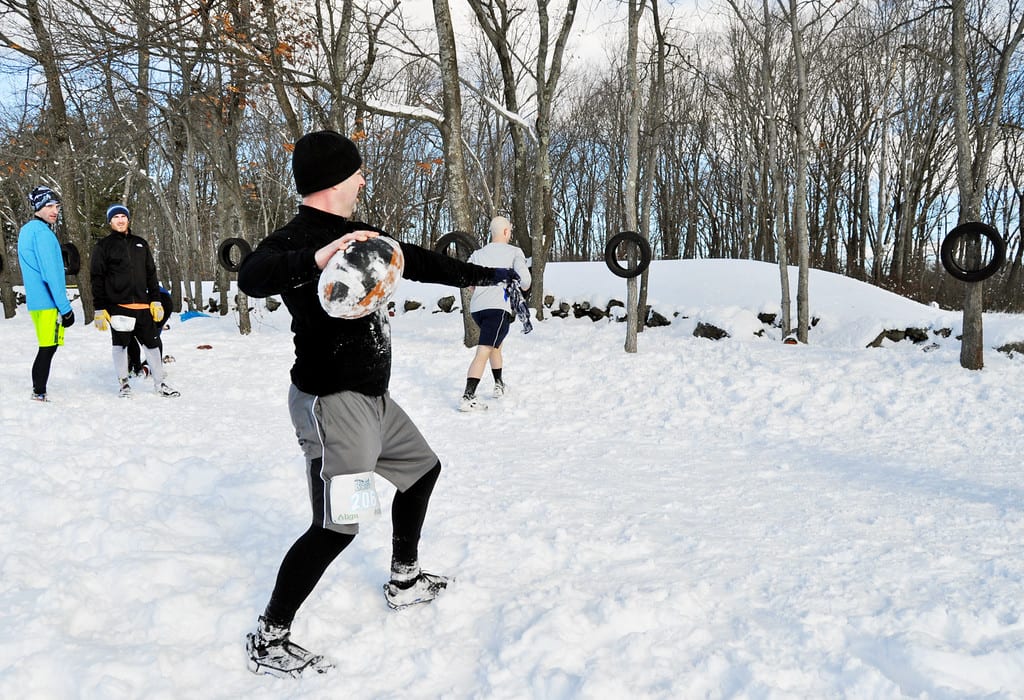 The signature Blizzard Blast obstacle and possibly the most unique one I've seen, Keg Kingdom, also returned this year. It involved swinging across four hanging empty kegs, a short stretch of monkey bars and finishing with four more keg swings. Awesome, fun and original! Your upper body strength was also put to the test with the vertical peg boards fastened to trees. A couple of the newer obstacles included the paintball target shots and football toss. The slick conditions and technical difficulties lead to bottlenecks at the following two obstacles. The teeter-totter became a potentially dangerous situation with the wet and slick conditions. With half of the obstacle already shut down, I wisely decided to skip past it. The wrist roll keg hoist was an interesting concept but many of the kegs were out of commission because the cable kept becoming dislodged from the pulley. The seemingly endless Christmas tree carry was exhausting and I was still finding pine needles hours later! After climbing over a few snow banks, we crossed the finish line and received our medals. I was glad to see they updated the bling from the last couple years. The new and improved edition was much larger and shaped like a keg. It also doubled as a bottle opener. Bonus!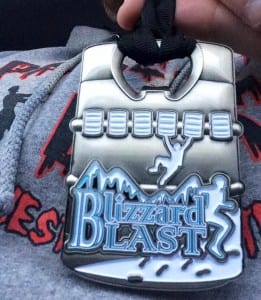 This year's after-party inside the club house was luau themed with coconut bras, grass skirts and leis everywhere! They also had a heated patio outside where they were grilling up burgers and dogs. Great music playing throughout and instead of a complimentary beer, each runner received a free bowl of chili, chicken soup or clam chowder which was perfect after a long, cold race!
With the unpredictability of New England weather, the logistics of trying to coordinate an obstacle course race in January must be a nightmare but SmithFest Events continues to impress with how smoothly they adapt to any situation. They always exceed expectations and prove that a winter event can be done successfully. This year's race incorporated many new obstacles and they continue to innovate. Hopefully other companies will realize the untapped potential and unique opportunity that a winter OCR offers. Blizzard Blast is always a great way to start the new year!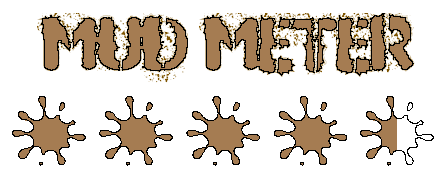 Overall Rating:
---
Check out what contributor OCR Sandy thought about the 2015 Blizzard Blast
Have you done Blizzard Blast before? Share and rate your own experience…