My excitement level was high as I headed to Polar Hero, first, this was my first OCR in Canada, second, it marks my third country to have raced an OCR this year and lastly, this "should" be my last winter/snow on the ground race this winter! I left New York State around 2:30 PM on Friday and drove just over 440 miles to Québec City and arrived around 9:00 PM. With a decent night's sleep I was ready for Polar Hero nice and early.
The Course: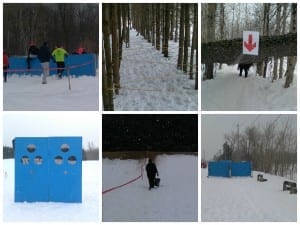 The first thing that caught my eye, both prior and during my first lap of the course was Polar Hero did a great job of not disturbing the snow, so a fair amount of the course had us racing in snow that was untouched and up to a foot deep. This made for a unique challenge and obstacle of it's own.
The first obstacle was a set of "slanted walls" that were about 4 feet tall, which was a comfortable obstacle after a few minutes of trying to run through the deep snow. After a short run I came to an area of trees that had an obstacle of "zig-zagged ropes" for a fairly long distance we climbed over or under them. The next obstacle was a "tennis ball toss" at several holes in a wall and if you missed the target, you had to do a penalty, I hate to admit it, but I stunk at this obstacle and missed the target two out of three laps! Up next was a "bucket carry" that was filled with snow and I was happy to discover the bucket wasn't heavy at all.
After some trail running came a "wall climb" obstacle and then another "curved wall climb" that was much taller than the first one and offered two versions. After some running we came to a "sand bag carry", the sand bags were a decent weight and I was happy to be wearing my Icebug SPEED BUGrip's which allowed me to almost never slip the entire day in snow, ice, and hard dirt/mud! The next obstacle was a memorization obstacle and I had to memorize a word and numbers based on the last digit of my timing chip. I was able to memorize mine and later in the race tell it to the volunteer with no problem! Next up was a "balance beam" obstacle that had ropes running across it, and required you to either climb over or under them while not falling off the balance beam.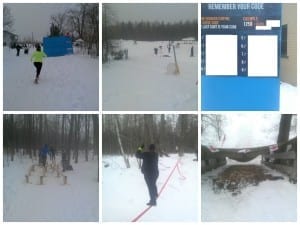 The next obstacle was a "Tyrolean traverse" which was made using slack line straps on the bottom (feet) part, designed to handle heavy weight loads. This was the first time I have seen these types of straps used like that and I was very impressed with how Polar Hero used them; it allows them to set up the traverse on just about any two strong and large enough trees and is both effective and affordable! Up next was another crawl, but this time down a set of stairs and the volunteer at this obstacle made sure to let me know this was the half-way point of the course.
The next obstacle worth mentioning was a "strap climb" using the same type of straps used for the traverse which again allowed for a very functional and safe obstacle that can be set up just about anywhere you have two large enough trees. After a brief run I came to a "rope traverse" that again used the same type of straps as mentioned above and I am happy to say I was able to ring the bell on this obstacle for all three laps! The next obstacle was one of the hardest obstacles on the course which had you pull your body up a high ledge and then climb down.
The home stretch of the course you could hear the DJ's music and race director pumping up the next starting waves, the next obstacle was a large "mountain of snow" that required me to climb up and down it. I then came to a fun "snow sled slide" which was a nice moment to just have total fun. After returning the sled to the top to the hill, I then came to the "Dead End" "Jeep crawl" which I actually laid on my back and pulled myself under the jeep by using the bottom of the vehicle. The next obstacle was the "Dead End" "warped wall" with a rope. The next obstacle was three volunteers holding "kick boxing" type bags that gave me a really good and hard bop each lap; I had a good time with these guys as each of us tried to knock the other into the snow. The last obstacle was a reverse curved wall climb, which had two versions for racers.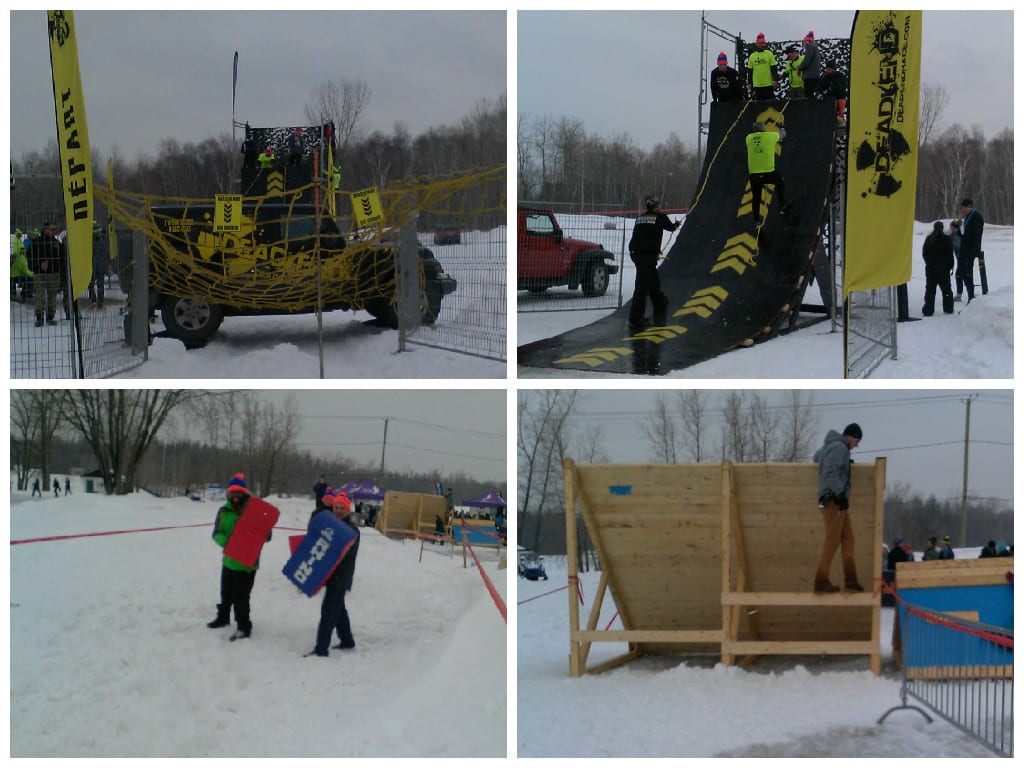 Overall Feelings:
The course was a lot of fun and very challenging with several difficult obstacles. As mentioned above, the fresh, untouched deep snow was one of the best challenges of the course and really drained energy in several sections. This was my first time in Canada so I have no comparison, but the volunteers were all awesome and helped make the event a good time all day. Polar Hero is run by two brothers (Gary & Kevin Pillu) and they both worked hard all day to put on a great event. I couldn't understand a word the DJ said, but he played awesome music all day!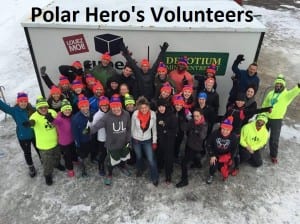 The Schwag:
For the first lap, I received the elite medal, which is a yellow medal and for my second and third laps I received a blue medal. The medals are very cool and I am happy to add them to my collection.
Overall event rating:
I really enjoyed the course/event and am rating it a 4.8 out of 5 stars! I have about five more races scheduled in Canada and can only hope that each one of them are as fun as Polar Hero was.
---
Have you tried Polar Hero? Share and rate your own experience…