This season has been action packed and Rugged Maniac was one the remaining race series I was really looking forward to.  I have participated in four other events at this venue. So coming to Englishtown for an OCR has become a habit for those of us racing in New Jersey.
The Course: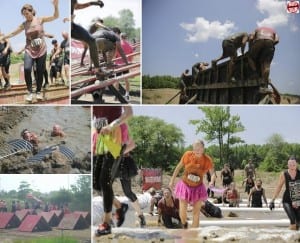 The course began heading out of the festival area to the first obstacle "Jacob's Ladder", a ladder wall climb. After the first obstacle the course continued for a short distance and came to the next obstacle "Barricades" which was a series of four foot walls. At this point the course made a turn into the woods and out of the direct sunlight and a short sprint later was "Quad Burners", which was a series of high dirt/mud hills to climb up and back down.
The course continued on muddy trails and came to "Speed Trap", which was a water pit racers had to swim/walk through. This obstacle was a lot more water than mud and wasn't near as a hard challenge as the previous sections of the course. After another brief trail sprint, the next obstacle was "Beam Me Up", which was a 14-foot wall. The next obstacle "The Gauntlet", which was crossing a larger balance type beam that does have a fair amount of shake in it as well as avoid large swinging bags. This can be an evil obstacle, because racers to your left and right could smash into their large bags so hard that they come over to your beam and knock you off and into the water! After another brief sprint was the next obstacle "Leap of Faith", which was jumping from a very short height into water. The jump is so short, and this obstacle should be called the "Skip of Faith".
The course continued on a motorcycle dirt bike track and next came "Ninja Escape", which I have now seen at several OCR's as of late and love, as it's just like the Ninja Warrior TV show and is several slanted walls that you have to hop/jump from slanted wall to slanted wall!  Up next was "Waterworks", which was entering a pit of about 4 feet deep water and then going over and under several floating wood log sections. Then "Balance or Bust" came quickly, a standard balance beam crossing over a body of about 3 feet deep water. Very quickly the course came to the next obstacle "Head Scratcher", which was barbed wire crawl that wasn't the longest distance crawl I have seen, but still a good challenge. Still on the dirt track, the next obstacle was also a short distance away and was the obstacle "Tipping Point", which was two seesaw obstacles to balance up and then down. The course had a brief sprint and came to the last obstacle in the dirt track section of the course, which was "Napoleon Complex", which was an 8-foot wall that had two sections/notches to assist getting over.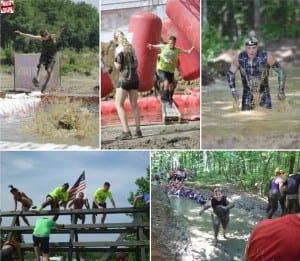 The course continued away from the dirt track and came to the obstacle "Let's Cargo", a challenging cargo rope net climb up and back down the net.The next obstacle, called "Commando Crawl"  was a very long crawl under a chained link fence. This obstacle is actually part of the Englishtown venue and one I have done in the past at another OCR race hosted at this same venue and it's a long distance to cover/crawl. After a short sprint it was time for "The Ringer", which is a series of monkey rings hung over a pool of water that racers have to swing across. This is one of the more challenging obstacles on the Rugged Maniac course and is a challenge for just about every level of OCR athlete. The next obstacle came up pretty quickly again and was "Frog Hop", which if I recall, was a series of three or four floating platforms to run/hop across.
The course continued on and up next was "Blobstacle",  a massive air pillow much like the kind a stuntman would drop on to from high falls, and the object of this obstacle was to climb up on top of it and then crawl across it and then get back down off of it. This obstacle is clearly created to be done with the assistance of other racers and they even have a sign next to it suggesting to help each other complete this one. The course again continued a short distance and came to "Pyromaniac", which is a series of three fire burning jumps. It was a hot sunny day both Saturday and Sunday and jumping over the three fires really did raise my body temperature more than I had expected.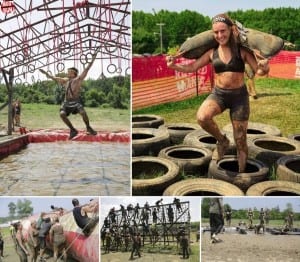 Just after a Wreck Bag carry, the course made its way back over to the festival area and up next was "Antigravity", which started out as a ladder wall climb up and then back down onto a trampoline and then after crossing the trampoline, up a slanted wall with a rope ladder attached to it and then back down a second ladder wall climb either by climbing down and leaping from the top on to a second trampoline. After crossing the second trampoline, it was time to climb back up another slanted wall with a rope ladder attached to it and then back down a final ladder wall and off the Antigravity obstacle. The course continued on a very brief distance and up next was "The Warped Wall" obstacle, which was a very challenging warped wall.  Once on top of the wall, the next obstacle was "Mount Maniac", which was attached to the warped wall and was a rope net that racers climbed across. This was a cool section of the course because the rope net was suspended over the entrance to the spectator/festival area so racers were literally climbing just above people coming and going to the event. Once past the net, there was a very short ladder wall climb and it was now time for the last obstacle of the course, the "Accelerator" which is a massive water ramp slide down into a few feet deep pool of water. I asked the volunteer if I could slide head first on my stomach and he said yes, so that is what I did both days. This was a very fun obstacle and I am sure it's a challenge for anyone that has a fear of heights. The course continued to the finish line and completion of a fun and challenging course.
Overall Feelings:
Not all obstacle courses have to be run up and down a big mountain with lots of hard obstacles to be a good course and a good time. The fact is, for the OCR sport to continue to grow and maintain it's important that variety exists and Rugged Maniac has put together a product and an obstacle course that does just that.
I enjoyed the course and found it to be a really good combination of fun and challenging obstacles that included some of the obstacles we see often and also a few that we do not see often enough like the "Ninja Escape", "Warped Wall", and the "Accelerator" which are all a great combination of fun and challenging obstacles.
The Schwag:
New for 2015 is a very sexy looking finisher medal, which I am very happy to now have two to add to my 2015 medal display. They also provided a very nice shirt which, just because of the name "Rugged Maniac" will be fun to wear and I can guarantee will have people ask me what is "Rugged Maniac".
Overall event rating:
The course was fun and challenging, registration was smooth and moved pretty fast considering how many people showed up before 9 am and were waiting in line early, the staff and volunteers all worked hard and had smiles and were ready to lend a hand, the schwag is nice, and the festival area was rocking both days and good times were being had by everyone. I am rating this event a 4.9 out of 5 stars.
---
Have you done a Rugged Maniac? Did you Race in Englishtown? Share and Rate Your Own Experience with us…