Having raced with the Mud Mulisha crew recently at Tough Mudder, both myself and my husband Ryan were excited that we were able to make it over to Victoria to run a race designed by our team mates.
It ended up being a gorgeous day for a race, which made things even more perfect.
Obstacles
For the 6km race, there were 15 + obstacles which was exciting, to have so many obstacles in such a small length of a course.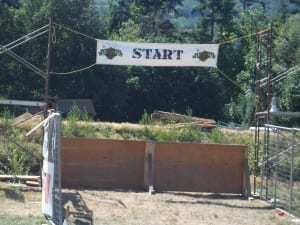 In the starting corral, racers were encouraged to get going by being sprayed playfully with a hose full of cold water. If you were asleep while waiting, that woke you up for sure. J There was also a set of burpees that you had to complete in order to get to the small traverse wall to start the course.
The obstacles all utilized the natural terrain, and included lots of shaded trail running which was a relief from the heat later during the race. You could tell that the Mud Mulisha race setup crew was very careful when creating the obstacles not to disturb the nature on course.
Of the obstacles included (as I don't want to give them all away), the ones that I found particularly challenging were:
The weighted tire drag – a rope was tied around tires of various weights and you chose the one you had to drag around a pylon and back.
The cave – a natural rock cave on part of the course. I am claustrophobic so it took me a minute or two to take a deep breath and climb in.
The rope climb – this was challenging due to my own lack of personal upper body strength, but I attempted it and happily did the 15 burpee penalty.
Inverted Monkey bars – I was limited by my own lack of upper body strength but this one was a challenge. I tried it and got to the second bar, again knowing what I need to work on for next year.
The slide / mud pit swim – I am not a strong swimmer and not being able to see the bottom freaked me out and I panicked a bit but made it across doggy paddling. I want to work on my swimming strength next year as this one truly challenged me mentally.
A clearly marked race map was sent out to participants and it showed the best places on course where they could view the obstacles (we had our friend use this map to find great spots to take pictures).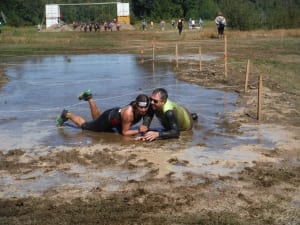 The course was clearly marked with temporary pink marker tape to ensure that you were going the right way during the run.  There was also an encouraging sign that said "you rock" along the course. Gave us a good laugh for sure J
Pros: 
Free Onsite parking.
There was plenty of available parking onsite and volunteers were clear in their directions on where to park for this event.
As this was a smaller race, I was very surprised to see the amount of vendors onsite, as well as the post-race beer garden was well setup. Within the beer garden there was fresh hot food, and the beer was reasonably priced. The start and finish lines were clearly marked as well.
As we had raced with the Mud Mulisha team before, pre-race we ran into a few of our Tough Mudder team mates who greeted us with a smile and cheered us on. To me it was nice that they remembered us and came over to say hi.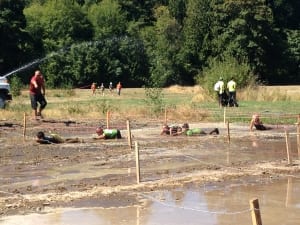 Post-race, the event directors came up to us to chat for a bit and were very open to our suggestions and feedback. They ensured we had had enough to eat and drink after the race, and let us know the race for them was about keeping things real and having fun. The personal touches were nice, I know this generally doesn't happen at the larger races but at this one it made my husband and I feel like we were home.
The merchandise tent was small but my husband and I were able to each get ourselves a nice souvenir tank top to commemorate our run. Prices were pretty comparable to the larger races as well. As the race grows I am sure they can add more merchandise (shot glasses, rubber bracelets ect), but for what was there it was a good selection J
The water in the hose off areas was warm. Having done several mud runs before, having to hose off with ice cold water can be body chilling. The Mud Mulisha crew also provided a couple of tents for privacy that one could go into, hose off and change – that I really liked.
The post-race party was fun. There were live bands in the music garden (this was included in the price of the race), and we even got to hear a pretty decent ACDC cover band  J
Official race photos are FREE! After the associated travel costs with getting to the race site, finding out the race photos were free was a bonus. So many larger and even smaller races charge a hefty fee for photos.
The Race Medal
It is very nice – decent sized medal, and very well designed.
A We Survived Board
Racers are able to sign their name and commemorate that they did the race. I love this idea as it's a place where racers can leave their mark, and it's neat to stand in front of for pictures J This is a neat idea as you can see what other locals other racers are coming from, and you can also leave your mark.


CONS:
Obstacles weren't labelled 
Not a deal breaker as the course was fun, but it would have been nice to know which obstacles we were coming up to and when.
Long registration line
We just got onsite after an over hour long ferry ride and scrambled to get into registration to run the same time as our friends. The line was very long, friends of ours that got there earlier said they had waited over 40 minutes to get registered. To alleviate this, I would suggest allowing confirmed racers to register on line and be mailed their race packages, or to have more volunteers at the registration tent to help speed the lines along.
More Photographers
I believe we maybe saw one the whole time on course. Not a huge deal as our pictures will be free, but I am glad I had a friend take pictures for us as well, as we may not have as many great pictures as we ended up getting without her.
Overall I would highly recommend this race to anyone in the Greater Vancouver area, or even outside the area. For the price paid for entry you get a challenging 6km- 15+ obstacle race, a really great finisher's shirt (not cotton like so many other races do now), a great after party, a chance to meet and chat face to face with the race organizers, and a muddy good time. It was the personal touches on this race that we really appreciated, you feel like you are coming home to do a Mud Run with family. My husband and I are going to attempt to do more of these races next year.
---

Have you tried Mud Mulisha? Share and rate your own experience on our site…