Yvette Tetreault penned the below recap of last weekend's Viper 2 Four Obstacle Race in Malaysia. She crewed for her partner Junyong Pak on his way to victory over the weekend. 
We first heard about Viper Challenge a few months ago when the CEO, Selva Kumar, reached out to Junyong Pak about Viper 2 Four. Viper 2 Four is a 24-hour obstacle race. Participants are tasked with doing as many laps of the 10k (6.2 miles) course as they can in 24 hours. Given Junyong's history with World's Toughest Mudder, Selva thought that this event seemed right for Junyong, and he was correct.
About Viper Challenge
Viper Challenge is the largest OCR company in Malaysia at the moment. They put on a couple of events and year and attract thousands of participants at each event. Viper Challenge positions itself as a teamwork event rather than a race. Viper 2 Four was their first event billed as a race, and it attracted some great competition. There were some international competitors in both the team and individual divisions and well as some tough local Malaysian competition.
Traveling to Malaysia
Our experience started on November 28th when we boarded our plane out of JFK. 24 hours and one short layover later, we landed in Malaysia. We had five days until the race, and we spent them in Kuala Lumpur and the surrounding area trying to do as much as possible.
Pit Setup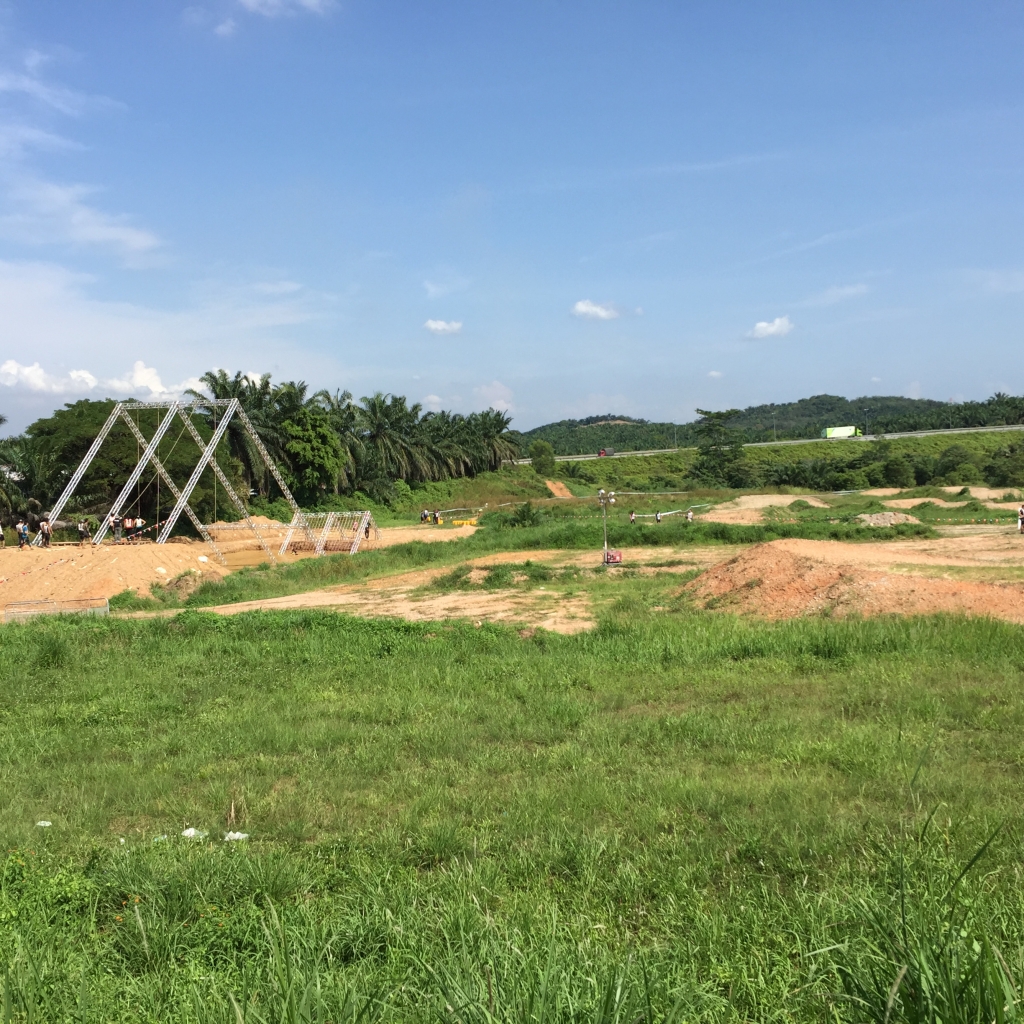 On Friday, we headed out to the race site to check in and set up our pit area. This race was held at the Sepang International Circuit racing track. It's a fantastic venue, and Viper challenge has used it before for their shorter races, so they were familiar with the location and knew how to make the best of it.  Check in went smoothly.  Participants were issued a bid, wristband and timing anklet that needed to be worn throughout the race. Each racer was allowed up to two pit crew, and they were issued wristbands to allow access.  
We had the great luck of meeting up with Andrew Hostetler, a friend from home who's currently working for Spartan Race and living in Singapore. Since we were allowed two pit crew, we registered Andrew as our second so he'd be allowed in the pit area with myself and able to help out if necessary.  It was great to have Andrew there for the first couple of hours for company and support! Thank you, Andrew!!
The Race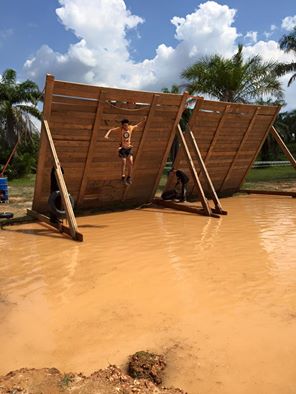 The race officially started at 8:42 am on Saturday, December 5th and would end Sunday at 8:42 am.  The first lap of the race was run without obstacles to spread out the field and give the athletes a taste of what was coming. There were around 400 entrants in the race, a great turnout for Asia's first 24-hour obstacle event!  
After lap one, Junyong was in the lead, but not by much. There were two Malaysian's fast on his heels. It became apparent early on that Junyong was going to have to work hard for the win if he wanted it. One runner, in particular, Heidilee (Dino) Mohammad, was proving to be great completion. Dino is an accomplished Malaysian triathlete and ultra runner, and he made that known in the opening laps. The heat and humidity were intense, but it didn't seem to phase Dino. Both runners went out relatively hard but quickly realized that they needed to reel it back in to cope with the rising temperature and the blazing sun. Dino took the lead on the 3rd lap and kept it until Junyong passed him on lap five around 3 pm.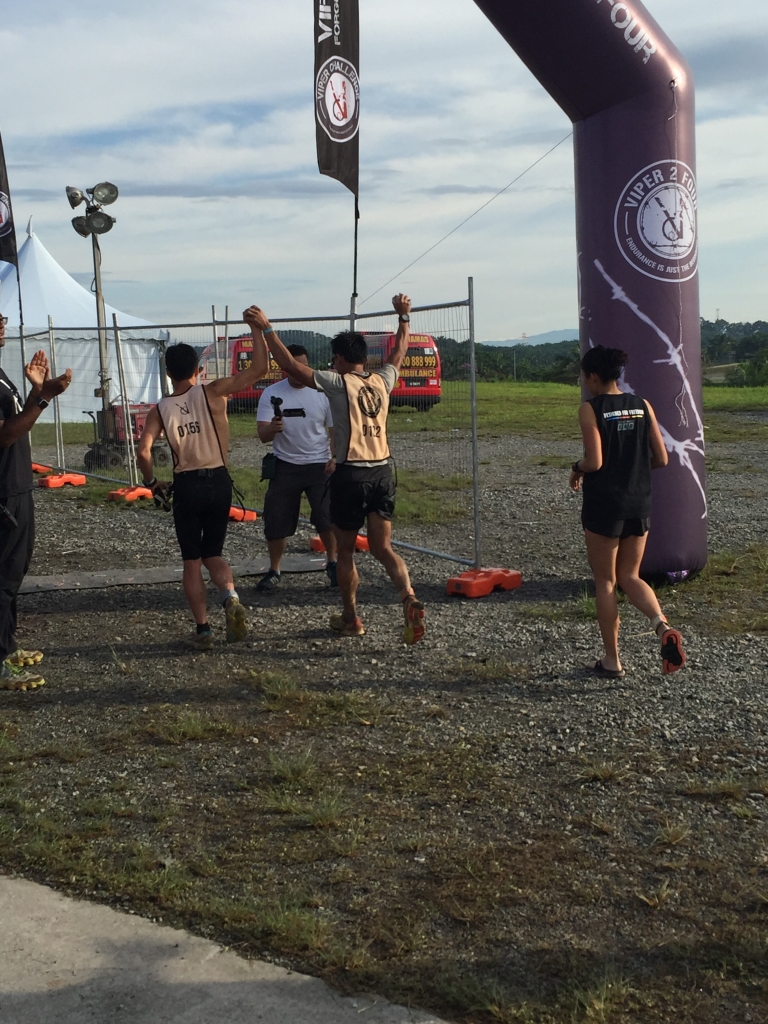 After lap 5, Dino opted for some rest but Junyong, true to form, headed back out for another lap. For those who don't know, December falls right in the middle of Malaysia's monsoon season. During Junyong's 6th lap, this became apparent. Around 4 pm, the rain started to come down and within minutes it was a full on downpour with lightning striking all around and flooding everywhere. Tents were blown over, and the large race tents completely collapsed. Junyong finished this lap at 4:29 pm and then the race director shut the course until the storm passed. With the lightning striking all around us, it was simply too dangerous to have racers out there alone. The storm passed quickly and by 5:45 pm the rain had stopped and the lightning was far enough away that the race staff could go out to inspect the course and ensure no obstacles were compromised.

The race was back underway at 6:45 pm. At this point, Junyong was a full lap ahead of Dino, who was still holding second place. Before the storm, Junyong was planning to run 17-18 laps but after losing over two hours to the storm he changed his goal to 15 laps that seemed well within reach.  Throughout the remainder of the race, Junyong ran lap after lap, increasing his lead all the while until he was a full two laps ahead. At about 6 am Junyong went out for his 14th lap feeling pretty good, all things considered. About two miles into that lap he felt his calf pull, and he was reduced to walking that lap. With his lead comfortably secured, he decided to play it safe (and smart!) and slowly walk the remainder of lap 14 and cross the line at 8:43, 24 hours and 1 minute after the start to claim the victory at Viper 2 Four. He crossed the line with Dino, who claimed 2nd place.
Full results:

Male individuals
1st: Junyong Pak, USA (14 laps)
2nd: Heidilee (Dino) Mohammad, Malaysia (12 laps)
3rd: Abu Hassan Abdul Rahman (10 laps)

Female individuals
1st: Tahira Najmunisaa Muhammad Zaid, Malaysia (11 laps)
2nd: Melissa Lim, Malaysia (9 laps)
3rd: Jaclyn Choo, Malaysia (6 laps)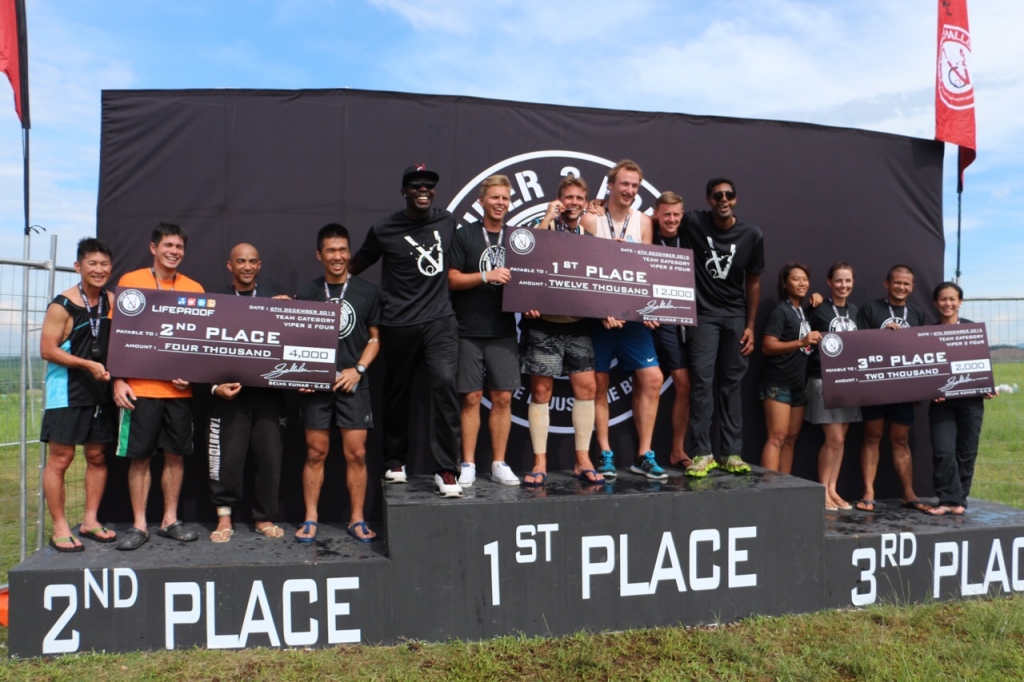 Team (relay format, four-member teams, two on course at a time)
1st: KTJ, England (12 laps)
Henry Wilkinson
Jason Walker
Kris Davis
Stephen Davis
2nd: Muddley Crew, Malaysia (10 laps)
Eugene Tham
Raj Ahmed
Boon Leong Loon
Sunil Bangah
3rd: Spam-Tastic 4, Malaysia (9 laps)
Cathy Tjassens Keiser
Zurita Abdul Hamid
Nur Azhar Azizi
Pasree Lee
Special thanks to Yvette for penning the experience of Viper 2 Four for Mud Run Guide. For more information about Viper Challenge check out our page for the race series.