Winter racing has a few extra challenges compared with moderate temperature events.  You have to plan how many layers are required based on an estimated time outdoors in the cold.  You have to watch the weather to determine departure times so you can arrive at the venue in plenty of time to park and pick up your race kit and you have to hope that there are no road closures, accidents or rambling deer along the way to slow you down.  Today, we were fortunate and made the 2-hour journey north with no incidents and with ample time to prepare and meet our fellow racers.
The Polar Hero Obstacle Race was held 90% outside with some of the most popular obstacles saved for inside the venue area for spectators to enjoy.  Some of the interior eye candy activities were the Platinum Rig, Rope Climb, and Cargo Net Crawl that hung gracefully over the start line to inspire those waiting for their scheduled 'GO'.
Polar Hero Obstacle Race Location
This was the second year that the TD Lansdowne Stadium was host to this event, and it has great access by car or bus and ample parking surrounding it on the main streets.  We parked for the whole morning for a mere $6.00 compared to last year's underground fee of almost $15.00.
There was a detailed map posted this year for racer's describing the basic layout, and that helped with getting participants to the main pavilion with ease.
Registration/Race Kit Pick-up
Registration this year was quick and easy and there were little to no line ups for race kit pick up sorted by last name.  Each racer received a timing chip, wrist band for bag check and classic Polar Hero tech tee. Special groups and those interested could purchase the traditional Polar Hero toque for $14.99 during their registration. Some racers chose the multi-lap option and could repeat the course throughout the day; they wore a different wrist band for tracking purposes.  The additional lap option was $20.00.
Polar Hero Race Details
From a distance you could hear the music inviting you into the large main pavilion.  The announcer Anthony Horng Perso kept everyone informed throughout the day of start times, Elite heat, race details, special announcements and motivated racers with his powerful voice and bilingual mastery.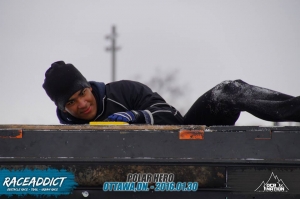 As this was an OCRWC qualifier (see the finalist list below), the timings were kept tight and accurate to ensure fairness and the course provided the nearly 750+ racers with ample obstacles, snow, and ice and challenges to test their strength and endurance.  At a mild -11 degrees Celsius the weather was far more forgiving than last year's -27 before wind chill.  The top 3 male/female finishers received a fantastic stuffed polar bear to commemorate their hard work along with the traditional Polar Hero medal, this year shaped like a bear with a high gloss finish in teal/white.
The tech tees chosen were black with a cute saying 'It's Only Snow' across the front and the standard polar bear logo on the back.  Toques, as noted before, were an additional gear option offered in a variety of popping colours for racers to wear while they tackled the winter course.
OCR Academy and Race Addict had booths centrally located where racers could purchase additional SWAG, race gear and find out information about upcoming events.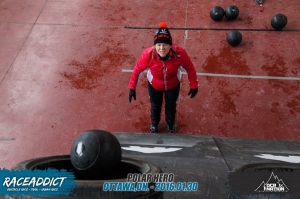 The 5K course looped out and back throughout the stadium numerous times and there was a nice blend of playground activities, larger obstacles (Platinum Rig), walls, climbs, crawls, jumps, over and under, ropes and carries.  This event included 25 creative obstacles in all.  The stadium stairs were used for the second half of the event and you could see racers snaking their way through the various levels up and back repeatedly.  Each hallway was blocked off with bins that racers would leap over to reach the other side and your inner child could 'magic carpet' its way down a giant hill spraying your face with giddy snow covered pleasure, only to have to climb back up to weave your way to the next challenge.
This was a family friendly event with a fun run available during the day for children that consisted of a 1.2KM out and back 10 obstacle route.
There was no water available until the finish line, so it is recommended to carry a small supply if you plan to be out there for an extended period of time.
Finish Line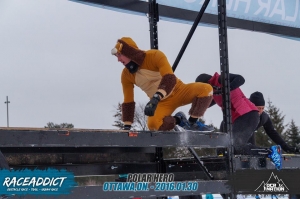 The finish line was strategically placed inside the pavilion, merged with the start line, so those waiting to race could cheer on the finishers and it also provided a warm and comfortable meeting area for family, friends and team mates. Muscle Milk was there providing samples as you merged back into the main vendor area and racers could move freely with no noticeable delays.
Prizes/Awards
This race recognized the top 3 male/female racers and ranked the remaining racers by timings based on age and sex to correspond to the OCRWC criteria. All finishers received a medal, and those doing multiple laps added mini-polar bear medals to their larger medal and lanyard.
Polar Hero Race Ottawa Podiums: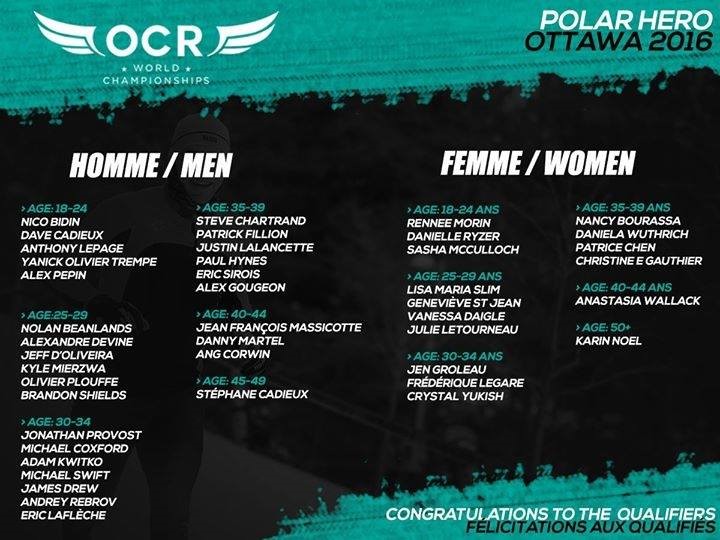 Men                                                   Women
1- Steve Chartrand                              1- Nancy Bourrassa
2- Nolan Beanlands                            2- Liz Mariz Slim
3- Jonathan Provost                            3- Jen Groleau
Unlimited lap winner: (7 laps)            Alex Devine
Click the image for OCRWC Qualifiers
Volunteers
Numerous volunteers helped out at this event and there were cheering spectators along the route to help motivate racers if they were tired or lacking the motivation to push a little harder.  Some had noise makers that resonated throughout the stadium and lured you on just a little further each time.  One obstacle had gummy chews to eat that were sugary heaven as you carried frozen buckets out and back in the open stadium snow covered field.
Communications
Overall this race had good communications via email, Facebook and Twitter. The website was easy to navigate and correspondence was responded to quickly and efficiently. For this being their second annual event, it has greatly improved over last year for flow, pace and keeping racers engaged from start to finish with a variety of challenges.
Thank you to Kevin, Gary, Brian and the Sportera-Adrenaline events team!
Rating: 4/5