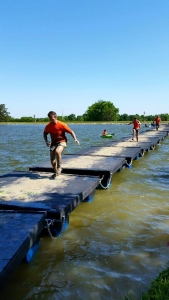 What an incredible week to be an Obstacle Course Addict! With races from over 12 different race companies all over the globe, there was no shortage of options for whatever level of crazy you wanted to indulge in. Some East Coasters were even fortunate enough to do two events in one weekend, hitting Warrior Dash in NY and Tough Mudder in PA – and speaking of Tough Mudder, they proved this weekend that teleportation is a real thing, as they popped up not only in Pennsylvania but in Chicago and Central TX as well, to rave reviews in every location.
We also felt Hobie Call's presence once again and he let it be known that just because he steps away every so often, it does not mean he is obsolete, and he also made sure we all knew his BattleFrog Series triumph last week was not won by luck as he once again neatly tied up first place in New England, at Bone Frog Challenge. Perhaps the SEAL's are his lucky charms?
Here is a run-down of some of the weekend's highlights:
---
PANTHER RUN – BIRMINGHAM ALABAMA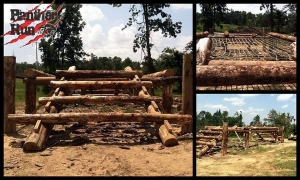 With so many races to choose from these days, you do not often see the words "SOLD OUT" when you go to an event website to register, but not only was their fifth event ever, sold to capacity, but they state that if you show up on race day without a registration you will "have mud shoved down the back of your shorts and sent home". Hey – don't threaten us with a good time.
The colorful and photogenic Billy Findeiss was there and had an amazing time. He shared this with us:
"The Panther Run is a fantastic local race held at the Ridge, which also has dirtbike/ATV tracks, a zipline course, camping, and airsoft. You have all the necessities – hills, creeks, woods and LOTS of mud. One of the Ridge owners, Jason White, is the mastermind behind the creative obstacles. He gives all the usual suspect, with more difficult ones thrown in. Climbs, nets, lily pads, ziplines, waterslides, log carries and tons more. As it grows they aim to keep the feel of the smaller local races that the larger events have lost sight of."
This is one to put on our radar for sure.
Pictures by Billy Findeiss and Panther Run
---
TERRAIN RACE – PORTLAND OREGON
Always a staff favorite, Terrain Race came into gorgeous Portland and worked their magic. With an aggressive race schedule this year, quality can suffer, but according to Tiffany Nguyen, with the exception of a few areas to work on, including a shortage of volunteers and no place to check results, they are definitely not falling into that trap.
"I love that they are using mandatory obstacle completion for the competitive waves. They had great obstacles including, monkey bars, tire flips, tire drag, many tall walls, a wreck bag carry, and rope climb, and my favorite – the monkey balls, which are made up of rock climbing holds followed by a series of cones, balls, and skull heads. The wet and rainy conditions added to the challenge and after nearly 6 tries and bleeding hands, this is where I turned in my band as I could not get past the transition point. I greatly underestimated the difficulty of this obstacle, but the comradery was amazing! Everyone was extremely supportive, offering tips to conquer this beast – and that's what these events are all about – the community of amazing people!"
---
THE BATTLEGROUNDS – ST. LOUIS MISSOURI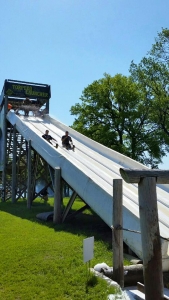 There is something we love about a fixed course, and this is certainly no exception. It gives the RD the chance to improve on and beef up what is already there and really put their creative spin on things. They also tend to be more obstacle consistent – which we all love. With 38 obstacles at Battlegrounds this last weekend, including many that are natural terrain based, it should satisfy the pickiest mud enthusiast.
Nathan "NaPalm" Palmer took 2nd Men's elite Saturday, and had this to say about the event:
"This race has been called the best mud run, and the best-fixed course in the Midwest. This was my first time running this series and I have to say it was a runner's course for sure. It started out as a sprint to get ahead, then a small bridge and then off to the races. First were some 3-4ft high logs we jump over, followed by lots of running through the Vineyard, then across floating lily pads, and…lots more running. It was beautiful terrain when we were running in the trees and along the creek. They had some key obstacles at the front area and were very spectator friendly. I look forward to running another one, as they work on improving it to be more of an obstacle race and less of a mud run. Overall this was a well- planned race run by great people."
Joining Nathan on the podium were David Baker in 1st and Michael Wegrzyn in 3rd. For the women, we saw Megan Berg, Laura "Strike a Messner" Messner, and Toni Corsolini.
Pictures courtesy of Battlegrounds
---
BONE FROG CHALLENGE – NEW ENGLAND MASSACHUSETTS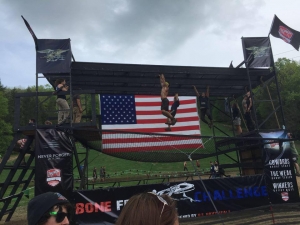 This is one of the most beloved races out there at the moment, with athletes traveling from all over to be a part of this event, they had a lot of pressure to deliver – and according to Andy Zuber, they definitely did.
"The course seemed very well laid out from the start and there was a good mix of new obstacles and old favorites from the start. Hurdles, a small wall, and barbless wire crawl were some of the first on the list to get us warmed up. We did a small run up part of the mountain and then dropped down toward the festival area for the rope climb and ammo can carry. This was followed by the wall to sign your name on and a cargo net based obstacle, 31 soldiers memorial where you did 31 burpees in honor of the soldiers represented there.

There was a fun rig style obstacle with small ropes that had a black knob to hang from at the end. A tougher rig followed and then a Tyrolean traverse, hell's gate obstacle, another water crossing, and the last wall of the course as we re-entered the festival area and plenty more obstacles that followed. Overall the course was fun, challenging, and made good use of the terrain. I loved the venue and the views down the mountain from various points on the course were beautiful especially considering that the weather was absolutely perfect for the event."
As mentioned earlier, Hobie Call came in to take 1st place in the Elite Men's division, Followed by Junyong Pak and Joshua Fiore. The female podium was equally met with familiar names, with Nicole Duquette, Lynnae Kettler and Kathleen Lamphear taking top honors.
Pictures courtesy of Andy Zuber and Bonefrog
---
BATTLEFROG – TWIN CITIES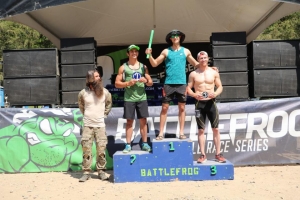 With BattleFrog's beefed up race schedule, and lots of ground to cover, it is always impressive to see how they keep things fresh and keep the athletes coming back for more. Lisa Nondorf, a frequent flyer of the BattleFrog Master's podium tells us exactly why she travels all around to hit as many of the series as she can;
"Coach Pain gave, as always, his spectacular send-off speech that brought a tear to quite a few eyes. Immediately, you could tell that this was not just going to be a quick run through the woods with a couple obstacles. To describe this terrain in a couple words, rolling hills EVERYWHERE.

BattleFrog did an excellent job utilizing the terrain and although there were not a many of the extreme upper body challenges that they have come to be known for, they still managed to find ways for athletes to push their limits (including a double wreck bag carry for the men). All in all, they put on a well-organized, challenging yet fun race, and the talk throughout the festival site was overwhelmingly positive and all I saw were smiles. This is why I keep coming back for more!"
On the elite podium, we saw both new and familiar faces. For the men, it was Mikhail Gerylo, Jordan Buscemi and Kirk Dewimdt who took it home, and for the women, it was Julie Hartjes, Amanda Mendez and Laura Prom taking the well-earned accolades.
Pictures courtesy of BattleFrog