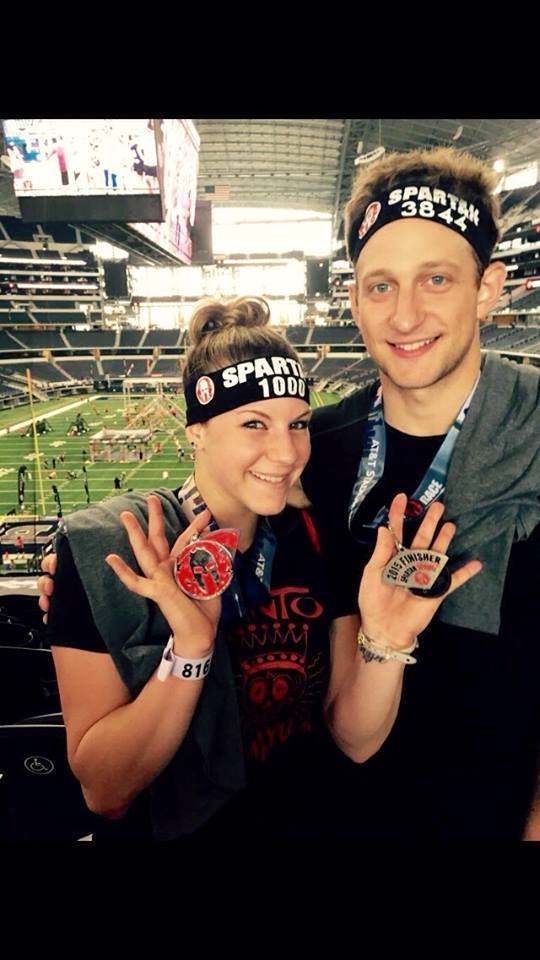 Name
Peyton D'Andrea
Age
25
Lives
Danbury, CT
Occupation
Educator at Lululemon Athletica
Favorite OCR series
Spartan Race
Favorite obstacle
Monkey bars
Least favorite obstacle
Barbed wire crawl
Ideal race distance
6-10 miles
Favorite previous race venue
Tuxedo Ridge in Tri-State
2016 OCR goals
Complete the Spartan Trifecta
Brief bio
I currently live in Connecticut with my boyfriend, Zach.  I work at Lululemon, a company I hope to grow in over the years and become a manager.  I have two dogs that I love dearly and they are both rescues.  I have been a vegetarian for seven years and I LOVE to work out and meet new people in the community to sweat with!
Why do you compete in OCR?
I love having a combination of physical and mental challenges and that's exactly what OCR is to me.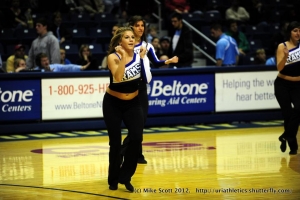 What's your athletic background?
I have danced my whole life.  In addition, I currently do CrossFit along with a variety of classes, like spin, yoga, boot camp, HIIT, etc.
Have you overcome any significant setbacks, such as injury, personal trauma, etc.?
I had to quit gymnastics when I was younger due to losing my hearing in my inner right ear, which decreased my balance by 50%.  I overcame a lot in my dance and athletic career to learn how to cope.
Was there ever a time during your first race that you thought you couldn't finish?  Once you did finally cross that finish line, what thoughts were going through your head?
I did have a brief moment during my first race that I thought I might not finish when I looked up to the top of the mountain and was out of breath.  I had to focus on one step at a time and tell myself that I was capable and strong enough to finish.  When I did cross the finish line I felt extremely proud.  I worked hard and it paid off in the end.
Why do you think that obstacle races have recently become more popular than 5k or marathon races?
Obstacle races I feel are becoming more popular because they add another level of physical challenge.  They have more variety which makes the courses more interesting and fun!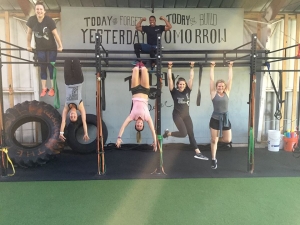 How do you train for obstacle course races?  Do you have a coach, training group, online workout plan, etc.?
CrossFit has helped a great deal with developing my strength.  I also have been working on running hills and trail running to better prepare for the courses.  I think it is important to have variety in your training so all of your muscles have a chance to develop and gain strength to benefit every part of the race.
I've heard the saying "couples that train together stay together."  How has spending so much time on the course with your boyfriend, Zach, helped strengthen your relationship?
Zach and I had been best friends for 10 years before we started dating.  We share a love of fitness and living a healthy and active lifestyle.  We started racing together doing 5ks and ran our first marathon earlier this year. We have been addicted ever since we founds Spartan Races.  We never leave each other during our races and we encourage, motivate, and push each other to the finish.  Our relationship has strengthened through training and racing together because we have been together through the best and worst times.  I look to Zach for support during races and during our everyday lives. I love him for his dedication to being the best he can be and I love to see him in competition mode.  I am always so proud of his accomplishments and feel so fortunate to be by his side.
You and Zach put a great emphasis on running for charity whenever you compete.  What's the back story behind that?
Charity is a huge contributor to why Zach and I race.  We race for others not ourselves.  One charity in particular that we focus on is Breast Cancer.  Zach's mother is a breast cancer survivor and both of my Grandmothers passed away from breast cancer.  We are proud to run for this charity along with many others!
What is the proudest moment you shared with Zach during a race?
One of the proudest moments during a race I shared with Zach would be during our marathon.  I couldn't have been more proud of Zach for finishing such a long race.  Even in exhaustion and pain he didn't quit.  I knew he wouldn't but it was amazing to watch him finish the race strong sprinting to the finish line.
What advice do you have for people who make excuses about why they can't do an obstacle course race?
You can do anything you put your mind to.  If someone truly wants to complete an obstacle course race they will. They won't make excuses and they will do whatever it takes to finish.  All it takes is you believing in yourself. No one else can do it for you!
Where do you see yourself 10 years from now?
I see myself sweating every day, trail running with my dogs, racing with Zach, living in a log cabin surrounded by beautiful scenery, traveling often for hiking and camping vacations in national parks, growing my own fruits and vegetables, and being in great physical shape living a healthy and fun lifestyle.
You've lived all over the world.  Recap where you've lived and what it was like growing up in so many different cultures.
I have lived in many places from a young age and have been fortunate enough to travel the world with my family and alone.  I lived in Texas, Dubai, Singapore, Indonesia, and sweet little New Hampshire!  Living abroad made my family closer than ever, and it made my sister and I become very adaptive throughout our lives.  We have always been sensitive to other beliefs and cultures, and open always open to new adventures.  I am blessed to have been raised to accept anyone and everyone while embracing our differences.
Give me a fact about yourself that would impress most people?
I taught English and American sports at a camp in France two summers in a row, and I backpacked Europe with my best friend Emily.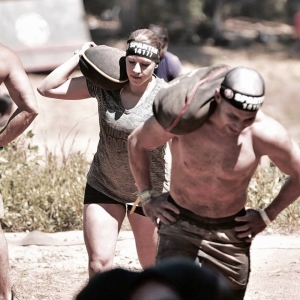 Outside of obstacle course racing, what is your biggest passion?
CrossFit is definitely my new obsession. I love to compete with myself and improve my strength while learning new workout routines.  I also love to volunteer and be involved charity work whenever I can in the community.
Are you pursuing any achievement this year, like a Spartan Trifecta or running one race from each of the major series?
Zach and I will be completing the Spartan Trifecta this year and we have already been looking into next year's races so we can plan trips to race close to home and vacation for OCRs across the country!
How many medals do you own and what do you do with them after the race?
Zach and I have a lot of running medals and adding our Spartan medals to the collection. We are going to create a wall dedicated to our races by hanging photos and the medals to celebrate all we have done.
What's the furthest you've traveled to attend a race (or are planning to travel this year)?
We have planned races closer to home currently so it has been easier with our new jobs.  However, next year we hope to make a vacation out of the races and go to locations like Colorado and California!  We want to do all the things!
Pretend you and Zach are race directors for a day.  Describe the course you would design (including pre- and post-race festivals, if you'd like).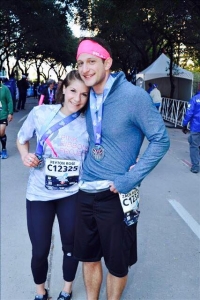 Peyton:  I would create and obstacle course race for special needs children and adults.  I worked in an all-boys group home and as a behavioral specialist, so working with special needs has always been a passion of mine.  I would create the race to have each competitor team-up or buddy-up to complete the course together.  I would have a huge party at the end that would give the finishers time and resources to meet each other and make friends with each other that they could keep in touch with and share race accomplishments with.  The goal would be for them to remain friends and buddy-up again to finish more races together in the future. The bond they would share would be life-long.
Zach:  I would design an obstacle course race with steep climbs over difficult terrain through the woods, with longer, more challenging obstacles. Specifically, climbing and grip/upper body obstacles that are longer with more variations along the way.  I would also like obstacles that require great balance, as well.  In some longer, run-heavy sections that don't have obstacles, I would include easier terrain and slight downhills to get everyone really moving fast.  After lots of dry obstacles and running, I would throw in some mud and water obstacles.  And finally at the end…everyone gets a beer at the finish line and another beer coupon for later.[/fusion_text]