Happy Monday everyone!
This last week could not possibly have had a more exciting array of Big names, Insane terrain and Morning-after pains. From the grueling Spartan Ultra Beast down to the family fun Mud Ninja, there was something for every one of you Mudheads.
Speaking of Spartan Race, you may notice the glaring omission today on the inclusion of their Super/Beast/UB weekend review and results. Results & images have been surprisingly few out of eastern Canada (aside from pics of Miguel's and Jesse Bruce's severely blistered feet, but we're not sharing those at breakfast time!) Spartan is still compiling data, and we will have some great write-ups coming soon – so keep an eye out!
---
MUD NINJA – OHIO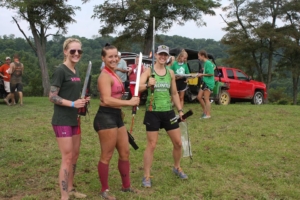 As much as we love our big, beautiful race series, we are equally as indebted to the smaller events that keep this sport interesting and exciting. Mud Ninja offers up fun for everyone in the family while still creating a worthy challenge for those who decide to take it head-on. CTG Pro Team and OCR GEAR Race Team member Amy Pajcic nabbed first place for women, and had this to say about her day in the sun:
"Mud Ninja was so much fun! The obstacles were unique and had a good mix of small easy ones with bigger unique obstacles that got especially challenging as the mud caked on. The terrain of the race was VERY hilly and the storm of the previous day made the mud a huge factor.  One of my favorite obstacles was a "rig" of old cut tires as rings and foot rings, and a jump off a springboard to a cargo net that you had to grab & pull yourself up a bit before you could get your feet up, with ropes to climb up in case you couldn't hit the cargo net. 
It was well run and you can't beat the awards, ninja swords and throwing star medals? Can't beat that!" – Amy "Magic" Pajcic
Joining Amy on the Women's podium were Nicole Majewski and Amber Headrick, with Jamie McCart, Taylor Clark and Matthew Mullens taking home swords for the men.
Pictures courtesy of Amy Pajcic and Mud Ninja
---
WARRIOR DASH – MICHIGAN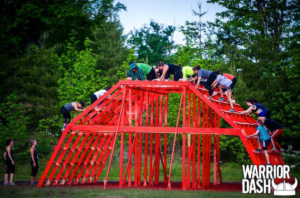 It is virtually impossible not to have a good time at a Warrior Dash event right? Show up and it is basically guaranteed that you will be challenged, get muddy and have a blast. With FUN being the name of the game, if you are looking to get some heavy grrrrr on, this might not be the race for you, but most of us just love to spend the day with friends doing what we love most – mud, obstacles, and a heckuva after party – you will get your fill here.
Warrior Dash took over the E.A. Cummings Center is Michigan's largest county park system full of horse trails, canopy-laden wooded trails, and lakes.
Taking top tiers at this weekend's event were Matt Inch, Ethan Barnes and Keith Zech for the men, and Ashley Saba, Vanessa Finlay and Alyssa Turrentines for the women. Congratulations all!
Photo: Warrior Dash
---
BATTLEFROG – PENNSYLVANIA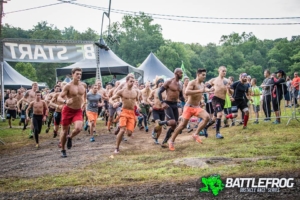 It was scorching hot, and not a mine nor a meadow in sight, but that did not stop these athletes from showing up and giving it everything they had. BattleFrog Series took an extremely proactive stance on the weather and made sure there were not just extra water stations, but that it was kept cold, and gave various ways for the racers to keep their core temperatures safe. Chris Irvine braved the elements and had this to say about the event:
"BattleFrog has outdone themselves in creating an extremely brutal course.  The terrain was all over the place with varieties of difficulty, and clocked in at about 5.5 miles a lap, 1,750ish feet of elevation gain, and 29 obstacles. The rig was particularly difficult. (Elite) Vertical straight bar to two rings, monkey bar, a long stride to a thicker metal beam, to another monkey bar, two rings and a rope and finally a horizontal straight bar. It was a whole lot of grip strength and swinging!! It ended with an ice bath that was the perfect way to welcome you to the sweet, sweet finish line. I loved this race!"
Topping the blue and green boxes this weekend were Ben Kinsinger, Austin Azar and Caleb Rounds joined by Tiffany Palmer, Kelly Sullivan and Amy Rice – HOOYAH all!
Pictures courtesy of BattleFrog
---
GREEN BERET CHALLENGE – GEORGIA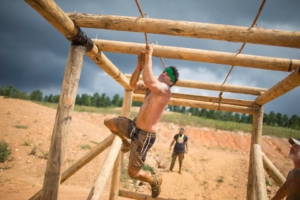 This was a new type of Green Beret Challenge for those who have always wanted to try this amazing event out, but was intimidated by the scope of the race. It was by no means a cakewalk, but did make it more accessible to a wider audience, and it was welcomed by quite a few no-nonsense athletes.
Mark Ballas, owner and founder of the race described the new event in these terms:
The GBC is launching its Sprint distance "Operator" Individual Obstacle/Endurance Challenge this summer. They will be running both competitive, timed heats, as well as open, non-competitive heats scaled for the athletes that are solely interested in completing the challenge. In 2016, The GBC delivered two options for racing: Our individual Sprint series kicks off this summer with the Operator Course, a combination of military style obstacles coupled with our unique GBC endurance challenges, all wrapped into 4 challenging miles, and will consist of obstacles, terrain running, and our unique GBC endurance challenges or WODs. We feel this will be a great way to introduce the GBC endurance challenges to a much broader audience.
 This course is designed for all levels of athletes, both competitive as well as the fun runners looking for a good time.
Crushing this event and wrapping themselves in fancy OCRWC qualifying shirts were Richard Estep, Jared Campanella, and Connor Peterson with Rachel Watters, Shenoa Creer and Shannon Fevella 
Pictures courtesy of Green Beret Challenge
---
SAVAGE RACE – CHICAGO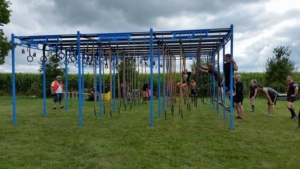 The "big blue meanie" was back this weekend and better than ever. Always leading the pack with innovative obstacles that test your every muscle while making you use your brain at the same time (insert grunting noises here), Savage Race is consistently drawing names and numbers that are more than impressive.  Rob Marucci showed up to prove his mettle, and had this to offer us:
Since it had rained the two previous days, I was expecting an extremely muddy run, but was surprised to see the only mud on the course was where it was supposed to be! Savage did a great job laying out the course- fast paced running over 6.4 miles and 24 challenging obstacles. I especially enjoyed the new obstacles: Squeeze Play, Pole Cat, Big Cheese, On the Fence, Savage Rig, and Tree Hugger. Squeeze play definitely caught me off guard, as I managed to get stuck under the first of three barrels you crawl under. Pole cat is creative and challenging, as you shimmy along the poles, face down, staring at the water you are trying to avoid. Your upper body is definitely tested with the Savage Rig and Tree Hugger to finish things off. This was a great course and I'm already looking forward to next year!
Putting everything out there, the Savage podium featured Yuri "Unstoppable Force" Force, Jordon Buscemi, and Sebastian David with Ashley Samples, Margaret Cavenagh and Kim Kedinger
Pictures courtesy of Rob Marucci
---
OCR WORLD CHAMPIONSHIPS – Registration Update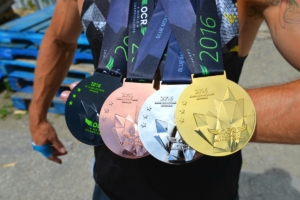 This year's OCR World Championships at Blue Mountain in Toronto, Canada is already shaping up to be the best one yet, with Friday's blisteringly-fast 3k course, the 15k course on Saturday, and team challenge on Sunday – but you may get shut out if you don't act fast! Just like last year, the OCRWC team is capping age group spots to ensure even competition out on the course, each age group start will be limited to athletes in that 5-year age bracket only and you'll know exactly where you stand against your fellow age group competitors from start to finish line. Here's the update from Adrian Bijanada:
A quick note my OCR friends to avoid future awkward conversations!
Many OCRWC divisions are filling up fast. Specifically, the men's Pro, 30-34, 35-39, and 40-44 divisions are all at or above 90% capacity and will close very soon. However, the team and I were able to devise a solution that we think is fair and most importantly, is able to accommodate both late season athletes AND races that have yet to happen.
We are giving athletes that have already qualified until August 10th to register. After that date and once a division has been filled, spots will only be available for athletes who qualify in late season races (after August 10th) or that previously pre-registered. This allows us to maintain a manageable size field, yet not also penalize athletes who are attempting to qualify later in the season.
For those that miss out, similar to last year, we will be implementing a waiting list system that will operate on a first come, first served basis.
So, if you have friends or teammates on the fence, I STRONGLY encourage you to get them registered. As others can attest, we take your OCRWC experience very seriously which means this policy is something we are pretty strict with!
---
Congratulations to all of you that showed up, and gave everything you had this weekend – no matter what that entailed. Thank you for keeping this sport we love alive and well and thriving!!!