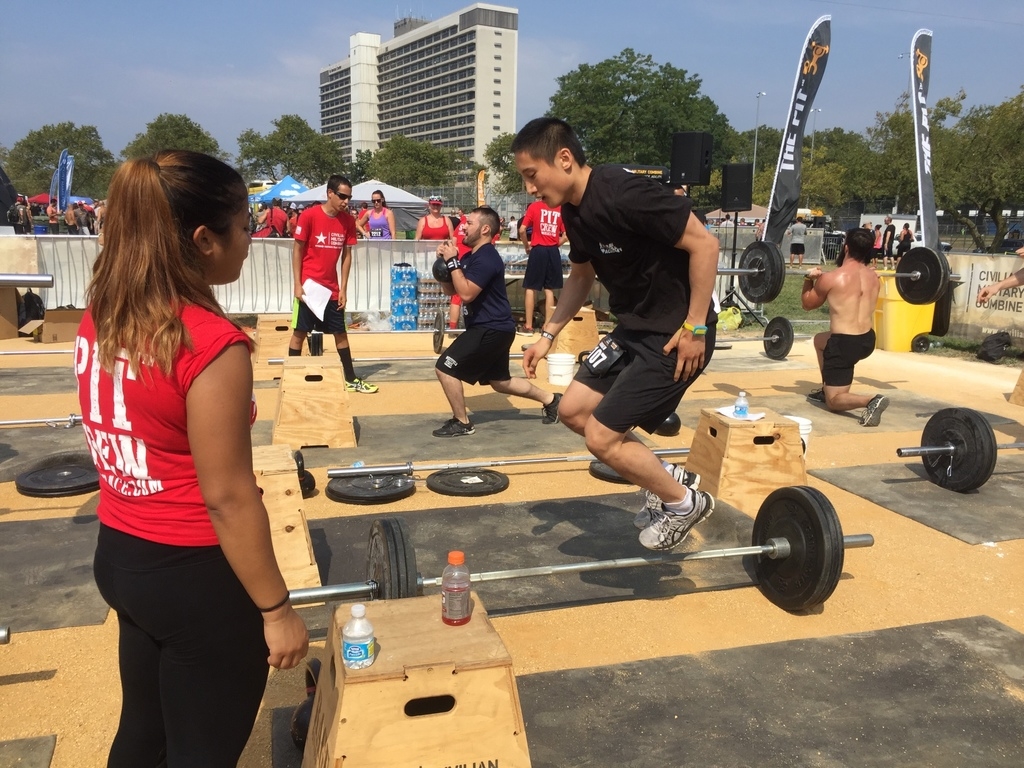 Wow – what a week to be an Obstacle Course Racer…. Some of our favorites were majorly showing their plumage this weekend, with athletes having the enviable problem of instead of finding a good race, instead they were struggling to decide WHICH race they would be attending! With Civilian Military Combine back on the circuit with a rocket, unveiling exciting new obstacles, Savage Race crushing numbers and levels of fun, Terrain Mud Run bringing a solid good time to everyone who was lucky enough to be there, and Spartan Race at Fort Bragg raising patriotism to a level that left the burliest of men in tears, it was a an amazing weekend to be out and playing on our adult recess playgrounds.
---
CIVILIAN MILITARY COMBINE – Brooklyn NY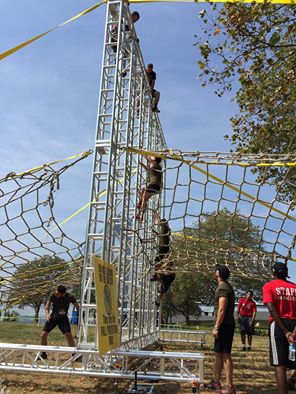 With the wonderfully devious and creative mind of  Garfield Griffiths designing the relaunch of this racer favorite, Civilian Military Combine, people have been excited about this event for months now. We all knew there would be a CrossFit style functional fitness pit, we knew the obstacles would be big and innovative, and we knew the fanfare would be huge – and we were all right. Those in attendance had an amazing time and it the first day back is any indication of what the season will look like for them – the future of CMC is bright.
Our own EIC Margaret Schlachter flew east to catch this great weekend and had this to say:
CMC kicked off the relaunch of the company over the weekend with their event at Fort Hamilton in Brooklyn, NY. It was really a unique experience having an event on an active military base. Many members of the base participated in the event and the kids race had over 100 participants!The event started with THE PIT which featured three levels of functional fitness exercises to challenge any athlete, then went into a 5K obstacle race with over 25 obstacles including the debut of Vertigo and Diamondback (which will be at OCRWC). CMC is definitely a unique event and unlike any other in the OCR world, but fun for both CrossFit type people as well as the OCR fanatic.
In the interest of accuracy and some timing concerns, CMC is not yet releasing results, but they will be posted as soon as they are confident that they are correct!
Pictures courtesy of Civilian Military Combine
---
SAVAGE RACE – Dallas, TX. 
You will have a hard time arguing with what Savage Race does; it's big, blue, and beautiful better than anyone. Even their training videos are more fun to watch than some obstacles are to actually DO. It is always inspiring when you see the athletes posting about the race in the weeks leading up to it as if they work for the company themselves. They love it and they want you to come out and see what they are having such a good time doing.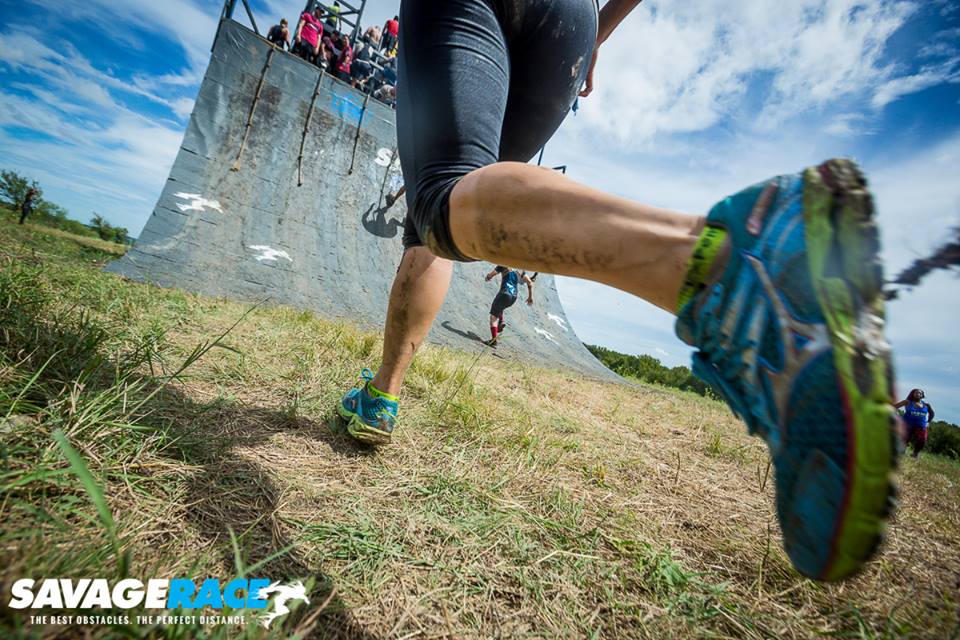 Lone Star Spartan member, and foxy owner of the AWESOME custom design OCR apparel company Thirty7s (www.thirty7s.com/) Daniel Liszewski was there and gave us a breakdown of some of his favorite obstacles:
The monkey bars were awesome! Definitely one of the more technical obstacles and certainly a large failure rate. The bars had been spray painted, which gave some grip and helped me for sure.
There was a challenging obstacle that required grip strength, concentration, technical skill, and a strong core. We were required to traverse a slightly inverted wall that was roughly 24 ft long with only tiny rock climbing grips for both hands and feet. The failure rate on this was extremely high, even in the pro wave.
Wheel world was an extremely innovative obstacle, that required technical skill, grip strength, and body control. This was all about momentum and transitioning at the perfect time so you swing to the next wheel, as opposed to jerkily forcing the wheel around and wasting energy and grip strength. A pretty high failure rate, as well.
Soon we came on an obstacle like none I've ever seen, this was a culvert-type tube, roughly 20 ft long, rigged like a teeter-totter. We entered the tube, one at a time, and crawled upward attempting to reach the fulcrum so it would tip and slide us out the other end, face first. The tubes were rather smooth plastic and wet, so this obstacle was more difficult than it would seem.
The rig was well assembled and challenged most, especially being 50 ft from the finish line! Although most top pros had no problem, many were stuck on this last obstacle for 30-45 minutes, mostly due to grip strength failing.
The race had great atmosphere, friendly staff, and happy racers. Overall, a fantastic event!
Topping the blue boxes were Yuri Force, Matt Campione, and Beni Gifford, with Nicole Mericle, KK Paul and Lynnae Kettler 
Pictures courtesy of Savage Race
---
TERRAIN RACE – New England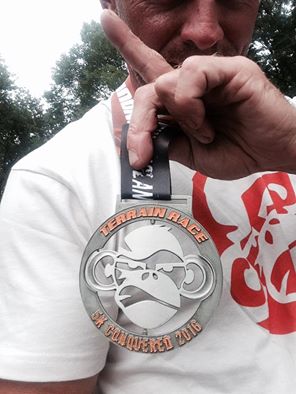 While not as flashy as some of the bigger races, Terrain Races sticks to what they do, and do so well – creating the kind of obstacles that made us all fall in love with this sport in the first place, and choosing terrain to challenge us and remind us why we love to play outside. New England Spahtens team member Greg Barrett was at the race and had this experience to share with us:
This weekend, Terrain Racing made its way to the Northeast and held a race at Thompson Speedway Motorsports park in Thompson, Connecticut. They had their standard 5k and 10k course, with the standard 5k packing in 21 obstacles on relatively flat terrain. If you ran the 10k, you ran a second lap of the 5k course for a total of 42 obstacle over 6 miles. Also, participants had the really cool option to run unlimited laps for an additional $15.

The race had many of the standard obstacles, ranging from climbing walls, cargo net A-frame climb, mud pits, tunnels crawls, and rope climbs. However, they had a few different ones that are not always seen at other races. The incline rock grips, Their take on Monkey bars, and Cannonball Alley tested even the elites. Finally, the Tarzan swing had different lanes that would allow the novice racer to feel successful and still challenge the intermediate racers. Terrain Race put on an event that had something for all levels of participants!
Pictures courtesy of Terrain Race
---
SPARTAN RACE – Ft. Bragg North Carolina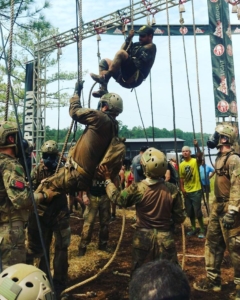 Sometimes a race is way more than just a race. More than just mud, and wood and metal. More than shirts, beers and medals. For the second year, this particular Spartan Race has been so much more to so many than any of those things. A fairly flat course, with your standard, well-built obstacle fare, this is the home to the largest gathering of Operation Enduring Warrior Adaptive Athletes, OEW Ambassadors, Service Dogs and Masked Athletes. With nearly 300 showing this year in impressive force, not a single athlete on the course was unaffected by the sight of so many inspiring and incredible humans showing how excuses are truly not worth the air they float into after being spoken. The anonymous Masked Athletes loom on the horizon like military superheroes, restricting their own abilities while assisting those who can't remove their handicap at the end of the race – the incredible adaptive athletes who don't give up in mind or body, and caused tears, smiles, applause and cheers with every show of strength and fortitude. We all crossed the finish line together and there is no experience quite like it.
There is way too much to be said here in the wrap-up – so keep an eye out for a full humbled write-up coming soon to MRG.
Taking top honors on that amazing day, were Brian Gowiski, Ryan Woods, and Corey Raymo, with Ashley Keller, Yeniz Parton and Janet Barry
Pictures courtesy of Operation Enduring Warrior
---
TOUGH MUDDER – COLORADO
Tough Mudder headed to Colorado over the weekend and some of the top OCR racers in the industry took Tough Mudder for a spin. Goat Tough aka Jim Campbell, a Tough Mudder and World's Toughest Mudder staple completed his 100th Tough Mudder over the weekend. Congratulations to Jim on his accomplishment over the weekend! Jim had this to say about the weekend.
This Tough Mudder has resembled the 2012 season. A season with more challenging courses and a renewed surge in new mudders. This weekend was a tough course but I was lucky to be surrounded by old friends and new …. The headband is amazing, but it can never compare to the other things that come with the event …
Costumed Rose Wetzel took on her first Tough Mudder with fellow competitors Hunter McIntyre, Ryan Atkins, and Lindsay Webster, this time, running together instead of competing for the finish line. Rose had this to say of her experience…
I appreciated the laidback atmosphere of my first Tough Mudder, (which emphasizes teamwork and camaraderie over competition). Engaged in great conversation the whole time with Lindsay Webster, I actually had time to enjoy the obstacles and take in the scenery on the mountain – what a treat!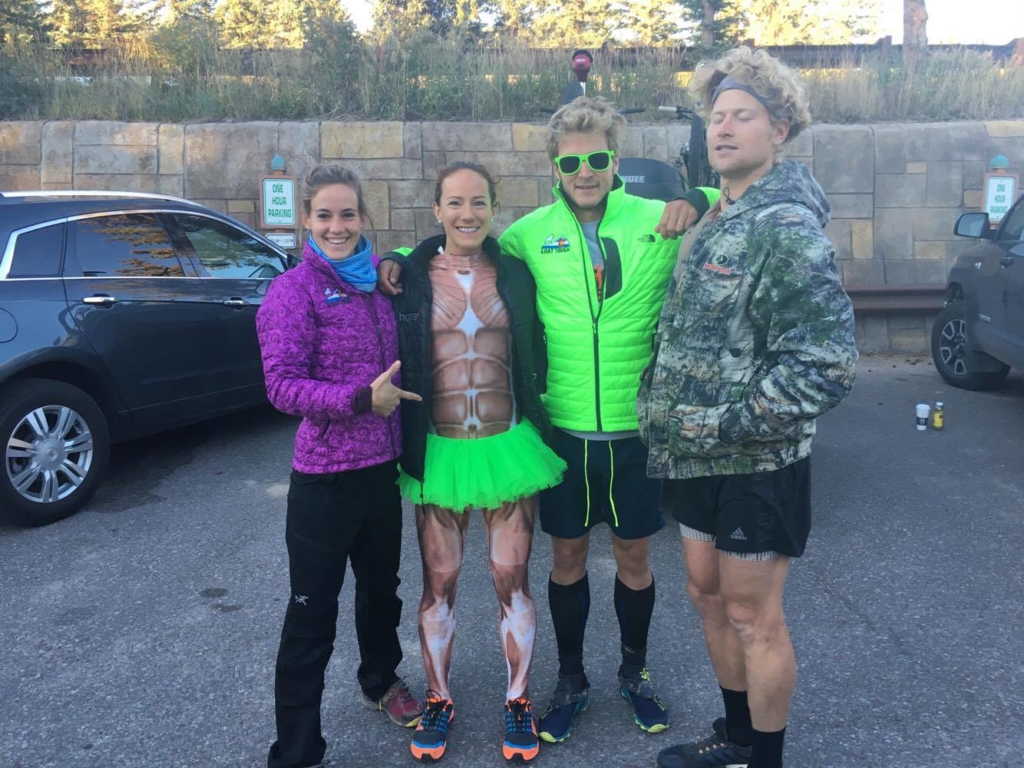 Photo courtesy of Alisa Zuniga & Rose Wetzel
---
Warrior Dash – Indiana
Just an hour outside of Indianapolis, the quiet town of Crawfordsville, Indiana was awaked Saturday to Mud, Fire, Beer, & Wings – not to mention thousands of Warriors with fuzzy helmets! Warrior Dash rolled into Indy 24 hours before the Colts were set to kick off the 2016 NFL season, kicking off a weekend of fun & festivities like only our friends from Red Frog Events can bring.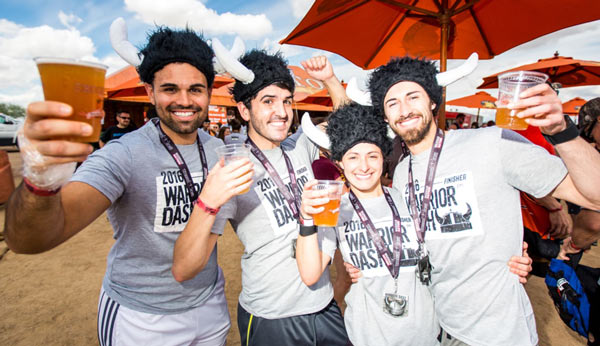 Warrior Dash's signature 10 obstacles and a 5k-ish course just shy of 3.5 miles greeted all athletes, Warriors were treated to pyrotechnics over their head at the booming start line and below their feet on the fire jump just before the final muddy obstacles at the finish. Seriously – is there a thicker, muddier finish than Warrior Dash? Post-race, beers and wings ruled the day, with what has become their final "signature obstacle" – the fiery wing challenge!
While we can't confirm who brought home the golden wing trophy (ps – doesn't exist) we can share the top guys and gals from the podium – and don't forget the full top 10 men and women qualify for the OCR World Championships!
Men Top 3: Carl Stones, Brendan Broadstreet, Tyler Davis
Women Top 3: Beth Burke, Creasy Clauser, Brittany Cook
Photo Courtesy of Warrior Dash
---
I hope you all had as incredible a weekend as we did – and if you race next week – be sure to reach out to share your experience with us so we can tell the whole community!