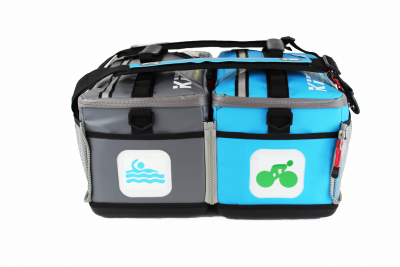 The KitBrix OCR bag is on the surface, a simple product. It's a bag aimed at getting your stuff to & from races while keeping your car (and change of clothes) dry, and clean.  You can either use it as a single bag, or you can zip several of them together to create a larger unit. We reviewed a 2-bag bundle. Having used it for several races, we can say we like it and works well.
The question is – is it worth it to you?
Pros
Keeps everything neat, organized, clean, and dry
Re-usable, and very easy to clean
Fits in airplane carry-ons
Easy to carry around thanks to straps that basically turn it into a backpack
Can expand it to larger sizes by buying additional bags and zipping them together
Cons
Cost
Zippers can be difficult
Overview
The bag is nicely made and seems rather durable. It's lasted well through 4+ races we've taken it to, including flying with it.  The KitBrix has pockets upon pockets concealed in the large compartment, with a few mesh pockets on the outside for other stuff.  There was enough space in the inner (waterproof, again) pockets for a large cell phone, glasses, keys, money, credit cards, and other smaller items.
The bag will likely carry everything you need for a race, plus some more.  We had no problem getting 2 pairs of shoes, 2 sets of thermal gear, 2 sets of shorts, 2 tops, watches, nutrition gel packs, some water bottles, and more in just one of the two bags….and then room in the other bag for fresh clothes, a towel, water, and still had some space to spare.   On a separate occasion, the two bag bundle was enough to transport all our gear for 2 back-to-back cold-weather race days (assuming we repacked between the days).  We were also able to fit the bag in the overhead bin on a domestic flight with no problem (besides a few odd looks of people wondering what might be in the bag).
For single-race days, it is MORE than enough room to have a wet & dry side. We would toss all our clean clothes (towel, sandals, fresh clothes etc) in one side of the bag when packing, which remains zipped until after we have finished & hosed off.  Once we hosed off, we could just toss all our wet gear into one side of the bag, which was now empty since we had worn all our gear during the race.  We could then simply unzip the other side to find our clean clothes, nice and dry, ready to toss on.  If you race in colder weather places where you might have a nice warm jacket like a DryRobe, you should be able to stuff one in, however, it would take up the whole compartment, so pack accordingly.  Upon getting home, we were able to use a hose to wash all the dirt & mud out of it, and after drying, it was ready to be repacked for the next race.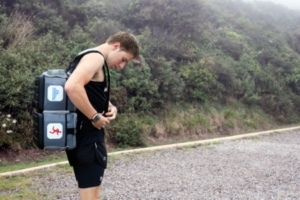 Even with all of that gear capacity, it's easy to carry.  The two-bag kit has 2 straps, so you are able to toss it on your back like a backpack.  We did this several times and had no problem carrying our gear on some longer walks from the car to the festival area for bag check.  Speaking of bag check, there is a pocket or two you can put an ID card with your name & identifying information on, if you wish to do such a thing.
It's biggest competitors? Garbage bags & home depot buckets. Before getting the KitBrix, I used garbage bags for all my races,  going through several to get my stuff to & from races. And it worked…relatively well (if you ignore the waste from throwing away all those garbage bags). Unless it was raining in which my bag probably got muddy when I set it down to toss items in it. Same for a bucket.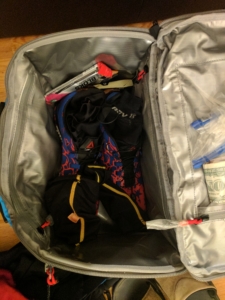 And this brings us to the biggest con – the cost.  You are looking at $50+ for a single unit, or $100+ for the dual-bag bundle (which we recommend if you're going to shell out for it).   This is compared to the cost of a $5 home depot bucket or a $10 pack of garbage bags.  Again, don't get us wrong – I like the bag, and it works great, and I now don't travel to races without it.
The other drawback we found was the zippers.  The bag is waterproof, so the zippers and lining are accordingly better designed to keep your gear dry when it is safely zipped up.  However, we found that from time to time when trying to zip the bag the zippers would be a bit disagreeable, and not want to zip.  It would take some tugging to get the bag to fully zip.  A relatively minor thing, however, worth pointing out.
Overall, if you have the disposable income for it, we do recommend the KitBrix as a great solution for getting all your stuff to & from races.
4.5/5
---