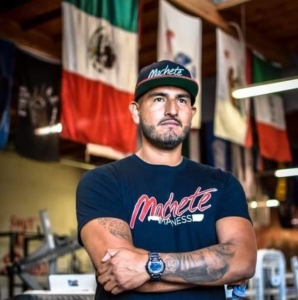 Victor Carrillo is no stranger to the world of obstacle course racing.  In fact, over the last few years, he has made a name for himself and has turned his hobby into a passion and his passion into a business as the founder of Machete Madness, a group that hosts endurance events up and down the California coast and occasionally elsewhere.  I knew Victor before, but we became good friends while striving together at the Spartan Agoge back in June of this year.  Recently, I sat down with him to learn more about what makes him tick, and how he has grown the Machete Madness brand.
Tell us a little of your background.  Have you always been athletic?
The beauty of Spartan Race and OCR in general is that a high percentage of us don't really have a particularly athletic background.  I never ran track or anything; in fact I probably never ran more than the length of a soccer field as that is what I played at Mira Costa High School in Manhattan Beach, but I have always been very competitive.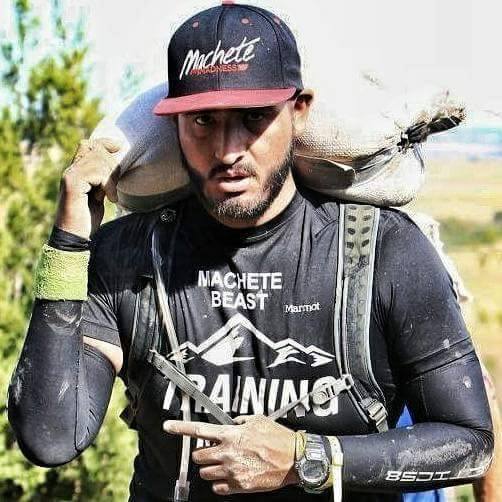 How did you get involved in the world of OCR?  Share a bit of your journey.
My journey into Spartan Race started in depression after separating from my kids' Mom who I lived with for over 11 years.  The idea of my boys growing up in two separate homes really hit me hard, and losing my best friend and the love of my life crushed me emotionally.  The depression along with increased drinking and just not taking care of myself lead to me being at my worst physical shape ever; 230 LBS and 33 percent body fat.  I hit rock bottom one day when I grabbed my 9mm, loaded a magazine and held the gun to my head.  I honestly felt that ending my life was the only way to relieve the pain I felt.  Then I looked at a picture of my son Ritchie, and realized I couldn't do that to him or his brother Nicky.
From then on I felt the urge to get my shit together and snap out of it. With the help of my friends from the local Herbalife Nutrition Club I went on to lose 60 LBS over the next 6 months.  I went to workout on the cliffs near my house for 60 straight days too and that's where being outdoors, right next to the Pacific Ocean gave me the sense of freedom from everything.
Then came my very first Spartan Race; I was invited to join a group of friends to do the Temecula Sprint in 2014 and the rest is history.  I fell in love with the community and the physical and mental challenges that we faced in OCR.  That year I went on to complete 4 Trifectas, including the Trifecta in one Day in Ohio that year.  I was doing things that I could have never imagined while I was going through depression.  The harder the race, the better I felt when I conquered them.  In 2015 I went on to complete 5 Trifectas and 2 Ultra Beasts and just when I thought I would take it easy Spartan Race sent me the DELTA to complete.
The Delta is 3 Trifectas, the regular Spartan Trifecta which consists of the Sprint, Super and Beast, the Endurance Trifecta which you need to complete a 4 hour Hurricane Heat, the HH12hr and the Ultra Beast, and finally the Training Trifecta; Spartan X class, SGX Class, and the 60 Hour Agoge.  As crazy as it sounded when I heard of about it, the actual journey has been moreso.  Each event is a story to tell and those who were in Vermont for the Summer Agoge know what I'm talking about.  I'm currently finishing up the last Spartan X modules required to finish the perfect Delta, and am proud that only a handful of people have racked up this accomplishment since it was announced.
When and How did Machete Madness start?
Machete Madness was born on those cliffs.  The same one's were I almost lost my life because God knows how many times at night when I ran there I would stand next to the edge and contemplate just jumping.  But in those cliffs I also found myself again and that's how this movement got started.  People in social media would always comment on my videos and pictures; asking me to take them there and train with them.
So one day in November 2014 I made an open invite on social media for anyone who would dare to join me for some funishment on the beach.  I told them meet me at the beach at 5 am and we will do what I normally do. About 40 – 50 people showed up and I had them do all the stuff that I was doing to get me ready for the races and endurance events.  From burpees in the cold water to climbing ridiculous cliffs, this went on for 7 hours until I put a stop to it and told them this is Machete Madness.
Ever since that day, we have hosted one and sometimes 2 events each month, from San Diego, to San Francisco, places like Fresno and even Seattle and Las Vegas.  We recently held our 2nd anniversary event, and have hosted 25 events since that first one back in 2014.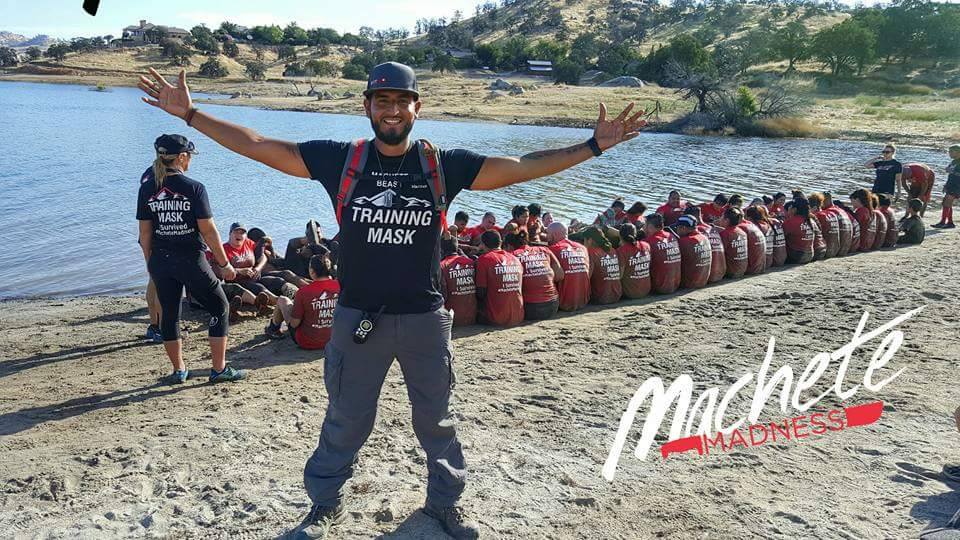 What's the Purpose of Machete Madness?
Our purpose is to show people that they are capable of great things when they believe in themselves.  Machete Madness is not about making it the hardest; anyone can beat down people with crazy amounts of exercises.  But to me the goal is to tap into their hearts and minds.  The name of the game is mindset; if we share our motivation with them, they too will accomplish great things.
Machete Madness has also become it's own community.  We work to get people into Spartan Races and other events but never with the goal of becoming a race.  It will continue to be what it is today; a Team Challenge, a place to push yourself out of your comfort zone.  Our regular Machete Madness is 3 hours, but we also have Machete RECON, 8 and 12 hour endurance events.  These are geared more to help people get ready for things like the HH, HH12, DELTA and for life in general.
Who Else is Involved in Machete Madness?  You've been able to get some other great OCR athletes and coaches to help with your events – how did you cultivate those relationships to make it work?
Along the way many others in the community have embraced what we do and have coached different events; guys like Frank Franco and Miguel Medina have been with me since day one. Chris Herber, Steve Selting. The list goes on and on; many others who started at Machete Madness are now doing their own events which I think is great.  We can all be successful if we make OCR even bigger than what it is today; I don't view it as a competition.  I have always treated my coaches like family and that is why we had so many great athletes come to our events and coach.  Athletes like Hunter, Ryan Kent, Ashley Sieger, Maria Hernandez, I mean I can keep going but the point is the reason they are part of all of this is because they see the vision, they understand that this is more than a business.
The Machete Madness family is solid and only getting stronger.   The relationships that have come out of this, from coaches to participants is what this is all about.  When you put so many great athletes, coaches, and leaders together it isn't always easy but I've found that my formula to make this work is to get the hell out of the way and let them do what they do best.  I have become pretty good at stepping back and letting them drive the Machete-mobile.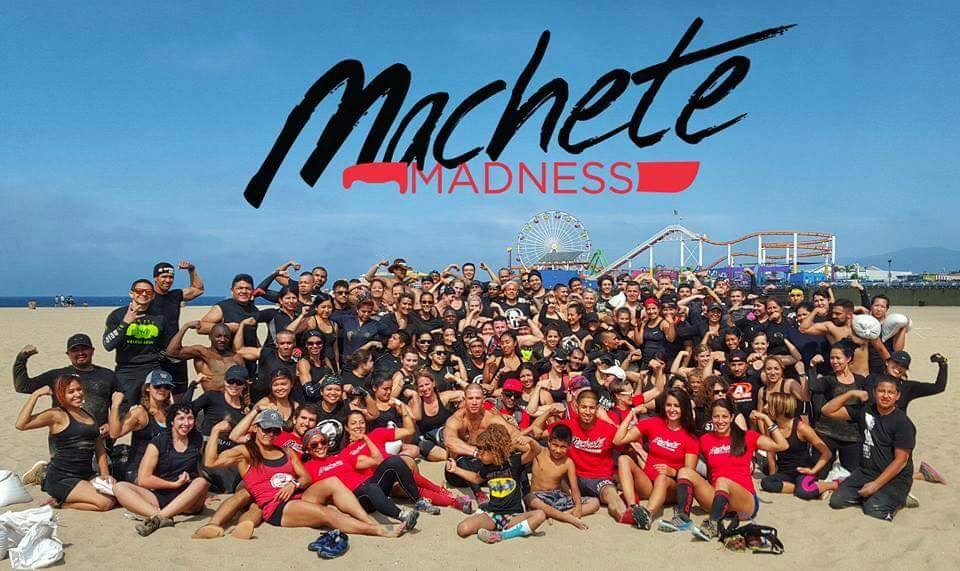 What's next? How do you see this growing in the future?
The future looks bright.  We are getting requests from people on the East Coast, from Texas, and even from Canada, Mexico and Australia who wants us to come to visit.  But we will go to those places when the time is right and not rush it.  It will never be an event where you see hundreds of people.  I don't believe you can do what we do with that many people.  For my regular 3 hour event, 100 participants is about the limit; we had 160 in Fresno last summer and it was a great event but it becomes difficult to uphold the standards at that point.  For the overnight endurance events a solid group of 50 people is pushing it; again our goal is to make a difference in each of their lives, so intimacy makes this much easier.
I'm blessed and thankful for OCR, specifically Spartan Race for allowing me to find purpose in my life again and for the opportunity to meet so many great people. Thank you for asking me to share a bit about my life, my Madness.