Well, it seems this is becoming an annual charity event for our racing group.  This is the third year we have ventured east, and it is always a new challenge when it comes to the weather.  This night was no exception to that rule. Previous years were pouring rain or knee deep snow with frigid wind chills; this time brought us pea soup fog and a sprinkle of mild drizzle.  Meaning the snow, was non-existent and icy patches dotted the trails adding an element of potential dread.
Location
Upper Canada Village is located in Morrisburg, Ontario and borders the shoreline of Lake Ontario. The village again did not disappoint with its vast display of Christmas lights that took on a surreal glow with the foggy weather, making it very mysterious and extremely dark in some areas.
Headlamps are always mandatory and the Race Director Mr. Gilles Parisien spent a day pounding markers into frozen terrain to help guide the racers through a woven loop in and around the village and surrounding forested pathways.
Parking
Ample close parking and never a concern at this event.  To make it even more appealing, it is FREE, which seems to be a rarity nowadays.
Registration/Race Kit Pick-up
Extremely well organized and no wait times at all.  Everyone got their bib and iridescent orange backpack quickly and easily.  Racers could also line up to grab some fantastic glow in the dark necklaces and pull tabs that helped highlight them along the darkened trails. These were provided by NiteIze and are a great addition to anyone heading outdoors requiring visibility and used for various applications including locating keys in a bag or on a pet collar during evening walks.
Race Details
We all headed out on time and proceeded towards what we thought was the start line, but it had moved from last year due to course modifications, so a group of us passed by it and had to head back towards the stoic church and start line. We were joking that we were like sheep, aimlessly following the lead person, unaware where exactly we were heading. There were even a few humorous 'bleats' coming from the crowd.
The paths were well marked in most areas. However, a few racers managed to get lost and circled back when they realized they had missed one of the corners.  Cones and glowing posts marked the trail that wove in and out of the scenic trails with two small hills to challenge the racers who were tackling the 10K loop.  Fat bikes escorted the lead runners and passed by us a few times to check on how we were doing and to offer a motivating word or two.  It was comforting to have them out there ensuring everyone's safety and keeping spirits high in the eerie fog filled valleys.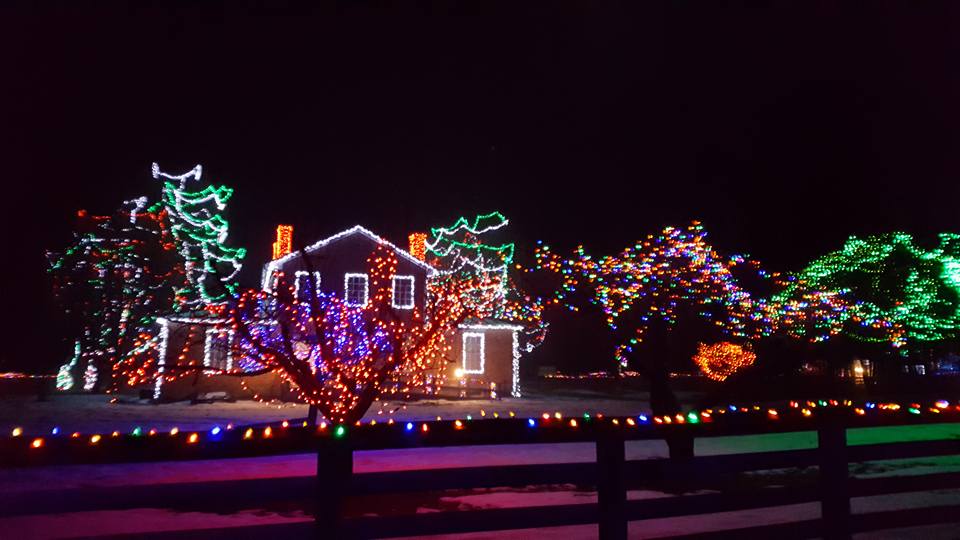 165 racers came out to support this great event even though it had switched from snow to trail racing.   Again, this year there were two options for racers a 5K, and a 10K circuit and the course flowed nicely amongst the buildings. I preferred this route to last years and thoroughly enjoyed the muddy bits, as a seasoned OC racer, and I had to refrain myself from climbing things along the way.  The MC had joked with our team that we were not allowed to play with his ropes as our reputation for serious OCR fanatics had gotten back to him.  We had a commanding presence this year with almost 30 participants coming in from Toronto, Montreal, Kingston and Ottawa, and scheduling it as one of our annual off-season training events.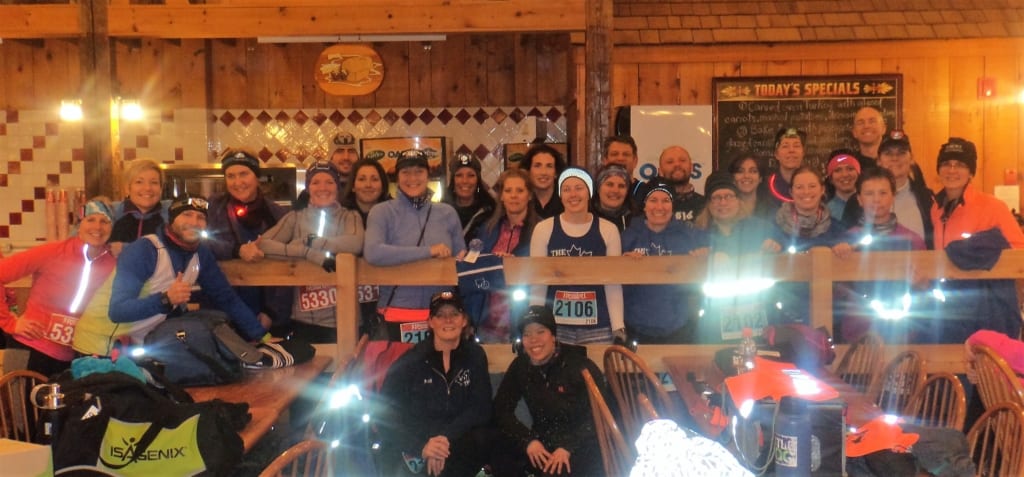 Finish Line
The finish line was near the main lodge, and the volunteers tracked the bib numbers and time for tracking.
Food
The group 'Beyond 21' were back for the third year and provided the food.  They are a local charity which" …enable adults with developmental disabilities to live connected, respected, and contributing to our community."
The food does not disappoint with the traditional chili (vegetarian and meat), desserts, bananas, protein bars, water, juice, and chips with salsa.  This year I dove into the chili, and it was excellent, just the right amount of heat and YUM!
Racers could choose a locally made wooden medal in the image of a snowshoe or rabbit and then have it customized by the volunteers with their distance completed.
The prizes were done a bit differently this year but still offered that thrill of waiting for your name to be called in the hopes of receiving a fabulous take home item. Some of the items available were gift cards from the Running Room, buffs, hats, socks, protein bars and mugs.  I traditionally try to get a mug and have almost got a complete set!  The last person chosen received the coveted Dion Snowshoes, and this was welcomed by the crowd.  How often do you want to be last to be called??  Such fun.
Prizes/Awards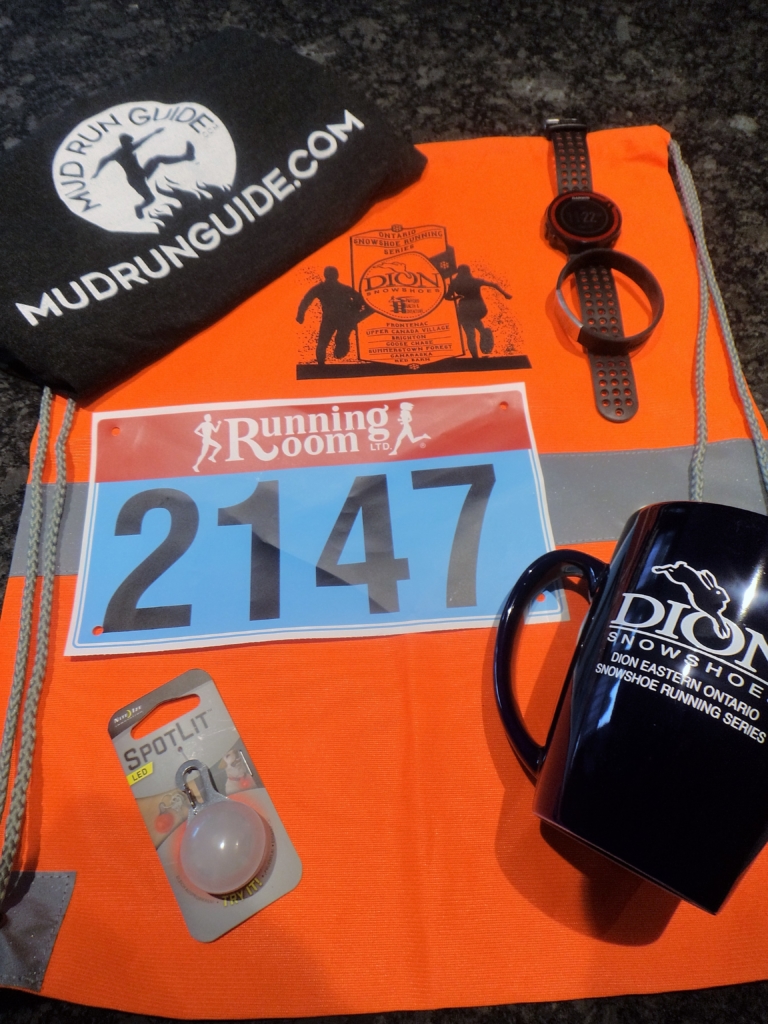 Custom made medals given for the following categories:
Top 3 male/female under 40;
Top male/female Masters (over 40)
The medals received by the top performers were custom made by Upper Canada Village blacksmiths and are beautiful horseshoes that hang on a roped lanyard.  These are often passed around so others can admire the skill involved in making them.
Results
http://healthandadventure.com/2017/01/2017-dion-ignite-the-night-snowshoe-race-results/
Three times a charm.  I must say, it was my favorite one of them all.  I realize that I am a bit biased when it comes to mud over snow, but I preferred the course route, the chili and the overall flow of the evening were seamless.
Thank you to Gilles, Derrick and the volunteers for their hard work putting together this event and for Upper Canada Village as great hosts!
Gear Guide: Garmin Forerunner 220, Icebug Zeal2, RoadID, MudGear compression socks, Running Room compression winter leggings & jacket, Under Armour bra, and Merino Wool shirt.
5/5 paws