When I say "quick test", I mean pulled-out-of-the-box-charged-and-go-on-a-run quick. After 10 minutes charging the watch and headphones and less than a minute to pair the two, it worked perfectly for a run… really, that's all you probably need to know… well, maybe there are a few whiz-bang features of the new TomTom Adventurer GPS that you want to check out too: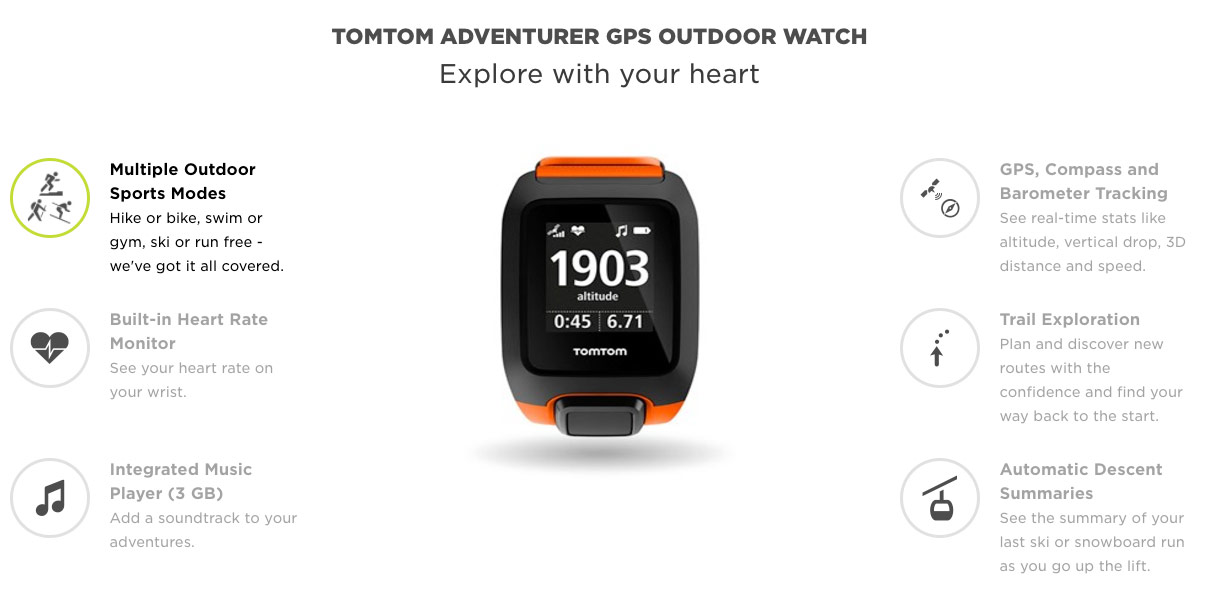 The addition of a trail running mode seems pretty cool, and real-time stats on altitude is a nice-to-have. Trail Exploration and uploading .gpx files should also be extremely helpful when planning and plotting trails and even building race courses. In reality, the biggest addition I'm excited for is the integrated music player as it's one less gadget I need to take on my runs. Now, I should be able to grab the watch & headphones and go.
Comparing the TomTom Adventurer to TomTom Runner GPS
In 2015, Spartan Race gave out these bitchin' red TomTom Runner GPS watches to podium ponies (winners) as part of their prize package, and I was lucky enough to get one as a gift from my good friend KK Stewart-Paul. I've beaten the heck out of that watch over the last couple years, and it still works perfectly, albeit with a limited battery life. Up until today, I've been using it to keep track of my #5keveryday running streak – but now, it's going to get some rest.
TomTom is the Official Timing Partner and the Exclusive GPS Sport Watch of Spartan Race.

In the first 30 seconds, I noticed some great upgrades in the design:
Better screen – brighter w/more pixels (and I love the bigger time readout)
Thinner, narrower, & lighter watch face
Much thinner and more adjustable strap with integrated retaining loop
Smaller dongle for easier connection, doing away with the unusable "dock" style of the Runner 2
One slight con to the new design is the watch bezel and band is all plastic. The soft rubber band of the Runner 2 wrapped around the screen and gave a durable surface to absorb abuse, while this hard plastic bezel seems like it will be covered with scratches or nicks rather quickly. This bezel is raised a bit to protect the edges of the screen, while the Runner 2's band/bezel left the screen exposed to the elements on all sides. Over the past 2 years, I never scratched or broke the Runner 2's screen, so I'm not sure if this was necessary for protection, but I am apprehensive it may cause more dirt to build up around the screen. Given this is a proven band style compatible with multiple other TomTom watches, maybe I'm wrong. We'll see.

I already liked the simplicity of the TomTom Sports app on my desktop or iPhone, so moving to the Adventurer GPS was completely seamless. The only confusion on my desktop came when I had both watches connected at the same time. All I needed to do was remove them both, then reconnect the one I wanted to sync.
My First Run
In this first test, I just checked the GPS and pace quickly, but really was geeked up to test out the wireless headphones. Setup was simple & straightforward, the menu is as simple as humanly possible, just click the square button below the screen in one of the 4 directions, you can figure just about any function out with no instructions necessary.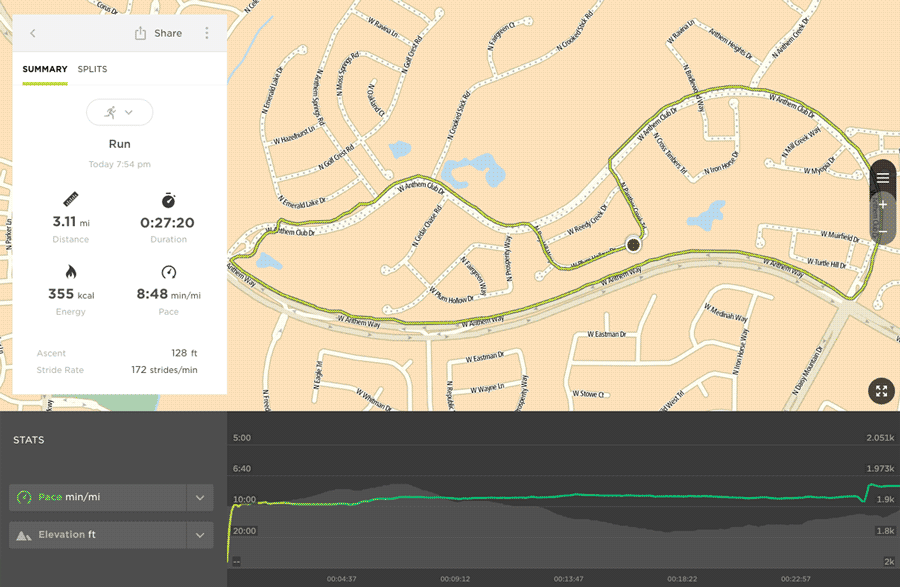 GPS, Pace, & Tunes!
The GPS connected extremely fast, in about 50% of the time it takes my Runner. I have a little routine where I click "Run" and then close my garage door and tighten my shoelaces while the watch connects to GPS, the Adventurer was connected and ready-to-go before I was, no waiting around to start!
Syncing the music was simple, the TomTom Sports app did it for me (download at TomTom.com/app) and a few minutes later it was ready to go. The watch menu is really easy to navigate, and a couple clicks later I had my running playlists that I had created in iTunes all shuffled up & ready to go!
After a quick charge, the bluetooth headphones paired flawlessly with 2 clicks. (Just follow the pictograph directions, no words necessary!)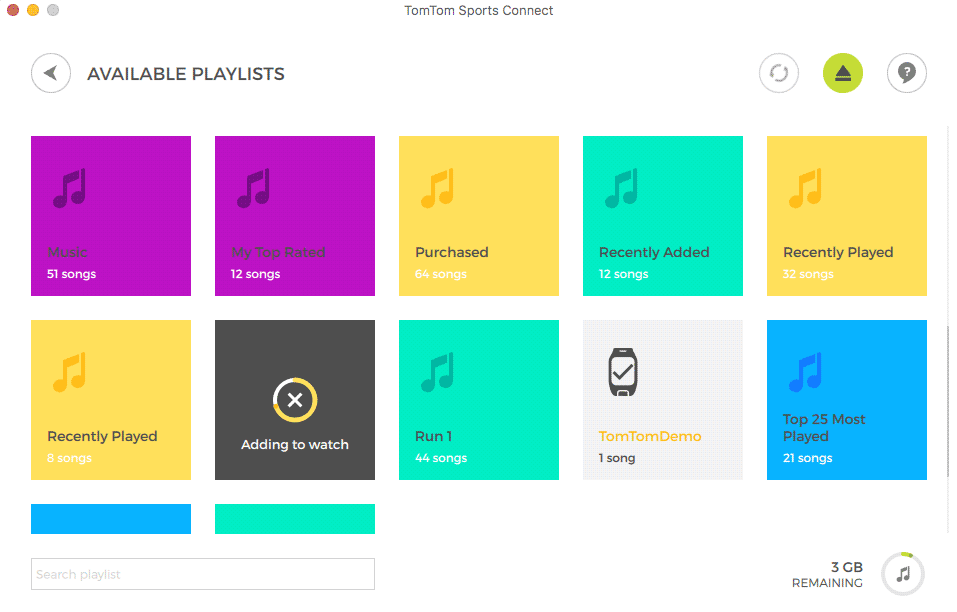 Music quality sounded great, and I was surprised with the audio prompt "I'm ready!" in a female voice when the GPS connected a few seconds after selecting my activity. I'll go through the audio prompts, I'd like to know my HR, Pace, and Miles during my run – that gives me a few things to toy around with before tomorrow's run!
Next Tests
While I've been writing this, I played with the menus a bit and realized there's a daily step & calorie counter, so I'll test that throughout the coming days as well as the sleep tracker from time-to-time (it may be a little too big to sleep with comfortably every night). Unfortunately, I skied for the last time of the season a few days before the watch came in, so I won't be testing the new ski functions, but I'll make up for it on some trail runs with elevation in the hills around my house in northern Phoenix to check out the altimeter. Heck, I plan on testing out everything this watch can do and reporting back!
Heart Rate & Tattoos
One big bummer is that my left arm tattoos block all wrist-based HR monitors, TomTom is not alone here, Apple, Samsung, and Garmin haven't worked for me either, so I have to switch to my right wrist in order to get the Adventurer to read my HR. I'm not thrilled about wearing a watch on my right wrist, but the HR data is worth it when I'm running #5keveryday in 2017 to hit my goal of streaking for a year and eclipsing 1100 miles.
Spartan Race & TomTom
TomTom is the Official Timing Partner and the Exclusive GPS Sport Watch of Spartan Race, and we're excited to see where this partnership will lead in 2017, and I'll keep beating on the Adventurer GPS all season and report back!