Toughest Mudder the 8-hour Tough Mudder event took place over the weekend outside of Philadelphia as the series made it's Northeast stop. The race began at midnight and after 8:00 am finishers began to cross the line. Many favorites from the World's Toughest Mudder community came out to the event in the hopes to gain contender status (25 miles) for World's Toughest Mudder. With Ryan Atkins sitting out this race, his North American Toughest Mudder winning streak would come to an end. This opened the door for 2016 WTM winner Trevor Cichosz to come in and take the win running 40 miles in the process. On the women's side, it was Allison Tai who took the top spot completing 35 miles. Relive the night with photos from Bob Mulholland.
Midnight start at Toughest Mudder Northeast as racers take off down the first stretch of running. Watch your step as you go.
Racers run lap after lap throughout the night. It's all smiling here as another lap is completed.
There is always time for a photo with the one and only Sean Corvelle in the middle of the race. He is a favorite at the start line of each race and gets athletes pumped to run.
Jim "Da Goat" Campbell trucks away all through the night. He is one of a few athletes who are attending every Toughest Mudder event in 2017.
Peter "Blind Pete" Cossaboon runs with guide and friend Joey McGlamory complete a lap on the course.
Kong is a favorite of many racers. Adrian Alvord and other racers make it across in the middle of the night. However, lap after lap and with the night humidity the rings can be slick.
Trevor Cichosz comes into the finish line to take the win on Sunday morning.
Allison Tai all smiles as she crosses the finish line to take the win.
Team Four Eyes also all smiles at the end of eight hours or racing looking like they are ready for more. They compete annually at World's Toughest Mudder as a team.
Stefanie Bishop, women's winner of the 2016 World's Toughest Mudder, crosses the finish line.
The best way to finish a race is with a kiss. Daniel Cramer reaches down to Ilene Boyar for a kiss at the end of the race.
Men's Top Results
Women's Top Results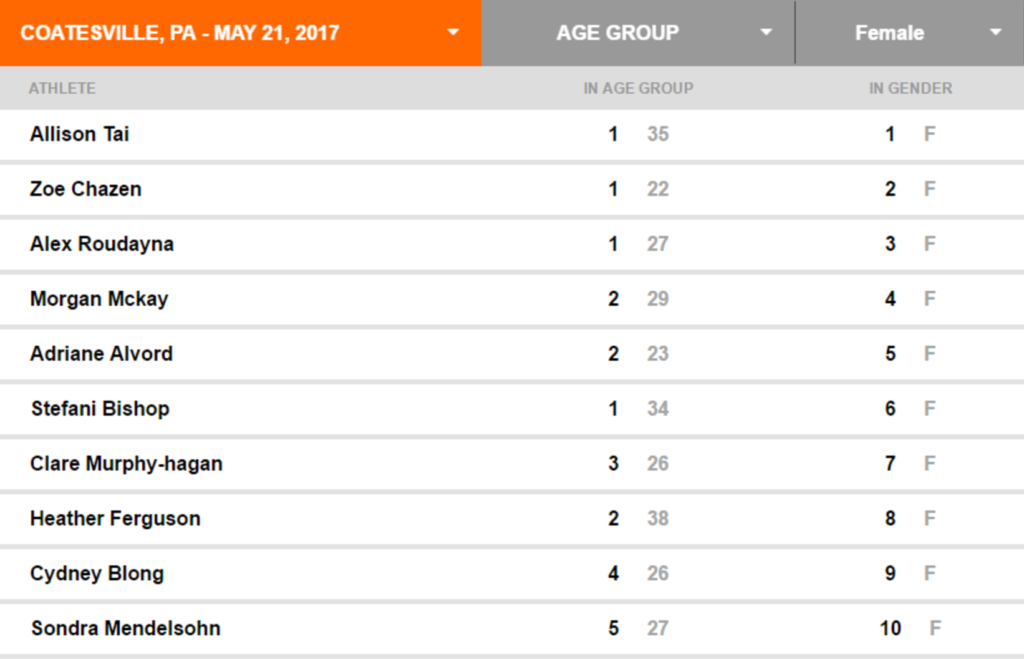 ---
---