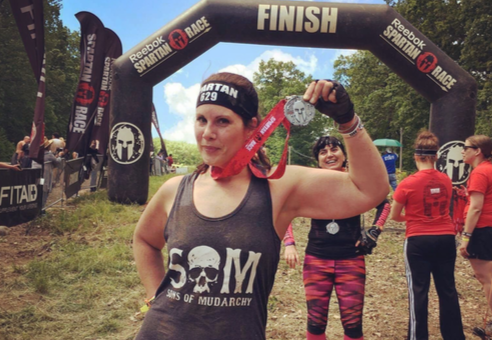 I started my Spartan Race journey in Tuxedo NY back in 2013. I went into that race having no idea what to expect and with no "special" training. Fast forward 4 years and I returned to do my 12th. Spartan Race. There were a few things that made this different from all the other years..but more on that later. This is one of my favorite venues for two reasons. It is super close to my house and the terrain makes for one of the hardest sprints Spartan puts on.
I got to the venue parked my car and started the long walk through the woods to registration. Then I crossed the street, walked some more and arrived at the festival. The walk from parking lot to the actual race is one of the first obstacles we need to complete. It actually makes for a nice little warm up and helps release some of the adrenalin. There were the usual Sponsors there but for some reason, the festival area seemed more congested to me than usual. I checked my bag, found some friends and then headed over to the starting line.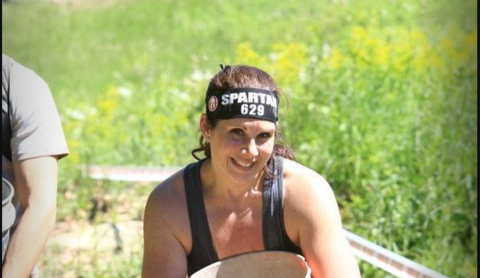 It was my 4th. Spartan this year and the first time I actually got the "Spartan speech" and got to Aroo! I was a little disappointed though because the announcer wasn't really into it and actually said some things that made me think he felt the speech was hokey. I stood there staring up at the same incline that has started this race before but as soon as we got going I realized I was in for some surprises.
As soon as we started climbing we veered off to the left instead of the right as we usually do. Things got rocky immediately! This course was cut totally different than it ever had been before. We climbed up and down so many rocks it was impossible for a non-elite like me to really run. It was so steep in many areas I had to grab onto trees to keep from falling. I loved this! Being someone who keeps returning to the same venue it was nice not to know what to expect.
I also really appreciated that not all of the obstacles were walls. I remember one year climbing wall after wall after wall. During a sprint which is pretty short, this can get monotonous. We did the hurdles, the slip wall, inverted wall and the over under through but that was pretty much all the climbing we did. One thing that was the same as last year was the mud to crawl through that for some reason smells like barn animals.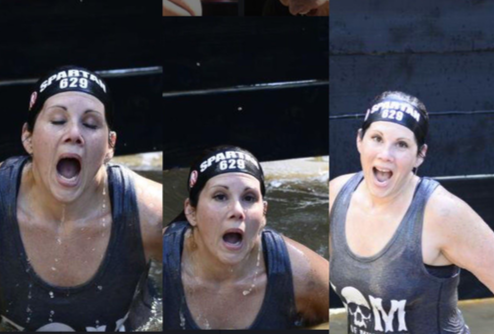 However, other than this mud and the dunk wall (which was the cleanest dunk wall I have ever encountered!) there was nothing else to get us wet or dirty and this was the cleanest I have ever walked away from a race. Last years barbed wire crawl made this one seem like a walk in the park. Gone were the rocks that felt like glass and in its place was softer ground and a much shorter distance. The bucket carry also seemed less steep and shorter to me than in previous years. Spartan replaced the pancake sandbags and replaced them with longer ones with handles, picture a Wreckbag. I think they felt heavier but it was easier to walk with them across your back.
Spartan seems to like to group all of their hardest obstacles in the last 1⁄4 mile. This is where we encountered the bucket carry, rig, twister and rope climb. Then it was a nice decline right into the fire jump. Get your medal, your banana and your water and BOOM you are done. I think this clocked in at just over 4 miles but the rock climbing made it feel a little longer.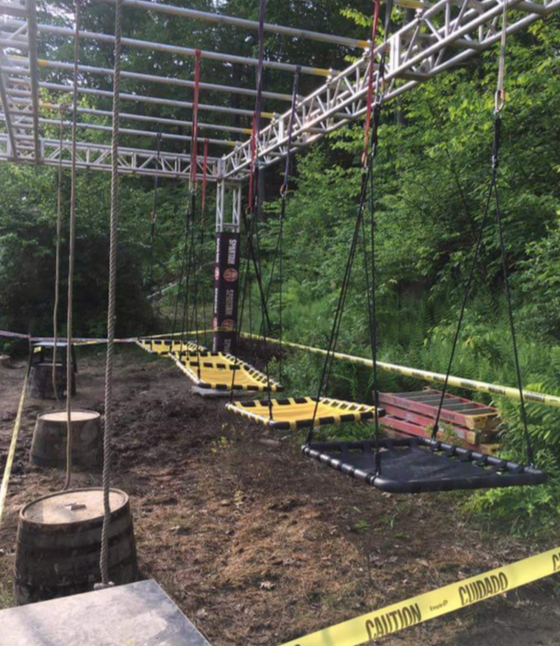 This is one of the more popular Sprints so they usually hold it for two weekends. This year it was one full weekend and then the following Saturday. Last year I ran both weekends and even though I couldn't do that this year I did return Friday night for something special. For the first time, they opened up the venue for two hours so you could go and "play" around on the obstacles and get some pointers from Spartan pros. It was free and you even got a Spartan towel, water bottle, and bag for going! Since the venue is only 25 minutes from my house I went and I was so glad I did. We were unleashed on the course and were able to try the obstacles as many times as we wanted and even walk the course.
I loved it! 
I tried Olympus 5 times and even though I failed each time it was nice to be able to practice without worrying that we were holding others up. I also did the inverted wall which was something I had struggled with and was able to get over it 4 times by myself! This had me very excited. When I got to the rings I saw two things that hadn't been there the previous weekend. They had ropes set up with buckets between them and swing like this. This was something Spartan was testing out the following day for people who could not do the rings. They also had a ladder set up by the rope climb for people who couldn't do that obstacle. I tried the ladder and for the first time, I RANG A BELL! This was not as easy as it looked. The ladder was slack, the rings were spaced far apart and it was pretty high. You still needed a lot of upper body strength and you needed to be ok with heights. Not really "easy" but definitely doable.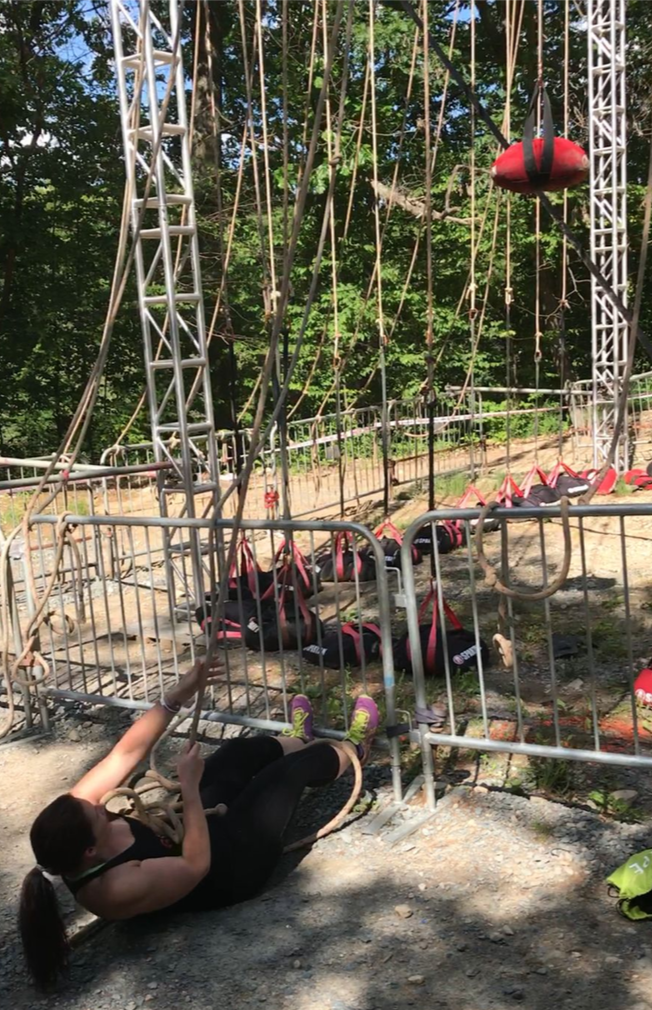 One last thing I want to mention is that these different options they were offering have caused a lot of controversies. I am seeing a lot of people on social media complaining that this is watering down Spartan, making people not have to earn their medals. I disagree completely. First of all, these were only being offered in the open waves and what may seem easy to some may still mean pushing their limits to others. I will probably end up doing the ladder if it's ever offered at a race I am doing but that does not mean I will stop trying to climb that rope. Ringing that bell gave me so much satisfaction and I do not see why people care so much about how others are completing their journey. We should all be encouraging each other out there and just focusing on our own race! That person you are putting down or "only" climbing the ladder may be a math whiz wondering why you find advanced calculus so hard! Until next time…AROO!
---
Have you done a Spartan Race?
Leave your own Spartan Race review and feedback…