OCR News Weekly
OCR News Weekly – August 4, 2017

Welcome to OCR News Weekly. Today is Friday, August 4, 2017. I am Margaret Schlachter and thanks for joining the live broadcast or for those listening on their favorite player our recast. Today's headlines come from Spartan Race, Tough Mudder, and The CrossFit Games as well as last week's results and upcoming events.
---
Spartan Race
Last weekend Spartan Race made its fourth spot on the U.S. Championship Tour in Asheville, North Carolina where Hobie Call clinched the series with another win. Call and Ryan Atkins played a cat and mouse game for much of the race but eventually Call pulled away taking a commanding win and clinched the series. Brian Gowiski rounded out the podium in third place with a strong run.
On the women's side Lindsay Webster claimed the win after a hair malfunction in the barbed wire and missed spear throw. Webster had a strong second half of the race which she edged out Rea Kolbl for the win. Faye Stenning also had a strong race finishing third helping her move up the rankings.
The last stop of the US Championship Tour is later this month in West Virginia for the finale before heading into the Spartan Race World Championship. The West Virginia Beast takes place Aug 26 – 27 and will be broadcast live on Facebook and YouTube.
Tough Mudder
Tough Mudder announced earlier this week an additional way for participants looking to take on World's Toughest Mudder this fall in Las Vegas, Nevada with the addition of the National Team Relay. The National Team Relay puts teams of 4 plus athletes together from the same country. This is in addition to the two-person team event. In additional to racing for national bragging rights. The top team will win $10,000. Tough Mudder is currently taking National Team Relay applications and more information can be found on our website and Tough Mudder.
Randy Moss Returns to West Virginia to Host Benefit Race for The Spartan Foundation
Football legend Randy Moss is set to host a benefit Spartan Race in West Virginia for the Spartan Foundation. The event is set to take place ahead of the last stop on the 2017 Spartan Race US Championship Tour.
The event is set to take place on August 25, 2017. Registration is $250 with all proceeds benefiting the Spartan Foundation. The Spartan Foundation is dedicated to making healthy the new normal for the next generation and has forged partnerships with organizations that share its values including Autism Speaks, the Jimmie Johnson Foundation and Shriners Hospitals for Children.
CrossFit Games
CrossFit Games athletes set out for the second time in the Games history on an obstacle course this morning. It was a chilly rainy morning for the athletes making the course a little more challenging. Athletes had an 8-minute time cap to make it to the end of the course and back around. The struggle for the teams was the rope swing and slick logs.
The course was built by many familiar names and faces in the OCR world including Garfield Griffiths, Ian O'Hara as Build Director, Hubie Cushman of Indian Mud Run, and many others.
Results
We have some of the top results from around the OCR World. As we inch closer to championship season things are coming together for many athletes looking towards the end of the season.
Asheville Spartan


Mud Ninja in Ohio

Warrior Dash Michigan

Viking Obstacle Race at Sunny Hill Resort


Finally, finish with Savage Race this week.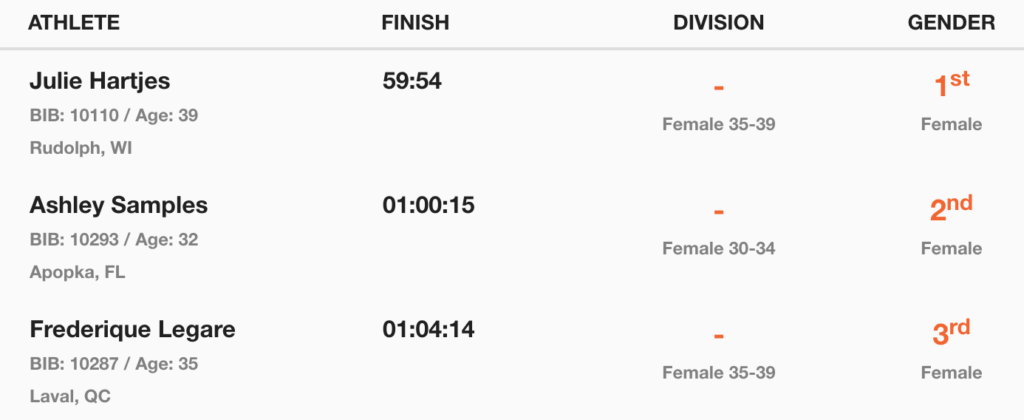 Looking ahead to this weekend…
Rugged Maniac heads to Pennsylvannia, Conquer the Gauntlet is in Iowa, Spartan Race is in both Massachusetts and Utah, Tough Mudder heads to Western New York, Warrior Dash is in Maryland, Muckfest MS is in Michigan, BoldrDash is in Rhode Island
Moving outside of the contenential United States. Spartan Race has their trifecta weekend in Hawaii.
Moving up to Canada
Spartan Race is in Ottawa, Prison Break Race is in Quebec,
Outside of North America…
Total Warrior is in Cumbria, and Rough Runner is in Edinburgh both in the United Kingdom. The Kyiv Ukraine Race is in Odessa Ukraine and finally Heros Obstacle Race Lahte in Eastonia.
For the Full list of races this weekend check out the race calendar on MudRunGuide.com
That's all for this week in OCR and OCR News Weekly powered by Mud Run Guide. Join us next week for all the news and results from around the industry. If you missed the live broadcast you can find this episode on all your favorite podcast players and on YouTube.
This is Margaret Schlachter signing off for this week. Best of luck to all those racing and have a fun and muddy weekend!