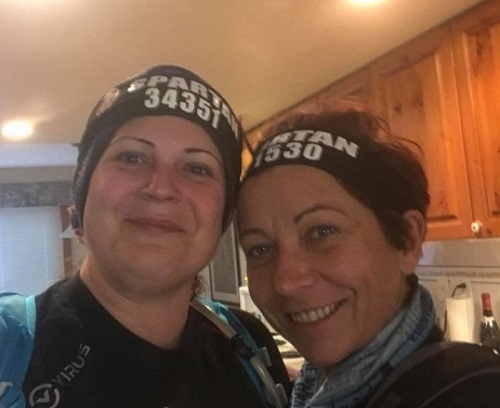 It has honestly taken me a while to process everything emotionally and physically that I went through during the Sun Peaks Spartan Race Beast. I have never had a race break me like that (not even a marathon). To put it lightly, the Beast was the hardest race that I ever conquered and the last piece of my Trifecta puzzle. It took me more than a few days not to feel broken over this race, and some of the Beasts on the course we're comparing this race to the difficulty of Tahoe.
The race was held in beautiful Sun Peaks B.C., Canada. For us racers, we didn't get a course map until a few days before, and it appeared as though Spartan was going to have us conquer all three peaks.
In typical Spartan fashion, they had planned for over 25+ obstacles for us beast racers to conquer. Having never done a beast before, friends told me to expect to be out on course for 8 hours, and I packed accordingly. I brought my hydration (2l of tailwind), beef jerky, four endurance tap gels, and plenty of mustard for the long climbs (for leg cramps).  In the starting corral I was nervous, but just after 8:30 am we were off. My good friend Karolina and I had made a pact to start the race together and finish together, and we built a bond that day with what happened on course.
On a personal note, I have never broken down emotionally and cried so hard then when on course on Sun Peaks. I had to go into a super dark headspace, and if not for Karolina and I sticking together to keep our spirits up, I would have DNF'd. Getting over that last slip wall and then jumping the fire was an amazing personal accomplishment.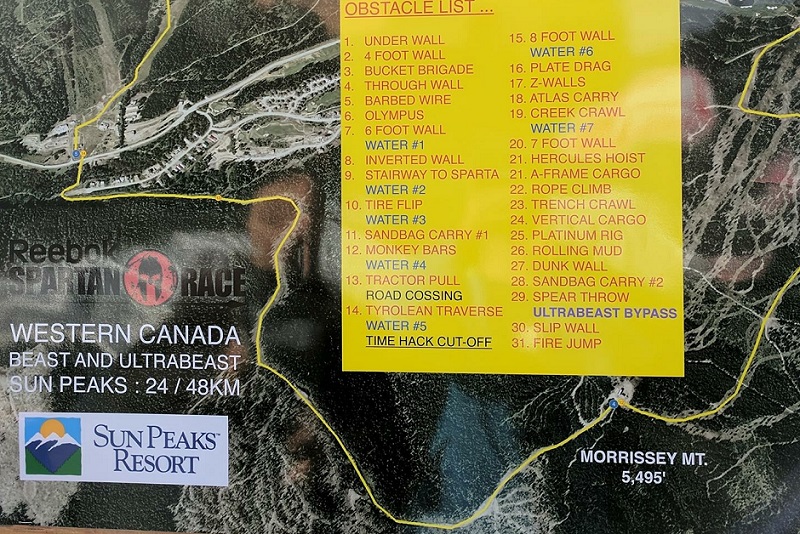 The Good.
Selection of Obstacles.
The selection of obstacles was crazy. We had a bunch of the usual including walls, an early bucket brigade, barbed wire, Olympus, tire flips, sandbag carry (2 of them), a plate drag, a platinum rig, lots of hiking (up all three peaks, well maybe more like crawling), and many more (see the map below).
Perfect Weather.
 I know that Spartan cannot control the weather, but we had the perfect temperature for the Beast. It was chilly in the morning, a bit warm as you climbed the peaks, and then a nice cool breeze at the top.
The volunteers were amazing.
 I know it's hard to be out there for such a long period, and every volunteer I saw was smiling, happy, looked warm enough and happily answered any questions we had.
Use of the terrain.
Anyone who was out there doing the Beast / Ultra beast will understand this. We were all over the Sun Peaks terrain – gorgeous areas of hiking, the climbs although brutal had some nice scenery, we saw a fox (and some saw a bear even), it was one of the dryer courses in terms of mud, and even though we ended up being out there over 10 hours, it didn't feel that way.
Package Pick up.
One of the quickest that I have been to. We decided to talk from our condo down to the registration area and pick up our packages just after 6 am.  There were 5+ smiling volunteers helping with registration, and I waited in line no more than 5 minutes.
Event MC was awesome.
 Chris was on fire as usual. He was happy and smiling when I ran into him before the race, and you could hear it in his voice he was pumped and wanted to get us going. The audio equipment he has wasn't the greatest, and I wasn't able to hear everything he said, but in the end, I felt ready to go.
The course was challenging.
The climbs up all three peaks including the Challenger one (death march) pushed us racers beyond our limits. I had to keep stopping and starting to ensure my legs had enough to get to the top. It was hard, but step by step we did it. I feel. Personally, the climbs were the most challenging part of the course, and I am glad that I have a running background. My legs did get stiff and feel crampy, but I still felt strong in the end.
The course designer.
Johnny Waite is a great guy. He understood there would be some mixed emotions, and anger for those that finished and did not finish his course. He has taken the time to personally respond to some racers concerns and comments and has gone above and beyond to make sure the voice of the participants have been heard.  I am sure it is not easy for him to hear all the negative feedback from this race, but he has taken it in stride and was willing to listen to us.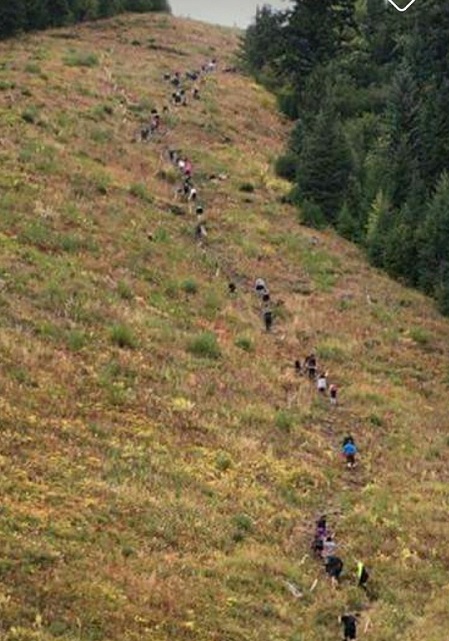 The Bad.
This is going to be hard for me to write, as I know emotions may get high when reading this.
The three peaks climb.
There was a course map released before the race, but I don't think we understood how much elevation gain was coming. In total, almost 7000 feet of elevation gain from climbing all three peaks. I wasn't able to train for that elevation, so that last climb took me over an hour to complete. I had to find a small stick and dig it into the ground, and crawl up on hands and knees.
The third peak – "The Challenger."
This to me was the most unsafe part of the course. Going up the mountain peak, you could tell that the Ultra Beast racers from earlier in the day had forged the path (very thankful for that). However, there were 0 safety precautions in place. It was a single track all the way up, and we were so close together if one of us fell backward hard, then we would knock out everyone behind us. There was no safety rope to hold onto, and no volunteers to assist if someone got hurt. I saw many people lying just to the side of the trail in pain.
Going down the Challenger Peak.
This was straight down. There were no gentle parts to walk on, it felt almost like going off the edge of a cliff. Most of us Beast racers either climbed down backward on hands and knees or slid down on their butt (like I did). Again there were no volunteers, no safety precautions in place if someone fell, and zero medical personnel around. I understand that when doing a course on a mountain, Spartan needs to leave the mountain as natural in a state as when they found it, but I was so worried someone was going to hurt themselves badly, and there was no one around to help.
Less Communication then normal pre-event.
I know it is a hard balance to strike when sending out emails pre-event, and I don't 100% blame Spartan for this, but there were many racers we saw that didn't have their water or nutrition on the course. I understand this is a personal choice, but I think that Spartan should have communicated the importance of having your supplies on the course. There should have been some check point halfway through, and if you didn't have proper supplies to continue, you should have been pulled. I finished the race with a tiny bit of water but had enough to go on. There were many racers on the course that needed help.
Taking down the finish line before all racers finished.
There was a time hack (you had to get to the Top of the World by 5:30 pm), but from what I understand the festival area/finish line shut down before most racers finished. There weren't many that got to finish on the later end of things, but they need to keep this area up until the end. There is nothing worse as a racer to come to the finish area and see everything taken done/gone.
Nothing but water at the finish.
In years past Spartan has offered a banana or bar of some sort at the halfway point at aid stations, and even at the finish. This year, the Beasts jumped that fire without anything but water offered to them. I am not sure why that changed, but that's something Spartan may want to think about.  Just having a small banana or a bar post-race would have helped big time.
Beast Course difficulty rating.
At the Spartan Beast level, racers need to know what they are getting into. Having a map and a difficulty rating would have made more racers I feel understand what they were getting into. I know a Beast is meant to test you, break you and push you, but I feel that some Beast racers didn't quite understand how difficult this race was going to be. Just viewing a map sometimes isn't good enough, and I think in the future the Spartan Race team need to evaluate a map and give it a rating.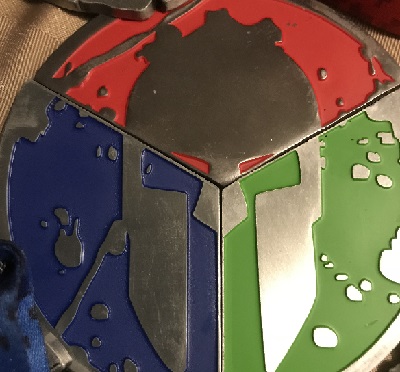 Overall, this was a challenging race. Many of us were cursing the race course designer while on course. I was able to keep most of my wits about me having my friend Karolina at my side. I hope that Spartan does get to go back to Sun Peaks, as I would love to try another Beast there and see what changes they make. I am super happy to say that all my friends finished injury free (except for the normal soreness and bruises) and that after completing this race, I earned my Trifecta. I hope that Spartan takes the time to listen to the feedback on this one, as I have heard multiple athlete's states that they went a little too far this time.
Rating: 4/5
---
Have you done an Spartan Race?
Leave your own Spartan Race review and feedback...