After her inspiring and emotional finish as the women's winner of Worlds Toughest Mudder (with 90 miles completed), Rea Kolbl has capped off her exciting OCR season. She has only been in the sport for the past 1.5 years, but has shown the with hard work, motivation and being active, you can accomplish anything you put your mind to.
It was truly a real treat when Rea agreed to be profiled for this article series, and even more exciting for me personally watching her come from behind to win Worlds Toughest Mudder. I hope you will enjoy reading this just as much as I enjoyed putting it together.
Please tell us a bit about yourself. 
My name is Rea, I'm 26 years old and currently living in Stanford, California. I'm originally from Slovenia, but I moved to the Bay Area in 2010 for school and have remained. About a year and a half ago I stumbled upon obstacle course racing and immediately fell in love with the sport. Training for races is just another excuse to spend excessive amounts of time on trails, my passion, addiction, and a way to de-stress from my day job. Where I live conditions are perfect for running outside year round, and I don't remember when was the last time I skipped a day of running.
Aside from being an athlete, I'm also currently working on my Ph.D. in Applied Physics at Stanford, which makes me sit down and rest my legs between workouts. I'm also married to the best human out there, Bunsak Pra, who is my one-man crew during and between races; he takes care of life so I can focus on school and training. I also love traveling, hiking, reading, eating fruits (and other things), and just being outside and alive.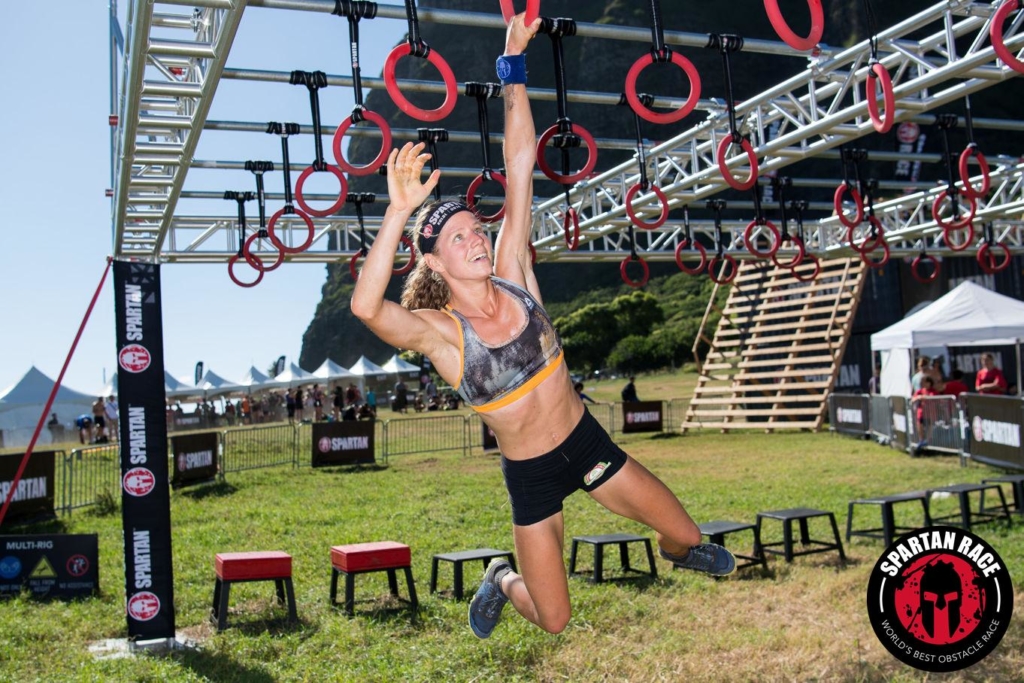 Did you always consider yourself athletic?
I grew up as a gymnast; I picked up the sport when I was 6 and stuck with it until 17. For most of this time I was on the Slovenian National Gymnastics team, so sport was my life growing up, and the gym my second (or maybe even first) home. Even before that my mom ensured that I developed a love for sports and outdoors, and skills needed to enjoy them – we lived next to a ski resort and I think she put me on skies before I knew how to properly walk. After I quit gymnastics at 17, my athleticism went on a downhill spiral for a few years. As a gymnast, I was extremely strict with nutrition, and my workouts were between 4 to 7 hours a day, 6 days a week.
When this was suddenly gone I also lost the motivation to eat healthily, and the next few years were probably the unhealthiest ones in my life. I gained over 50 pounds and lost the ability to do sports and enjoy them. After moving to the U.S.  I decided I wanted to get back to the life when I was physically capable of doing any adventure life threw at me, and picked up running as means to lose weight. Living in Berkeley, I had trail access pretty much at my door and so rather than running on roads I ran trails, and soon enough trail running went from being a means to a goal to something I loved, and I ran more and more. I started doing trail races and realized I was pretty good at it, and before I knew it I went from being unable to run a mile to finishing a 50-mile trail race.
 
How did you get into the sport of OCR?
It all started with the Monterey Spartan race in 2016; it the first race I ran in the elite category. I knew I was a pretty fast trail runner (I had a few course records from trail races around the Bay Area), and some obstacle skills from my gymnastics years, but I had no idea where I ranked in the sport of OCR. I'm one of those runners that take a few miles to warm up, so as soon as the final AROO sent us out the gates I fell very behind the field. I thought to myself that it's okay, these ladies are all very strong and fast and I'm just going to go for a run, this was a nice experiment but maybe I should really just stick to trail running. Then the uphills started, and I slowly started passing the ladies (and some men too!), one by one. Being new to the sport I didn't know any of the OCR stars, and so I didn't recognize Rose Wetzel, Faye Stenning or Lindsay Webster as I caught up.
And since I also didn't know exactly how many women were ahead of me, I also didn't realize that I made it to the final gauntlet of obstacles in 3rd place. Due to the lack of grip training (or, the non-existence of it,), I fell off the final rig before I was even properly on it. This allowed Rose Wetzel to pass me and I finished in 4th. That was going to be my one and only Spartan race for 2016, but then they gave me this coin at the ceremonies and told me that I just qualified for the World Championships in Lake Tahoe. Then someone else told me that Tahoe had insane elevation gain (my favorite thing), and I figured I might as well give it a try. To train for this I then decided to do another couple of races nearby, and what started out as a single race suddenly turned into a sport I love. After so many years after my gymnastics career ended and I thought the dreams of being a professional athlete were lost. OCR gave back those hopes and a reason to call me an athlete again.
What was your first race like? Which one was it?
My first elite race was Monterey Spartan race in 2016 (I guess I kind of answered this in the previous question), but that wasn't my first ever OCR race. In 2013, some friends and I found a Groupon for a Spartan race, also in Monterey. That was when Monterey was still a beast course. We decided to sign up for it, and do it as a team. I suggested we also run the race as a team, but the 3 guys said they actually wanted to race and not wait for me at the obstacles, and since I was outnumbered in this opinion we went our separate ways.
I ended up finishing 30 minutes before the first of the guys on my team, and that was the one and only race my husband ever ran; he says he enjoys spectating races a lot more. I liked the race, and I think I won the open heat, but I'm not sure why it took me three more years to really pick up the sport. I think back then I didn't really know that there was an elite category, and since I love competition open heat didn't draw me to the sport as much as running the race for the win, rather than completion.
Tell us about the races you have done so far. 
I think I've made up for missing all those races between 2013 when I first tried Spartan to 2016 when I decided this is my new thing. In 2016, I ended up running 8 Spartan races from June until the end of the year, and this year I ran 23 Spartan races, 2 Tougher Mudders, OCRWC, and USOCR. I loved them all, and I'd say that each race is so different I probably have a favorite moment for each and every one of them. I think Spartan World Championship at Tahoe was the hardest one. Spartan decided to make all grip obstacles twice as long, heavies carries twice as heavy and everything repeated in doubles. It was a grueling 16 miles with 5000 feet of climbing, and at altitude. I think whoever finishes that race can do any other Spartan race without any hesitation. It was really hard, but also really beautiful and rewarding. My biggest learning experience this year was definitely in OCRWC, with their mandatory obstacle completion. It was raining and the bars got wet and slippery, and I got stuck at the Monkey Bars for 30 minutes where I kept trying to get across but kept falling off.
But the atmosphere was so amazing, especially the crowd – they were cheering so very loud every time, for the twenty or more times I tried and failed. Once I actually made it across I couldn't believe it, and it was just as much because of my physical abilities as for all the support from the sidelines. It was probably the slowest and most exhausting 9 miles I've ever done. Afterwards, I said never again, but now I'm already looking into plane tickets for the UK venue for OCRWC 2018 they've just recently announced. OCRWC made me really appreciate burpees at Spartan races, where a mistake does not set you back for more than roughly 2 minutes at a time. Being a trail runner and in love with running uphill, I still think Spartan Races are my jam – when I hear that a course is sending me up and down a ski slope a few times, sometimes carrying a sandbag or two and other times a bucket, I get really excited about the race, and running hills never intimidates me. Those are the kind of races I look forward to the most; it's the flat courses that usually scare me.
What initially drew you into the world of OCR?
I think it's because it combined trail running with gymnastics skills, my current passion and a sport I grew up with. There are so many moments from races that I will never forget, like when you get to the top of the mountain at a Spartan race, and you have these amazing views around you, and then they put an A-frame on top of the mountain peak so you can climb even higher, and it feels like you're on top of the world. I'm pretty sure being full of adrenaline from racing and endorphins from exercise makes the views seem even more beautiful, but I really don't think there is any other sport where you get this kind of thing. Over the summer I did a Spartan Race in Hawaii this year, and for a good mile or two we were going through the jungle, and on the way downhill, I was swinging from tree to tree, like a real monkey. It's this amazing experience(s) that is not just about going fast, but it really tests your fitness as a whole and helps you get over fears you never thought you would, while at the same time you can have so much fun you forget that this is hard work.
I've always been terrified of cold water, and I would never swim in anything less than 60 degrees. But then Spartan race made us go into an alpine lake at the World Championships that I think was at 43F, and after doing this course twice in two days this year I realized I'm suddenly no longer afraid of cold water, and Arctic Enema (swimming through a pit of ice water) at Tougher Mudder these past two weekends weren't scary at all. And then there's also the community – I think that OCR is a lot like kindergarten, where you get to roll in the mud, play on monkey bars, and make friends. I remember at the first Spartan Pro Team dinner in Seattle, I was sitting with all these other Pro Team members, most of whom I met for the first time, and for the first time in a really long time, I felt like these are the kind of people I can really be friends with. And it's not just my teammates, but really everyone at the race. It's like all the differences suddenly seem so irrelevant, and you're really a part of something. I think I got a bit carried away here, and maybe this is more of an answer to a question of why I want to stay in this sport forever, but it's also a reason why I decided to keep coming back when I just started in 2016.
Do you feel that due to strong women like yourself, that others are more willing to push their own limits?
I really hope so! I think this year I was the first woman to win a Spartan race overall, beating the male field, and then Alyssa Hawley did it again the day after, and I really hope this leads to races where men and women start at the same time, and many more women win the race overall. These overall wins were a direct result of Alyssa and I pushing each other (with a friendly best out of three-bet.) Being able to inspire is still one of the things that surprise me, and I feel privileged to be able to do it, to reach the community and be able to influence others. Whenever I hear from other OCR racers that they feel inspired and they didn't quit when something was hard because of something I did, I always blush and it makes me happier than winning any race out there.
What I think most people don't realize is that it's a two-way street, and they inspire me too and make me push my own limits as well. And to me, I still think I have the easier job. When you're really fit and used to running 70 miles a week, doing a 9-mile obstacle course race is hard, but it only lasts an hour and a half and my body knows how to handle the stress. Those who really inspire me are all the open heat racers, who are out there for hours, and they don't give up; I still think it's much harder for them, and the fact that they don't give up and finish strong is what inspires me to give it my all when I'm out there for my hour and a half. Maybe a part of this is because I know how it feels to struggle; I'll never forget the times when I couldn't run a mile, and I know how hard it is to start from ground zero.
On-course what has been your favorite obstacle and why?
Oh, this is a hard one! I think it really changes and depends on a lot of how well I do. I think one of the obstacles I really enjoy is Ape Hanger from Spartan Race. I also really liked Twister-Monkey Bars-Twister which Spartan Race had at the Tahoe World Championships this year. I'm pretty slow on this obstacle, but I've never failed it before so I think that's why it's fun. And I love the spear throw when I hit it! (But hate it when I miss…) I also really like bucket carry because it's so consistent and I always know what to expect. I really liked Floating Walls at both USOCR and OCRWC. They seemed really hard but ended up being just really fun. I think that's already way more than one favorite one…
On-course what has been your least favorite obstacle and why?
This one is easy. I hate walls; tall walls in particular. These include 8-foot walls, slip walls or any kind of wall that's 3 feet taller than me. I'm really bad at jumping up and running into a wall terrifies me, so whenever I'm doing a Spartan Race I always check where their 8-foot wall is located and when I'm over that I can finally relax. It's funny too because other than at Tahoe Spartan World Championship in 2016 I never really failed this one, but it still terrifies me every single time.
Is there is an OCR or endurance race that you will never do?
Well, exactly a year ago my friend was packing for World's Toughest Mudder and I called him crazy, saying that's a race I would never do. And this year, I'm the one packing for it right now. And I can't be more excited about it. I think I learned to never say never, and I think I can be convinced to try really anything. I also said I don't like short distance and would never do a Spartan Sprint because it's only 4 miles, and a year later I've done more of those than I can count, and I also ran a 3k course at USOCR. So bottom line, I don't think there's anything I couldn't be convinced into doing. It might take me year to gather the courage to do it, but I think saying never would be a silly thing to do.
If someone were to give you a plane ticket, and a paid race entry to any event in the world which one would you love to go and do?
Ooh, can I go to Australia for the Enduro Championships, please?? Another race I would really love to do is the Spartan European Championship, since I still have my Slovenian citizenship. And growing up near the Alps in Europe, I know just how gorgeous it is there so doing a Spartan Race in Austria would be pretty amazing. I think there are just so many places and races I'd love to do that picking just one is a hard task. Also, I feel like this sport is evolving at such a fast pace that there's something new and exciting announced almost weekly, and I'm sure my bucket list will grow faster than the rate at which I can cross the events off.
With so many amazing women on course this year, do you find yourself becoming more competitive, inspired or both?
Definitely inspired! When I showed up to Monterey Spartan race in 2016 I was able to do maybe 5 pull-ups total, and I had no OCR specific training under my belt whatsoever, and somehow I finished in the same spot as at this year's Monterey race after focusing on OCR for over a year. It's amazing just how much better everyone has become, and it's amazing to see this grow as a sport, and kids doing it between the ages of 4 and 5. It definitely makes me train harder and become better because of it. But I wouldn't really say it makes me more competitive on the course; I really believe in running your own race, and the few times I actually tried to chase others wound up being some of my worse races. I think OCR requires such a vast skill set that none of us are really the best at the exact same thing, so when I race I just focus on what I'm good at – running uphill. Someone else focuses on something else, and that's what really makes running your own race strategy work for me. I know it's probably okay to fall a little behind on flat running sections because I can make up that difference once the uphills start. And it's just so much less stressful going out there for yourself, trying to be better than what you were at the last race than focusing on beating others. Especially after so many races that I've done this year, I think it's important to find a way to enjoy them, even the ones where the stakes are high.
What type of training do you complete OCR training?
I run. A lot ☺ I think I'm still a trail runner at heart, and I can get lost on trails for about forever. I log roughly 70 miles a week, and I run every morning. During the week I usually do faster and flatter runs, and on the weekends I go on trails, looking for runs with a lot of elevation gain and beautiful views at the summits. I don't really consider this training, more just what I love and would do even if there were no races left to run. In the afternoon, I do my second workout which is usually more OCR oriented. I usually do some low impact cardio to warm up (stair climber, stationary bike, rowing machine), followed by upper body strength endurance.
Usually once a week I would do 30 minutes of HIIT routine, focusing on exercises that work the upper body. Another day I would do some strides and sprints to work on my running speed. Another day would be circuit training, also focused on upper body. Once a week I go to King's Camps and Fitness, my local OCR gym and do their workout that simulates race conditions. And I do pull-ups and abs daily. Sometimes I do unrelated things for OCR, like playing tennis with my husband, just to remind myself that being active is fun. I workout twice a day every day during the week, and on the weekend I would do a longer, 2 hour(ish) run, and maybe a hike or just spending the day outside. I make my own workout plan (which is not really a plan at all), and I learned that that's the best way for me to keep loving what I do.
If you have one, what is an on-course nickname people have for you?
I don't think I have a nickname, but I think I'm known for racing with a smile. I really do love racing, and I think once I stop racing with a smile I'll have to re-evaluate my training and racing schedule.
For someone that is newer to the OCR sport, what is one solid piece of advice that you wish to pass on?
I think one main thing I learned is that there is no single right way to train for the sport. I think all of us have workouts we love and those we hate, and when I thought I had to incorporate more of the things I didn't like I started hating the workouts while not getting any better at OCR. So I think one piece advice I really believe in is to keep doing what you love and keep your strengths, and then work on your weaknesses on the side. And never forget that this is fun, and why you started with racing in the first place.
Who inspires you?
Recently I saw a documentary about a team of 4 women who rowed unassisted across the Pacific Ocean, from San Francisco to Australia (I think it's called "Losing sight of shore"). It took them 9 months, and for 9 months they were exchanging rowing duty in two-hour cycles; two hours on the rows and two hours sleeping and resting. And sometimes the winds and currents were against them, and they made negative progress – they had to row all day just so that they weren't pushed back and too far off course.
And for the last two weeks their desalination pump broke, so instead of rowing for 2 hours and resting for 2, one of those rest hours was spent manually pumping ocean water to drink. But after 9 months they made it, just the four of them, powered by their strokes. Once they pulled into the dock there's a song that starts playing, "Rise up" from Andra Day. Their whole journey was so inspirational that I always listen to this song before any race that I do. Because no matter how hard the race is, it can't be as bad as rowing for 9 straight months, in 2-hour shifts. It's people doing unimaginable things like this which really inspires me, and while the people and events that are inspirational change, it's always those who set out to do things that seem impossible, and making them possible, that inspires me to also push myself and test my own limits.
What is one your one A race/bucket list race you want to do?
Oh gosh, there are so many! I do have one race I really hope to do at some point in my life, but it's not an OCR race. I really want to do the Barkley Marathon, and possibly being the first female finisher (that would be the dream, not sure how doable haha); so far I think it was only men that finished.
I have yet to apply to the lottery (so really right now this is a bucket list item with no action put into it yet), and I'm not really sure when I'll have time to train for it and do it since there are so many OCR races I want to do as well, and what I'm presently focusing on. I also don't have any orienteering skills but it's definitely a race I want to do once in my life. Although at the rate that I'm working towards this goal, maybe it's my hope I'm NOT the first female finisher, and some other badass women go out there and finish.