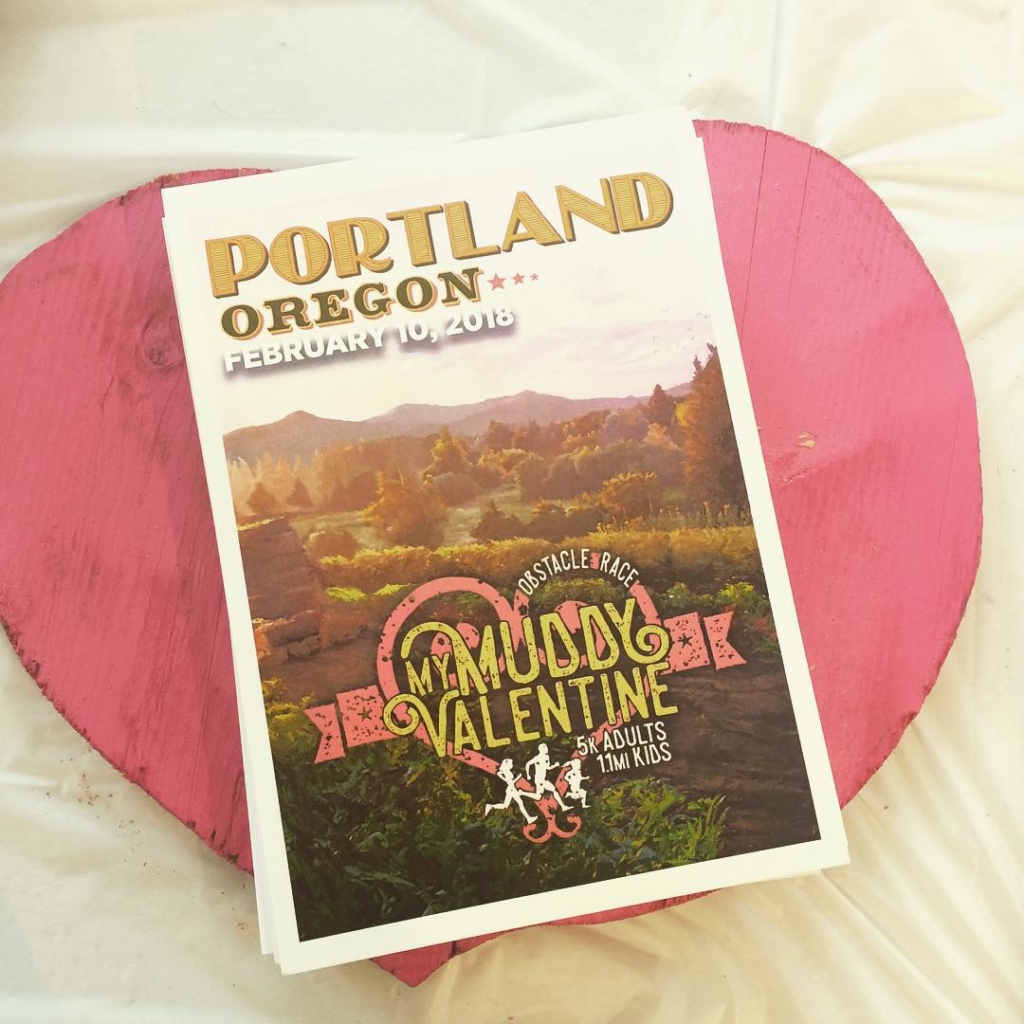 This Valentine's Day weekend at Lee Farms in Tualatin Oregon couples, families, and friends escaped the cliche and got down and dirty at the My Muddy Valentine 5k Mud Run hosted by Terrapin Events. Runner's came out dressed head to toe in hearts, tutu's, and even a few group costumes ready to take on the muddy terrain. The sun was shining, the mud was fresh and racers were ready to challenge their friends and loved ones to an all-out mudfest.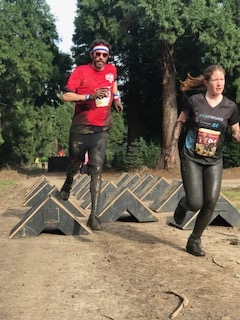 I have run six races coordinated my Terrapin Events and have been overall impressed by the enthusiastic volunteers, well-organized events, and courses. My Muddy Valentine is one of my favorite races annually, as it always kicks off my OCR season here in the Pacific Northwest.  Starting with registration and packet pick-up, everything was a breeze.
Terrapin Events maintains a very user-friendly website. During the registration process, you had the option to purchase a hot shower for $5 (totally worth it) as well as a parking pass that allows you to park right outside the festival grounds for $20. For those looking to save a little money, Lee Farms offers a very convenient shuttle bus with free parking located about two miles away. Arriving at the festival grounds, you are immediately greeted by helpful volunteers ready to direct you to on-site packet pick-up and bag check (which, by the way, is free!).
Exploring the festival grounds, I noticed everything was very clean and well laid out with three bonfires burning keeping everyone warm before diving into the cold mud. Ten vendors were scattered around the festival area with games, prizes, and merchandise. Our ears welcomed in the jams of a great DJ and announcer getting us pumped up and ready to run.
This year, My Muddy Valentine seemed much bigger than the previous years with hundreds of first-time obstacle course racers. A lot of the participants I had the pleasure of speaking with told me this was their first obstacle race and were very excited to do something "out of the ordinary".
My Muddy Valentine is a great course to run for your first obstacle race or mud run. The course is rather flat and the obstacles are pretty easy to conquer. If you're looking for a more competitive edge, My Muddy Valentine has two Elite waves to start the morning. I ran the first Elite wave to get a feel for the fresh course.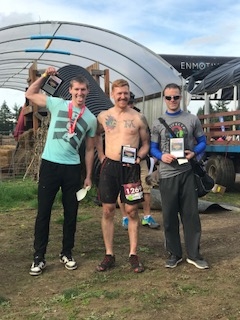 This year, The Elite waves brought some fierce competition with Taylor Overmiller of Portland OR finishing 1st place with an astounding time of 21:20. In 2nd place, we had Patrick Olson from Molalla OR finishing with a time of 23:05. And in 3rd place we had Grant McCreadie from Oregon City, OR coming in at a time of 23:06. Though the elite waves bring out some friendly competition, most racers were there to have fun and do something new with their friends.
At the start line, waves of runners were sent out by cheering crowds every ten minutes. Four new obstacles were introduced this year to the course adding some variety and a new challenge. I was excited to see a log carry introduced to the course. I feel like a carry obstacle was one of the things missing from the last events. I was also excited to see a rig placed on the course as well. These two additions made for a surprising and fun addition.
The obstacles were well spaced overall and coupled with the staggered release of waves caused no lines or backups. The majority of the obstacles were pretty standard for OCR including, wall climbs, mud pits, steep hills, etc. Then you get to the Shoe Snatcher. The Shoe Snatcher (a crowd favorite) is a waist deep pit of the thickest mud I have ever encountered.
I highly suggest taping your shoes for this one. I witnessed multiple people climbing out, shoeless, and diving back in to recover their lost shoes. Runners 21 and over were able to participate in the "Chug and Run" (my favorite) which consists of chugging a beer and running thru a collection of tires . A Lot of people use this obstacle to relax, catch their breath, and chat with other runners. Some even challenged their friends and in some cases strangers to see who can chug the fastest. At the finish line, runners are rewarded with a medal and a delicious spread of post race snacks and refreshments. Let's not forget a complimentary beer!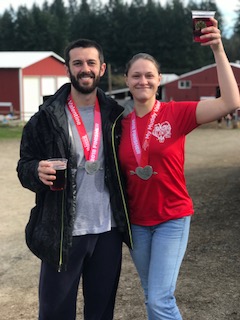 In conclusion, My Muddy Valentine 5k Mud Run was a fantastic event and a great way to try something different with your sweetheart on Valentine's Day. This a great event to bring family, friends, and significant others to indulge in some quality muddy bonding time and maybe even spark a new found love for obstacle course racing. I had a great overall experience, met some amazing racers, and got covered in mud all in the spirit of love.
Rating: 5/5
---
Have you done an My Muddy Valentine?
Leave your own My Muddy Valentine review and feedback...