It's hard to believe that my last race was the Spartan Sprint Miami in February 2017, but canceled races last Spring and a little storm called Irma in September kept me off the course in the Fall. Oh, and Miami doesn't have a Summer season for reasons related to the 800-degree temperatures I guess! So I was excited to be back out there finally and looking forward to another race at Amelia Earhart Park, which now seems to be the go-to venue here in Miami. Initially, my thoughts went to the opportunity of being able to compare race promoters on an even scale. What kind of race could they put on using the same exact terrain as other promoters? That doesn't happen very often in OCR. However, it was clear from the beginning that Spartan Race (SR) wasn't just playing against the rest of the OCR field…they were upping their game from their previous performance.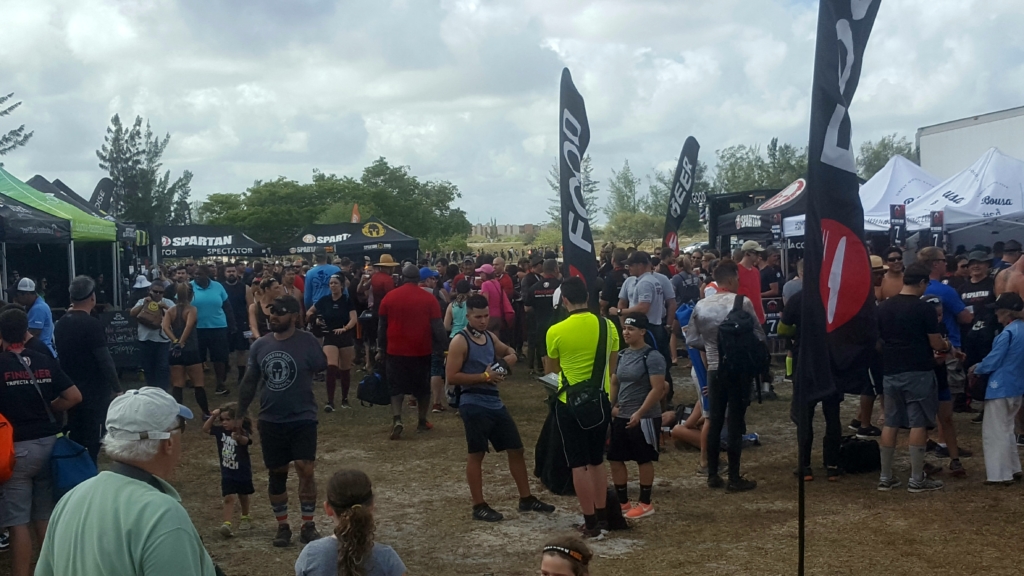 Right off the bat, I noticed that parking was already half full when I arrived at 6:40 am. And when I rolled up on the registration and festival area, there was already a large and enthusiastic crowd. That's no mean feat in Miami! Did I mention the Sahara-like heat of Summer? Well, the other side of that coin is that it's beautiful the rest of the year…which means you have a choice to do just about anything else you want outdoors. So whatever SR is doing, it's having a positive impact on attendance.
What was also obvious was the sheer number of volunteers. Volunteers are the lifeblood of OCR, without them the dynamics (and financials) change significantly. According to Festival Director Jeremy of Spartan Race, encouraging volunteerism something they have worked hard to improve. As a racer, it was great to see all the obstacles manned during my heat and even at the end of the day. Not to mention the well staffed and well-placed water stations – it may seem a no-brainer to have plenty of water stations in Miami, but you would be surprised how many other races out here that have had little to no water on-course.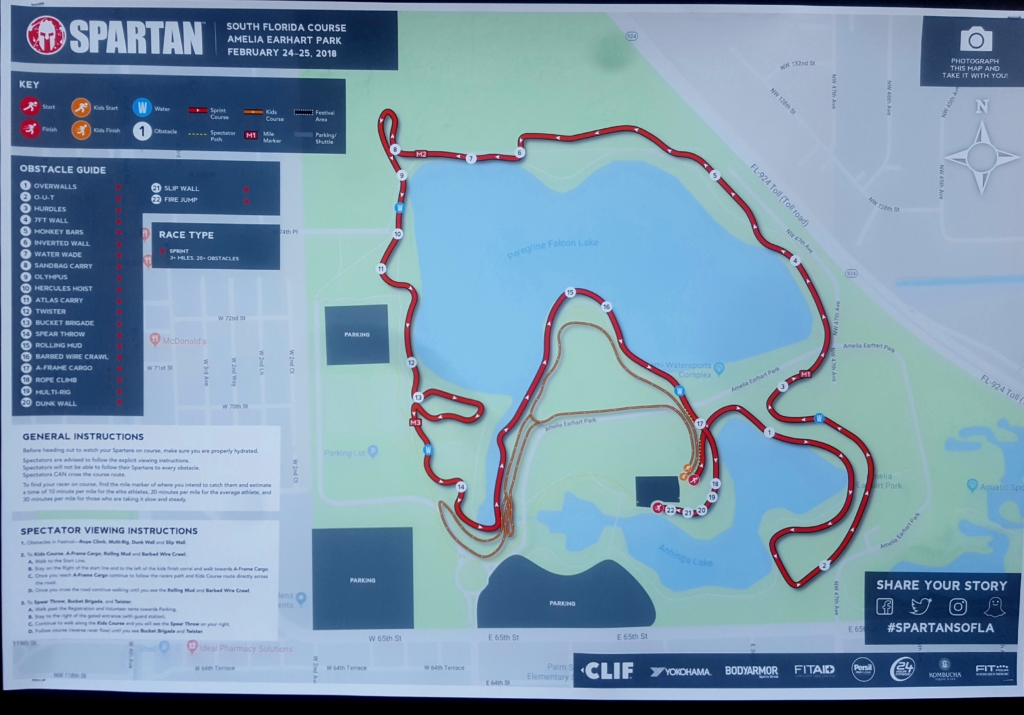 As expected, the approximately 3.7-mile course was flat and fast (relatively fast, as I've never heard anyone use that word about my times). True to form, they had the race course map posted on the way in, this time though with all the obstacles listed! No mystery obstacles that you can't remember the name of when it's over. From the start of my OCR career, I've always liked the idea of not knowing what's coming (as opposed to my normal engineering approach of over planning everything). The start announcer pegged the elevation change at 5', and personally, I think that was measured to the top of the sandbag pile, but hey, what do I know, I only live here. By the way, he deserves a shout-out too; as a jaded, old OCR racer it's not easy to get a smile out of me that early in the morning – well done Rob! What also deserves mention is how many hands went up when he asked how many elites were doing their first Spartan! As expected, Spartan Race has long known to start the race off with some running. In the past, much of this was to inflict mental punishment, but now it's an effective way to spread out the field to avoid bottlenecks at obstacles. They did that successfully, as the only bottleneck was at the A-Frame cargo net which surprisingly didn't seem to bother many people. I think the heat had taken its toll by then, along with the carries, so everyone was more than willing to get a short breather heading into the final stretch.
Spartan Race got most of the walls out the way during the first two miles. In fact, the two shortest ones, the 7' wall (no 8' this time around), the inverted wall and the "'OUT" series of over/under/through walls were all in this first half of the course. The only overhead obstacle in this section was the monkey bars. They also included the Nutcracker (which I'm certain has another more pleasant name) in that first mile, where I showed off my inimitable technique (imagine the grace of a drunken gorilla horizontally pole dancing…a real show stopper…but I made it over!). The second mile ended with the Water Wade, during which I took the opportunity to turn into my dunk tank…it was already getting warm! Another lesson SR has learned well is that water obstacles before inverted walls and monkey bars make for extreme difficulty and increased chances of injury…smart! Speaking of smart, I noticed another nice touch of adding mats below some of the most likely obstacles we'll fall off.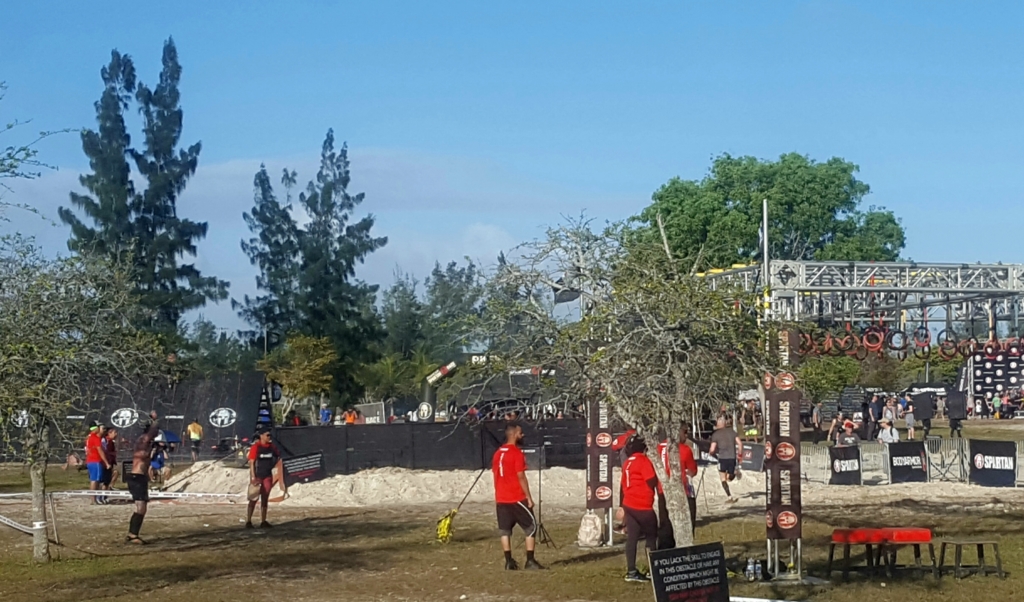 Apparently, though, water obstacles before carries are not as frowned upon. Coming in soaked to the sandbag carry was fine with me…although it seems the sandbags themselves haven't aged much better than I have since I saw them for the first time here last year. Mile 3 then was a combination of endurance sapping carries and soul-crushing upper body challenges. The Hercules hoist, always one of the personal favorites (after all, I'm my portable anchor which doesn't hurt) led right into the Atlas carry…which ensured that whatever upper body you had left would be shredded. Atlas, of course, was followed immediately by Twister – a rotating, evil spawn of the monkey-bar obstacle – which then brought you to the bucket carry. Surprising, after seven years, SR finally figured out how to make the bucket carry less of an ordeal (for both the racer and the venue) by sealing the buckets. Not to mention it kind of evened out the difficulty since cutting holes in your bucket to dump gravel out was a bit obvious and short-filling it was no longer possible. This section is also where burpee penalties tend to become more of an option than a requirement for the average racer. At this point, it's more about survival for some!
By now we're heading into the final stretch. First up was the dreaded spear throw. In all my years, this is possibly the most underestimated obstacle at a Spartan Race. While it just doesn't look that hard, I'm sure the failure rate has to be significant, judging from the colorful expletives that seem to accompany almost every throw. Even getting it into the hay bale doesn't ensure it will stay there! After that challenge, we're into one of the two obstacles with water on this course, Rolling Mud. Another chance to cool off a bit before going directly into one of the three barbed wire crawls…this being the only one with mud. Interestingly, there were two other barbed wire crawls on the course, something I don't remember seeing at their races for a while. All three were relatively short, which makes them significantly less intimidating then some of the past crawls.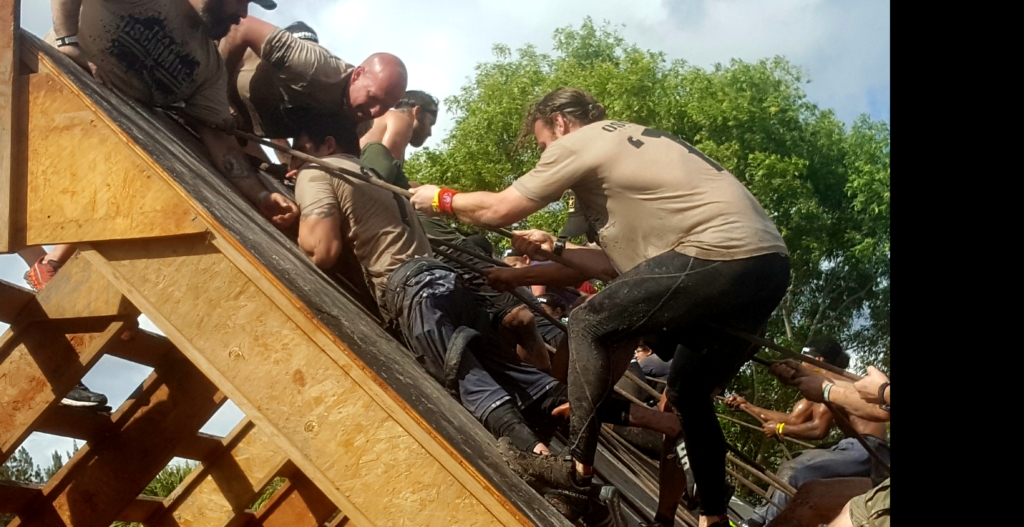 Did I say less intimidating? Well, I wasn't talking about the home stretch obviously. SR has made this section a much anticipated and feared finale at all the races I've seen lately. After the relatively easy A-Fr, me you hit the rope climb and the Rig (which was set up this time as a series of rings…not the toughest configuration!). I was actually surprised and impressed at how many racers were able to complete these obstacles. A tribute to the number of people serious about their preparations, even if they're not necessarily racing for time. Following the Dunk Wall there was the final short stretch of barbed wire crawl, a chance to finish up dirty, if not muddy, here in Miami. Then all that's left is the Slip Wall (which definitely ranks up there with the Spear Throw as harder than it looks) and the signature Spartan Fire Jump. All of this finale section is within easy walking and view of spectators…something that SR has obviously been keen on improving for some time. Tented seating areas make it much more likely that one-time spectators will be back.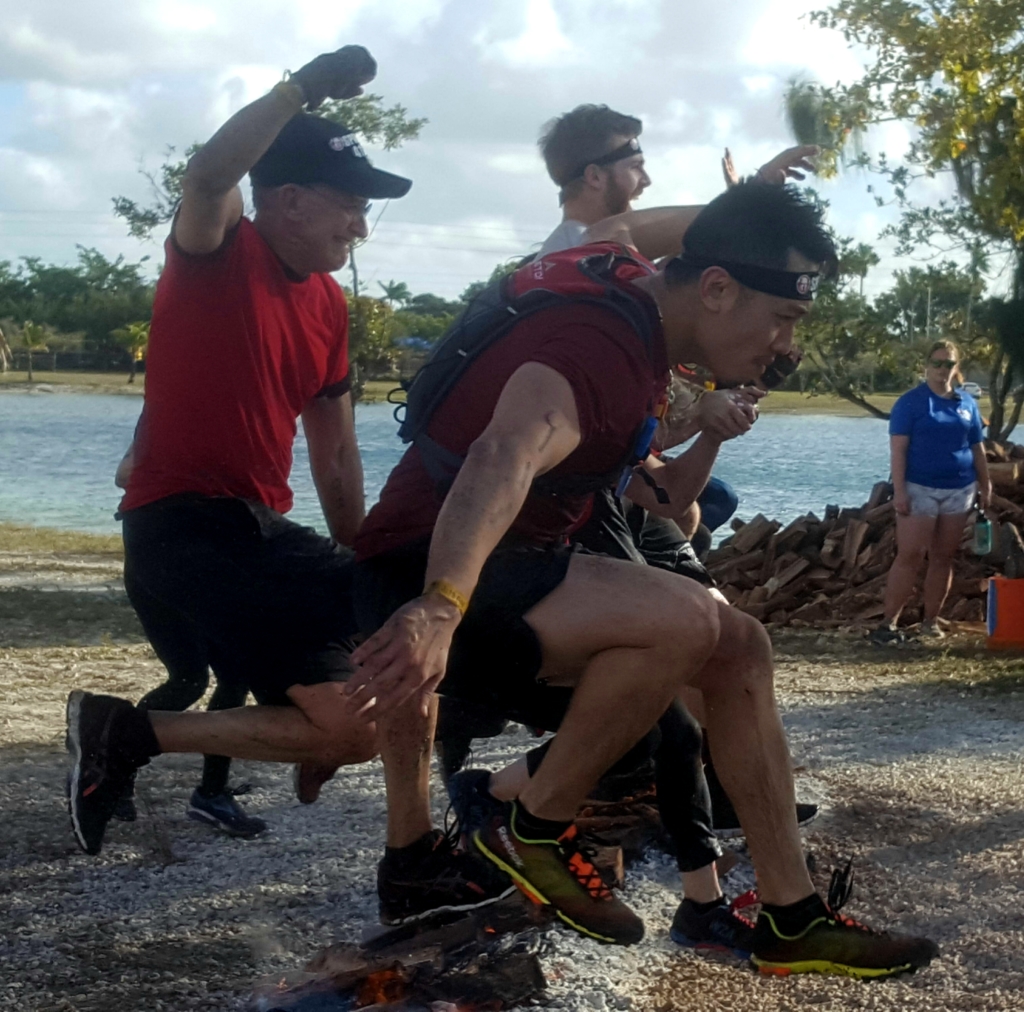 Overall, I found the race experience excellent on all levels. Spartan Race has really ramped up their game by paying attention to the details. In my own observations and in conversations with Jen and Tyler from Spartan Race about the timing function and the bag check respectively, SR is in a continual state of improvement. It was interesting too, to hear my OCR colleague Carla refer to the race as the "easiest Spartan" she'd done, while at the same time, there were some serious challenges in the Mile 3 upper body/carry section and the finale that I feared would turn off the casual racers. Something I had the opportunity to discuss at some length with Kate "Solo" Solovieva in a chance meeting at the race. This is a continuing challenge for race promoters, to satisfy both the experienced racer, looking for a challenge, and the causal racer looking for a race that's not too far above their abilities. Here too I was intrigued to see so many groups out on the course as much for the social aspects as for the physical challenge. It's an interesting development today, that combination of social interaction and fitness. OCR may be a unique outlet for this need; allowing a challenge for the adept while they can also provide assistance and encouragement to members of the group that need it. Something not typically applicable in a road race and no doubt, not something lost on Spartan Race.
By the time I reluctantly made ready to head out from the venue, I had time to reflect on my own race and some of the often overlooked aspects of an event. First is the music. We seem to take for granted the music that's such a big part of the experience (at least for me). So kudos to David for a job well done! And was it me or were there a lot of 80's songs in there…are your demographics showing? Anyway, although I'm still struggling to rehab, I did find that I'm a bit more competitive in the 60-64 age group than I was in 55-59. Of course the fact that we're out there at all should be enough, but hey, do we ever really stop being competitive? And while it was also nice to get dirty, I do miss the mud. Although I think that's as much as we can expect in Miami, considering there's only about 4" of top soil here. Speaking of things I missed – the photo booth is back!! Unfortunately, when I finished no one pointed it out, so I wandered off with my banana and a couple of energy bars. Later on, though, the line itself helped attracted people's attention, but I am glad to see it back. And was it automated??!! Something I need to look into next time.
So, after watching the wipers brush off that layer of fine dirt from the windshield that seems to be a staple of OCR races, I head out. Already missing the atmosphere and the excitement of race day and looking forward to my next race- at, where else, Amelia Earhart Park! This year's Spartan Race will be a tough act to follow though…
Rating: 4.5/5
---
Have you done an Spartan Race?
Leave your own Spartan Race review and feedback...