The '18 Official Shoe of Savage Race*, Salming, uses the motto "no nonsense", so I'll honor that by cutting my review down to two words:
"great shoes"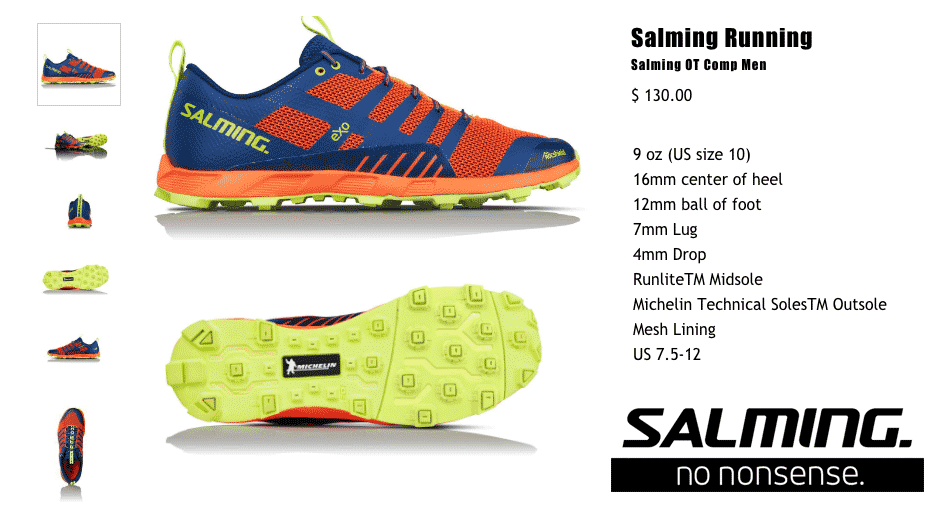 Ok, So I Lied.
"Great shoes" isn't a review, it's a subjective opinion, so here's a quick post-run video explaining why I feel that way:
Here's What They Say:
(from Salming.com) Confidence is key when running in extreme terrain. Therefore, developing the ultimate off trail performance shoe OT Comp (Off-Trail Competition), Salming teamed
up with technical soles authority Michelin in order to create a lightweight agile self-cleaning shoe with excellent traction that caters to the needs of orienteering, OCR and Swimrun athletes – meaning traction and adaptability combined!
The lug design of the outsole is inspired by a mix of Michelin's critically acclaimed mountain bike and motorbike tires; Wild Mud and Starcross 5. The lugs are constructed for maximum penetration in mud when searching for harder ground and grip. The small difference in height, built into the lugs itself, allows for excellent penetration. At the arch, there's a tread design for stability, control, and traction on obstacles.
The base structure that connects the outsole to the midsole, adopt the Michelin Fiber LiteTechnology construction that enables extreme lightness through a very thin but very durable textile layer. The Michelin Fiber Lite technology derives from Michelins tire making experience, where the tire structure is partially made of fiber. These areas are recognized on the outsole as the embossed downwards areas with a clear textile texture surface.
The rubber used in the OT Comp outsole is Michelin's OCX – Extreme Outdoor Compound – which features an extreme adherence on wet slippery surfaces due to its special sticky compound.
Here's What I Say:
The Salming OT Comps are a seriously legit trail running shoe that checks all the right boxes for me:
Pros
Lightweight (9oz)
Flexible (I pretzel 'em in the video)
Low Drop (4mm)
Excellent ground feel without sacrificing sole protection on rocks
Very capable traction on hard packed dirt, loose rocks, and varying mountain terrain
Breathable mesh upper & tongue
Reinforced wear/strike zones

Welded TPU upper surrounding instep and toe box

Just enough cushioning to smooth the ride without fear of ankle roll from excessive stack height
Sole-connected eyelets (you can crank the laces for complete fit vs. pucker)
Cons
I'm not a fan of the thin laces (seriously? That my #1 con?)
The tread pattern allows for some slight "bottoming out" if you catch one of the flat spots on an uneven surface – but – even with sharp rocks, it wasn't enough to hurt my feet. Even so, the traction did not fail during any of these times.
Over the last 9 years of running these trails, there are only a handful of shoes that I trust enough to just "let it go"on this steep route littered with sharp & loose rocks, the Salming OT Comp surprised the hell out of me to make that list, especially on the first run.
I've got a little over 12 miles in them already, a mix of easy road running and aggressive trail climbing over some seriously rocky terrain here in Arizona, and have been extremely pleased and found them capable enough to trust while bombing down a steep, rocky trail. For me, that's a big deal because I kinda like my face in one piece, and trusting a new shoe to have enough traction, flexibility, and proper fit enough to blaze down the final descent of Desert Vista Trail. Over the last 9 years of running these trails, there are only a handful of shoes that I trust enough to just "let it go" on this steep route littered with sharp & loose rocks, the Salming OT Comp surprised the hell out of me to make that list, especially on the first run. There's a very good reason why "Confidence" is the first word in Salming's description on the OT Comp page.
Fit, Form, & Function
I have extremely boring feet – average width, average arch, yet above average ugliness of toes according to my wife. Speaking of little piggies, I have "Morton's Toe" which means my 2nd toe is longer than the first. An old wive's tale says this is a sign of intelligence, but I've lived long enough to disprove that. I mention what mt toe situation means for toe-off in the video, as I push off of slightly different spot than a normal human, and the Michelin nubs are ever so slightly misaligned with my distinct running style. Waaaah, right?
Anyway, I found the fit to be true to size while offering ample room in length and width of the toebox, and after a couple miles a quick readjustment of the laces provided a near perfect fit. I say near perfect as the toe length seems ever-so-slightly long – yet not enough that I felt like the extra length would trip me up, especially at top speed over varied terrain. I'm not a huge fan of the dental floss laces, luckily the reinforced tongue alleviated any hot spots across the top of my feet like other thin laces are wont to do (I'm looking at you, Reebok Super 2.0).
The Wrap
The Salming OT Comp are comfortable, really flexible, lightweight, breathe well, and provide plenty of traction… they pretty much nailed it for an OCR / Trail shoe, right? Well, wet traction and water ejection are big pieces of the puzzle too, so I solicited some advice from Dustin Radney, who wore them at Savage Race with the following results:
"They were tested in a race environment and completely submerged in water and they did not feel "squishy" or heavy once I got out and started running again. The next obstacle was an inclined wall about 30m away and I was able to run up it with full traction – that's when I knew how much I liked them. They drained just as well or better than my Icebug Acceleratis (due to the holes I had to drill in their soles) and still were extremely comfortable for the remainder of the race."
Overall, the Salming OT Comps are as close to perfect as any other OCR shoe I've worn. I find they are a bit more comfortable, flexible, and breathable than the narrower Icebug Acceleritas, and are just barely surpassed by Icebug Zeal in terms of traction and confidence provided by lateral stability. Even so, the Zeal trades nearly all its flexibility by adding the stiff rock plate and has its own water ejection issues.
Like I said earlier: "great shoes"
Grab a pair of Salming OT Comps at shopsalmingusa.com, use discount code SAVAGE to save 20%