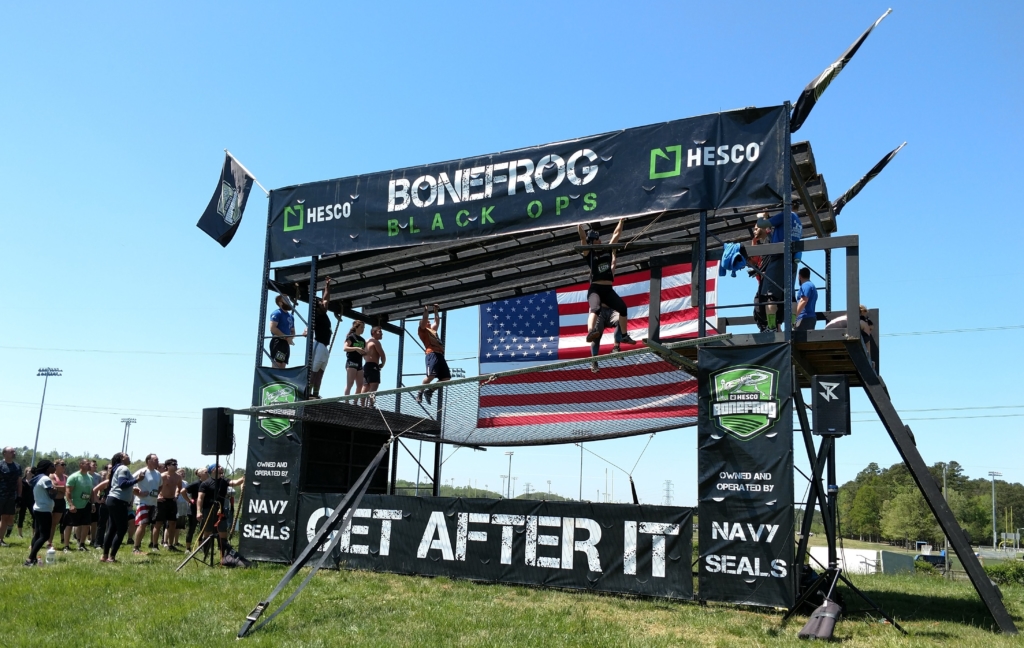 Bonefrog has expanded their race lineup once again. On 4/29/18 they hosted a brand new race in Virginia Beach, VA. The competition took place at the Virginia Beach Sportsplex, a large facility dedicated to various sports events. Equipped with massive open grass fields, field hockey pitches, and even an athletic field with stadium seating this venue is well suited to handle any sporting event and it did not disappoint. It was a great day to race as the midday temperatures stayed in the mid-60s, but there was a warm sun shining and a gentle, light breeze.
The Venue
Often the first obstacle to conquer at an OCR event is parking. When planning your race morning schedule, it's always a good idea to budget in a few extra minutes for parking. You never know if there will be a line or how far you're going to have to walk to get to the festival area. Fortunately, The Virginia Beach Sportsplex is designed for events like this. The parking lot was both adjacent to the festival area and was large enough to comfortably accommodate all of the racers.
The festival area itself was a little small, but it never felt too crowded. Spectators got free access to the festival area which had great front-row seats to several of the obstacles. There weren't any restrictions on spectators roaming the course, and many of the obstacles were a short walk from the festival. This freedom was nice because it allowed the spectators to see a lot more of the race and to cheer on the people they came to support.
The Race
Racers were sent off every 15 minutes starting at 8:30 with the Elite wave. Bonefrog is unique in that at every event they have four different race distances that are held simultaneously at every race. Keeping track of that at the start line would be complicated, so there are no volunteers checking bands at these races, you walk up when your heat is called and then wait for the announcer to let you go. I am sure that this results in some people not running in their assigned waves, but waves sizes were small, so I doubt it caused any problems out on the course.
As you'd probably expect from a mid-Atlantic ocean front race venue, this course was extremely flat. Except for a couple of trenches with ankle-deep water early on there wasn't much water or mud. This was a speedy course and benefited the stronger runners. To give racers a little bit of vertical challenge the race took you up and down the stands at the athletic field carrying a uni-sex sandbag. Bonefrog has done this before, at their Talladega event, and it would feel very familiar to anyone who has done a Spartan Stadium race. I thought this inclusion was very smart and it was a great addition to the race.
The Obstacles
The obstacles all have a distinct "boot camp" feel to them. Many of the obstacles are things the Navy SEALs train with or are at least inspired by aspects of a SEAL's experience. The obstacles were well placed on the course, and they did a great job breaking up the running. There were a few sections where they strategically placed several related obstacles back-to-back that challenged you. There was a perfect mixture of different types of obstacles; It wasn't dominated by heavy carries or over-head grip obstacles. There were enough challenging obstacles to make you work for it, but there were also a fair number of fun obstacles that were a little easier.
The Bonefrog events are great races, which makes it easy to see why they have been so successful in expanding with new race locations each year. But with growth comes growing pains. With a smaller race, you don't have to put as much thought into the race flow and how to keep people moving through any particular obstacle. The obstacle jam-ups were significant in individual portions of this race. Even obstacles you wouldn't expect, like the Cargo Net, had lines. The Cargo Net seemed taller than most other races which made it less stable, so they had to limit the number of people on the net at any one time. By mid-day, significant lines had developed at Strong Hold which had racers waiting in line for at least 5 minutes.
Final Thoughts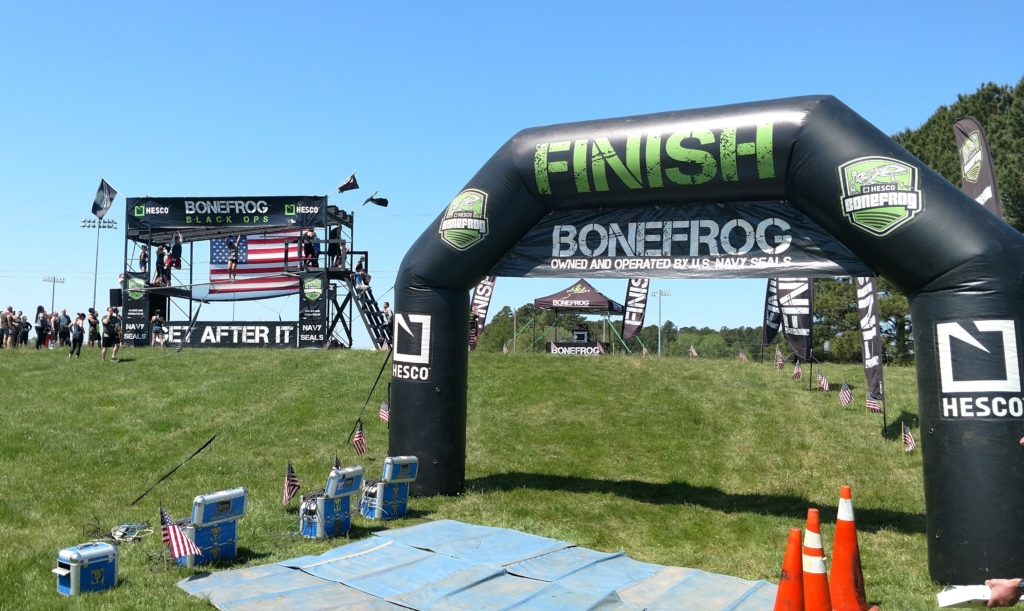 Overall, this was a great race. With four different adult distances and a kids race, it had something for everyone, no matter your fitness level. The course wasn't too demanding, but it still gave you a good challenge. The atmosphere of the festival area was overwhelmingly positive, the volunteers were very encouraging and enthusiastic, and the race itself was a lot of fun to run. There were a few issues with obstacles getting backed up which detracted from the race slightly. Hopefully, they can resolve those bottlenecks in future races. Knowing that this was their first race at this venue, I'll admit I was expecting there to be more significant problems. But after participating in this event I learned, I should have never doubted the Navy SEALs; they came prepared, and they delivered on an excellent race experience.
Ron Talks Bonefrog
Rating: 4/5
---
Have you done an BoneFrog Challenge?
Leave your own BoneFrog Challenge review and feedback...