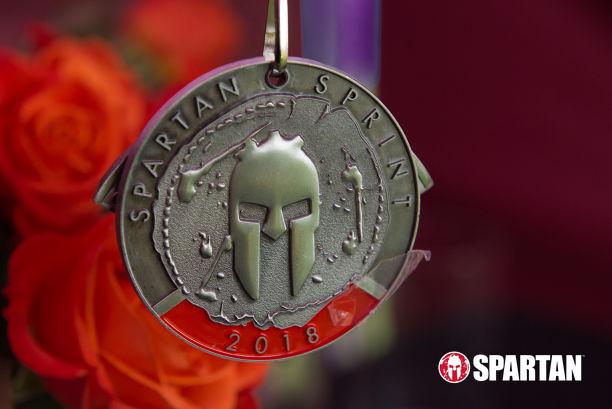 On Mother's Day weekend the Spartan train rolled into Treasury Valley for Boston Sprint Weekend.  Located in Rutland, MA about an hour west of Boston, Spartan held the sprint for the second year in a row here and they did not disappoint.
In typical New England fashion, we had a wide range of weather over the weekend. Saturday morning started out a bit sunny and in the 60's than over the course of the day became cooler and rainy. Heavy rains over night set up for a very muddy and fun race the next day.
Racing on a Sunday
This was the first time I have run on a Sunday and I enjoyed it a lot! I ran with a group from my gym and it was a fun and relaxed atmosphere.  Last year there was a huge parking issue where Spartan was shuttling folks from 40 minutes away. I had opted for VIP parking since I lived 20 minutes away from the race site and packed my car with folks since it's $40 a car.
This year however general parking was about ten minutes or less away from the race site. I had heard rumblings on some Facebook pages that there were parking issues on Saturday but on Sunday things ran very smooth. There was also some back and forth on how much they were going to charge and where they were going to collect money. Again all was smoothed out on Sunday if there were any glitches on Saturday.
Getting to the Festival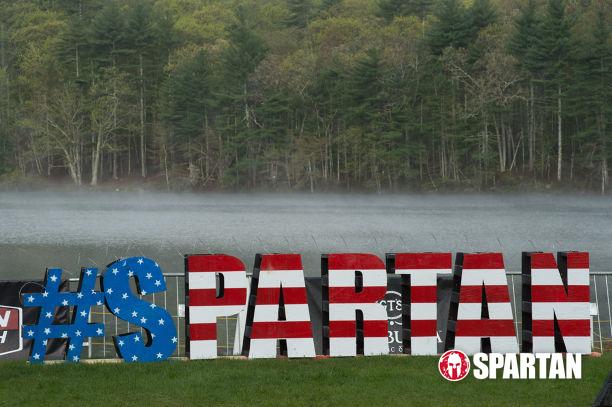 The one thing to remember if racing at Treasury Valley is it's a hike into the venue as well as a hike out, so for future give yourself plenty of time to get there and settled. Check in was easy and the volunteers were great. Let me just say the volunteers throughout the course were amazing. They were having fun and brought a great energy to the course.
My team and I were running a smidge late and instead of trying to break our necks for the 845am start the volunteers offered to give us a 9 am start time no issues. Festival area was great, a little sparse with activity but it was Mothers Day and most people seem to race on Saturday. While I enjoyed the relaxed atmosphere it did lack a bit of hype that I like before heading out on the course just a personal preference.
The Course
Let's talk course. It turned out to be about 5.3 miles with about 800 ft elevation  (going off of Strava here) with moderate technical New England trails. Without a doubt, your legs worked hard going through the mud, and there was a TON of it. I also liked that there were creeks and streams to run through. We had pre-filled buckets for the carry and I love this improvement. In true fashion however, since they pre-filled your bucket Spartan is going to make the terrain even more challenging. I was surprised I didn't see more folks face plant during that part of the course. Also, a fan of the upgraded sandbag carry. While I've always liked the sandbag carry if I had to choose between carrying a pancake or a long bag to throw across my shoulders, I chose the latter.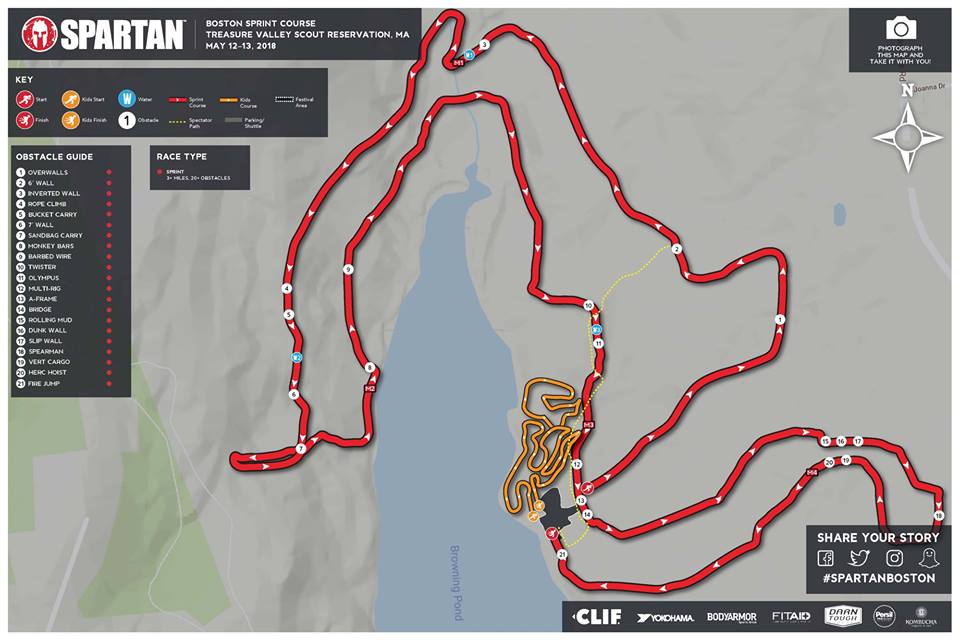 My two negatives to the race are the following. The first, if you are going to stretch out the miles please add more obstacles. Sprints are 3-5+ miles with 20+ obstacles. In my experience Spartan works that plus sign on the mileage but doesn't seem to do the same with the obstacles.
Outside of the stadium series I have never run a Sprint that has been even close to 3 miles, usually it's more along the 5 miles. Let me be clear here, I don't mind the miles I just want more obstacles that's all. Speaking of obstacles this brings me to my next point.
Obstacle safety. I'm sure I'm going to get a good amount of flack for this but here goes. During the vertical cargo net, an obstacle I can do with my eyes closed (but don't) I lost my footing going down and fell from the top and hit my head. My body hit the padding which was directly under the obstacle while my head hit the ground. Thankfully I don't have a concussion and I take full responsibility for the fall.
However please Spartan, since you are becoming more corporate and less Spartan of the early days please add more crash mats. Think of how a shadow is on an object. It's never directly under the object but goes out. Also when it's been slippery out or conditions are less than ideal having more medics throughout the course would be a great idea. I want to take this moment to say that the medic staff at this race was top notch. Also to everyone who stopped to see if I was okay, especially to the gentleman who very innocently asked if I wanted a mustard packet because he thought I cramped up, thank you. That is really what the OCR community is about.
Final Thoughts
In closing, aside from me trying to fly off an obstacle and fail, I'd highly encourage you all to check out the Spartan Boston Sprint next year at Treasure Valley. Even if you find yourself in the area and it's a beautiful day out go check it out, there are a lot of gems in Central Mass that will surprise you.  To all those who raced this past weekend whatever your goals were, congratulations on accomplishing them. I'll see you out there next time. #AROO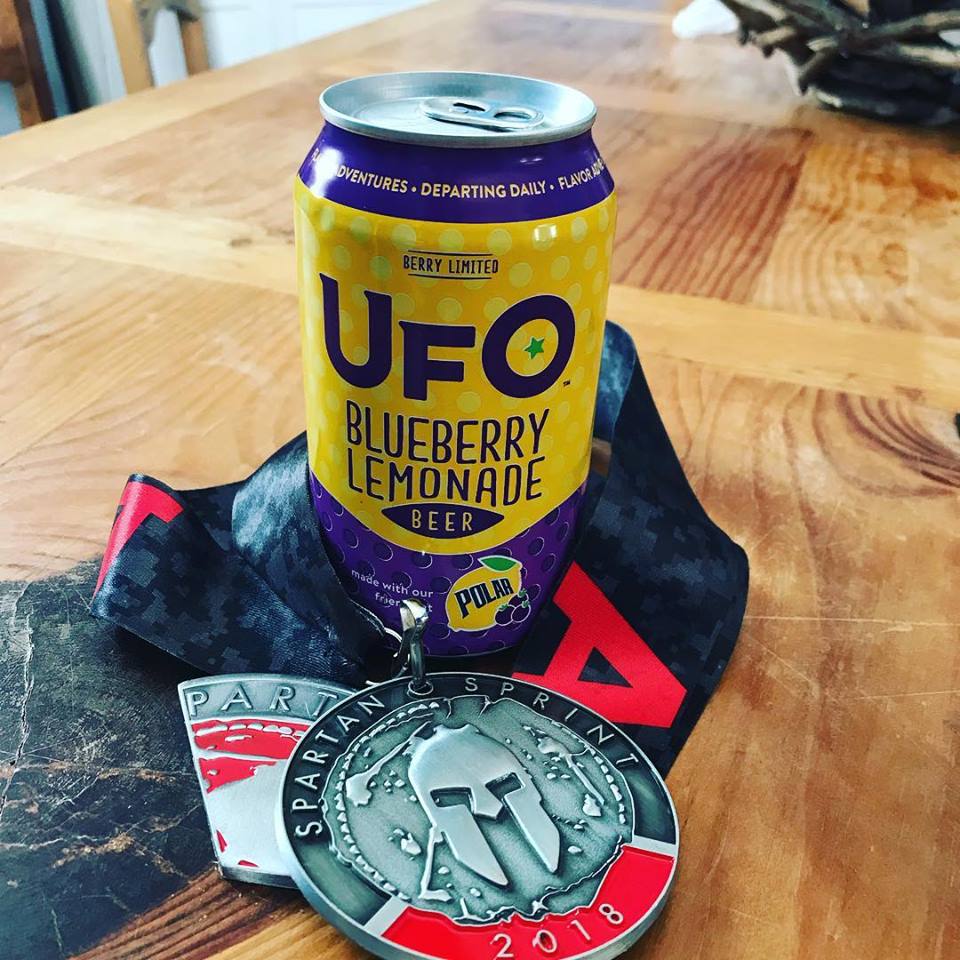 Rating: 4/5
---
Have you done an Spartan Race?
Leave your own Spartan Race review and feedback...