Last week Spartan announced they would hold a World Championship Race for Kids. The event will be held in Laughlin, NV in November this year. Children between the ages of 10-13 who have placed in the top three at any kids events qualify to compete. So far so good right? Great opportunity for kids to challenge themselves in this sport just like any other sport. I forgot to mention that Spartan is giving out $10,000 in prizes to top finishers. Still a good idea?
After reading the article I was feeling like Ron Burgundy in a glass case of emotions. On the one hand, I thought introducing a World Championship for children is just another way for Spartan to make more money. On the other hand, if done correctly could be a great avenue for kids to become more competitive in the sport.
After thinking about my own experience competing in sports as a kid as well as speaking with others who have kids, I've come to this conclusion. My first huge hang up is the ten thousand dollars on the line. While $10,000 can help significantly these days to a child's future, adding money to the mix just puts pressure on these kids that I don't believe they should experience at that point in their lives. I think the following quote from a friend of mine sums it up best
"Having been a youth sports coach, I can tell you that parents can get crazy when there isn't $10k on the line. No child should be put in that position"
I couldn't agree more. There is a difference between exposing kids to a healthy amount of competition and then this. Yes, there are those who train to go to the Junior Olympics and eventually the Olympics. While OCR is making huge progress I do not feel the sport is at that level just yet. I do hope that one day this sport has a governing body, is a clean sport across all race brands and can have a structured track for kids to develop up the ranks.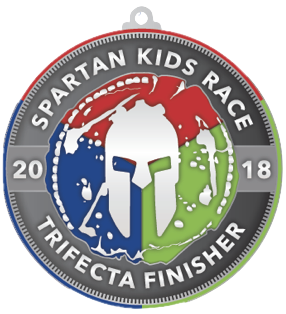 The second hang up is having the kids' race basically go from zero to sixty with the world stage as a platform. Let me be clear, while I am being critical of this choice I do think that a kids race is fantastic. There are many parents whose children's love the kids' races and it's a great opportunity for families to spend time together. Friend's of mine who have toddlers can't wait till they turn four and Auntie Lex runs with them for their first Spartan race.  Quite frankly I can't wait either! However, before you have a World Championship I would recommend developing the races a bit further. Create a more challenging course for the 10-13-year-olds, one 13 year old I know doesn't find the kids' races challenging. Have regional championships (or North/South/East/West) that funnel into Worlds. My point is you need building blocks starting from the bottom up not the top down.
In conclusion, I'm still unsure if this is a quick money grab for the franchise or if this could be a great program to help develop the future of the sport. Either way, the sport, while it's made HUGE progress in a short time span still has a lot of work to do in terms of standards, development, and structure. Maybe then the sport and the public will be read for a Kids World Championship.
To read the full article click the link below https://www.mudrunguide.com/2018/06/spartan-kids-world-championship/
---
Update:
According to Spartan's helpdesk, the awards for the kid's race will be: "Top 5 males and Top 5 females will receive tiered prize packs valued from $200-$2000. There will be limited edition award plaques given to the Top 3 males and Top 3 females."
---
Disclaimer: The viewpoints expressed by the authors do not necessarily reflect the opinions, viewpoints and official policies of Mud Run Guide LLC, or their staff. The comments posted on this Website are solely the opinions of the posters.