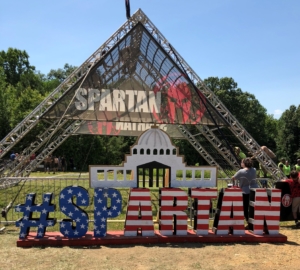 My apologies for being late to the party with this race recap. Unfortunately, I'm not independently wealthy and I've yet to find anyone interested in sponsoring a recreational but also average OCR athlete. In other words, I've been out of town traveling for work.
Pre-Race / Venue
The race was held on Saturday, June 16 at the Maryland International Raceway in Mechanicsville, Maryland. As usual, I raced with my twin sister Patti and it was our first time at this venue and also our first experience racing a non-stadium Sprint distance. For those not familiar with the area, the venue is approximately 50 miles from Washington, D.C. and 180 miles from our homes in New Jersey. Normally we'd make the drive on race day, but due to the distance, we decided to drive down Friday night and stay at a hotel in Virginia 20 minutes away. Personally, for my $50 split of the room, it was well worth it.
With an 11:15 am open wave start and staying in the area, we had plenty of time to get there and arrived around 9:30 am. Parking was right at the venue and cost $10 per car (cash only) with a short wait. That said, we had a long walk to Registration from where we were directed to park. I suggest planning accordingly based on how early (or late) you decide to arrive. It took a few minutes at Registration to get through check-in, but we didn't experience any issues.
We checked our bags for $5.00 and in return received a $5.00 merch credit. As usual, the spectator fee was $25 (cash only) but it's $20 if you pay online in advance. You can avoid both fees by volunteering, being a member of the biggest team, or by having previously purchased either a Trifecta or Season Pass.
It wouldn't be one of my recaps if I didn't mention the restroom facilities; the porta-potties were plentiful and clean but a little confusing to find in the festival area. There were also some in the parking lot. I was pleasantly surprised by the number of places for spectators and racers to sit. It was a hot day and I appreciated the availability of tables and chairs under tents in the shade. Particularly cool about the festival area was that spectators could see five different obstacles up close: the A-Frame cargo net, Herc Hoist, Multi-Rig, Rope Climb and Fire Jump.
Race Details / Obstacles
Once we were in the starting corral the emcee gave us the standard Spartan speech and sent us off with an AROO! AROO! AROO! The sun was out and it was HOT! As I mentioned, it was our first time at this venue and racing a non-stadium Sprint distance, but I generally knew what to expect. Chatting with a few racers on the course I found out that the start and finish were in different locations this year compared to 2017. I also heard that Spartan used course builders from a different region (I couldn't confirm this). The course was just over 4 miles with 3 water stops and obstacles spread throughout.
Much of the course was hot and dry, but some of the wooded areas were muddy with plenty of natural water crossings and technical rocky terrain. The Spear Throw was early, followed closely by the Bucket Brigade, barbed wire crawl, and Olympus. I noticed Twister had fewer sections than I've seen at other races. Not too long after the Dunk Wall we ran through the festival area hitting the Herc Hoist, Multi-Rig and Rope Climb in quick succession before heading back out into the woods. The race ended with the A-Frame cargo net and Fire Jump. One thing I found odd was the consecutive placement of the Vertical Cargo and the A-Frame. Usually, they're more spread out on the course but I'm guessing there was a specific reason for this.
After we were done racing Patti and I volunteered for a few hours at the Exit Tent (we hope you're enjoying your laundry detergent samples). We were thrilled to have the opportunity to see Team Oscar Mike cross the finish line. We also got to enjoy some sweet 90's jams courtesy of the DJ.
Hardware/Swag
Finishers received a Spartan Sprint medal + Sprint trifecta wedge piece along with a Sprint Finisher t-shirt. The shirts are made with a tech fabric this year and seem to be running on the smaller side so I suggest checking yours before walking away. You also get a free beer/banana/CLIF Builder's protein bar/BODYARMOR drink. Photos are posted online for download a few days after the race.
Final Thoughts
Overall, we enjoyed this race. It was fun but still challenging. I landed my very first spear throw, so for me, it was the best day ever! What do you think about this race? Did you race elite or age group and have a different experience? How did this year compare to 2017? Let me know in the comments!
Rating: 3.5/5
---
Have you done an Spartan Race?
Leave your own Spartan Race review and feedback...