As I've talked about before, everyone comes to an event with a different goal in mind. Some people would be happy to finish, while others are going for speed, and still, others are competing against each other to go even faster. In the Tough Mudder community, the ambassadors have started recognizing Mudders that Assist 100 Mudders through at least one obstacle during a single event. Mike Stephan, Edward Groleau, and Joey Ta are the ambassadors that spearheaded that effort.
Now let's talk about a specific Mudder, Francis Lackner, that took Assist 100 Mudders to another level. He signed up for Toughest Mudder Midwest (Chicago) and Toughest Mudder East (Central Massachusetts), two events in the competitive series where you have the opportunity to run as many laps of a 5-mile course as possible in 8 hours. I phrase it as an opportunity for a specific reason: Francis earned an 8-hour completion headband despite not even trying to run far.
His goal was to help as many fellow competitors as possible by staying on top of Everest and helping people up for the entire event. Everest is a quarter pipe with either a rounded top (Everest 2.0) or an especially elevated top (Everest 2.1). Without a helping hand to grab and pull you up, it takes a lot of energy to get up on your own, but the top athletes can do it. When you have one or two people up top to grab, you can grab their hands and they can help you army crawl your elbows up or, if they're strong, they physically pull your full weight up and over the top of the obstacle.
What Francis did in Chicago was run one sprint lap (no obstacles), then pick up a rucksack with extra supplies then run to Everest. Around 230am, he made it up the obstacle with some help from his friends, then stayed up there until 745am. With the help of Ryan Cray, Joe Herman, and Joe Van Tassel, his stated goal was:
I want to help as many people as many times as possible achieve their best, THEIR HONEST BEST. Not only will that make them better, but it also makes me better!
This specific quote is in reference to the pep talk of Sean Corville, who challenges participants to find their honest best on course, not their settled best.
This was a surprise for many in Chicago and stimulated Evan Perperis to create a fundraiser in their honor that raised $893. The four men donated this to a charity of their choice.
When Francis went to Toughest East, he wanted to do more. This time, he started with his helpful rucksack and immediately stopped when he reached Everest. He waited until the obstacle opened at 130am and stayed on top until 750am. Michael Bever had agreed to join him from start to end and they were prepared to repeat the performance from Chicago.
Only, this time something different happened: other people started to stop. First, it was Brian Herzog who saw what they were doing and wanted to join them. Jeff Musil became Brian's partner in crime, staying for even longer.
Around 330am, I was on my fourth lap and my legs felt like bricks. My body and mind were overtired from work, life, and having completed two epic events in the former two months. It just wasn't my race, so I was planning on stopping at the end of four laps to earn my second ever DNF (Did Not Finish). When I saw Francis and his buddies on the top of Everest, I had another idea. I stayed on top and joined the party. Soon after me, Glenn Brooks also spent some quality time up there.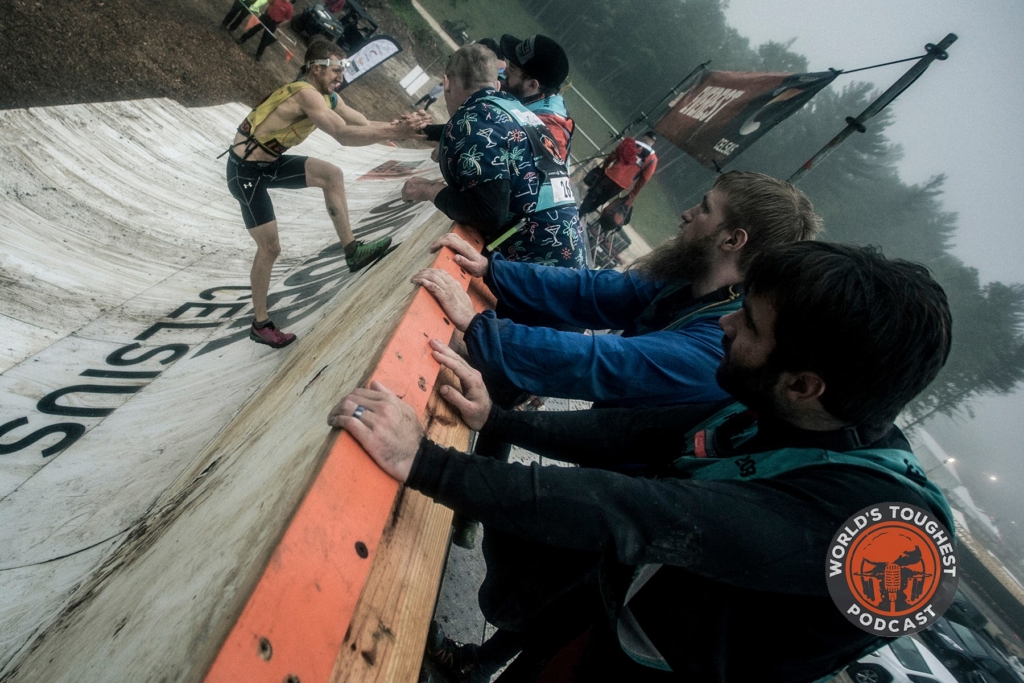 Photo Cred: Jack Goras Photography
In my perspective, Francis and others had inspired us to look for a new challenge in obstacle course racing: altruism. Sometimes it's not enough to focus on ourselves and our personal challenges. Instead, we can become stronger physically and mentally by challenging ourselves to see how our skills can help others.
To close, let me leave you with the words of Francis Lackner himself:
I was my plan all along to help you amazing people do amazing things, pushing yourselves harder. […] While I walk away with extra sore arms, shoulders, and hands, I have been able to give my best to you all and I get to leave with a heart so full, I couldn't ask for more.
The list of participants who spent >3 hours on Everest at a Toughest Mudder:
Francis Lackner (x2)
Michael Bever
Ryan Cray
Joe Herman
Joe Van Tassel
Brian Herzog
Jeff Musil
Glenn Brooks
---
Disclaimer: The viewpoints expressed by the authors do not necessarily reflect the opinions, viewpoints and official policies of Mud Run Guide LLC, or their staff. The comments posted on this Website are solely the opinions of the posters.