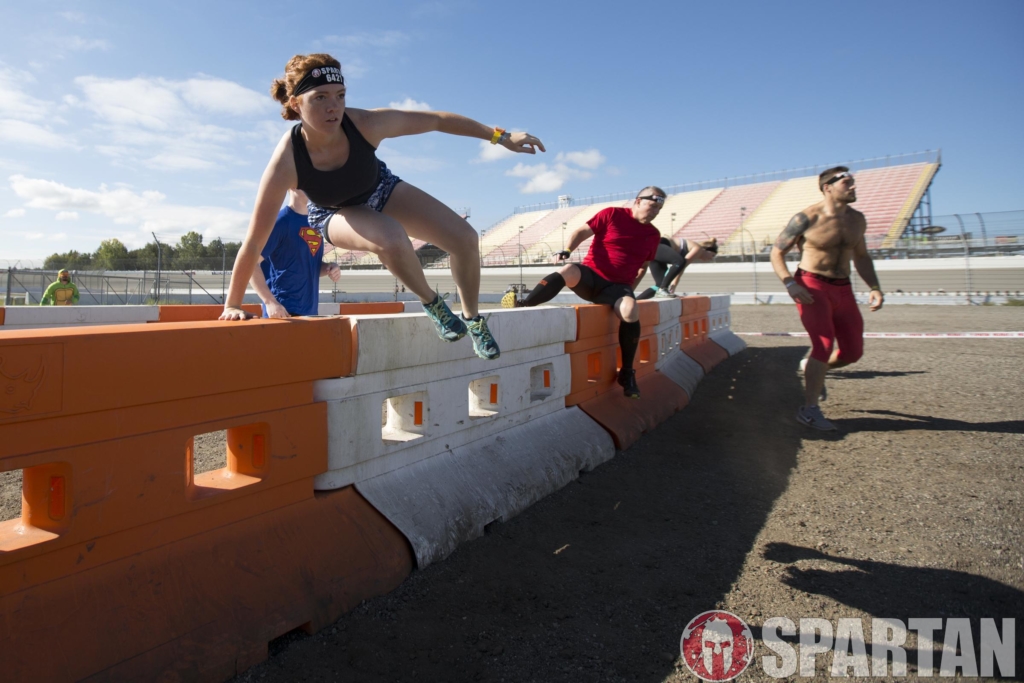 On September 22, 2018, I ran the Spartan Super at the Michigan International Speedway. This was the second year that Spartan held an event at this venue and the weekend consisted of a Super, Sprint, and Kids Race. (I'll focus on the Super specifically for my review).
The course was quick with Spartan-standard obstacles well spaced throughout – totaling about 9.5 miles and 29 obstacles. The terrain was very smooth, flat, clean (there was hardly any mud at all) and lacked any elevation. The course took runners through the Speedway itself, the MIS campgrounds, and one small stretch of wooded trail. That said, while the NASCAR venue provided a less than challenging terrain, it did allow for an interesting feeling of a "hybrid" stadium race/trail run.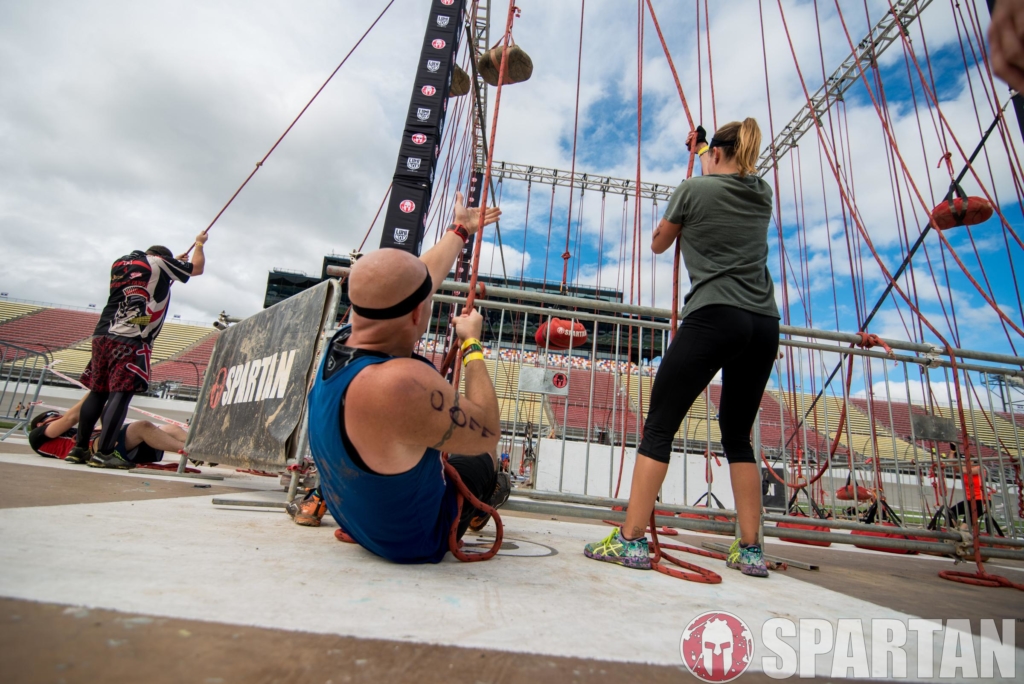 To make up for the lack of mud and terrain difficulty, the course was extremely well equipped and spaced with obstacles. Favorites (and enemies) such as the Olympus and spearman were placed early on in the course, while obstacles such as the multi-rig, atlas carry, bender, barbed wire crawl, and more were scattered throughout the course offering a continuous challenge between the flat miles. Spartan also did a great job at incorporating the venue itself into the race by including a steep climb up and down the stadium, a short bucket carry on the stadium stairs, placement of the Hercules hoist in the winner's circle, and a quarter mile straightaway sprint on the Speedway itself (with an added bonus of a free future race given to the top three male and female sprint times).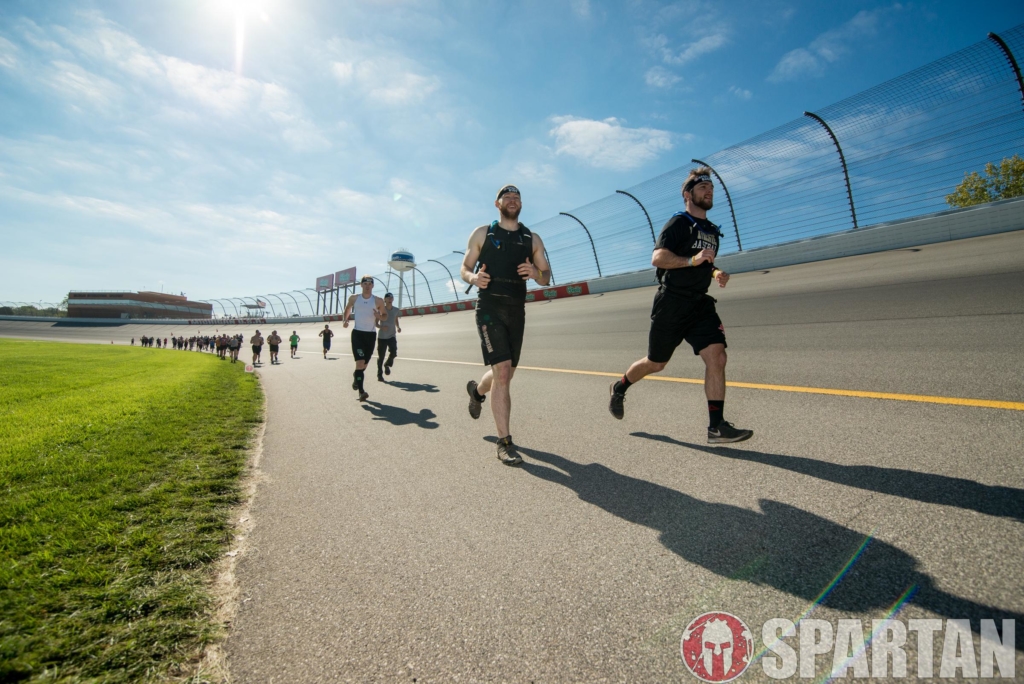 In addition to the venue specific course and obstacles, Spartan got creative and offered an on-course "selfie-station" where racers could pause to pose for the photographer on the speedway. This opportunity to step aside, grab a NASCAR-themed prop, and flash a smile was a fun and appreciated reminder not to take this amazing sport (or ourselves) too seriously.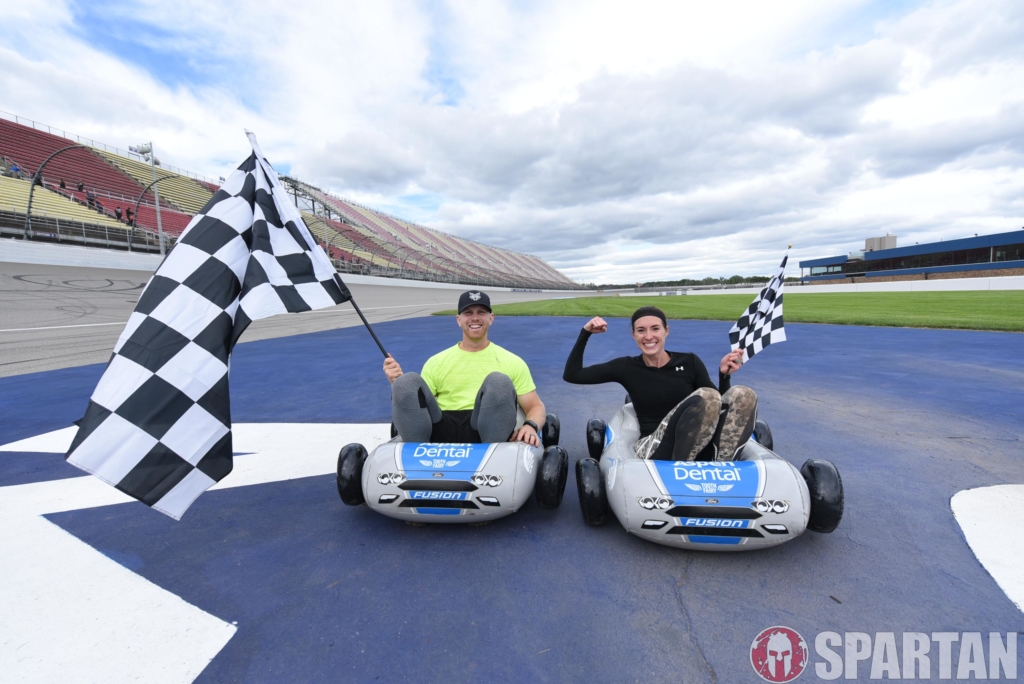 For racers and spectators alike, a lengthy walk from the parking lot led us into a well spaced and welcoming festival area that was set up in the center of the Speedway. The festival area provided easy access to the start and finish lines, rope climb, spearman, A-frame cargo, and vertical cargo as well as had food vendors and a DJ for entertainment. Festival challenges took place throughout the day, sponsor tents offered free samples of their products, and backdrops were available for that post-race victory photo. As an added bonus, the venue allowed for use of the permanent restroom facilities, which was much appreciated compared to your typical race "accommodations".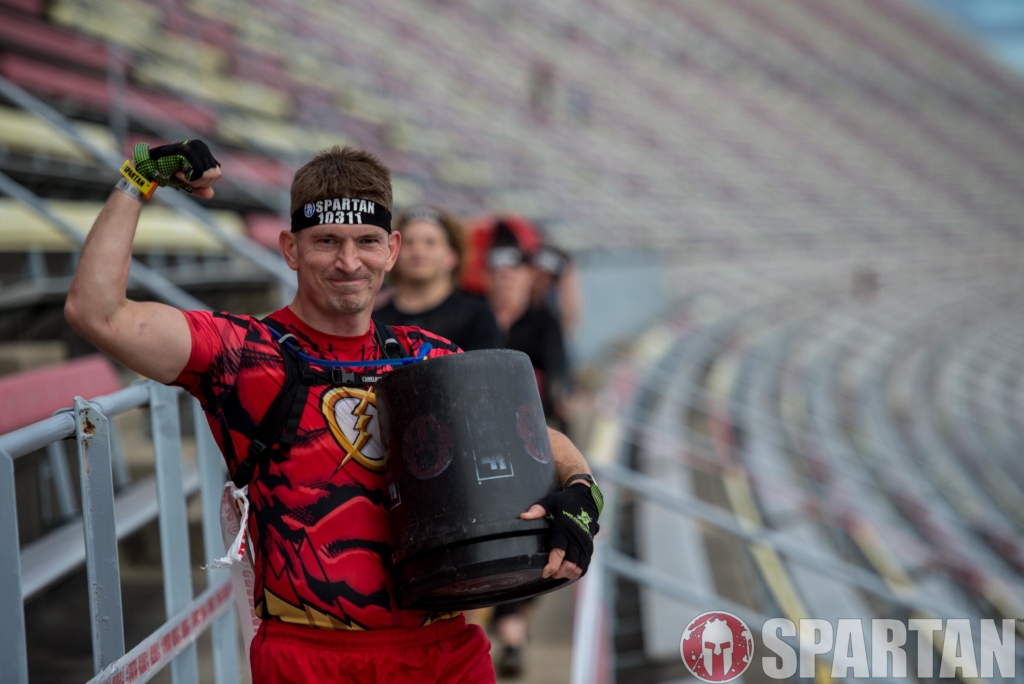 Overall, I would rate the Michigan Spartan Race at a 5/5 and highly recommend that racers visit this venue for a unique, fast, obstacle rich event.
*all photos were taken from the Spartan event gallery
Rating: 5/5
---
Have you done an Spartan Race?
Leave your own Spartan Race review and feedback...