Spartan Race South Carolina Ultra – Race Recap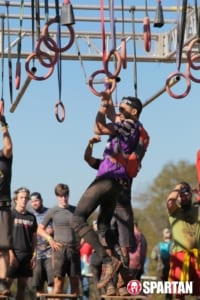 What is an Ultra?
A Spartan Ultra, previously known as "Ultra Beast" is one of Spartan's longest and most challenging events, consisting of 30+ miles on trail terrain (usually lots of elevation) and 60+ obstacles. As quoted by Spartan, "The Ultra is the first race of its kind to bring the best of OCR and ultra-endurance sports together"; and after doing my first ever Ultra on Nov. 17, 2018, at Spartanburg (South Carolina), I can attest that this is a valid statement.
What to expect?
Pain, suffering, tears, pee running down your legs, blood, etc… not really. On a serious note, this is quite a challenge and one can expect the long distance to be both a mental and physical challenge for ANY kind of athlete.  Environmental factors such as weather, terrain, elevation, and other elements, can have an impact on your performance as well as how much you enjoy the race. I ran in the Age Group wave at 6:30 am and most obstacles where literally frozen or had some frost on them, like Olympus for example (which I failed twice), because it turned into a slippery inverted glass wall. It did not rain, thankfully, but South Carolina is known for having lots of clay and rain prior to the day of the event ensured this was a messy one. Elevation wasn't bad either, but make sure to do your research before signing up for an Ultra in places like Killington, VT, or New Jersey. As the day warmed up, obstacles started to become easier to attempt, however, given that I already had 14+ miles under my belt after the first lap, the obstacles still remained very tough to complete.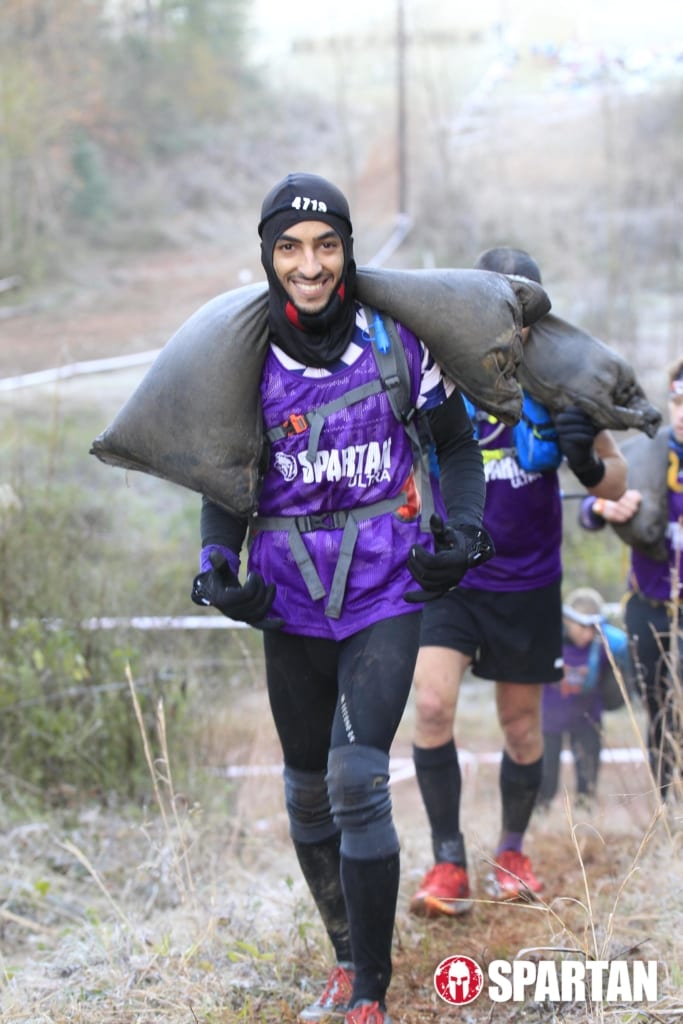 How to Prepare/Train?
Personally, I would recommend anyone who wants to attempt an Ultra to first tackle a Spartan Super or Beast, as the extra miles DO make it harder to complete. If you have never run more than 20 miles, I wouldn't recommend you jump onto this bus because you might not be able to walk the next day. I would suggest doing long runs prior to the day of the event and bring the necessary fuel you might need to mimic the scenario you will put your body through. If you are not obstacle proficient (or even if you are), practice your burpees as you may end up doing more than you anticipated. I did 150 burpees, and I consider myself to be an average athlete and "very good" at obstacles. As for what to wear, it depends on the weather and how experienced of an athlete you are. For South Carolina, the day started in the low 40's and it went up to the high 50's as the day got warmer. I started running with 2 layers of clothing (both top and bottom) as well as the ventilated Ultra vest that Spartan gives you to differentiate you from those doing the Beast. I wore compression socks and a beanie, and All Terrain 3.0 shoes from Reebok. After the transition into the second lap, I took off one top layer and the beanie and kept everything else; as well as my hydration pack for the entire rest.
Nutrition/Race Fuel:
On the Spartan website, they say that the fastest time for an Ultra is 7 hours, but this obviously varies depending on the venue and the individual. Nonetheless, bring as much fuel as you think you will need because you don't want to run for hours with an empty stomach. Proper nutrition can definitely impact your race performance, so make sure to be properly hydrated before, during, and after the race, as well as taking a few gels, energy shots, salt pills, other foods like a PB&J sandwich with you as well as any other supplements you might need to prevent muscle cramps, dehydration, etc. But where do you keep all these while you're on the course? For an Ultra, Spartan allows participants to bring a bucket or small container that you leave at the designated "pit area." You may also bring a hydration pack with you on course to store all your nutrition and water for the first lap, and then you can get more stuff from your bucket when you do the transition into the second lap, as you pass by the pit area between each lap. You can rest, eat something, change your shoes, use the porta-potty, etc. However, if you're racing for time or for a podium spot, I wouldn't recommend wasting much time in the transition, as most of the elite competitors usually do not stop for long or don't even stop at all sometimes. Not only this can affect your time, but your muscles can also get cold and cramp up, or you can get really cold if you do an Ultra like Iceland where you run in negative degrees temperature.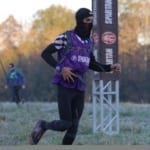 South Carolina:
Specific to this venue, Spartanburg is a beautiful place and the terrain wasn't as bad as other Spartan races I've done in the past. There were some nice water crossings but the water was frigging cold! The festival area was cool, as always, I enjoy drinking a nice beer with my friends after each race. Spartan had a Beast, a Kids race, and a Hurricane Heat, along with the Ultra going on the same day. That said, you might run into the elite competitors that start the Beast a few hours after you, which means that you may or may not run into congested obstacles, however, as an Ultra you have the privilege to say, "Ultra on your left" and pass them, as well as going in front of them at obstacles. The course is divided for both the Beast runners and the Ultras, and Spartan does a good job at signaling the transitions, however, a lot of people do get lost and run into the wrong way.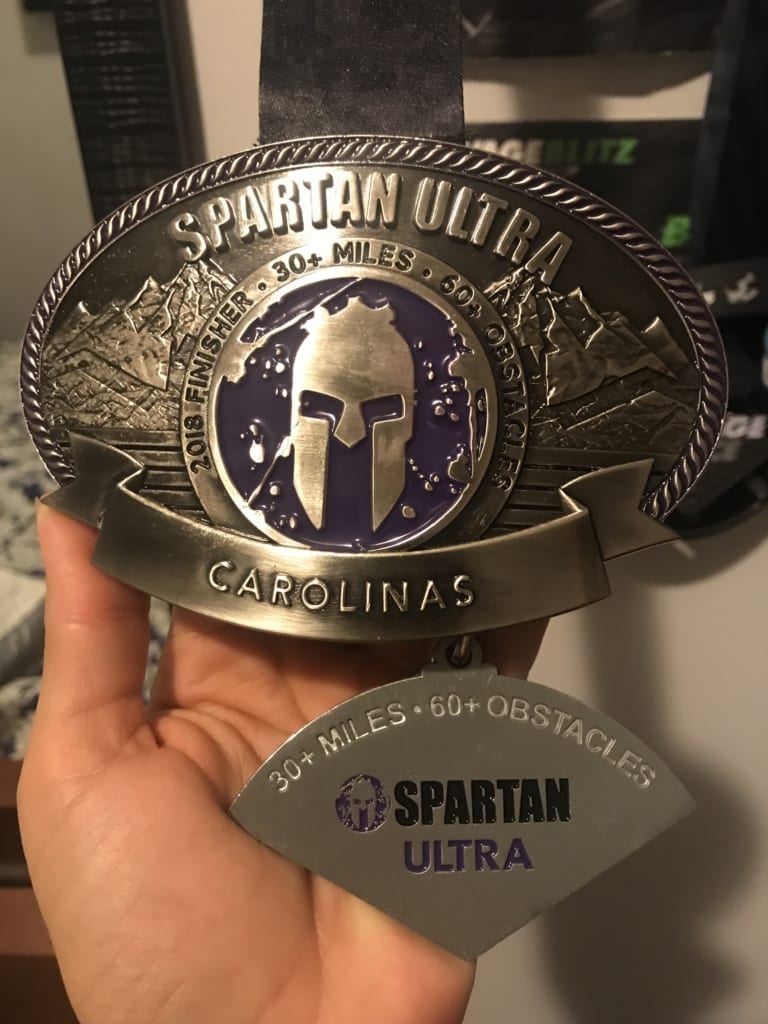 Final thoughts:
Overall, my first Ultra at Spartanburg was a great experience. I had a lot of fun and managed to complete the race under 8 hours which was my set goal. I do recommend this venue for first timers because the elevation is quite low compared to other venues, the weather can also be considered another plus being in the high 50's in the morning and increasing to the 60's as the day went on. Despite the challenge and toll the many miles can have on our bodies, I would recommend all OCR athletes to try an Ultra at least once. It might be the worst experience of your life, or it might be the one that changes your life completely! At the end of the day, these races which challenge us not only physically but also mentally are the ones that change our perspective of what our bodies are capable of doing. To train and complete 30+ miles is an accomplishment and I am glad I am one of the group of people who on November 17 who went out there to defy our limitations. Plus, I got a nice buckle, which is my favorite medal so far and I have over 40 different medals from different events. To end this, I will be attempting my second Ultrinon April 2019 in New Jersey, so comment below if you will be there!
Rating: 5/5
---
Have you done an Spartan Race?
Leave your own Spartan Race review and feedback...