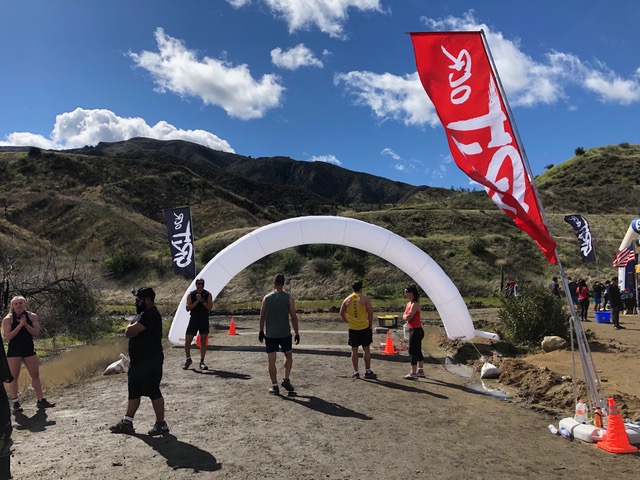 Last Saturday saw the return of Grit OCR, an up-and-coming local OCR event here in the greater Los Angeles area brought to life last year by owners Antonio and Malorie Alletto. The inaugural event saw impressive numbers and reviews, and they were looking to build on that success this second time around. And build on it, they did. Despite unrelenting rain the week leading up to the event, the entire Grit crew worked tirelessly to bring a top-notch event to the people. Fortunately for all involved, the rain let up just in time for everyone to enjoy beautiful, albeit chilly, weather the day of the event.
The Festival Area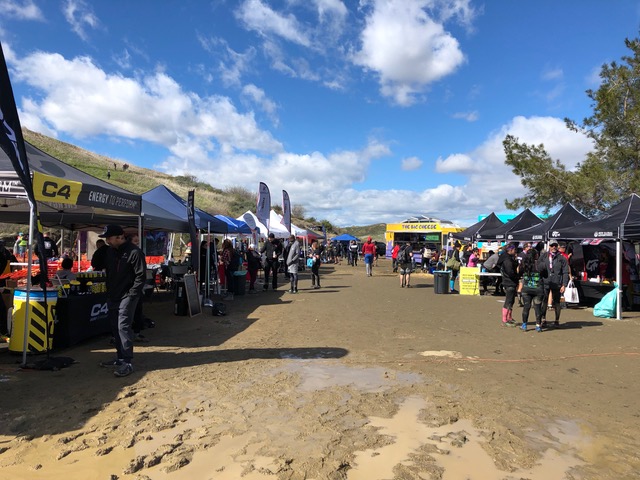 The event was held at the scenic East Walker Ranch, in the hills of Santa Clarita. Due to rain the week before, both the festival area and course were unusually muddy. Normally, that might be a deterrent, but, on this day, no one seemed to mind. Although smaller than the average OCR festival area, this one was well thought out and included everything you'd find at larger races, including sponsor and vendor tents, registration, bag check, and, of course, the all-important porta potties. Those who chose to pay for VIP parking were fortunate enough to park steps from the festival area, while general parking was just a short bus ride away. Even in the cold, wee hours of the morning, the volunteers and Grit staff were friendly, and the registration and packet pick-up was at least as well organized as last year, if not more so. Those who ran last year's event also got to pick up a 'Legacy' patch. Nice touch, Grit.
The Course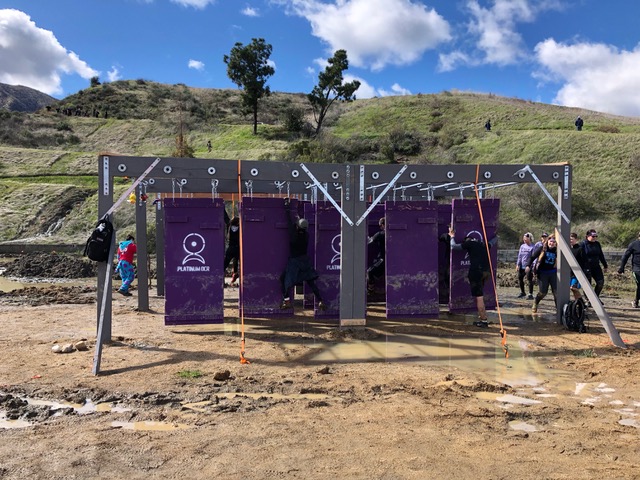 Like I mentioned, due to the rain the week before, the course was unusually muddy. Most seemed to share my sentiment that this made for an interesting race. The trails, which were usually dry and dusty, proved to be challenging for even the most seasoned competitor, with several impromptu streams crossing the course at different points in the race. Along the challenging 6.9 mile course, which boasted almost 2000 ft. of elevation gain and decent, runners faced 24 obstacles, all built by hand by the Allettos and their team. The obstacles included several upright and slant walls, a barbed-wire crawl (through the mud, of course), multi-rig, jerry can carry, rope climb, and sandbag carry, to name a few. There were also several obstacles unique to Grit. HT Flip had competitors flipping a large (and heavy) wooden box three times forward and three times back, a la the tire flip, though slightly more awkward. At Hammer Time, runners had to literally use a mallet to hammer a weight box up, then back down a track. Yolked required you to walk a separate loop with a large metal pole, supporting two cinder blocks. This was definitely one of the heaviest and most awkward carries I've ever seen at an OCR event, and proved challenging for many, requiring them to stop several times along the way. Just shy of the finish line was another Grit signature obstacle: Boo's Closet. Similar to a 'Z-Wall', competitors had to maneuver their way across three doors, all suspended only from the top. You could use the wooden blocks on the front of the door, or the sides, but could not touch the top. Failure to complete this obstacle meant 20 log squats in front of the festival spectators. New to the race this year was the implementation of a 'penalty loop' for failure to complete one of a handful of key obstacles.
This year, in addition to both competitive and general heats, Grit introduced a new 'Ruck Division'. Those registered in this division could start in any heat, but were required to carry a weighted ruck (30 lbs. for men, 20 lbs. for women) for the entire race, including the obstacles. Ruck Division participants earned a special patch, in addition to the finisher medal. I ended up running in both the Competitive Division AND the Ruck Division, and, let me tell you, getting over an 8 ft. wall with 30 extra pounds is no joke. By the end of that second loop, I had definitely earned my finisher beer.
Overall Thoughts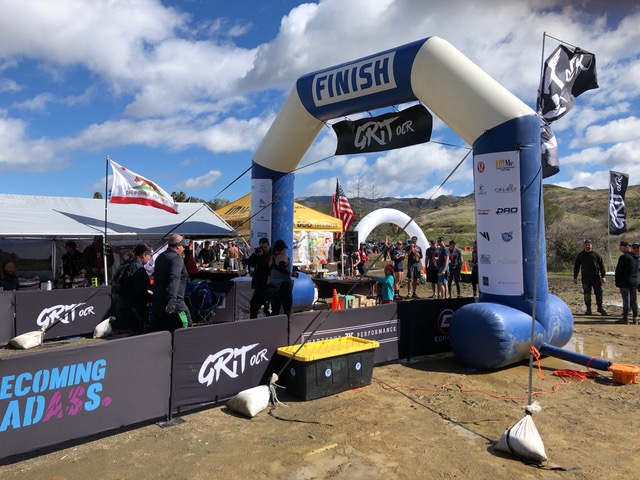 As hard as it is to successfully break into the current OCR market, I'd argue Grit has done just that, at least here in Southern California. I think you'd be hard-pressed to find a harder working team, and Malorie and Antonio are constantly looking for ways to improve the Grit experience for participants young and…well, less young. In my opinion, that's a winning combination. Yes, there were a few little snags here and there, but nothing unexpected or out of the ordinary. I think the challenge for Grit, at this point, will be to hang on to this home-grown, local mentality, as they see their business expand. If successful, I think those who love well-run OCR events here in SoCal will be the true beneficiaries.
Rating: 5/5
---
Have you done an Grit OCR?
Leave your own Grit OCR review and feedback...