Who is OCR?
Is OCR an elite sport where professional athletes compete to make money?
-or-
Is this a sport that is for people that want to be challenged to get off their couch, do things that they did not think possible, push themselves to get better?
My Answer: It is both.
Unfortunately, this makes neither side of the argument happy.
Some of the news that has come to light in the past several weeks, along with comments from some of the elite racers has brought this question to light in the past couple of weeks. As the social media manager at Mud Run Guide, I have seen the conversation break wide open in other places.
The Elites

As OCR continues to grow as a sport, more and more athletes are taking steps to make OCR their full-time profession. These athletes rely on sponsorships and prize money from races and race series to continue training and competing full time, like athletes in many other sports. The problems start when we try to define who is an Elite OCR athlete.
OCR is not road running, but for the sake of this discussion, let's use it as an example. To qualify for the Olympics (at least in the US), you have to have a qualifying time on a USATF recognized course. To run in the elite coral for a lot of these races, you have to have a qualifying time. Times and race placements qualify you to run the Olympic trials course, and only the top 3 in each gender will progress.
For OCR, many athletes can decide to race as an elite by paying an extra fee so that they can have a less crowded course or an earlier start time. Other races like Toughest in the UK have more strict standards. To be able to race Elite, you must either be a top qualifier from the European OCR Championship or the OCR World Championship, or you must spend a year competing in their Elite Qualifier league, which requires its own qualifications to participate.
Discussion constantly swirls around OCR's potential as an Olympic sport. The development of an elite class of professional OCR athletes lends credibility to this discussion, but there are still many hurdles such as the lack of standardization across OCR courses.
The competitiveness factor is also an issue. Ryan Atkins brought it up earlier this week in a post on Instagram.
"However, just as you wouldn't send beginner skiers down a double-black-diamond ski run… a top-level skier would be bored to race down a "green circle". So why "water down the courses" so that everyone has the same course? I don't understand. I'd love to see the elites take on steeper courses with harder obstacles. Let's do this for the most competitive races, of which there are only a handful. The duality of trying to create elite sport yet still attract millions of new participants will leave both sides somewhat underwhelmed and confused."
He is right. But how do you balance the needs of the everyday athlete while growing the elite class?
The Everyday Athlete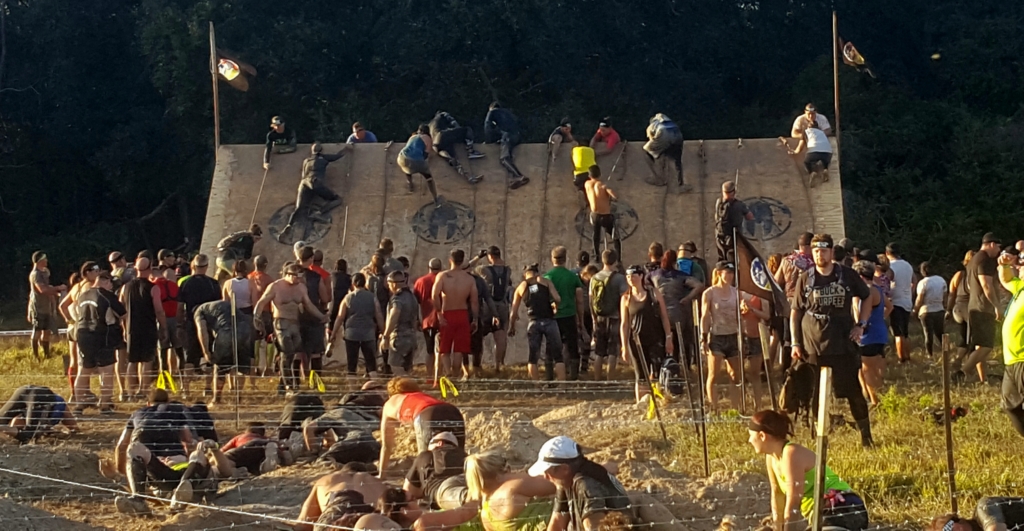 Last year, a friend of mine ran her first OCR. She does not fit the mold you would expect see out on the course. This race was one of her early goals in changing her life. She was not able to complete a few of the obstacles, and at points struggled. But when she got to the finish line, she had a huge smile on her face. Before we left the venue she signed up for the same race this year.
These people are not ready to take on an elite course. For many people, competing for a spot on the podium is not their goal. They show up to races to make little steps and improve each race.
The reality is OCR gets the money not only from sponsors but also from the everyday weekend warriors who just want to challenge themselves. This is a common comment after the news that Tough Mudder was eliminating prize money in 2019. Tough Mudder first started as a non-elite event and only started offering prize money in the last two years.
Beginners commonly post on social media about feeling overwhelmed or uncertain that they can complete certain obstacles. If races do not make it a point to welcome these athletes in with open arms, our sport runs the risk of having its growth stall out.
Can they coexist?
The short answer is yes. But not right now, and not during the same race. The needs of each group are too different. Race companies need to figure out how to cater to both groups without leaving them feeling left out, unchallenged, or unmotivated.
While OCR may not be road racing, there are lessons that we can take from other sports and if racing companies would be willing to step up, make investments in elite standardization we can get there. The elite racing world needs to have standards as to what kind of courses are considered qualified courses. They also need qualifying as to who really is considered an elite. The OCR World Championships is on the right path right now with setting stringent qualifying for their races. But there needs to a governing body and standards across the board with every race. Also, there needs to be an investment in proper officiating and standard penalties. Relying on untrained volunteers to judge races and enforce penalties puts volunteers in a bad position and allows for more subjective judging. This might mean offering less "elite" events during the year, but focusing on making these events the strongest, most competitive events you can with tough standards, tough penalties, or mandatory obstacle completion.
In all this, we can not forget who makes up the lifeblood of this sport. The everyday athlete that continues to break through their own barriers and challenge themselves. This is where races companies get their money. They need to be afforded the opportunity to be able to continue their journey. A lot of you reading this started in those shoes. We need more beginner friendly challenges while also promoting offerings for those in between.
We are fooling ourselves if we think any of these issues are going to be solved quickly and overnight. As a sport, we need to figure out the evolution of who we are. Until we get to that point, no one is going to feel like their needs are met.
---
Disclaimer: The viewpoints expressed by the authors do not necessarily reflect the opinions, viewpoints and official policies of Mud Run Guide LLC, or their staff. The comments posted on this Website are solely the opinions of the posters.