Imagine entering a contest to win a trip to Bermuda…
Imagine winning that contest….
Imagine having to do the Bermuda Triple Challenge which is three races in three days while you are there…
I DID! I DID! And I DID! ….and it was one of the most amazing experiences of my life.
Nerves
When I found out I had won I was a little nervous. I really didn't know anyone who was going and I had never raced three days in a row before. Sure, I've been racing for 7 years and have done consecutive weekends, but the thought of racing at night, then getting a few hours of sleep and racing again in the morning and then the next morning again was a little scary. I am in decent shape but I am not very fast and I was not sure how my body would handle it. I am also used to racing with a team of people and I didn't know if anyone would be willing to race like I do…just have fun and take things as they come!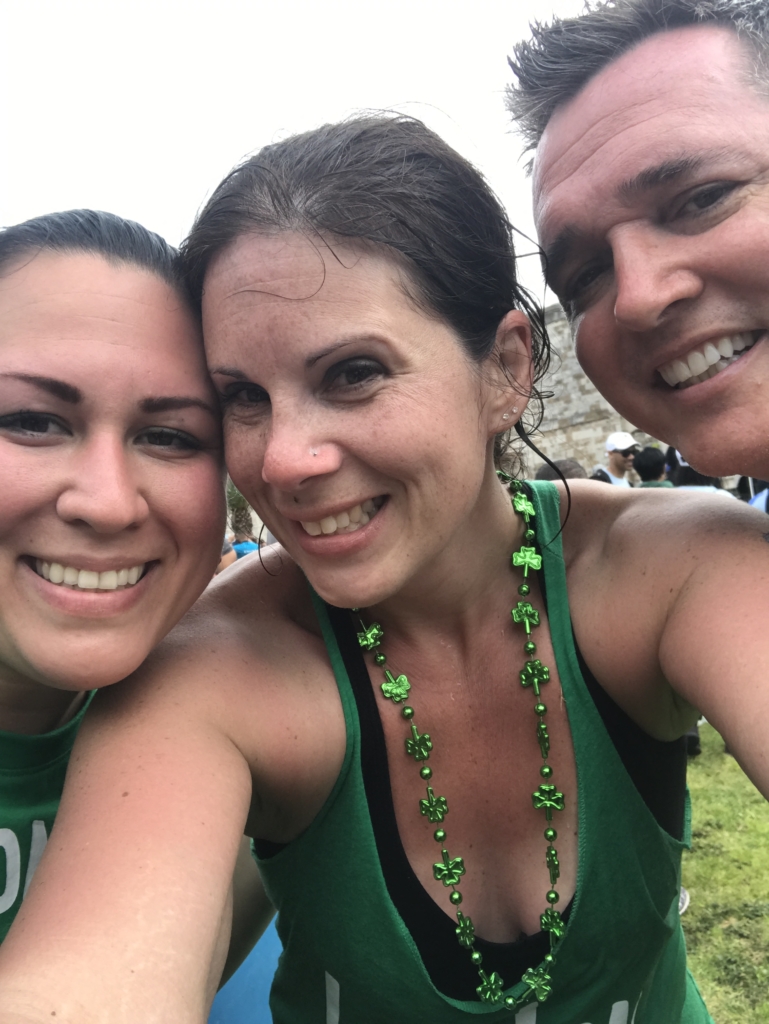 I needn't have worried because as soon as I got to my hotel, I met so many nice people including a racing buddy of mine and a super awesome couple. We ended up racing together the entire weekend…starting AND finishing together! I have a bum shoulder that I am still seeing doctors about. Two of the women I raced with have asthma. The man was 50 years old and this was his very first time doing any sort of a race. I knew I found my people.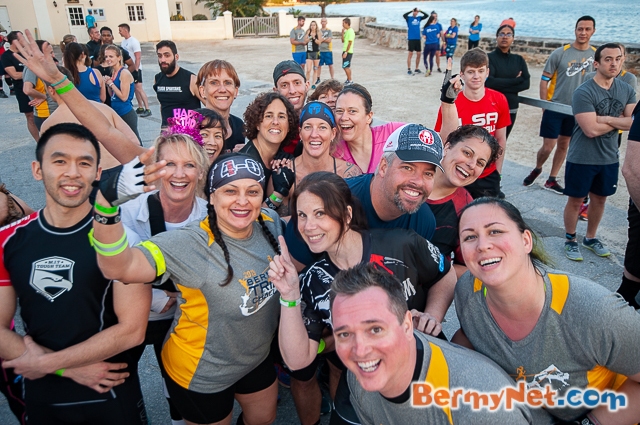 The Race
Friday night, we started the race, which was an urban race around town, and the first obstacle was a really tough tire pull. I struggled to finish it and Mayra and Heather both came running towards me and helped me complete the obstacle. We helped each other up walls and even helped Mark climb up a shipping container. Yes, us three women boosted him up!! That is how I like to race. I know many people are much more competitive but for me, it's more about camaraderie and helping people do things they wouldn't be able to do on their own. At one point we came to a well-dressed man standing outside his home drinking wine. We jokingly asked him for some and he obliged and we stood there talking to him for a few minutes. Sure it added to our time, but we didn't care because we were having fun! We climbed over buses, through car windows, flipped tires and bear crawled down a street. We finished race number one with huge smiles on our faces and our hands joined up in the air.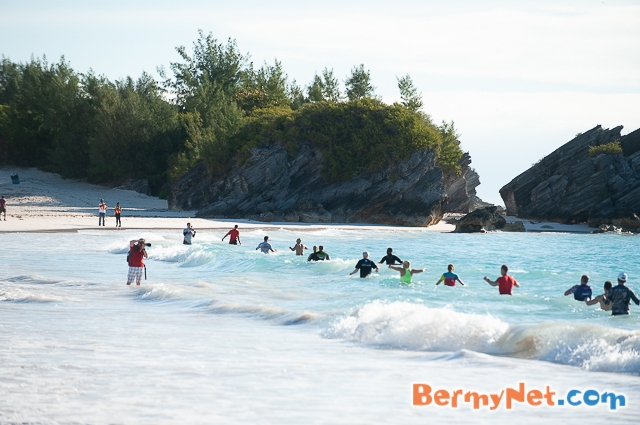 The next morning, the race was mostly on the beach. There were not many obstacles we needed help with, but we still stuck together. We stopped to take a few pictures and took in the beautiful scenery. There was one incline wall on the sand in front of the beautiful blue/green water and we made sure each and every one of us got over it. We even stopped to pet a few puppies on the beach! This race had a cinder block carry up a sand dune, a barbed wire crawl, some cargo climbs and a small rope swing, We laughed going down the slip and slide took turns carrying the sandbag through the wet sand and once again we finished with great big smiles and our hands up in the air in victory.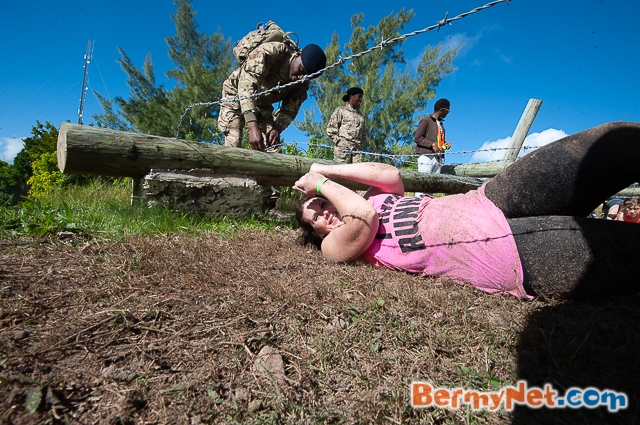 I thought by Sunday for sure I would be sore, but when I woke up I felt great! I guess my training is on point and even though my body does not look like other racers, it can still do what theirs do. We took a shuttle to the starting point and began the final race of the weekend. Two of our teammates wanted to walk so we split up a bit. This race saw no obstacles where we needed help, so we were able to complete most of them. I felt bad about not being together and we kept waiting for the other two hoping to get back together at the end…and we did! But first, we ran through an abandoned building, carried some wood, tossed a beer keg over an obstacle and did three swims where first we had to jump off docks.  When I was doing the final swim, I looked up onto the pier and there they are were! Cheering me on! That swim was so tough. We had to zip line into the ocean, swim to inflatable obstacles, and then swim really far to a slack net attached to a bridge and climb up. When I got to the top of the bridge, my teammates were waiting there for me with hugs. I started crying. I was so proud of what I had accomplished and the adrenaline was pumping. I was also so overwhelmed by the encouragement of these people I had only met days before. We held hands and headed for the finish line. But this time I was a little cheeky- I screamed something out and dashed a step ahead of them. Our final finishers picture is epic. You can see the pure joy and relief on our faces.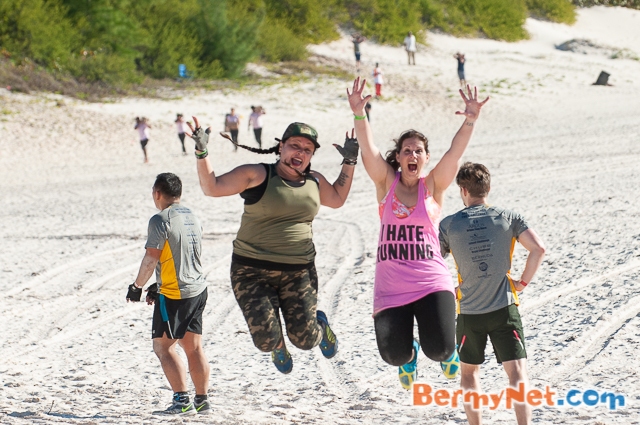 I know a lot of people may not agree with the way I race. "Why not push yourself and see how far you can go" is something I hear a lot. Sure, I think we all could have knocked some minutes off our times if we didn't wait for and help each other but where is the fun in that? I also make sure I do something my friend Ed taught me: thank every single volunteer because without them we could not do what we do.  I don't do this for any glory, I do it to have fun and get in some exercise. If you are the type who strives to win or get faster and faster, I admire that tremendously, but after 7 years that isn't me. As a matter of fact, my teammates and I finished in the bottom 4 for the weekend…I was second to last. But do you know what?? We finished and we have some amazing memories and forged new friendships. I would not trade that for the world.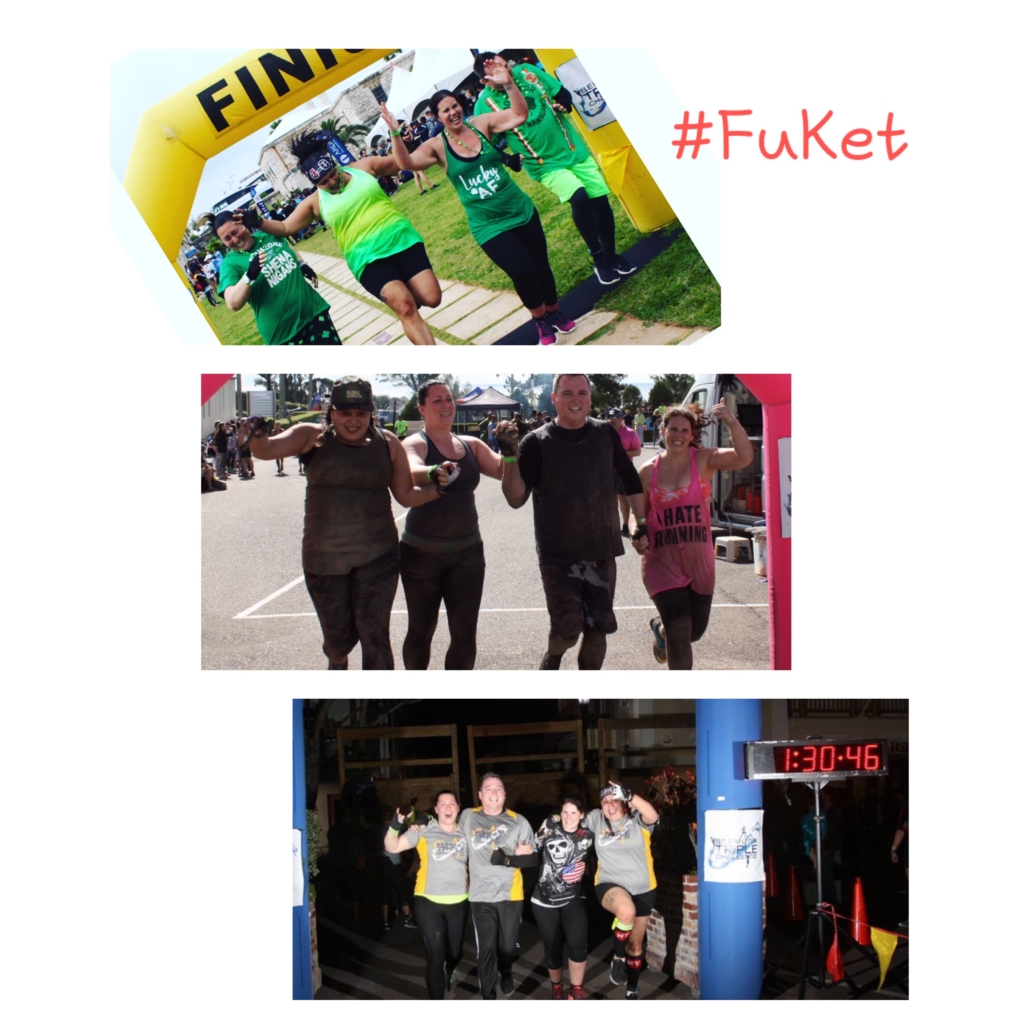 Let me end with this: Bermuda Triple Challenge was the most unique race series I have ever done, and I have done most of them. Each race was different and challenging in their own way. The obstacles and the locations of all three were different. If you are the type to travel to races, definitely make sure you add this one to your list. I promise you will not be disappointed! See you on the course…
[Editor's Note: Tara won the race entry and hotel as part of Mud Run Guide's Bermuda Triple Challenge Contest. All opinions are those of the author and were not influenced by the race, contest, contest sponsor, or Mud Run Guide.]