Launching anything on April 1st is either a fool's gambit or possibly a Fool on Gambit.
Eleven years ago, my lovely wife Kristen and I had a lovely little life – great jobs at The Worldwide Leader in Sports, two cool pups, a house we loved in a fun neighborhood close to friends and family. We dumped it all to move to Phoenix, Arizona on April 1, 2008. We moved into a new house on "Gambit" Trail, therein began the most prosperous chapter in our lives on a "Fool's Gambit".
Back in mid-January 2017, I launched the initial #5keveryday running streak and had an absolute blast along the way. I also learned a bit more than I expected about the rigors of an iron-clad daily regimen and what it meant to be committed to running through the good, bad, and downright ugly days. There were many days where I was psyched to lace up and a miserable few where I was fighting a stomach bug or was extremely sore from a double-digit trail effort or speed work the day before. Once or twice over that nearly 200-day run, I woke up in a panic before midnight realizing I'd forgotten to sneak in my mileage and hit the roads in the dark for a loop around the block. There were a couple of weekend nights my forgetfulness was precipitated by a few adult beverages, so there were one or two tipsy jogs involved.
The rules were simple: to keep the streak alive I had to run at least 1 contiguous mile every day with no stopping. If a shoelace came loose I either dealt with it at the end of 5280′ or started the mile over after stopping. The "5k" portion was my daily mileage – if circumstances dictated that I could only log the bare minimum of one mile from 12: 01 am to 11:59 pm on a given day, I had one day to recoup those miles and keep myself on-track for 1131.5 miles in exactly one year. Banking additional mileage was an option as well, and a couple of ultra-distance runs gave me a cushion that I retained right up until my running streak ended with a torn MCL while playing soccer. I even tried to squeak out 1 mile the night of my injury, but it was impossible, and really, really stupid to even attempt it.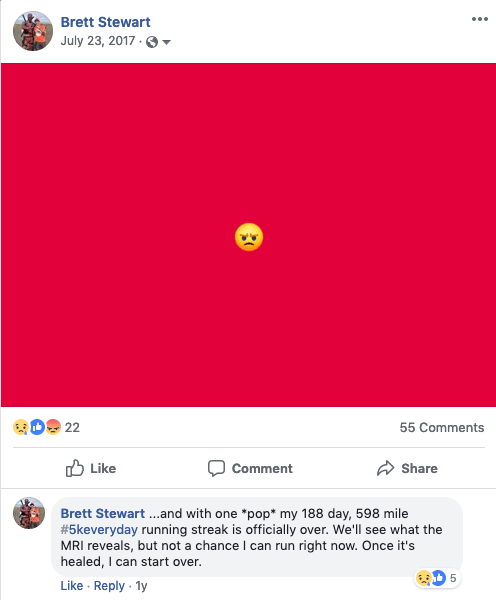 2017 #5keveryday Totals:
Dates: Jan 16 – July 23
Total Streak: 188 Days
Total Mileage: 598 (15+ miles ahead of schedule)
(1) partially torn right MCL
Where do I go from there?
Actually, just about nowhere. After 6 weeks I was able to run a little bit and started playing soccer again with a brace – and then re-injured my knee after 3-4 games. Another 6 weeks or so later, I started playing with a really serious knee brace, and that's pretty much it. While I stayed active, I didn't run another race of any distance in 2017 and then a myriad of other non-running injuries kept me from anything particularly special and aside from some short runs I didn't particularly "race" aside from 3 events at Bermuda Triple Challenge.
Here I am on April 1st, 2019 and I'm fatter, slower, and feeling way older than I want to feel. It's time to kick the old body into action and dust off #5keveryday for 2019 and along with some awesome support from very special friends I get to do it in style while reviewing new gear along the way.
#5keveryday 2019 Edition – Powered by Inov8
Boom. I've made it baby! See that subtitle? I'm officially a "brand influencer"! Next up, selfies with supermodels! Well… no. The only "models" I'll ever be anywhere near are the following ones:
F-Lite 230
TrailTalon 235
RoadClaw 275
TerraUltra G 260
Roclite 275
ParkClaw 275
RocLite 290

Inov8 was kind enough to provide me about 2800 miles worth of shoes across multiple categories: Trail, Road, Hybrid (light trail or road) and Ultra. These are the shoes that I'll be wearing for my #5keveryday runs for testing, comparing, and reviewing. In order to keep the results consistent, I'm going to be exclusively wearing Mudgear 1/4 Trail and No-Show Running Socks. On my face will be Goodr shades, because they are the lightest/bestest/non-slippiest sunglasses in the world
I'll also be testing & reviewing some great gear from Runderwear, ViewSport, Yancy Camp's new Trail Toes, new flavors from Tailwind Endurance, and much, much more along the way.
Goals/Rules/Fine Print
Maintain the Streak: Run at least 1 continuous mile every day April 1, 2019 to April 1, 2020
Crush the Mileage: Average at least 3.1 miles every day for 365 days = 1131.5 total miles/year

Rules: MUST maintain at least 21.7 miles/week (12:01 am Monday to 11:59 pm Sunday)

(no fine print, just run on roads, trails, or treadmill. Every. Damn. Day.)
Gettin' Social
Follow along with my progress daily(ish) on facebook.com/brettstewart or via hashtag #5keveryday. Each week I'll post an update on the progress and review the shoe models as I rotate through each Inov8 model daily on road & trail. I'm looking forward to the challenge and the body transformation this level of consistency will bring along with it.
Do you want to join me? Pop me a message and share your progress via the 'ol facebooks!
See you on the road or trails!