Welcome to Spartan's rebranding of the Stadium Sprint. While not much has changed from last year, the race is now known as Stadion and is represented by the color yellow. In 2018, Citi Field was my first race of the season. This year, it was my first-ever Age Group Stadion, but my fourth race of 2019.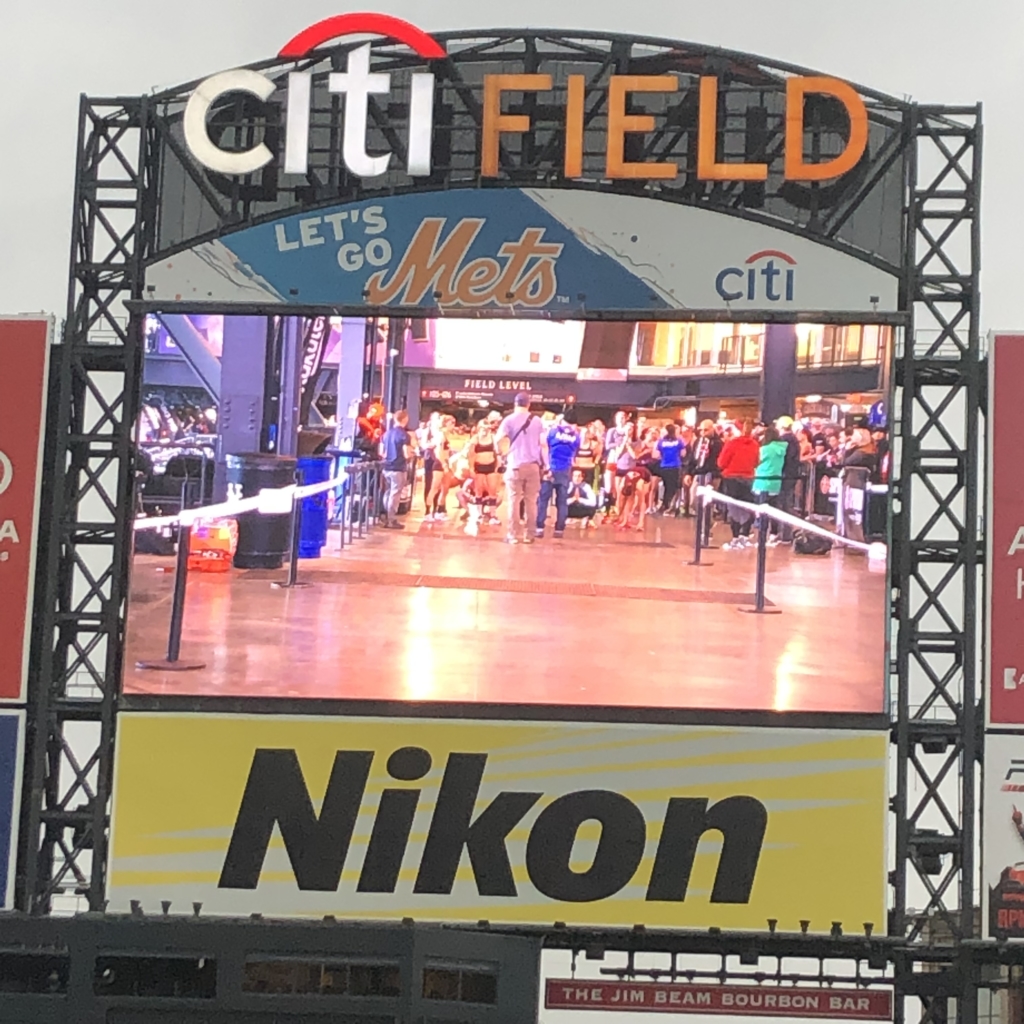 Pre-Race / Venue
The race was held on Saturday, April 13 at Citi Field, home of the New York Mets. The stadium is in Flushing Meadows–Corona Park, within the New York City borough of Queens. My Age Group heat was scheduled to go off at 7:30 am but there were some delays and I didn't start until closer to 7:50 am. I raced alone for Age Group but did a second lap in an open morning wave with friends from my team Spartan 4-0.
I arrived at the venue with my sister around 7:00 am. Parking was right at the stadium and cost $15 per car (cash only) with a minimal wait. For this event parking wasn't included in the ticket price. We drove but taking mass transit was also an option.
We got through registration quickly with no issues. A Citi Field security guard wanded us and our backpacks were searched but because of the early hour, the line was short. Please note that backpacks, bags and hydration packs were permitted at this venue but may not be allowed at other Stadion races (like Nationals Park) so check before you go.
Spectator passes were available for purchase onsite but are less expensive if you get them online when you buy your ticket and bag check fees are now included in the ticket price. Restrooms were open on the main concourse of the stadium as were some concessions.
Race Details / Obstacles
Between 8,300 and 8,400 signed up for this race. That's a lot of people! The concourses felt more crowded than last year. I say this as I ran past many of you in my Mud Run Guide CREW shirt to get from the finish line to the Elite awards presentation. I made it with seconds to spare!
With the start times running behind the MCs were quick in getting each group started but I wouldn't suggest the sendoff felt rushed or that first-timers lost anything in the experience. Chatting with some newbies in my open wave there was definitely excitement and a few nerves. The morning started off rainy and overcast but cleared up as the day went on.
Having previously done several Spartan Stadium sprints I generally knew what to expect, mainly lots of stairs and mainstays including the multirig, rope climb, spear throw, walls, herc hoist, med ball slams, heavy jump rope, etc. For Age Group it's 15 calories on the Assault Airbike, 10 for open. The course was announced at 3.5 miles with obstacles spread throughout. Several were visible to spectators, including the A-Frame cargo net, as well as many stacked towards the end of the race along the warning track. If you're a baseball fan racing with a stadium as your backdrop, running on the field and doing hand-release pushups inside the visitors' clubhouse is certainly a special experience.
I experienced no backlogs at obstacles in Age Group nor during my second lap but later in the morning, my sister was held up for four minutes at the A-Frame. Another friend had to wait 20 minutes at the spear throw during the afternoon.
Festival
Everyone entered the stadium through the Jackie Robinson Rotunda; at the top of the escalator was the Spartan merch and to the left and right were vendors giving away samples, massages available for purchase, bag check and the results table. Leaving the race there were additional vendors with more samples right outside the stadium. It was a fun atmosphere with lots of music. There was also a live music performance, but I missed the artist's name as it was right in the middle of my race.
Hardware/Swag
Spartan introduced a new medal for the 2019 Stadion Series but you still get the trifecta wedge piece which counts as a Sprint. Finishers also received a Stadion Finisher t-shirt with the yellow branding and the usual free beer/banana/Kashi bar/Body Armor sports drink. Photos are posted online for download a few days after the race.
Final Thoughts
Overall, I enjoyed this race. It's not a sufferfest like a typical mountain Spartan Race but, like anything else, can be as challenging as you make it. Stadions are a great introduction for people new to obstacle course racing who aren't quite ready for the mud and might feel less intimidated by the 15 vs 30 burpee penalty, but I think there's also room for experienced racers to really push themselves on a fairly short, fast course.
What did you think about this race? Let me know in the comments!
Rating: 3.5/5
---
Have you done an Spartan Race?
Leave your own Spartan Race review and feedback...
---
This author is part of the Mud Run Crew and received a free race entry in return for an independent review. All opinions are those of the author and were not influenced by the race sponsor or Mud Run Guide.
---