Though Monster Hydro Stadium Blitz is a relatively new obstacle course race, their event in Arizona showcased the organization, energy, and community of the big dogs in the business.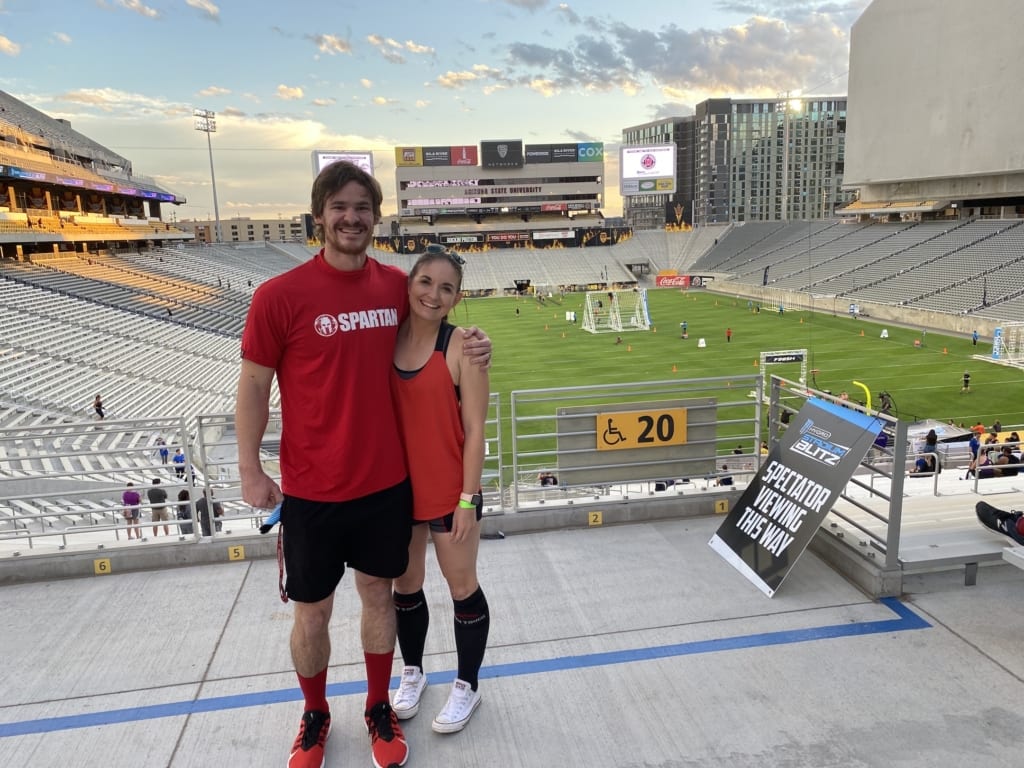 The Structure
The rules of Stadium Blitz are different from other obstacle course races that participants may be familiar with. Their website boasts 3 different obstacle levels with 5 obstacles at each level over a (+/-) 5k distance. Race obstacles are designed to provide a challenge to participants of all athlete abilities and backgrounds. These obstacles are required and each worth 100 points, totaling 500 points. Hustle obstacles are intermediate level, optional obstacles. Each obstacle is worth 200 points, 1000 points total. Blitz obstacles are difficult, optional obstacles designed to challenge elite athletic abilities. Each blitz obstacle is worth 300 points, for a total of 1500 points.
So how are racers scored? After athletes complete an obstacle, they must run by a scanning board. The board scans their timing chip and gives them the designated amount of points for the completion of the obstacle. The scanning mechanism emits a loud beep when the chip is scanned. In the case that an athlete failed to complete an obstacle, volunteers instructed them around the sign at a safe distance away from the scanner's range.
Certain obstacles had a limit on the number of attempts. QB1, which involves the athlete throwing a football through a target hole from a fair distance, allows for 3 tries before the athlete must move on. Toe the line, which is a balance beam that changes direction, is a single attempt obstacle. All other obstacles, however, were multiple attempt if athletes decided they had the time- an important consideration in the overall strategy of racing Stadium Blitz.
Athletes can gain an additional 2000 points if they complete the entire course in under 40 minutes. Additionally, athletes can 1 point per second that they finish under 40 minutes. These 2000 points are hugely important for athletes concerned about overall results and standings. Differences between the top 3 came down to subtle point differences.
Race results are based on the total number of points scored. The individuals with the highest points (not necessarily the fastest times) win. In the event that there is a tie in points, the individual with the fastest time wins. So- to win, it doesn't necessarily mean you have to cross the finish line first. You have to rack up the most points and strategically pay attention to your total time and how you want to structure your race. This adds an interesting element of choice to racer's mindsets during the run and adds a unique pressure to the decisions made on course.
The Event
Stadium Blitz Arizona took place at Arizona State University's Sun Devil Stadium on Saturday, February 29th. Doors opened at 3:30 PM and heats began to take off at 5:00 PM. The start line closed at 6:15 PM in order to clear the course for the competitive wave to start at 7:00 PM. Heats continued until the start line closed at 8:15 PM.
Upon entering the stadium, racers were greeted with up-tempo music, friendly and dedicated volunteers and workers, and superb organization. The entry lines were smooth and fast, with no lines or wait when we arrived close to 6 PM. Workers at check-in handed athletes paper wristbands in different colors depending on their designated start time. Athletes were also given a timing chip wristband and instructed on the usage of the bracelet for scanning after obstacles.
The views of the stadium were superb. We looked down upon the field and obstacles, full of racers from other earlier waves. A dedicated spectator viewing section showcased different areas of the course on the field, where later on we could hear the cheers from the crowd as we ran through the field arena.
We then turned to explore the 'Blitz Zone' before we began our warm-up. There was bumping music, official merchandise, and an impressive showcase of vendors and partners with the Stadium Blitz race, such as Iceshaker, Gronk Fitness, and Monster Hydro. Additionally, it was announced that proceeds from race registration went directly towards the Big Brothers Big Sisters of Central Arizona. Two different places to redeem the free beverage tickets were available, with a great selection of different options to choose from.
After our exploration, we had the luck to run into Gordie Gronkowski and chat with him about the race, the reasons for starting the series, their goals, and the exciting ways it challenges new racers. His passion was contagious; the community surrounding the event seemed to be infected with the same kind of excitement over racing and challenging themselves in new and exciting ways. It was apparent he truly cared about the experience of racers and the process of developing the series into something special.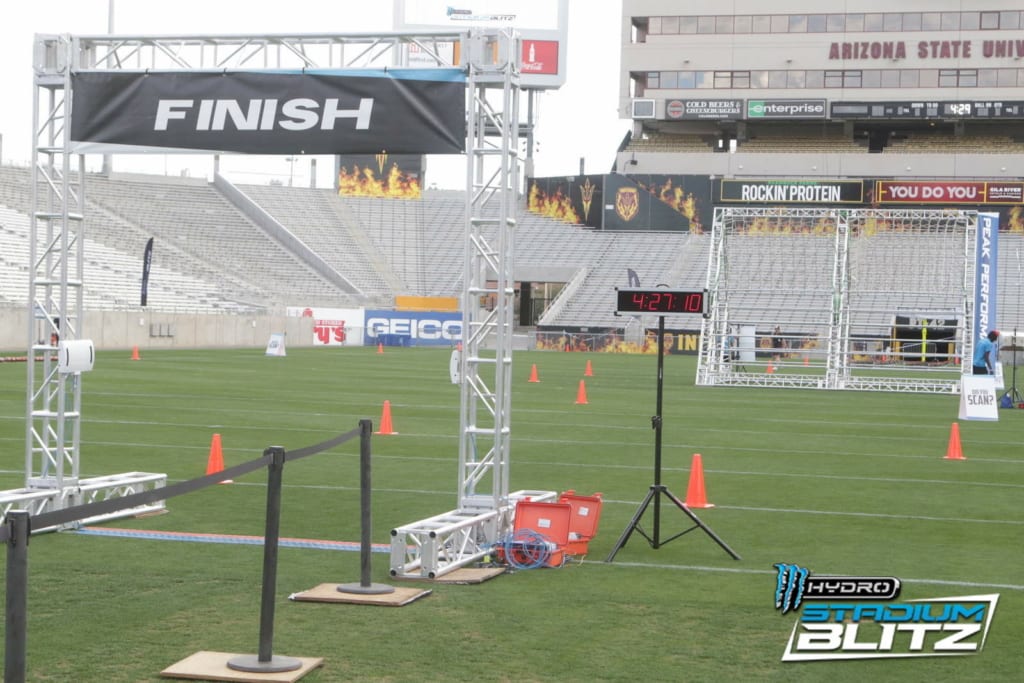 One of the only areas that we struggled with at the race was the lack of area to warm-up. The crowds were large as many people wanted to stay around and hang out in the environment so carefully crafted to celebrate fitness. This is a very minor criticism and an issue often present at stadium races like this. The only suggestion for this might be to have a specific 'Warm-Up' zone so that racers could avoid crowds. The area by the start line was much more open and we were able to warm up and stretch there without any major issues. Additionally, you could leave and re-enter the venue, so racers who want a longer warm-up run were welcome to leave the stadium area and come back with no problem.
The Race
The starting corral was closed until close to 6:55 PM prior to the start of the competitive wave. As we entered the starting corral, I became slightly nervous at the number of people who were in the wave and started to worry about bottlenecking on the narrow parts of the course. However, race directors had already thought of this problem and were prepared; runners started in waves of 10 racers and were released at the start of every minute. A clock was set 40 minutes fast so that runners could see what time they needed to finish before in order to get their 2000 bonus points for finishing under 40 minutes. This was extremely helpful on course as my watch didn't start exactly when I crossed the timing mat and gave me a good indicator of my goal.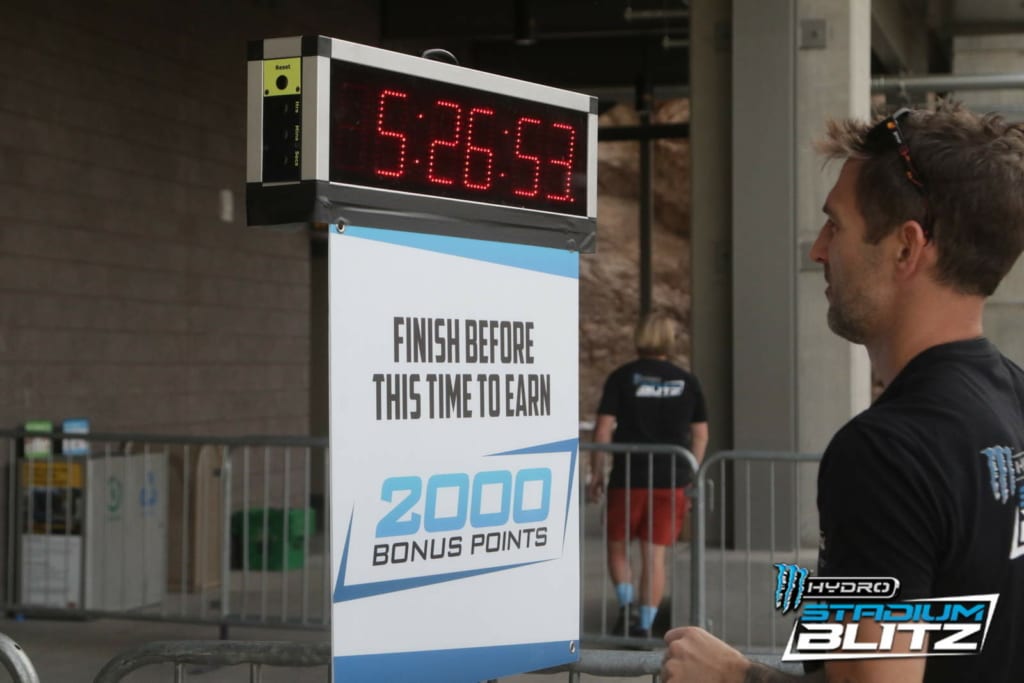 After some shuffling as volunteers counted out ten racers, the first wave was sent off. My wave was the second to start. We lined up on the start line and something was said (I can't remember quite what) and took off.
The start was fast, as is expected in stadium races. There was a nice long stretch of open area though as the ten of us fell into our own paces and areas prior to tackling the first set of stairs. There were so many stairs! We wound through the lower section first, and it took me a bit of time to get my footing as I did not prepare for a stadium by doing any stairs. I do not recommend this decision; I found myself regretting my lack of footwork skill well into the first 15 minutes of the race before I settled into a good groove.
The obstacles came up quickly in the race. While I do not remember the exact layout and couldn't find the course map, each obstacle challenged me in ways that I had not previously been challenged in OCR races before. The Ladder Drill is somewhat similar to the vertical cargo in Spartan races but provided only a narrow space to put your feet which slowed down even highly proficient racers. As I jumped off on the field, I almost forgot to scan but luckily a volunteer reminded me as I almost sailed past the sign. This was a trend of the race; volunteers were helpful and consistently reminded racers to scan when they completed an obstacle.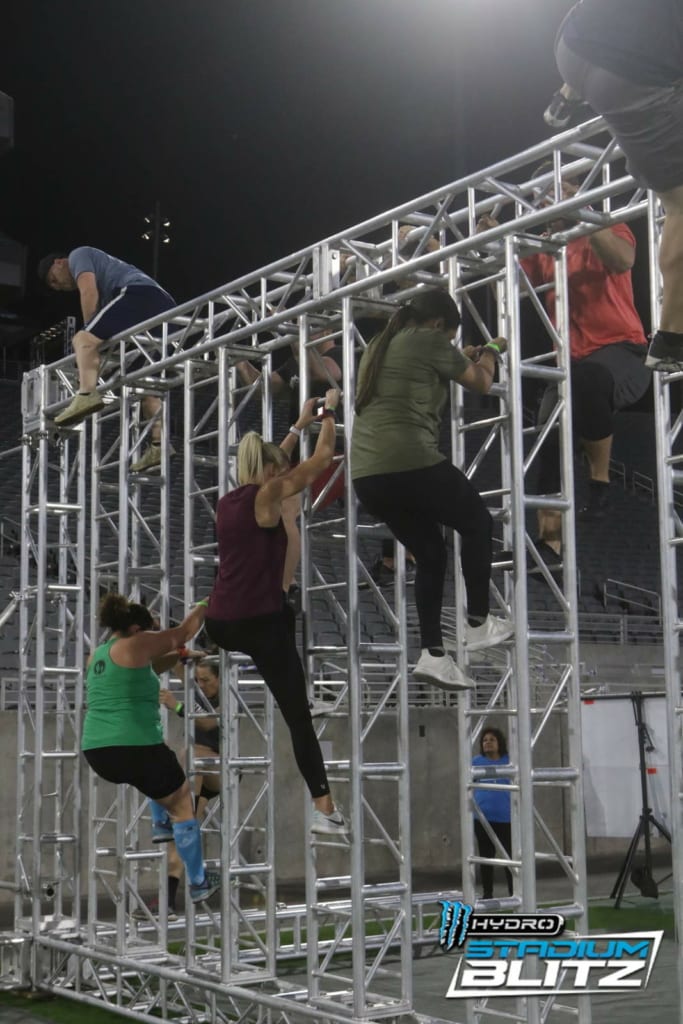 Spin Class was a welcome twist on the traditional rig. The rings were rubbery, which helped with grip, but each rig had a series of spinning rings for racers to grab. These spinning rings were a momentum killer for me and slowed me down on the rig a lot. When I tried to pull back on my back arm to gain momentum to swing forward, the spinning rings would click backward and forwards in a way that challenged my grip and checked my momentum.
Another welcome obstacle twist came in the form of Hang Time. This obstacle had a traverse pipe at the beginning that was slanted upwards. Racers had to traverse upwards along the pipe until they reached a cargo net in the middle. I saw many different strategies on the cargo net here; some racers used their feet (somehow) to help them scramble across the top without forgoing too much grip. The most effective strategy for most seemed to be to hang on with one hand and pull down hard on the rope ahead of you prior to swinging forward. Small hand movements and control were key here. At the end of the cargo net was another traverse pipe. The transition here was key, particularly for racers that chose to use their feet along the top. This obstacle seemed to be the one that challenged racers the most.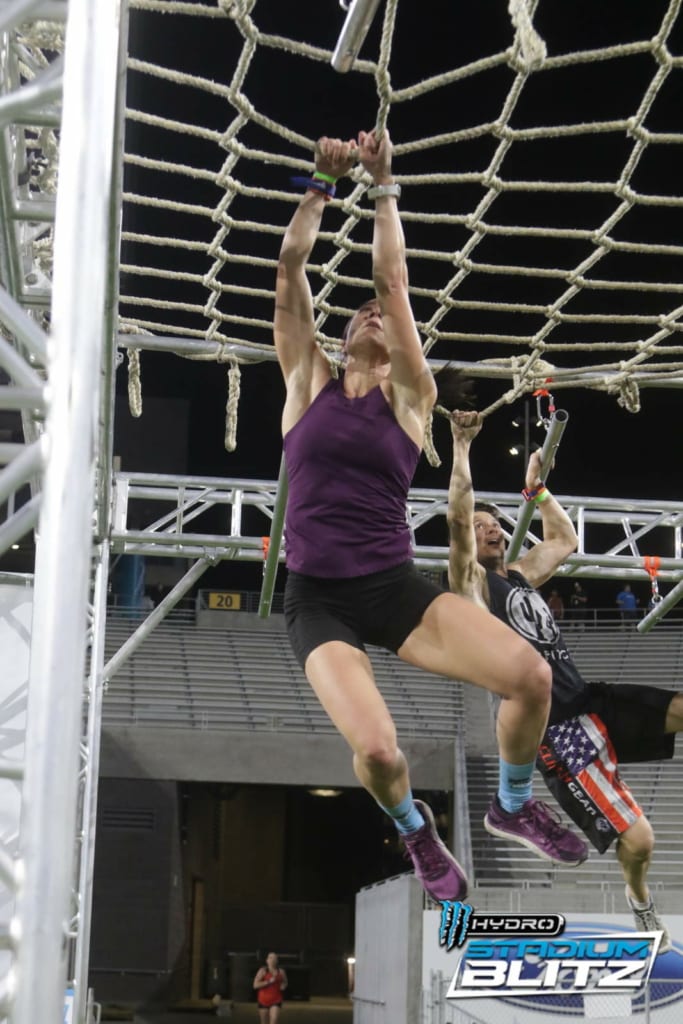 Sled pushes seem to be an emerging trend in the world of fitness/obstacle course racing. Push the Limit had two different weights of sleds for men and women. I went into this obstacle fairly confident and quickly got a reality check. The pull was easy enough, but the push was very difficult for me. Despite wearing shoes with good traction, I found the sled push very difficult and it slowed me down quite a bit. I definitely need to practice some sled push skills!
The course designers were very smart with their obstacle placement. Toe the Line, which I was not at all nervous about, was placed near the end of the course when my legs were completely destroyed. I had to take extra care when on it to not fall and give into my cramping muscles. Slowing down enough proved to be very difficult and an appreciated challenge!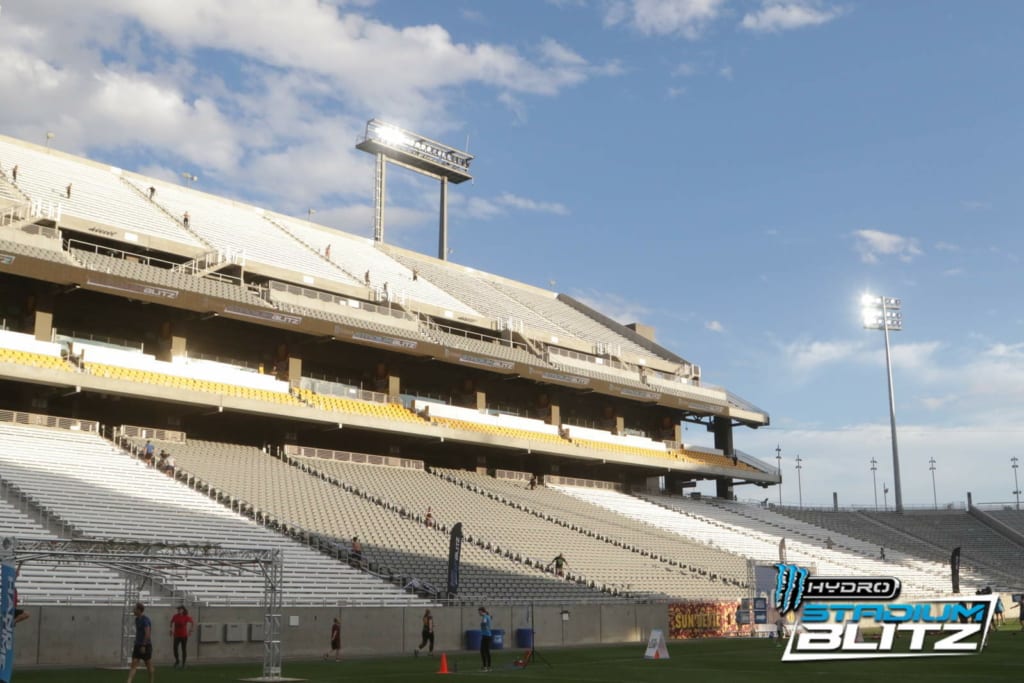 One of my proudest moments on course was the QB1. I thought for sure that I would not hit the target upon coming into the race, as I have never been very proficient with football throws. However, I lined up with one of the lower holes and my throw went through on my first attempt, and it actually looked pretty okay in terms of mediocre football throws.
After what my watch indicates was 71 flights of stairs, weaving between seats, and sprinting between obstacles, I saw the last obstacle before the finish line. The Peak Performance was similar to an A-Frame Cargo, with a few minor changes. Instead of simply having a cargo net, the frame started with horizontal bars to climb. Then, a rope cargo net similar to what we hung off of on Hang Time took us to the top. This obstacle could definitely be flipped over, as the rope cargo was on the other side as well, but racers had to be careful to stop their momentum enough before the final series of horizontal bars along the bottom half of the obstacle.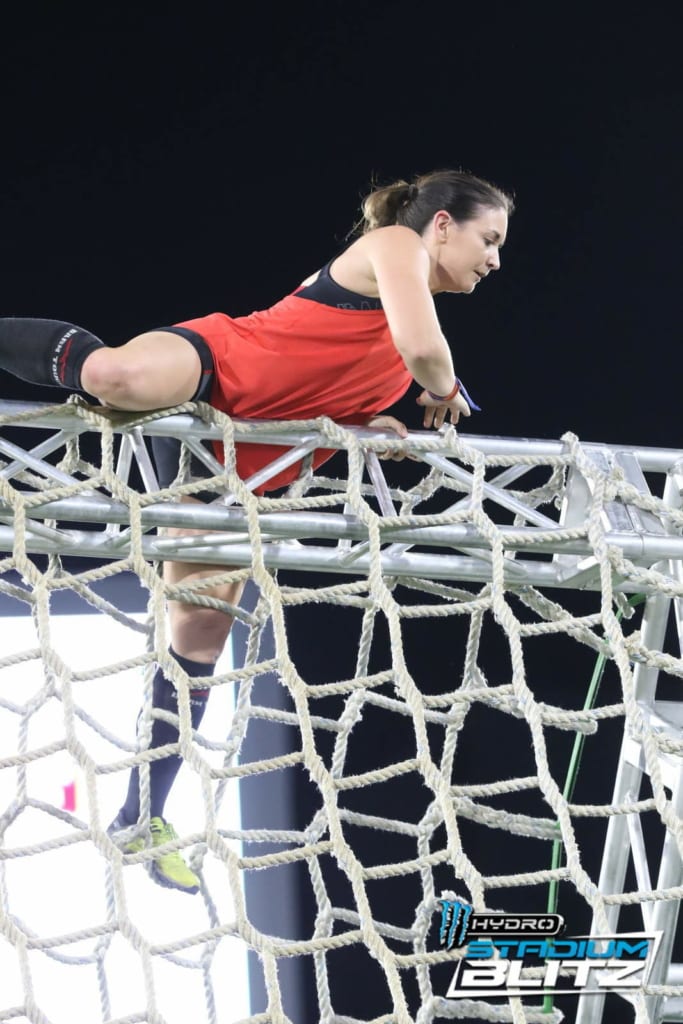 From there, it was an exciting sprint to the finish. The organizers had placed a clock there with the time that you could see from the top of Peak Performance. I sprinted in looking at the people in the end zone spectator area and immediately was offered my finisher's medal and a Monster Hydro. Other racers were hanging out in the finisher's area and congratulating each other; video cameras and pictures were being taken as we exchanged race stories and excitement.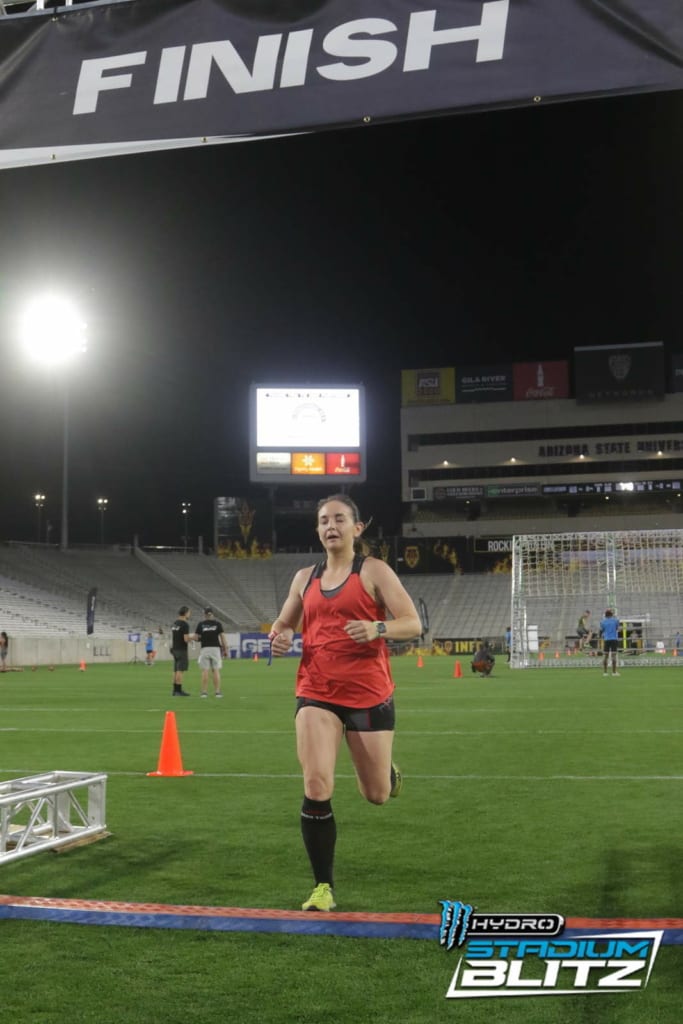 The Party
We eventually moved away from the finisher's area and headed back up to the Blitz Zone where the party was continuing. The race boasts an 'after party' which occurs after the awards ceremony. The music was amped up even more and people were enjoying their beverages, dancing, and talking about their race experiences. I loved the sense of community during this time; everyone celebrated each other's accomplishments and shared their experiences.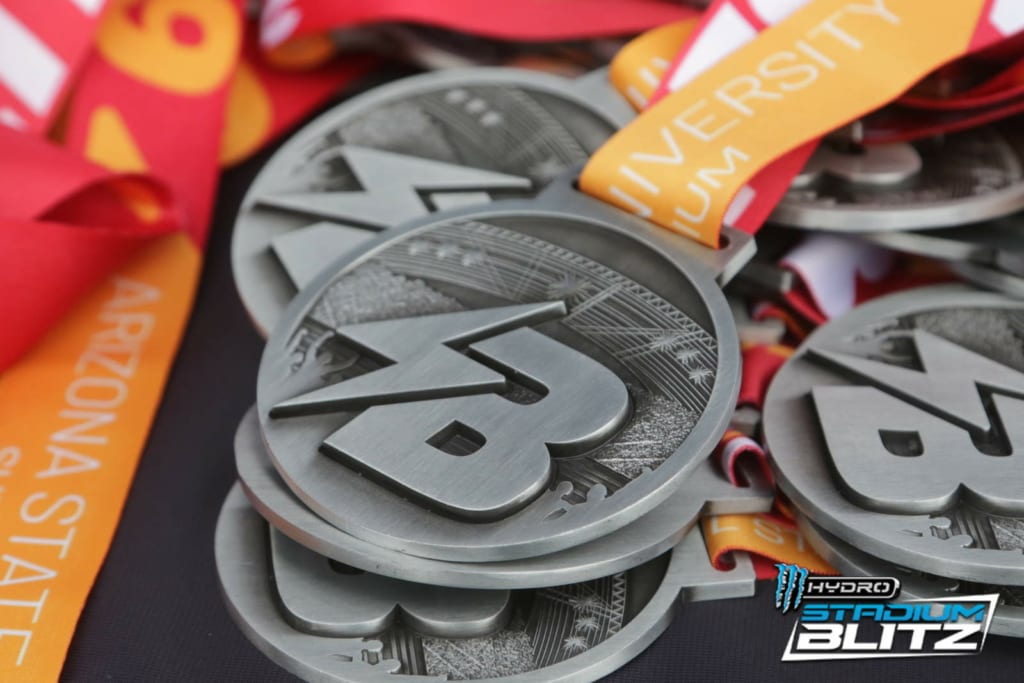 The awards ceremony was smooth and occurred exactly at 8:30 PM. Race roster provided updates of scores as the points were being finalized so that runners could check their standing in the unofficial results via cell phone. Points and standings changed a lot during this time; it was not an issue as it is to be expected in a race that tallies points and then has a second layer for ties. Individuals in earlier time slots were also competing for overall awards. The competitive wave was designed so that individuals 18+ could race on the course with decreased incidences of bottlenecking and delay. However, all individuals could be considered for top awards.
The awards ceremony was flawless and the awards were beautiful. My husband and I both placed third, which was exciting as it was our first dual podium. There was a large crowd attending the after party who were present at the awards ceremony, which added to the excitement and celebration. In addition, awards were offered for largest team and an award for the team that scored the most points. This added a really fun dynamic where local gyms challenged each other and created a sense of unity within the immediate racing community that is unmatched in other races. The party continued into the night and we were ultimately sad to have made the decision to not stay in Phoenix for the evening to celebrate longer with other racers.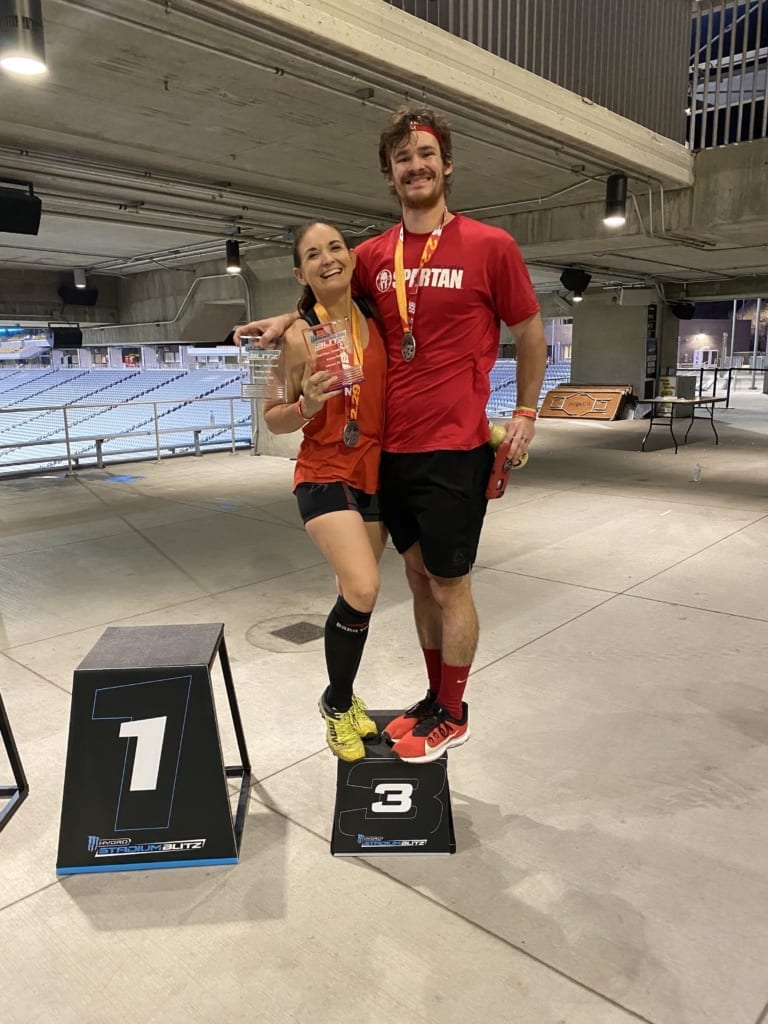 Overall
There were so many impressive and great things about Stadium Blitz. For a relatively new race series, they have a strongly established identity in a market where identity is everything. They provide a different take on obstacle course racing that incorporates obstacle proficiency, strategy, and time. The decision component even challenges very experienced racers in new ways. This race is absolutely worth the time and travel- they are making a prominent space for themselves in the world of competitive OCR and I look forward to racing Stadium Blitz as they continue their journey.
Rating: 4.5/5
---
Have you done an Stadium Blitz?
Leave your own Stadium Blitz review and feedback...
---
This author is part of the Mud Run Crew and received a free race entry in return for an independent review. All opinions are those of the author and were not influenced by the race sponsor or Mud Run Guide.
---