Safe & Savage
Undeniably, the world of obstacle course racing has been derailed by the COVID-19 pandemic and its subsequent halt to the 2020 race season, that is, until this past weekend!  On July 25th, 2020, Savage welcomed Chicago area OCR enthusiasts back with wide-open (but sanitized) arms; and boy, did they bring their A-game!
After postponing seven events already in 2020 and working tirelessly for months to develop a safety protocol that would appease the masses, this past weekend, Savage pulled out all the stops to bring us back to the community and sport we love. With the increased safety measures in place, I couldn't have been more impressed with the efforts made to provide a safe return to OCR in Chicago.
Upon arrival, participants (while wearing masks) underwent a screening process and temperature check before being admitted to the venue. Once past the screening process, lines were formed for registration, with lines being marked by place cards ensuring a 6-foot space between people. Hand sanitizer was readily available throughout the festival area as well as on the course following each obstacle, and water obstacles were heavily chlorinated. Other safety precautions taken included cashless/credit only payments, volunteer stations were equipped with plastic barriers, and the water stations on course provided bottled water, rather than cups. In another effort to increase social distancing, admission was limited to those racing within the next 30 minutes to reduce crowding, and while this was effective in reducing the number or people gathered in the festival areas, it did cause a bit of a time crunch to get in, settled, bag checked, and warmed up before ones start time; but, with a little hustle, I made it to that start line JUST in time.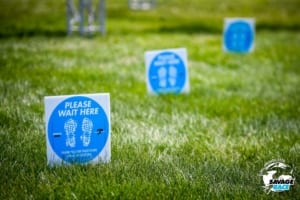 The Start
One of the biggest changes in the event was at the start line corral. To facilitate social distancing at the start line and on course, waves of only 25 participants were sent off at 5-minute intervals. This strategy worked out great in my opinion and is one change I wouldn't mind seeing around long-term. Admittedly, the only downside to this format would be the reduced "hype" at the start line.
So, in our small and staggered groups of 25, we were off! Zig-zagging through a corn maze and fields, the course covered 6.2 flat, sun-drenched, clean miles and included 28 obstacles. The event featured Savage favorites such as Wheel World, Sawtooth, and Colossus which continue to challenge new and experienced racers alike, while new obstacles such as Anchors Aweigh and Battering Bird tested participants in innovative and fun ways. Much like in the festival area and registration lines, place cards were also stationed at the obstacles to ensure a 6-foot radius when waiting to complete an obstacle, though as mentioned above, lines at obstacles were few and far between due to the staggered start times, smaller start waves, and the decreased participant capacity.
After conquering the course and the heat, participants crossed the finish line and were awarded a medal, finisher t-shirt, Protein2O beverage, a KIND bar, and a face mask. The forethought to provide masks at the finish line was greatly appreciated, as it gave me an opportunity to go to the sidelines for a quick drink before going immediately to get my checked bag/own mask.
That said, from my observations before, during, and after racing, those in attendance were extremely respectful of keeping a safe distance from one another and followed all safety requirements. Seeing that, I was very proud of my fellow racers for taking the precautions set by Savage seriously and honoring each other's safety. I know that doing everything we can to keep these events safe and regulated will help tremendously in getting OCR back on its feet again.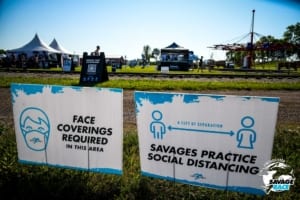 Supremely Savage
Overall, I would rate this event a 4.5 out of 5. From where I stood, Savage did an incredible job ensuring the safety of participants without compromising the quality and enjoyment of the racecourse or obstacles. My only criticism is in regards to the rule limiting racers access to the venue only 30 minutes prior to their start time and the feeling of being rushed that it created for me. Otherwise, simply put, it felt oh so good to be back in the mud and (distantly) immersed in the community that we know and love! I feel lucky to have been able to participate in this event and look forward to supporting Savage through the rest of this wacky season and beyond.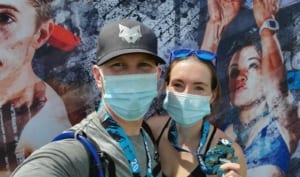 Were you at Savage Chicago? If so, we want to hear from you! Leave feedback in the comments below!