This event has passed.
Training for a Spartan Race?
Click here
to get our free 6-week training guide to prepare you for your first - or fastest - Spartan Race. Train like a champion and race like a Spartan!
Date:
October 07, 2017
Add to Calendar
10/07/2017 09:00 AM
10/07/2017 11:00 AM
Pennsylvania Citizens Bank Park Spartan Race Spartan Stadium Sprint 2017
Spartan Race
Citizens Bank Park
https://www.mudrunguide.com/event/pennsylvania-citizens-bank-park-spartan-race-spartan-stadium-sprint-2017/
Citizens Bank Park, 1 Citizens Bank Way, Philadelphia, PA, United States
Spartan Race
mail@mudrunguide.com
use-title
true
MM/DD/YYYY
Race Start Time:
7:30am Elite Men
7:45am Elite Women
8:00am - 8:45am Competitive Start Times
9:00am - 12:00pm Morning Start Times
12:15pm Afternoon Start Times Begin
Last Heat: TBD

Waves of 250 athletes will be released every 15 minutes across 3 groups (Elite, Morning, Afternoon).
Venue:
Citizens Bank Park
1 Citizens Bank Way
Philadelphia, PA, United States -
View Map
Distance & Course Length:
3-5 miles
Organizer:
Spartan Race
| | |
| --- | --- |
| Overview | Multi-distance Obstacle Race, Worldwide locations |
| Launched | 2010 |
| Kids | Yes. Jr. Spartan: ages 4-9, Varsity Spartan: ages 10-13 |
| Distances | Become a member of the Spartan TRIFECTA Tribe by finishing one of each Spartan distance: Sprint, Super and Beast, in a calendar year (January 1 – December 31st), anywhere in the world. |
| Obstacles | Varies by distance; Sprint features 10-12, Beast contains over 30. |
| Terrain | Varies by location depending on topography; the course will use any and all natural obstacles and elements to make a demanding and interesting course. |
| Hardest Obstacle | Spinners: A spinning, corkscrew "monkey bar" designed to really test upper body and grip strength. If you fail, 30 burpees are waiting for you. |
| Penalties | Failing or skipping any obstacle results in a penalty of 30 burpees. |
| Gear | Wear athletic gear that will allow movement in any direction as you will be climbing over and scurrying under obstacles, lifting and pulling heavy objects and running trails, through water, mud, and jumping over fire. Gloves may help with some rope-based obstacles, well-fitting athletic shoes should help minimize blisters. |
Spartan events are timed competitions that are orchestrated over standardized distances and feature natural and man-made obstacles specifically designed to test mind-body fitness. Every race at every distance will have you climbing, lifting, crawling, rolling, carrying, running, swimming, balancing, throwing, and jumping. All Spartan courses are deliberately designed to leave you exhausted and exhilarated; the completion of any of our courses is an accomplishment that deserves to be recognized, and each finisher has truly earned their Spartan medal. Their motto is "You'll Know at the Finish Line" is not just an empty marketing phrase, but a sentiment that is shared by all of our athletes who have been bonded through the collective challenge of completing one of the world's best obstacle courses.

Click "About" above to hide this text again

1158 Past Events, 0 other upcoming races
Reviews:
Click here to read or add your own Pennsylvania Citizens Bank Park Spartan Race Spartan Stadium Sprint 2017 reviews
Discounts:
Use discount code MRG10 for 10% off your registration
Registration:
Visit Event Website
This event has passed, registration is closed.
Who's Attending?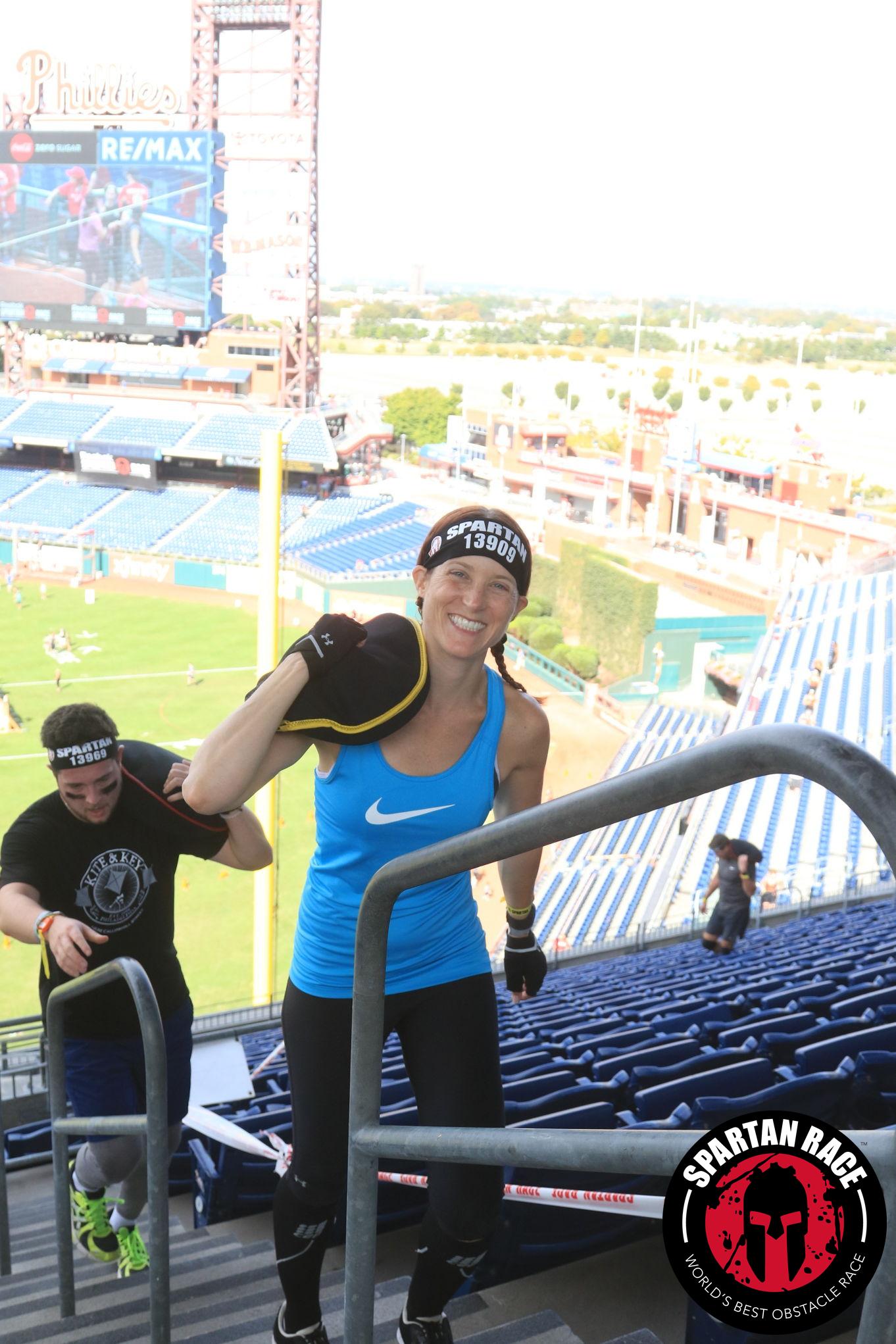 Cost & Pricing:
Morning Cost
Afternoon Cost
Until
$99
$99
Tier 1 (First 100 Spots)
$109
$109
Tier 2
$119
$119
October 5th, 2017 (registration closes)
$139
$139
Race Day Registration

ELITE WAVE: additional $20 - Our Elite wave will start at 8am, on both Saturday and Sunday. A portion of additional charge to enter the ELITE wave will be used to pay out our Cash Purse. Cash paid out to TOP 10 Finishers male and female, Saturday AND Sunday.
Military and First responders receive a $30 discount during registration. **participants will be required to pass a validation procedure via our partners at GovX. Students receive a $10 discount during registration **participants will be required to show valid student identification at check-in or must pay the full day of race registration fee
Registrations are final. No changing start waves. We do not issue refunds, regardless of circumstance, nor do we issue partial refunds. We also do not allow registrations to transfer from person to person. If you are injured and cannot race, you can volunteer at the race for a future race credit.
Team Discounts are available
NOTE: Discount Codes will not apply during Pre-Registration period.
What You Get / What's Included:
Spartan Race Finishers medal
A trifecta medal wedge piece
Free race photos
Spartan Race T-Shirt
Free beer ticket
A chance to play on some really unique terrain
Bragging rights
A scrape (or two)
VIEW MORE DETAILS
Course Description:
Designed for Philadelphia's baseball team, but named after a bank, this stadium is money. The park, which holds over 40,000 fans, will play host to thousands of Spartans at this leg of the Stadium Series Spartan Sprint.
This City of Brotherly Love's Stadium Series race gives Spartans a chance to take on over three miles of open-air chaos with over 20 obstacles that will challenge both seasoned racers and newbies. The stairways and tunnels will take racers on a fast-moving tour of the park. Spartans shouldn't expect to be protected from the elements as race temperatures and rainy weather may play a role.

The Reebok Spartan Sprint: This is our shortest course. It is perfect for athletes of all levels; from Spartan first timers to seasoned racers. The 3+ Mile Sprint may be our shortest distance but it packs more than 20 Signature Spartan Obstacles including mud, fire, walls and barbed wire. If you think you can't do it, you're wrong. Get to the starting line and show yourself what you are capable of.

There are some staples in our repertoire. There are also some venue specific and terrain inspired obstacles. We will not, however, spell it out for you. We do not have course maps. Each Spartan Race strives to surprise the athlete. Preperation for the unknown is a must.

There is fire, mud, water, barbed wire, and occasionally Hell on Earth. There WILL be obstacles to catch you off guard. Curve balls, so to speak. Get over it.

We're here to rip you from your comfort zone. If you need a road map for each step of the way, then maybe this race isn't for you.
Aid Stations:
3-4 aid stations on course with water, maybe some other goodies. We'll finalize this as we get closer to race day. All racers should carry extra water and energy sources as this course will be very challenging.
Awards:
Awards ceremony for the top finishers of the Spartan Race (varies by location, not always applicable)
Prize Money
Men and Women's Elite
1st place $500
2nd place $200
3rd place $100
Masters 40+ Men and Women's Elite
1st place $200
2nd place $150
3rd place $100

Awards only for those competitng in the Elite waves. Below are the different wave types:
Elite Wave - Competing to win prize money. Requires burpees on failure of obstacles
Competitive Wave - Follow same rules & standards as elite, but not eligible for prize money. For those who wish stricter rules that competitive, but don't want to compete in elite. Requires burpees on failure of obstacles. Age group winners will be award by region for competitive racers across regions.
Open Waves - For everyone. Everyone is welcome. Same exact obstacles, but no pressure to push your pace. Suggested burpees on obstacle failure, but not enforced or required.
Prizes:
Spartan Race prizes awarded to teams
Spectators:
Want a front row seat to all the Spartan action? Spectator tickets are available for $10 online or purchase them onsite for $15 (please bring cash). As a Spartan Race spectator, you'll receive $5 Spartan bucks redeemable at the merchandise tent, entry to the rocking festival area, a festival grounds map, access to some of the obstacles on course, not to mention the epic Gladiator pit and finish line. Enjoy the music and watch your friends and loved ones slip and slide through the Spartan course in the relative safety and comfort of the Spartan Race festival grounds! You can also test your fitness in our festival challenges including the Pull-Up Challenge, Slosh Pipe Challenge, Kaiser Challenge and Traverse Wall Challenge. Beware, the next ticket you'll want to buy might have you standing on the Spartan starting line!
Parking:
ALL RACER AND SPECTATOR PARKING WILL BE LOCATED AT CITIZENS BANK PARK.
Limited parking lots will be open and available to all racers and spectators. Each lot can hold hundreds, if not thousands, of cars so please remember where you parked.
Post Party:
Post Race Party – music, food to purchase, and beer*!
*Beer where applicable and following all drinking age laws.
Other:
Spartan Kids Race
Jr. Spartan , 0.5 miles
Varsity Spartan , 1 mile
Varsity Spartan Heats start at 10am, 12pm, and 2pm on Saturday. Junior Varsity Spartan Heats start at 10:30am, 12:30pm, and 2:30pm on Saturday.
Spartan Race is not only limited to adult fun! Bring the kids ages 4-13 who can participate in their very own Jr. Spartan race. They will enjoy the thrill of the run, a variety of scaled down obstacles and their own mini festival area filled with games and children's challenges! Our mission is to inspire children to develop a love for fitness at an early age.
The course is about a 1⁄2 mile filled with junior obstacles for Jr. Spartans and 1 mile for Varsity Spartans. Each child will receive a T-shirt and Finisher's Medal with 100% of the Jr. Spartan Adventure proceeds benefiting the Kids Fit Foundation.
As a leader in the movement to help children learn life-long health and fitness habits, the Kids Fit Foundation strives to raise awareness and develop programs that educate, empower and inspire kids to become and stay fit.
We now have 3 start times for each distance for the Spartan Kids Race! No excuses parents, now the entire family can race!
Pre-Register: $25 / Day of Registration: $30

Bag Check - Try and leave as much stuff as you can at home or in your car— but for the stuff you can't leave behind, or that you don't want covered in mud and water, we will have a secure place to check in your gear. Check in is $5/bag – you will get a wrist band to wear that matches the band we put on your bag so make sure you keep that safe.
There's no dress code, per se, but you'll be running in mud and water, climbing hills and mountains, crawling under barbed wire and jumping fire. So choose wisely my friends.
Professional event day photos will be posted on the event page 5-7 days after the event, FREE OF CHARGE! You don't have to stay up all night checking the site for this – we'll email you when your photos are ready
Arrive an hour and a half before your start time. This gives you plenty of time to park, pick up your packet, drop your stuff at bag check, and get warmed up. Registration opens at 6:00am.
Team:
Challenge Your Friends for a Spartan Race
Build a Team!
Strength comes in numbers! Become part of a team to help yourself and others get through the event, save money, and support our troops.
How does it work? Create a team or join a team! The more people on a team, the more money everyone will get back in their pocket! Each team member will receive a discount, refunded to the method of payment used, a few days prior to race day. The discount escalates as the team size increases, so get more friends to join your team and everyone saves more money!
How many people are needed to make a team?
Teams are unlimited with a minimum of four people! Team members are timed individually and are not required to cross the finish line together.
Which team takes home the prizes?
The fastest 4 times of the team will be used to calculate the team's finishing time. Prizes will be awarded to the team who finishes on top!
Coupons / Discount Codes:
Please see our obstacle course race discount & promotion page for all the latest discounts, promos, promotions, discount codes, and coupon codes for Pennsylvania Citizens Bank Park Spartan Race Spartan Stadium Sprint 2017. There also may be one listed at the top of this page. See more Spartan Race discount codes & promo codes here