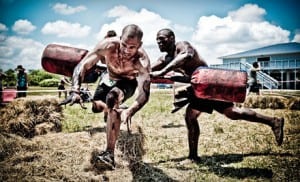 Many people new to the sport find themselves asking this question – "What's the difference between Spartan Race, Warrior Dash, Tough Mudder, Savage Race and my local 5k Mud Run?"
If you're in a major US city, you'll probably have each of these 3 events within an hour or so of your home at least one a year – and then 10+ local races as well! If you're in a smaller city, your choices might be a bit more limited unless you're willing to travel for them. This industry is growing though, so in a year or two, your city could have just as many races as a place like Los Angeles or New York!
Each event is unique – even if they share a lot of the same obstacles! Every different event has its own personality, given to it by the race director, volunteers and the overall "vibe" of the event. Some are great, some notsomuch… it happens. I've read hundreds of different reviews for the same event where some participants had a great time and others hated it!
Don't let that deter you, each event has a bit of fun, adventure and excitement and if you enjoy it for what it is, you'll most likely have a great time – they are a chance to challenge your strength, agility and physical ability over daunting obstacles (sometimes mud, water & fire!) over a 5k to 12-mile distance. Here are a couple distinctions between "the big three":
Spartan Race: A timed event with penalties if you do not complete an obstacle (30 burpees). Distances: Sprint ~3.5 miles, Super ~9 miles, Beast ~13 miles, Ultra Beast ~25 miles
Warrior Dash: Timed event, no penalties. Distance: 3.1 miles (Note: Iron Warrior Dash distance ~15 miles)
Tough Mudder: Un-timed challenge, no penalties for not completing obstacles. Distance: ~12 miles
Spartan Race is famous for the Spartans guarding the finish line with pugil sticks, ready to beat any challengers (not really, but a little). Warrior Dash is best known for their mud pit finish line, about 50 yards of slick, thick and nasty mud you'll need to crawl through on your belly to finish, and Tough Mudder is famous for both the freezing-cold ice water dunk tanks and hanging electrical wires that will give you quite a jolt.
Read a little more about the differences between races and picking SAFE ones in I've got 99 Mud Runs and It's a B*tch to Find the Right One.
The bottom line? Check out every event; I never thought Mad Mud Run was going to be a blast until I tried it – Spartan Race, Warrior Dash & Tough Mudder were all a mystery to me my first time – you never know! Lastly – CHECK THEIR WEBSITE and READ REVIEWS before you sign up!
And as always, if you need help finding the closest event to you, so you can even see what your choices are, you've come to the right place! Head on over to our worldwide mud run and obstacle race guide map and zoom over to your home area. Or, if you prefer, you can always browse a list of obstacle races, mud runs, and mud races by country and state