As our sport continues to grow and evolve, innovative companies are getting creative with course designs, themes and obstacles.
First, there was mud. Ice cold water, fire and barbed wire soon followed, and an entire race industry was born. OCR's have grown exponentially over the past 4 years, and themes abound – from zombies to warriors – but one of the constants has universally been mud. With the newest wave of OCR's, mud has taken a backseat, and in some instances isn't even a part of the event.  
Alpha Warrior
's motto  "
No Mud, No Miles, No Mercy
" leads the charge for mud-less events where you're not depositing your shoes in a pile to be recycled after the race. 
5k Foam Fest
features mud in order to get you dirty – just so the latter half of the course can clean you off "car-wash" style. Another very well-received event is
R.O.C. Race
 (AKA Ridiculous Obstacle Challenge); featuring an inflatable water slide, wrecking ball, moon bounce, Tarzan swings and a belly flop drop.  All without using mud (well, maybe just a teensy little bit).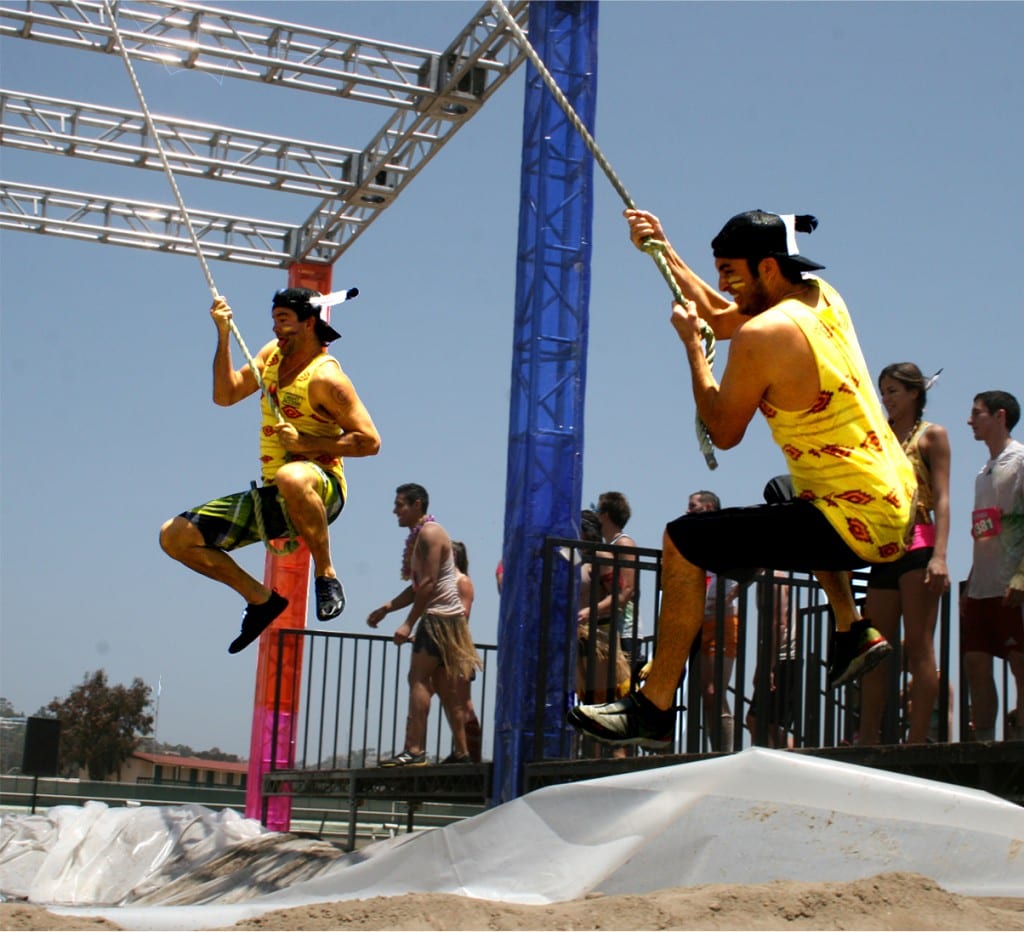 R.O.C. Race (Ridiculous Obstacle Challenge): 5K obstacle course filled with ridiculous and epic obstacles, San Diego, CA Launched: 2011
Events: 1 in 2012, and 8 in 2013
Kids' Events: None
Minimum Age: 13
Obstacles: 10+
Terrain: Natural, manmade, and completely ridiculous
Course Distance: 5K
Signature Obstacle: Wrecking Ball.  Most Difficult Obstacle: Wrecking Ball Gear: Ridiculous costumes
This 3.1-mile course features the world's largest inflatable slide and an obstacle that actually fights back: a floating string of barrels over a pool of water that racers must navigate while swinging wrecking balls fly from all directions trying knock them off. Other obstacles include a wrecking ball (just try making it across without getting knocked into the water), a rope swing, crawl tubes, monkey bars, hill climbs, tight rope traverse, slip 'n' slides, and tire mile.
During the R.O.C. race, you'll also see some of the most ridiculous outfits, costumes, and characters ever. After crossing the finish line, runners stick around for the after-party, with live entertainment, free beer garden, games, food and more. All runners receive a high-quality finisher's T-shirt, and the top individual runners and teams in each start time receive a top finisher's medal.
The Challenged Athletes Foundation (CAF) Operation Rebound is the official beneficiary of the run. CAF Operation Rebound provides unparalleled sports opportunities and support to U.S. troops and veterans of any branch of service who have suffered permanent physical injuries. R.O.C. has raised well over $30,000 in 2012-13.