OCR Freaks, Mud Run Guide, and OCR Gear are all very proud to announce our premiere sponsored athlete, Anthony Matesi.
Tony has a wicked resume when it comes to OCR's – especially multiple races in 1-2 days! In the photo collage, you'll see his 2nd pass of the treacherous Spartan Race VA Super with a log on his back… and no shoes on his feet! Tony doesn't give up even when his homemade huarache sandals do!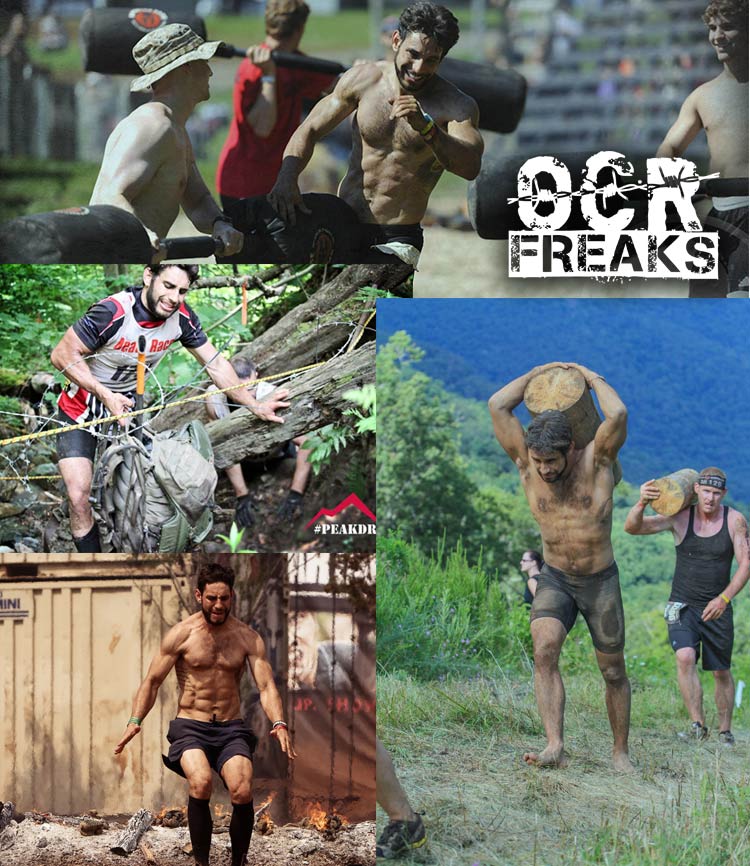 Here's a brief overview in his own words of his fitness and athletics background that helped to shape him into the OCR Freak he is now!
I grew up surrounded by fitness, with both parents having personal training backgrounds and competing in Bodybuilding competitions. In my youth, I trained in multiple martial arts including Tae Kwon Do, Capoeira, and some Muay Thai and Savate during my college years. My fitness roots come from gymnastics beginning with my father teaching me in the backyard. In college I transitioned from gymnastics to collegiate cheerleading at the University of Illinois in Chicago. During my time there our team attended the National Championships in Daytona, FL. ranking 4th, 5th, 8th, and 10th in the Nation.
In 2009 I discovered the world of Obstacle Racing after running with a relay team at the Men's Health Urbanathlon. This began my journey to challenging myself and helping others to live healthy active adventurous lives. Since then I have competed in everything from Tough Mudder, Warrior Dash and Spartan Race to GoRuck Challenge, S.E.R.E. Urban, and have made two appearances at the Spartan Death Race with one finisher's skull on my mantle. In San Diego I took my first OCR podium with a 3rd place finish at Alpha Warrior.
Currently, I am opening a new gym concept in Chicago, REACH: Beyond Fitness, which provides dynamic, functional fitness training through programs such as Spartan Group X, Boxing, GoREACH, Bootcamps, and more.
All of us at OCR Freaks, Mud Run Guide and OCR Gear are excited to have Tony on-board… now we just have to make sure he stays CHALLENGED! If you're a race director looking to have an up & coming racer and dynamic competitor at your event, email us at mail@ocrfreaks.com.