Despite the low number of participants at Extreme Nation, stars came out in force. 
– by Devin 
It was a cool, wet morning in Zephyrhills, Florida, upon arrival for the first race and brainchild of host and Spartan Race World Champion and former Pro Team racer Hobie Call, who left Spartan inearly 2013 to start this new series. At a time when you would usually see large numbers of participants showing up and filling the bib pick-up lines, very few were present. And this didn't change much as start time rolled around. By the time the team meeting came, however, it was easy to pick out some major names in the sport of OCR from the small crowd. The past two champions of WTM Ryan Atkins and Junyong Pak; Spartan Pro Team racers Hunter McIntyre, Brakken Kraker and Isaiah Vidal; and female up-and-comers Cassidy Watton and Karlee Whipple of team Beast A La Mode. And we can't forget about the media coverage either, with blogger Muddy Mommy on the Mud Endeavor Elite Females team, as well as Obstacle Racing Media's spokesman Matt B. Davis and Inside Obstacle News' Joel 'Dirty' Getty on location to check out what all the excitement was about with this incredible "game-changer" for OCR.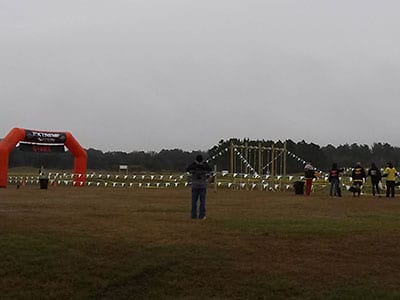 From the starting line, you could see almost every obstacle on the 1.6 mile winding motocross-like course, sans the dirt and mud. At 9:00 sharp the first of the 19 male teams took off, with the next team leaving each minute after. The longest stretch of running without a true "man-made" obstacle was right out the gate, with maybe 250 yards before the fight began. Obstacles were fast and furious, with multi-rowed under crawls and hurdles among the first few obstacles before reaching the grip-sapping sandbag carry: 50 lb bags of burlap which male competitors were required to carry along at their sides. This early stress test on the arms took a toll on even the strongest of competitors as the course progressed. By the time the stretch of ascending-descending metal monkey bars covered in light rain, parallel bars, and rope climb came, many were slowed from their former near-sprint pace to barely a crawl as they were required to complete these daunting tasks despite multiple failed attempts from completely fatigued forearms. No obstacle in itself was impossible, but when compounded, only the toughest could maneuver the course without a stumble. Though the course took most Elite male competitors less than 20 minutes, we were still gassed at the end. And for the top 10 teams from the qualifying heat, we all got the chance to go through the course a second time, as the promoters joked "to get our money's worth". All teams in the championship heat started in traditional free-for-all style (except mine, start time misunderstanding… but that's a whole other story itself). With the competition all on top of one another, times dropped significantly for the heat, with the fastest finish in a blazing 11:51, and many of the top 3 team finishers in the sub-14 and 15 minute range.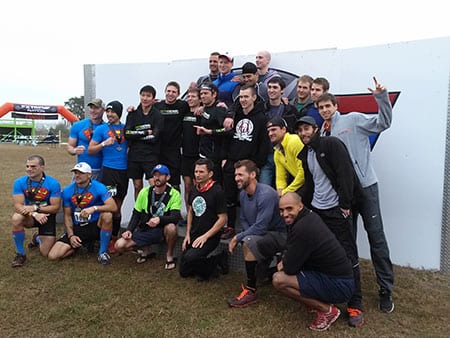 As an overall event I was very pleased with coordination. All competitors received two timing chips to ensure accurate completion times, to avoid any arguments over the huge $40,000 prize money dealt out on-site immediately following the awards presentation for the top 6 male and top 6 female teams. As obstacles proved tougher and required amendments to the rules as the heats progressed, decisions and information were passed along quickly to accommodate the athletes. One element which caught me by surprise was that some of the now common-place techniques popularized by host Hobie Call were either against the rules (no kicking the bell at the top of the rope climb) or obstacles were designed to prevent them (wooden boards creating two foot wide chutes for the barbed wire crawl, making a side roll impossible and forcing a legitimate army crawl). It was a difficult, well-constructed course that will surely pick up more steam, and competitors, in their future events.
I only hope they are able to last long enough for that steam to build up. It's no secret that the low registration numbers wound up making the company take a huge hit on its first event, and they have moved the date around a couple of  times for their next race (the ridiculous weather up here in Georgia is a good excuse, though). For now, the next event for Extreme Nation is May 3rd in Bremen, Georgia, and will likely be a 5k instead of 1.5 miles, and more individually focused. Even though it has already been announced that the payout will be less (closer to $10,000 than $40,000), I look forward to seeing how this race series unfolds.
—

When not cage-fighting terrorists for the USAF, Devin Cas spends his free time scratching and clawing to try and find his way onto a podium at any race he can get to… or something like that.