In honor of Valentine's Day, here's one Tough Mudder of a love story 
Kevin Parrish, Interviewing Cynthia Johnson
I was contacted about a month ago with a lead to a recent female World's Toughest Mudder contestant. How could I resist an opportunity to ask questions of one of the "crazies" that I aspire to run along with this year in 2014?
In questioning, I learned that this story would not be like any other that's been floating around the web since the event in November. Neither a story of personal achievement, nor a story of tremendous endurance…although both themes were present…this is a story of love.
Let's get the ball rolling with some of the basics:
Who are you (name, age, location, etc):
Cynthia Johnson, 26 (27 in May), and I live in Washington, DC.
Your OCR/Athletic background:
I don't really have an athletic background.  I did multiple dance styles growing up from 3-9 years old including light gymnastics, ballet, jazz, modern and tap.  I was overactive as a small child, but when I moved from FL to SC, I ended my dance stint.  It broke my heart.
From then on, I always failed the mile run in P.E. I never watched what I ate.  I did try a few different activities growing up like basketball, volleyball, soccer, and cheerleading my senior year in high school, but even that did not require exercising-just the ability to memorize routines and cheers, which was easy for me because of my dance background.
What motivated you to enter WTM:
It wasn't until May 2011 when I did my first obstacle course race, a Warrior Dash in Maryland, with absolutely no training at all that I fell in love with running in the mud, and I knew I wanted to do many more of them (OCRs).  Thankfully, my love for dance has always been strong, so after trying out Jillian at home and doing Couch to 5k, I joined a gym to get more of a work out in with the many dance classes offered.  Honestly, I did not realize it at first, but all of the jumping around in Zumba and Step really conditioned me enough to start out the 2012 race season doing a decent job.  Throughout the 2012 race season, I added in more running, biking, body weight workouts like TRX and some light weight training in hopes of finishing the race season strong.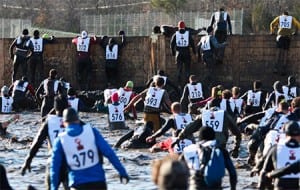 My goal for 2012 was do Tough Mudder Mid-Atlantic in September. I ran more than I ever had in my life leading up to the race, and I got my weight and body fat percentage down well into the athletic range almost hitting my goal of 15% right before the event.  I successfully completed the event leading the group I ran with the majority of the time with a college friend of mine, Ashley Rivers.  I was quite proud of us since the rest of our team was male.
After Tough Mudder, I submitted my time online then I went to Europe to visit family, and while I was out of town, I received an email telling me I qualified for World's Toughest Mudder 2012.  I was really surprised since I felt like we could have done even better than we did, and I was really proud of us.  Honestly, I had never heard of World's Toughest Mudder before qualifying, but I was sold—World's Toughest Mudder was my new goal for 2012.
I wanted to compete in the 24-hour race more than anything.  However, after not qualifying until the end of September, I only had about 6 weeks before the race.  I started with researching on what all was involved in the race since it is a cold weather race.  I knew I needed tons of gear along with the regular expenses such as hotel, gas, registration and food, which adds up, so I knew I had to figure out a way to raise money.  With the help of fellow Mudders, I started an online fundraiser, and I promised myself I'd do it if I raised at least the race registration, which at that point was already $450 plus insurance. On top of fundraising, a few of the World's Facebook group members sent me extra gear in the mail, including my (not yet) boyfriend, Ryan Josti.  At the time, I thought I might have lost my mind giving out perfect strangers my home address, but I believed in the community that much.  Honestly, receiving a package from Ryan was probably the most genuine gesture I have ever experienced from a man.  Not only did he send me extra gear, but after weeks of interacting online, he waited to give me his contact information in a handwritten letter in the package.  He could have simply sent me a Facebook message giving me his phone number, but the fact that he waited to send it to me in a handwritten letter, I felt like I was in a blossoming romance novel.  Neither one of us could have EVER imagine where life would bring us to today, though.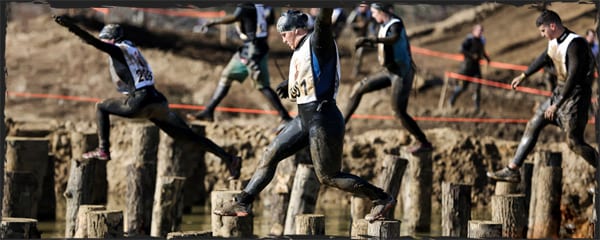 Nonetheless, I was fortunate enough to raise enough money to cover registration due to some of the amazing Mudders in the Facebook group, personal friends and family, but it wasn't until the very last minute, so I opted to refund all the money, train really hard going into the 2013 race season, qualify again for World's and take 2013 by storm.  After going to 2012 to watch and support Ryan, I knew I had to have my moment with the course too.  I saw the few women that competed out there all night, and I knew I had the fight in me too to survive it.  I was going to prove I had it, and I probably was not ready in 2012 truthfully.
What kind of preparation did you have prior to race day: After meeting my boyfriend, we created a specialized program to help with my weaknesses and to focus on strength building for OCRs.  I had realized over the prior race season which muscles needed the most work, and I incorporated lower lifting to assist with my running capability.  Long story, short–with the new training, I began racing in the Elite category, and I won my first race in 2013.  I did considerably better throughout the race season, and I was on track for participating in World's 2013.
Favorite moment from the event: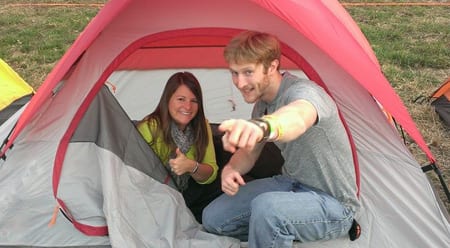 My favorite moments have to be the delirium in tent city (the pit) where we were all "camping" for the 24 hours.  While doing Tough Mudder you meet the most amazing people.  From the Facebook community, I had been friends with many of the participants for over a year, and being in the pit with them provided some priceless laughs and motivation to keep going.  One moment in particular, though, that meant the most during the race was crossing the finish line after completing a lap on the course with my boyfriend right after midnight—the start of our year anniversary.  We had met a little over a year before in the World's Facebook group, I came to 2012 to support him while he raced, and we began dating officially that weekend on November 17.  So, 2013 was the opportunity for us to celebrate our year anniversary in the most unique way doing exactly how we met.  The hopeless romantic in me wanted 2013 even more for that reason.  Honestly, how would I ever tell our children how we met if I couldn't tell them mommy AND daddy did the race.  It wouldn't be much of a story if mommy never actually did the race!  I could not let Ryan out do me.  I'm far too competitive for that!
Least favorite moment of the event:
My least favorite moment was, the cliché of it being over.  Regardless of how tired you are, how hurt you are, how hungry you are for real food and not just supplements, how much you want to shower or how cold you are out in the pit, it really is bittersweet once the clock hits 10:00:00 and it is all over.  At that point, there seems to be nothing left but the task of cleaning up and leaving knowing it will be another year before you see many of your new and old friends.  You create some really good friends on the course and in the pit in the short amount you are there.  The community is what draws me to Tough Mudder events.
What gear did you bring to the event? You mentioned in your attempt at the previous year that stuff was loaned; did you compete in loaned gear?
I brought more gear than needed, but I didn't want to not have something if I needed it.  Last minute I ordered a shortie from Dick's and had it shipped to the hotel in NJ due to the high temperature forecasted for the weekend. I was worried about being too hot in full gear, and surprisingly, it was actually too hot for the shortie, and I never wore it all. I had a brand new wetsuit that was too small for my boyfriend that he gave to me, and I borrowed two others from a friend who ran in 2012, Tiffany Nvnez.  I had multiples of everything…except shoes.  It didn't even dawn on me that they might rip since I had just bought them for the 2013 season…I figured they'd be fine.  Come to find out, when I went to wash my gear, they were threads away from tearing in half…so extra shoes is a must!  The only loaned gear I ended up using was Tiffany's neoprene socks and techwick base layer under my wetsuit.  Otherwise, I had bought brand new everything.
Did you wish you had brought any gear that you missed?
One comfort item would have been regular cloth gloves to put on during the pit stops.  I had to take my gloves off to do anything, but then I was left with doing everything in bare hands, which sucked! A lot.
What was your nutrition strategy?
From running previous races, I knew I could survive on peanut butter.  I took a loaf of bread and two jars of peanut butter.  I had my pit crew make the whole loaf into sandwiches I could grab when running through the pit between laps.  Also, in order to keep my sanity, I bought some microwavable foods like mac and cheese when I REALLY wanted hot food at night.  Otherwise, I popped bloks.  Bloks are amazing.  No idea why they are so tasty.
Stories from the pit?
At one point I was joking with a male friend of mine who had clean hands, and I got him to go through my gear bag (not to dirty up everything) and pull out some underwear for me.  All his friends were jealous he didn't get underwear for them!  He'll never live that one down.  SUCH a good support crew while hurt in the pit!  Thanks Casey!
 How often did you get to share the course with Ryan? Did he provide extra support?
We were always out there at the same time, but we were never together on the same lap.  I came into the pit around 9:30 pm (almost 12 hours in) really hurting.  I refueled, chatted a little for my sanity then was heading back out when Ryan came in right when I was about to head out.  Ryan came in really hurting too.  The year prior he ruptured a tendon in his heel, had surgery to fix it in December 2012, and he his tendons were really hurting him. He said he was going back out, but he needed time to prepare.  So, I waited for him because we had not done any laps together yet, and I hoped, due to what time it was, we'd finish our lap right after midnight–the start of our anniversary.  I thought the idea of us crossing the finish line together on our anniversary was pretty cool sounding!  A once in a lifetime kind of story.  While we were on our one lap together, he helped me over anything I couldn't get over myself.
Did  your boyfriend's presence make you push harder, was it a non-point, or was it ultimately a distraction?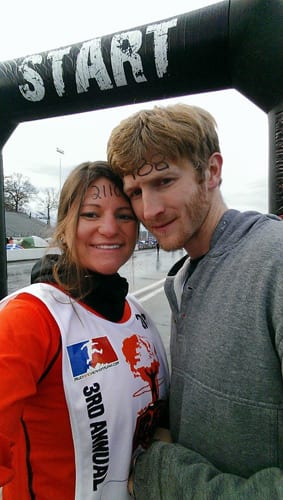 I would say his presence was really a non-point.  We didn't see much of each other except in the pit and the one lap we did together.  From the beginning, we both knew we wouldn't be running the race together, but I just wanted the experience of experiencing it with him–whether we were right beside each other didn't matter to me.  Once he came in from his lap right before we did our lap together, I was really concerned about his tendons (definitely more worried than he was since I'm a worry wart).  I didn't want him to have to go back through surgery again if he pushed his body too far.  That was a slight distraction because I stayed in the pit extra time waiting on him to be ready for our lap together (remember, I had arrived about 30+ minutes before he had…so I had already been in the pit for a while…and I knew with my mileage goal v. time, I didn't have THAT long to be wasting), but, in the end, I didn't mind.  I made the decision to stick by him to make sure he was okay.  He's my boyfriend.  His well-being was more of a concern for me.  He's one of those "will go until he's in the ER needing surgery," and that definitely scared me.  I felt like I had to be the calm headed one that talked over his pain with him to access how hurt he was.  The last thing either of us wanted was for him to need more surgery.
_____
Kevin Parrish is an aspiring elite Obstacle Course Racer. You'll find him traveling the country racing in the Spartan Race circuit and any other race he can fit in his schedule, as he works to make it to the top 50 in 2014. He writes about and shares his experiences, tips, reviews and insights into the world of OCR.