I see life as a giant roller coaster, a series of ups and downs. I was athletic in my younger days and in the military, a paramedic by profession; but at forty years old I had totally given up on myself. I was miserable. I had reached a point where I didn't want to go shopping for clothes because I was now in a size 14 I could barely squeeze into and I left the dressing room in tears every time.
I was at my heaviest 185 lbs and Im 5ft tall. I tried the diets, joined a local gym but never attended- I just paid for it!I just could not figure out where to begin. A good friend of mine invited me to come workout with her, and after multiple invites and rejections, I finally agreed to go. It was just before my 41st birthday, in the heat of July in Georgia, I went for my visit to The Compound. What was I thinking? I could barely breathe let alone move. I tried to keep up best I could, and then we went outside. Burpees she said. Down the length of the parking lot and back she said. I had no idea! I was able to do a few but then I had nothing left. I was on the verge of tears and ready to give up. I was so embarrassed, and angry with myself, the tears welled up in my eyes. I just stood there, then here came Tanya Bickham. She said come on, and dropped down to the ground to do the last 10 burpees with me. At the finish line was Matthew Waller cheering, along with a group of strangers- The Compound members. They hugged me and smiled, I had never met them before. I went home that night, cried the whole way home, and at that moment decided it was now or never. I have been going to The Compound ever since, I figured I had nothing to lose and everything to gain.
I have set goals before but for the first time in many years, I was able to reach them. One of my goals was to wear this cute red dress to a Christmas party in December, and it happened. I haven't felt pretty in years, but I did that night!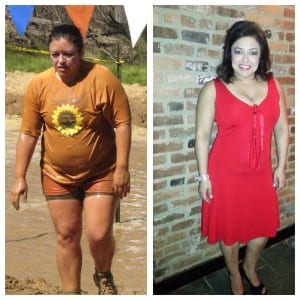 I am in the best physical condition since I was 18 years old in the military. Today I feel strong, confident, and ready to tackle these obstacle courses. I have dropped three dress sizes in nine months! My Compound family is amazing, we push and motivate each other daily. My coaches are the driving force, I have so much faith in them and the upmost trust. They are building better humans every day. When my friends ask me what I'm doing, I invite them to come check The Compound out and so our Compound family grows!
Our members come from all walks of life, all shapes, sizes, and colors. Some even with limitations and disability but they push as hard as the rest of us. We are a driven group, but it is not only because we are all shrinking, it is also because of the spiritual changes we are all experiencing. Reaching our physical goals is an amazing feeling, sharing the spiritual growth is our bond. This past weekend our team completed the Spartan Sprint in Georgia, for many of us it was our first. The pictures captured some of the best moments, superior camaraderie, and my best moment- landing a big Tanya hug at the finish line.
I was so proud that I attempted every obstacle and was successful in all but one. My drive is to push harder every day, to see what I am capable of, and to make my coaches proud for all the time and energy they invest in me.
My goal for 2014 is to attain theSpartan Trifecta- one down, two to go! See you at the finish line!